A group of young women fall laughing and talking excitedly into a trendy office in Midtown Manhattan, constantly glancing at the smartphones in their hands.
Work is boring. Games aren't boring
"You really should go down to the Bryant Park fountain," says one. "It's so easy to catch a Golbat there.'"
Two other women grab their phones and head out.
It's all part of a day's work at social media marketing agency Socialfly. "Pokémon GO has really boosted office morale," says Stephanie Cartin, co-founder of the four-year-old start-up which currently has 12 employees, who happen to all be women.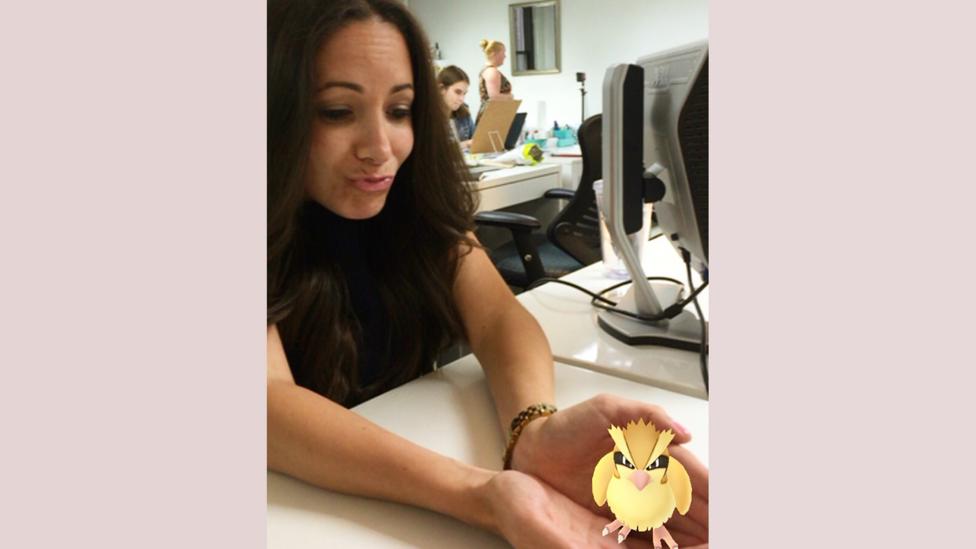 Stephanie Cartin, of Socialfly, with a Pidgey, at her desk. (Credit: Socialfly)
"It's the only game they're playing," says Cartin. "We don't mind them playing in the office. They work hard and they get their jobs done. And we've had brainstorming sessions to help clients successfully incorporate Pokémon characters into their marketing."
Although Pokémon GO only invaded the world's offices at the start of the summer, incorporating games into work goes back a while. Way back. Evidence from graffiti that ancient Egyptian workers turned pyramid-building into a sport, according to Ethan Mollick, assistant professor of management at the Wharton School of the University of Pennsylvania in the US.
We don't mind them playing in the office
"They divided into teams with names like the Drunkards of Menkaure and they'd compete with each other to see who could put up the most blocks," he says. "They'd get extra beer if they won."
Games, it seems, have long been used to add incentives and make work more interesting.
Mollick says augmented reality is almost the ultimate goal of what's known as 'gamification'. That is: "Work is boring. Games aren't boring. So let's make work more like a game."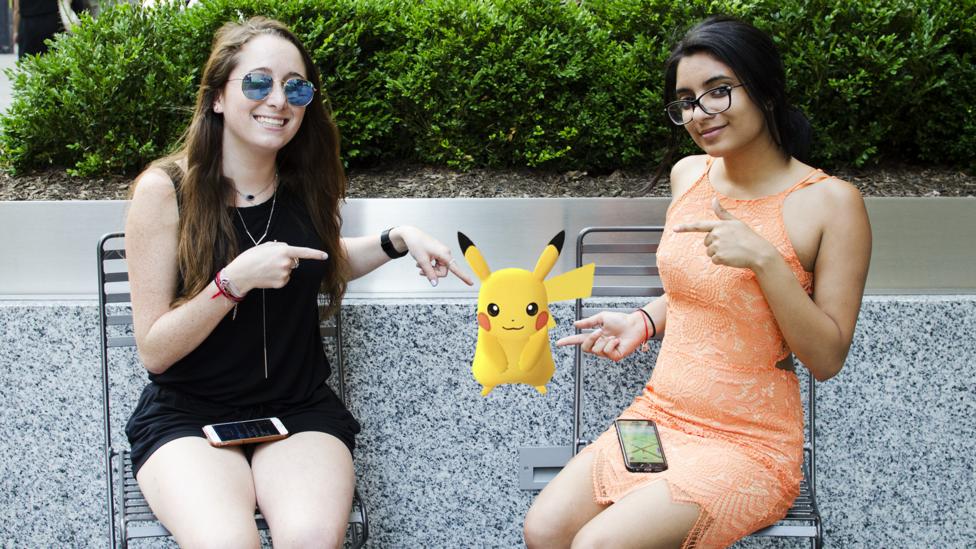 Disha Singh and Rebecca Lipstein, interns at Socialfly, play Pokemon Go in New York City during their workday, with the boss's blessing. (Credit: Socialfly)
The game-at-work revolution
Pokémon GO, Mollick says, is a very important step forward in the idea of games at work because it's based on augmented reality.
This technology uses sensors to create the illusion that virtual objects are present in the real world. It means Pokémons can appear on your smartphone screen as if they were actually dancing in front of your local pizza place or on your officemate's desk chair.
None of these has caught the public imagination in the way that Pokémon GO has
Companies have invested billions of dollars into projects such as Google Glass, designed to create serious applications using augmented-reality eyeglasses. Apps such as Star Walk map and detail elements of the night sky on your smartphone screen. Others, like Field Trip, act like a tour guide, giving details of historic and places to eat based on your location.
But none of these, however, has caught the public imagination — and perhaps the world of work — in the way that Pokémon GO has. "As an augmented reality game it shows what you can do in the workplace," explains Mollick. "You can create an artificial layer over work which is more interesting than the work itself."
Beware the dark side
Making work fun for everybody through a game might sound simple, but it's far from straightforward as Mollick and a colleague, Nancy Rothbard, found after a series of experiments.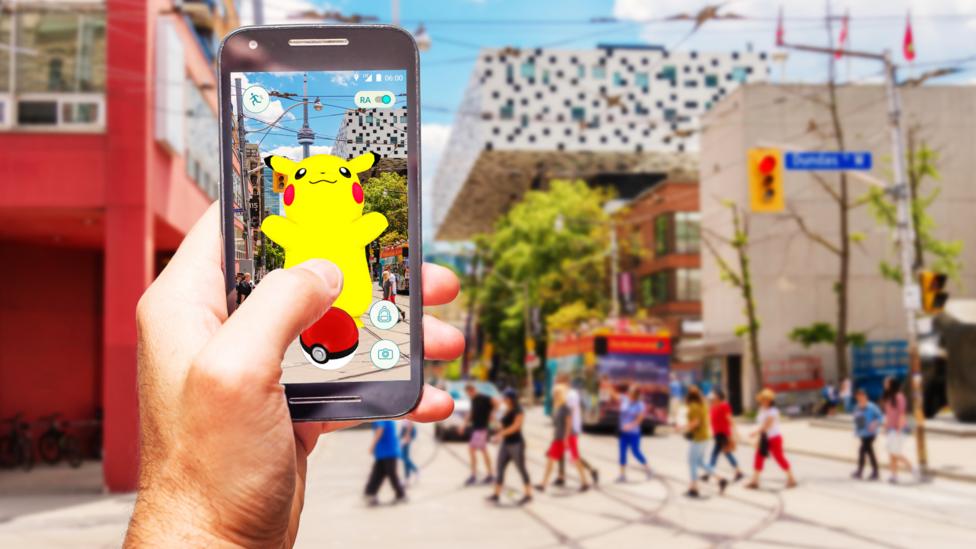 Trying to catch them all, at the office. (Credit: Alamy)
They took three groups of salespeople: one was rewarded for hitting sales targets by being shown sports TV style video clip, another was shown a simple scoreboard and the third group was shown nothing at all.
What they found was that the game strongly affected players' feelings towards work. And that wasn't always good. Those who bought into the game were positive, but those who didn't enjoy it were strongly negative.

The game really should be built into every corporate wellness programme
It's a problem Kristan Wheaton, associate professor at Mercyhurst University in Pennsylvania, has seen first-hand. He has designed learning games for organisations such as the US National Geospatial Intelligence Agency and the US Federal Bureau of Investigation — plus, he's a long-time games player himself.
Pokémon GO, he says, does much more than show off how well augmented reality can work. "It also encourages people to get off their asses and walk. The game really should be built into every corporate wellness programme."
But its success comes in large part because people play voluntarily. What doesn't work is what's described as 'mandatory fun', although Wheaton believes games-based learning is important for every organisation.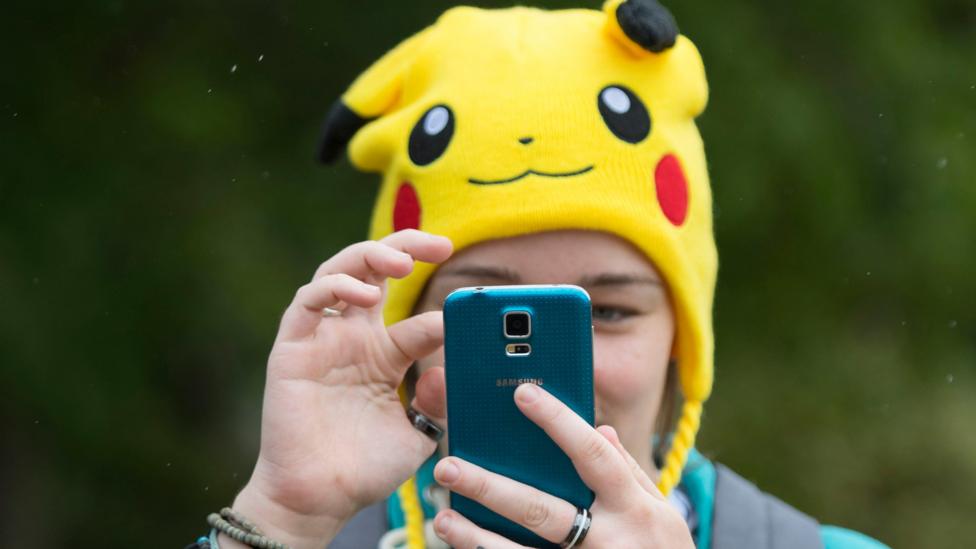 "We know 100% of millennials play or have played video games, claims Wheaton. "There's no turning back."
But, not everyone likes the same games, no matter their age or interests. Some of us like to compete against other players or a computer, while others want to explore or become immersed in virtual worlds.
Interviewees have to play a round of Super Smash Brothers, another Nintendo game
For games to motivate people in the workplace or otherwise, they have to be capable of being played in different ways or be designed to achieve the same goals, Wheaton says.
That said, at some companies, gaming is part of getting hired.
At Austin, Texas-based, search engine optimisation company Geek Powered Studios, for instance, interviewees have to play a round of Super Smash Brothers, another Nintendo game featuring Pokémon characters. How they react, not so much to winning or losing, but how they interact with other people, is an important part of the recruitment process, as it helps reveal how they could fit in with their future colleagues.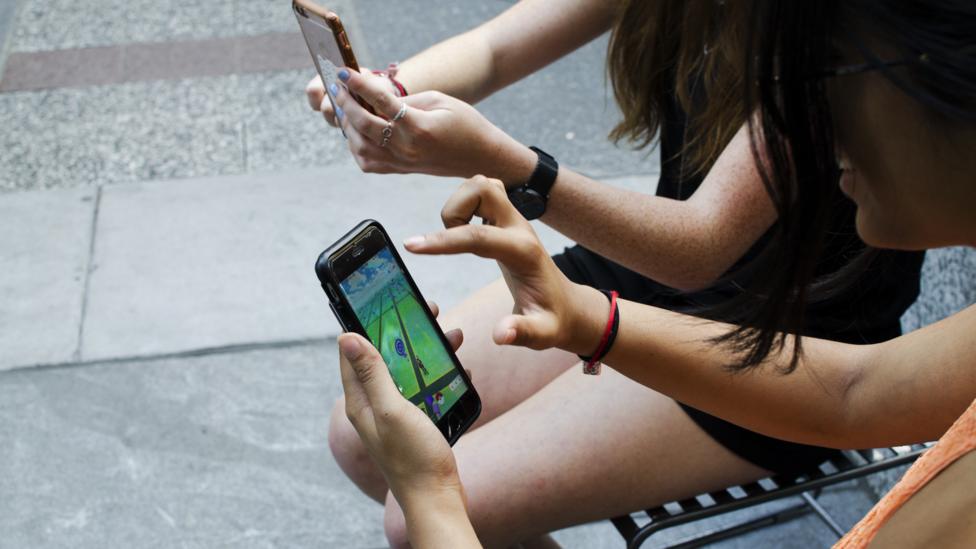 Socialfly employees play during work hours. (Credit: Socialfly)
The game has become part of the company culture, played in teams by most of its 20 employees on a daily basis, according to founding partner Guillermo Ortiz. It's not the only game job applicants have to play as part of the hiring decision process. They also have to show their ingenuity at building medieval war machines in the first two levels of Besieged.
"We find that video gamers tend to have the critical problem solving skills that are often sought out in digital marketing candidates," says Ortiz.
But Mollick has another way of looking at the power of video games. He says that in 2011 people spent 11 billion hours playing Angry Birds. "That's the equivalent of building a Panama Canal every day. You look at Pokémon GO… it can get people to go outside and walk for miles.
"It's a demonstration of the power of games and business has yet to really harness it."
To comment on this story or anything else you have seen on BBC Capital, head over to our Facebook page or message us on Twitter.