C
Cheesy? Laughable? No longer just an opportunity to mock the people you once hated in school, the much maligned reunion is making a comeback. And it could be to your advantage to attend, even if you feel a bit reluctant.
The people you went to school with remember you as you were
At her 15th Harvard Business School reunion, Carol Fishman Cohen confided to former classmates that she wanted to return to work after a decade of being a stay-at-home parent to her four young children. Nine months later a fellow alumna (a Latin term used at some universities and colleges to describe a female graduate; a male graduate is an alumnus) called with a job opportunity.
"She said my skill set was a perfect match," says Cohen. That assessment was entirely based on how she had performed at business school more than a decade earlier.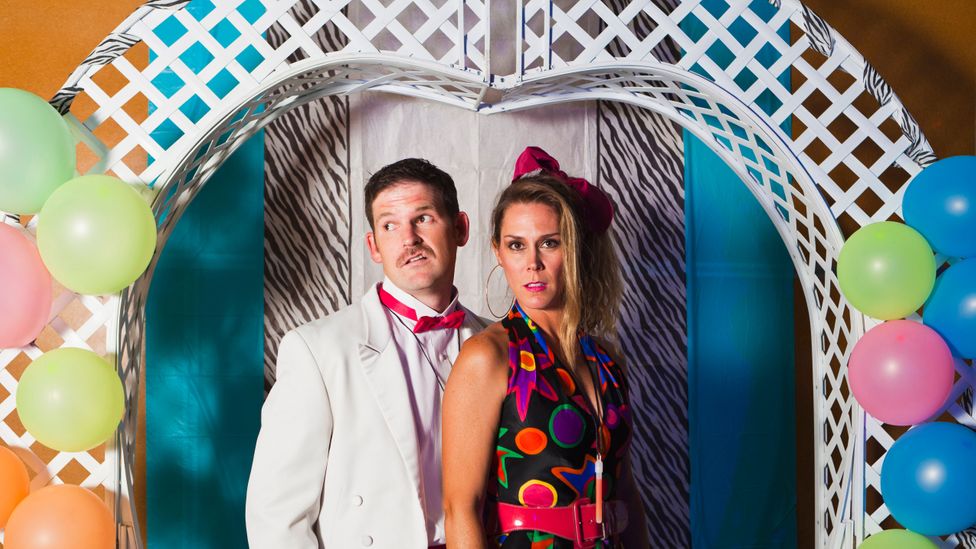 Beyond retro? The idea of being frozen in time to your former classmates can help you if you know how to make the most of it (Credit: Getty Images/Marc Romanelli)
"That's when the concept of 'frozen in time' came to me. The people you went to school with remember you as you were, even if your sense of self has diminished over time," she says.
BBC Capital asked career experts how to make the most of your uni or graduate school reunion.
Make your ambitions clear
When graduates are fishing for new job opportunities often  a "first port of call will be their old school (university) before they start engaging with executive search firms or headhunters," according to Iain McLoughlin, former careers expert with ESADE business school in Barcelona, Spain, now UK and Europe director with VMock, an online CV review service.
Reunions are great places to look at your own brand and aspirations
Even if you're taking a career break or moving from one industry to another, Cohen suggests you make the most of a reunion. Just a year or so after her Harvard meetup, she not only had a job with a global investment firm but had also founded iRelaunch, a Boston-based careers consultancy aimed at helping people like her who have been out of the workforce and want to restart a career.
"Reunions are great places to look at your own brand and your own aspirations," says McLoughlin. "It's more than just saying what you are doing, it's understanding what you want to go on to do and how to define yourself." That could go beyond a new job or career shift to include, say, a corporate or nonprofit board seat or non-executive directorship at a company.
Do your homework
But just as back in exam-sitting days, the key to success is to prep properly.
As soon as the invitation lands, your fellow alumni may be doing "due diligence" on social media, warns New England-based image consultant, Doreen Dove.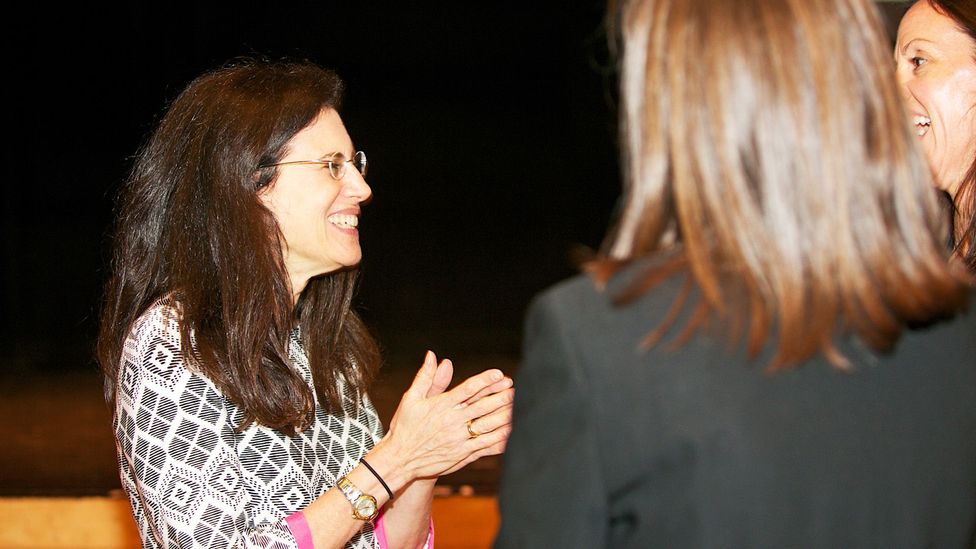 A chance chat at her Harvard Business School reunion led to a career relaunch for Carol Fishman Cohen (Credit: Zacker Images)
"LinkedIn is the first line of defence," she advises. "Make sure your photo is who you are right now and who you want to be, not who you were. A profile pic of when you were at college with a pony tail is not how you want to be."
Personal statements should be short and concise, "an elevator pitch," Dove says. "This is your brag moment. You want to put out the strongest message you have." If you want to connect for a job opportunity, make sure you have a call to action.
Next up, your business card. Dove's advice: put your picture on your personal business card. "It puts a face to a name and that's huge in terms of remembering somebody after a big event," she says.
Dress with purpose
When it's time for the big day, a carefully chosen wardrobe will boost your confidence, advises Dove.
People look at you less when you're walking towards them. They look more at you when you're walking away
"A lot of women dress older than they need to. With both men and women I say: 'You're not well dressed until you're well-tailored'."
For men, she suggests paying attention to footwear, too. "Shoes must be well-heeled and well-polished."
Take a long look in the mirror at your rear view, as well.  "People look at you less when you're walking towards them because they avert their gaze. They look more at you when you're walking away," says Dove. Make sure your clothing fits properly front and back.
And don't put off packing your case to the last minute.
"Get it down to five favourite things in advance," she advises. "Make sure they fit well and are well-tailored and are going to put out the message you want to put out."
Degrees of connection
If you're timid about networking, take advantage of the expert talks and panel discussions offered at many university reunions, suggests Guy Collender, deputy director of alumni relations at the University of Oxford, which runs three-day weekends for their former students.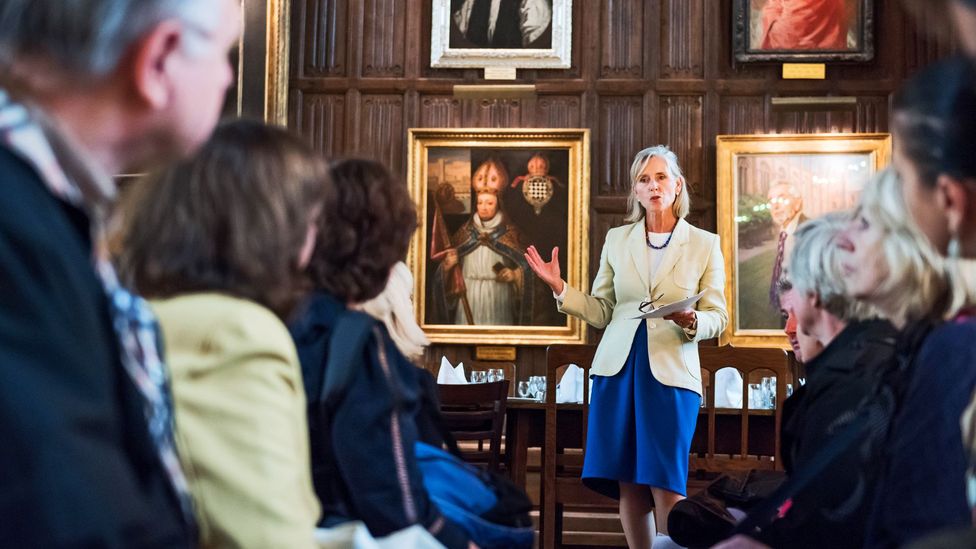 Oxford Alumni Weekends offer a wide programme of talks and activities, such as this introduction to the art collection at New College (Credit: John Cairns)
"Talk about the academic content: 'I think this presentation was interesting because . . .' and then take it from there. Immediately, people's interests come to the fore because they highlight how they are connected to the theme of the presentation," he says.
Take advantage of the expert talks and panel discussions
Taking part in a reunion weekend paid off handsomely for Shiva Amiri. She gained a couple of potential investors for her computational drug design start-up. Since receiving a PhD in computational biochemistry from St Hugh's College at the University of Oxford in 2006, Toronto-based Amiri, a chief product officer at a computer software firm, has attended reunions in New York and Washington DC.
"On a certain level there's a lot of trust when you are investing in someone who went to the same school. There's not a direct focus on that [at reunions] but it's certainly a by-product," she says.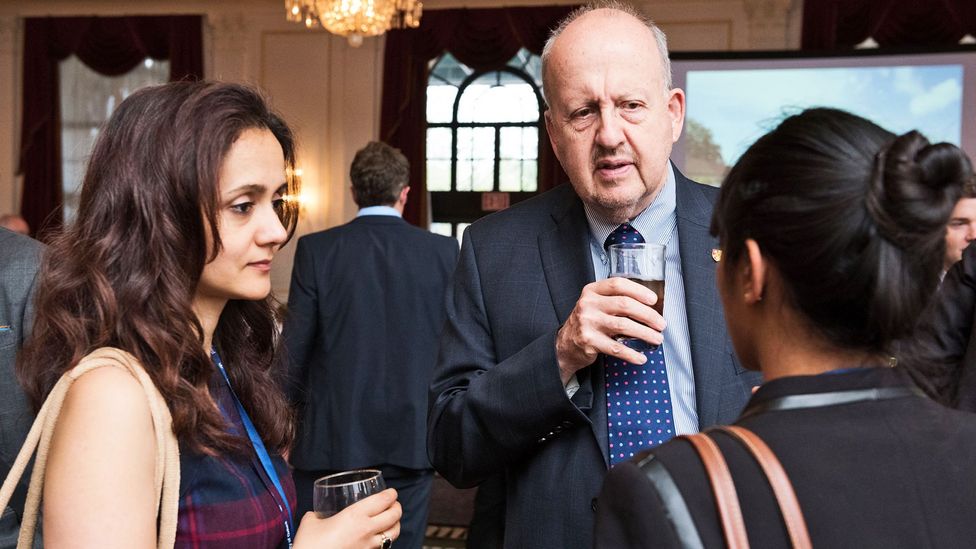 Shiva Amiri has enjoyed reconnecting with University of Oxford alumni (Credit: Oxford Alumni Weekends)
Amiri goes to reunions and alumni weekends to reconnect with the atmosphere she felt at Oxford. "I don't want to lose what I gained there. These weekends charge that up a little bit," she says. "You learn about some of the cutting edge research that's going on at Oxford."
Sharing experiences
Talking about your experiences can transform reunions into a powerful stimulus for professional and personal development. Artist and sculptor Jonathan Shimony refreshed an old friendship at a Harvard University reunion and soon after was invited to exhibit at a prestigious art space in New York last year.
Don't underestimate the value of the information and advice you have to offer
And, taking his own turn at helping others, Shimony offered to lead a printmaking workshop for fellow Harvard graduates at his studios in Paris. He was pleasantly surprised when around 20 of them joined him for the workshop.
"So many of them are lawyers and businessmen and they're hungry for the poetic and cultural aspects that they remember from school but have had less and less access to as they've climbed to the top in the business world," says Shimony, now a professor in fine arts at the American University of Paris.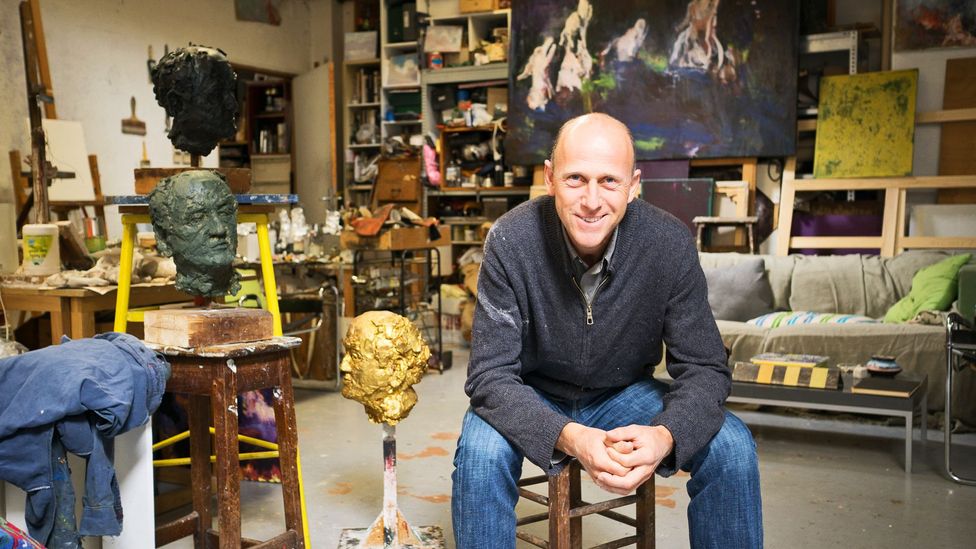 Artist and sculptor Jonathan Shimony at his studios in Paris. His reunion led to a printmaking workshop for fellow Harvard alumni (Credit: Christopher Broughton)
"When I was at college there were classmates who told me I was insane for studying art," he recalls.
It goes to show that as time passes you can't be too generous with your knowledge and insights.
"Don't underestimate the value of the information and advice you have to offer," says Cohen. "What you have to offer your classmates is as important as what they have to offer you."
To comment on this story or anything else you have seen on BBC Capital, head over to our Facebook page or message us on Twitter.