Phnom Penh is known more for the Khmer Rouge than being an expat haven – but it's an attractive destination for those looking for excitement, writes Dene-Hern Chen
C
Cambodia is currently attempting an image overhaul.
Saddled by its painful history of the Khmer Rouge, this small South East Asian country is pushing to reinvent itself as the go-to destination for both tourists and property investors. In recent years, its capital, Phnom Penh, has undergone a development boom. The once skyscraper-less city now has new buildings dotting the skyline, as well as numerous malls planned for the coming years.
Long overlooked for Siem Reap, home of the Angkor archaeological temples, Phnom Penh is slowly emerging as an attractive destination for visitors
While many often head to cities like Zurich, London or Singapore to further their career (and augment their pay), the expats drawn to Phnom Penh see a unique opportunity to scale a career ladder unlike the usual corporate route, but with similar pay-offs. Additionally, because there is less competition, those in certain sectors are able to establish themselves in less time.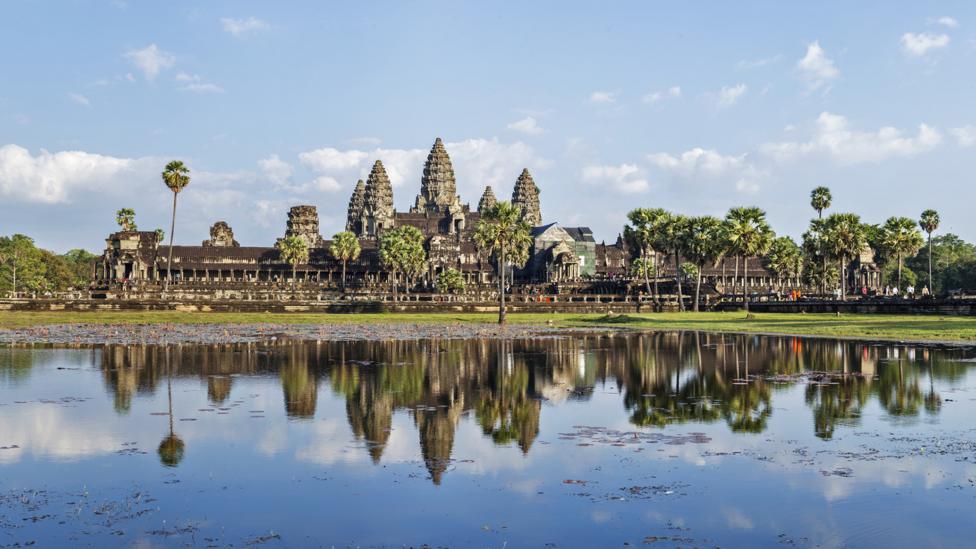 While most tourists flock to the Angkor Wat temple complex near Siem Reap further north, there's plenty for expats in Phnom Penh (Credit: Alamy)
There's a dark history to the city. In April 1975, Phnom Penh fell to the Khmer Rouge, and most of the city's residents were forced to leave the city and live in the countryside. Estimates vary, but it's thought between 1.4 and 2.2 million people died from famine and mass executions during the regime's brief hold over the country, which lasted almost four years.
Today, the city – an urban sprawl of 1.7 million people set at the intersection of the bio-diverse Mekong and Tonle Sap rivers – is still widely associated with this image, despite the last 30 years of relative peace.
Long overlooked for Siem Reap, home of the Angkor archaeological temples, Phnom Penh is slowly emerging as an attractive destination for visitors interested in a modernity interspersed with flashes of its retro Khmer architecture.
Until recently, the city's social scene was largely confined to Cambodian beer gardens, stuffy hotel bars, or bustling streets lined with bars. But the options have rapidly evolved in the past three years, with new bars and restaurants owned by long-term expatriates cropping up each month in the city's centre. Meanwhile, international franchises like Starbucks and Krispy Kreme have openend in the city, and are seeking to gain a foothold among Cambodians' growing taste for consumerism.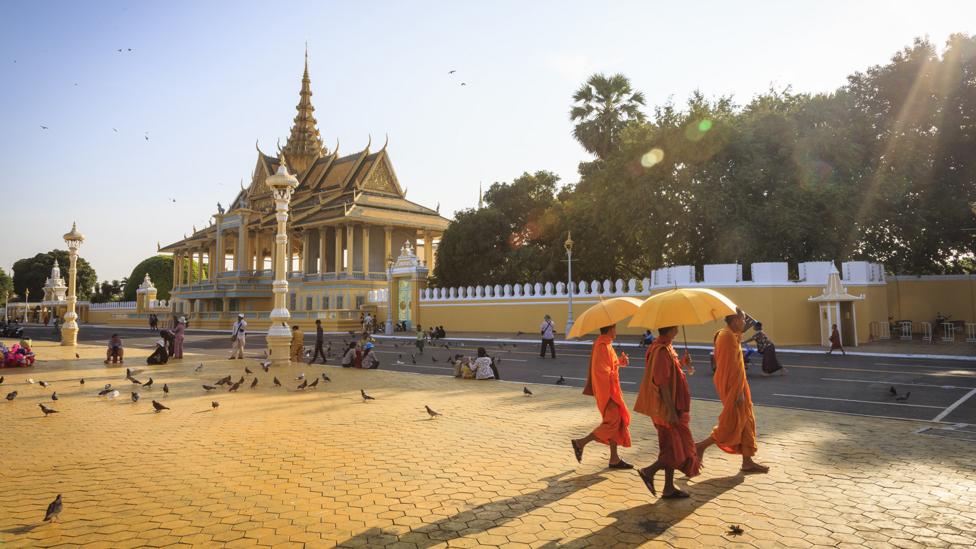 The Royal Palace is an excellent example of Phnom Penh's Khmer architecture (Credit: Getty Images)
All this may seem unexpected for a country that up until recently was classified by the World Bank as a low-income territory. But for the thousands of expats living in Phnom Penh, the room for dizzying growth comes as no surprise.
Many are drawn here for the interesting and unexpected work opportunities a post-civil war country provides, especially for those in the development and NGO sectors. The United Nations and its myriad of agencies have a dominant presence here.
There are also investors, such as in the manufacturing and agricultural industries, that see Cambodia as a low-cost alternative to expanding their business. Meanwhile, regional banks have long understood the country's potential for growth and set up commercial branches within the capital. The city residents are thus largely accepting of foreigners. 
Since many industries in Cambodia are relatively underdeveloped, there is still a gap for people to step in and try to make it big, says Daniele Jimmy Henderson, an Italian film-maker who moved here in 2011 from London. Since he arrived he's directed four movies and his latest film, a psycho-horror thriller, premiered last week.
"I could have done it in London, but it would have taken me a lot more years," says Henderson. "There's a sense that everything is new, and you can bring in ideas and grow your business."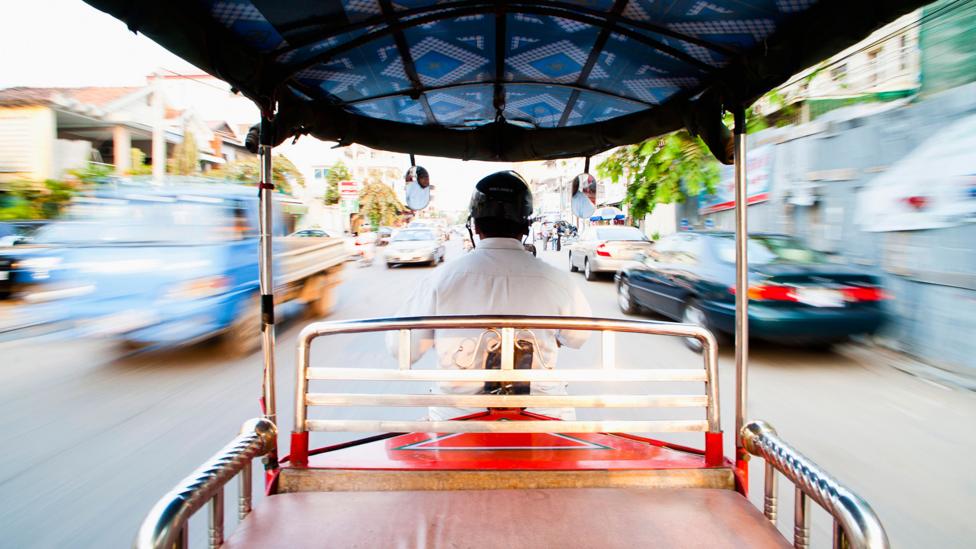 A tuk-tuk is a cheap and fast way to get around the city (Credit: Alamy)
Upending expectations
Since the end of the Khmer Rouge regime in 1979, the effects of a UN-backed transitional government and the flood of NGOs can still be seen today: English is widely spoken in Phnom Penh, and the American dollar is used alongside the local currency, the Khmer riel ($1 is roughly equivalent to 4,000 Khmer riel, so a $2.50 bowl of noodles would be paid for with two US$1 notes and a 2,000 riel note).
The offering around Phnom Penh is worlds apart from what it was when I first got here - Timothy Bruyns
One strength of the city is its openness to new ventures, says Irina Chakraborty, an Indian-Finnish expat who has been living in Phnom Penh for the past five years. Even casual ideas can turn into new ventures – she and her friends had organised a flea market to sell used items, and now Swap Sabai has ran successfully three times and attracted about 30 vendors.
"That's definitely something I like about Phnom Penh — you can try things like that out very easily. It's nice to just go for it, give it a try, see how it goes," she says.
It's easy to see this approach in Phnom Penh's culinary scene, which has boomed in recent years. Cheap rental spaces makes it easier to start a business here, says Timothy Bruyns, a South African chef who helms The Tiger's Eye, which specialises in fusing Khmer ingredients with modern flavours.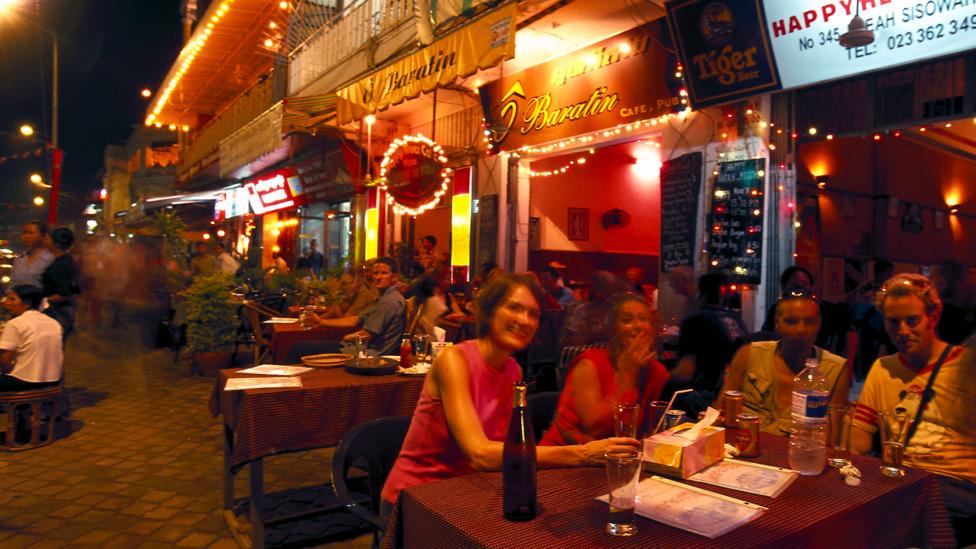 There are plenty of street bars and cafes, but recently new bars and restaurants run by long-term expats have opened (Credit: Alamy)
"Phnom Penh is amazing in its dynamic at the moment," says Bruyns, who arrived five years ago to help set up a luxury resort. "The offering around Phnom Penh is worlds apart from what it was when I first got here."
Ease of living
One of the city's biggest draws is its affordability.
A one-bedroom serviced apartment, with amenities like a swimming pool and cleaning service, costs about $500 a month in central Phnom Penh, while a luxury four-bedroom apartment could cost up to about $4,000 a month, according to Lachlan Lee, a manager at IPS Cambodia, a property firm that works predominantly with Americans and Australians.
It's still very cheap compared to places like New York and Sydney - Lachlan Lee
"It's a very easy lifestyle compared to living in the larger Western cities. It's still got a very small town feel to it, and it's still very cheap compared to places like New York and Sydney," Lee says. "People come here for the ease of living."
Chakraborty agrees, saying the variety of food and social scene are comparable to her native Finland. "You have access to all the things you'd expect in a more affordable price, in some cases," she said.
Cultural adjustments
Still, Chakraborty says that there were small cultural differences she had to get used to. Prior to arriving in Phnom Penh, Chakraborty spent six months in India. In West Bengal, people tend to communicate very loudly, she says. In Phnom Penh, she had to get used to keeping her tone genial even when she was frustrated.
In Phnom Penh, there's a very mild-mannered interaction
"The way people communicate, sort of a quiet laughing even when they were mad — that was a bit of a shock. This was nothing like India," she says. "In Phnom Penh, there's a very mild-mannered interaction."
This also translates to workplace interactions, which many expats find difficult to adjust to, especially if they are coming from cities that stresses efficiency and straight-forward communication.
"A lot of people deal with issues with people being too indirect with their communication at work," Chakraborty says.
The downsides
Security and safety can be a concern for expats assigned to Phnom Penh. The US State Department's Bureau of Diplomatic Security has classified Cambodia as a country with a "critical" crime rating, singling out the high frequency of pickpocketing and purse-snatchings.
Yet this is a problem that plagues many cities, and expats would be wise to employ the same common-sense precautions in Phnom Penh as they would in New York or Paris.
"I don't think it's an issue personally, but people are thinking of that, especially when they move from a Western country to Phnom Penh," Lee says.
The biggest issue remains the prevalent corruption, which touches virtually every sector of life, according to Transparency International, which ranked Cambodia 150 out of 168 countries in their Corruption Perception Index, making it the lowest in the region.
Examples of this can be seen in everyday life: it's not uncommon for traffic police to ask for more money than they should from offenders stopped on the street.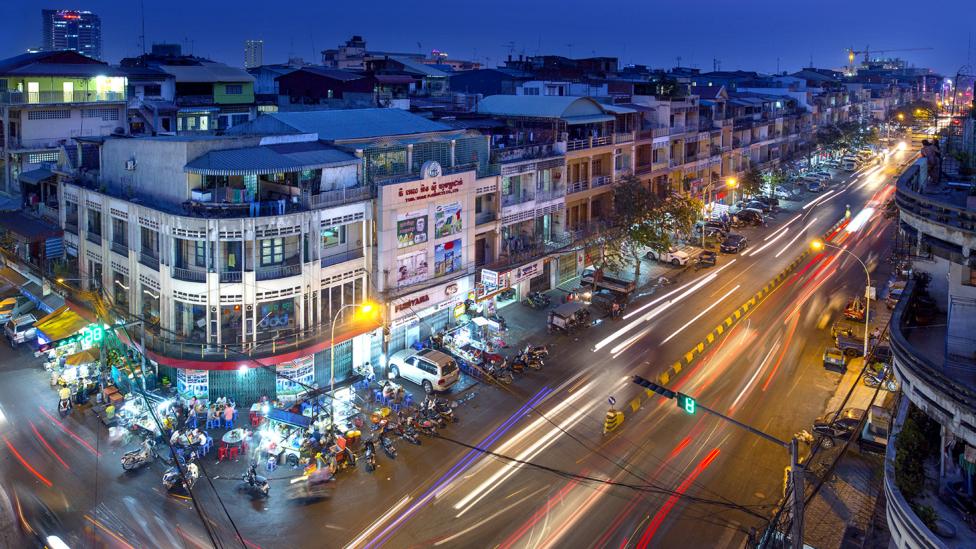 Crime and corruption can be a concern in the city (Credit: Getty Images)
One issue of concern to filmmaker Henderson is the lack of quality, affordable education. Currently, he sends his twin sons to a locally run private school in the centre of the city, which costs $400 each per term. Meanwhile, the international schools in Phnom Penh can range from $15,000 to more than $20,000 a year, a challenge for expats who are not in a lucrative industry, like finance or business, or on financial packages with their firms.
"Now that I have a family, education, healthcare and culture are very important," Henderson says, explaining that the lack of public parks, as well as a shortage of arts and cultural events, is problematic. "I know my kids are missing something that I had growing up."
Despite his reservations, he said he would never hesitate to recommend a move to Phnom Penh, especially for those looking to jumpstart a stagnating life.
"The freedom Cambodia has given me — the freedom to build the bridge for my future here — that's what I like the most, and this is something a lot of people experience," he says. "It is definitely a life-changing experience."
To comment on this story or anything else you have seen on BBC Capital, head over to our Facebook page or tweet us on Twitter.