Love your job, but hate your office?
For many of us, our physical workplace can be dark, depressing, bland and even dysfunctional. Windowless cubicle farms and airless open-plan floors can kill motivation and take a toll on worker performance, possibly even their health.
Windowless cubicle farms and airless open-plan floors kill motivation
But a refreshing trend is taking root in workplace design: nature.
There's a growing body of evidence showing that workplaces that incorporate natural elements, such as plants, light, colours and shapes, have noticeable — and measurable — benefits for both companies and their employees.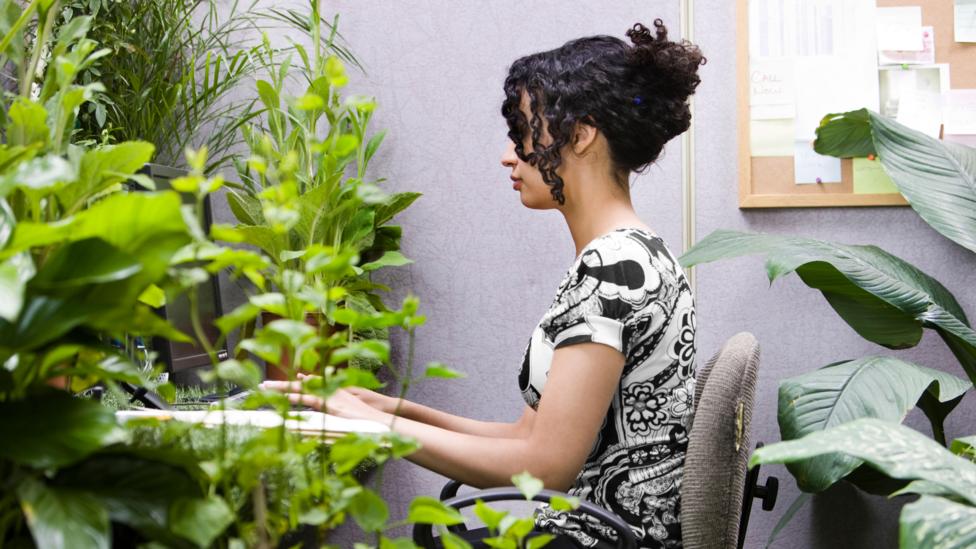 Plants in the office make people happier and more productive, research shows (Credit: Alamy)
The positive effects touch on everything from worker happiness and creativity to increased productivity, decreased absenteeism, better staff retention, improved profits, and the improved ability to attract the best workers.
It's all based on the principle of biophilia — the instinctive affinity that humans have with the natural world and other living systems. And it's easier to achieve at the office than you'd think.
Small changes, dramatic effects
"People just don't like fluorescent lights in a building with no plants, no views, no natural lighting," says Sir Cary Cooper CBE, professor of organisational psychology and health at Manchester Business School at the University of Manchester and co-founder of consultancy Robertson-Cooper. He led a 2015 study on the impact of biophilia in the workplace that surveyed 7,600 workers in 16 countries and found that even small nature-inspired changes can have a dramatic impact.
Plants in the office make people happier and more productive
Respondents to the Human Spaces Global Report who worked in environments with natural elements reported a 15% higher level of well-being, a 6% higher level of productivity and a 15% higher level of creativity. One third of respondents said the design of an office would affect their decision to work for a company. Even so, 58% said there were no live plants at their workplace and 47% reported having no natural light.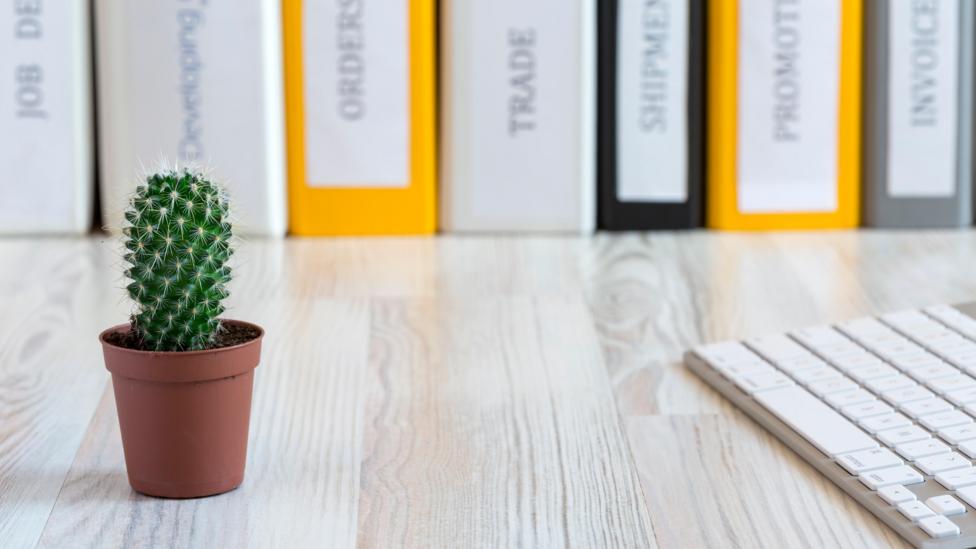 Blue, green and yellow are associated with productivity and creativity (Credit: Alamy)
An earlier, 2014 study by Cardiff University in Wales also showed that plants in the office make people happier and more productive. But more research is needed into biophilia, experts say.
Unknown effects
"There's not a huge depth of research yet, but it's a rapidly growing field," says Bill Browning, a founding partner of Terrapin Bright Green, a US-based environmental consulting and strategic planning firm. "Also important is how many other different disciplines have come into the conversation, such as environmental psychologists, endocrinologists and neuroscientists," amongst others.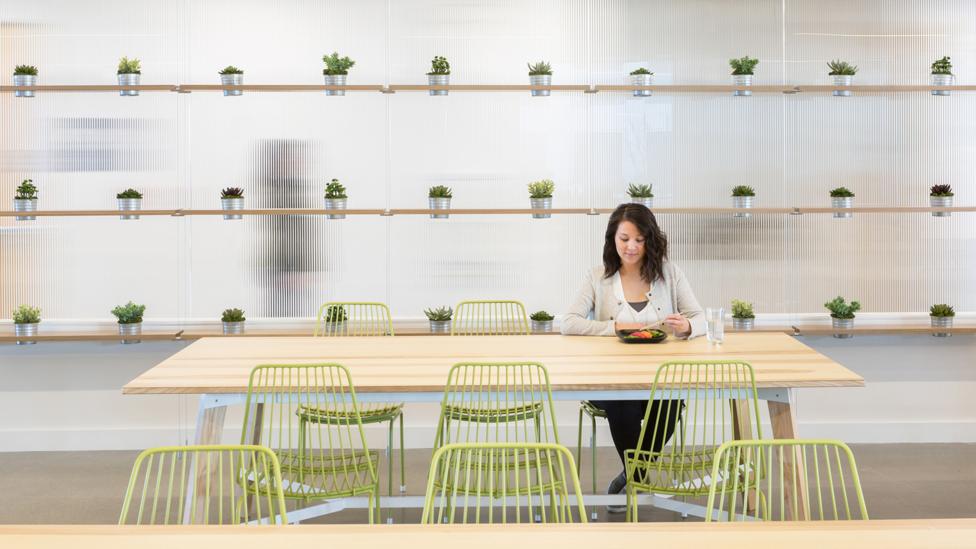 A succulent wall in Palettes Cafe at Adobe headquarters in San Jose, California (Credit: Adobe/Emily Hagopian Photography)
Indeed, science shows that exposure to natural light and green spaces is associated with better mental and physical health — something hospitals cottoned on to a while ago. A 2015 study, conducted in Barcelona, showed that surrounding greenness, especially at school, improved cognitive development in primary-school children. And, a 2015 Stanford University study showed that walking in a park helps urbanites stop ruminating, that is, mentally mulling those negatives thoughts that are associated with heightened risk for depression and other mental illnesses.
So if all this seems logical, what can you do to get more nature at the office? Plenty, it turns out. And there's much more to biophilia than just adding a desk plant or moving to a cubicle near a window.
A bird's eye view
Perhaps unsurprisingly, technology giants are ahead of the curve in recognising that a work environment is critical to employee happiness and productivity and have incorporated biophilic principles into their gleaming, new work spaces.
Amazon, for example, is building huge futuristic biospheres in Seattle. On the inside, the orbs more closely resemble a park than an office and will incorporate more than 3,000 plants from 30 countries, tree-house meeting rooms, water features, a green birdcage-themed conference room, environmental fogging, and a five-story living wall. Walking meetings in the spheres will be encouraged, Amazon says via email.
Adobe says biophilic design is one way the company ensures its employees are cared for (Credit: Adobe/Emily Hagopian Photography)
In Silicon Valley, multinational software company Adobe told BBC Capital in an email that it recently renovated its headquarters in San Jose, California, with the help of Gensler Architecture and Design to incorporate plants, sunlight, natural materials, views and vistas with access to outdoor spaces, among other forward-thinking design elements.
It's not just the tech sector. US organic food and drink maker Clif Bar & Company built possibly the world's first biophilic large-scale bakery after enlisting the help of Terrapin Bright Green. The new, 300,000-square-foot facility in Twin Falls, Idaho, boasts more than 200 windows, vaulted skylights, indoor walls of recycled barnwood and natural stone, according to its website. And if you're on the night shift when it's too dark to see outside? No problem, there's a wall-projected slideshow of images of the great outdoors for you to enjoy.
There are ways of mimicking nature indoors … that can still deliver the same benefits as the real thing and not break the bank
But what if you don't work for a cashed-up innovator that is able to design structures from the ground up? What if your employer is one of the many that is constrained by leased, existing space and tight finances?
The key is for companies to engage with their employees, Cooper says. Ask them what nature-inspired changes they desire. "No. 1, they'll like being asked, but No. 2, they'll come up with really clever ideas about what you might do," Cooper says.
And don't let money — or lack thereof — impede your efforts. Incorporating nature into your office doesn't have to be a costly exercise.
It is easy being green
"Biophilic Design can be achieved at all budgets," says David Gerson, vice president of marketing for modular-flooring company Interface, which commissioned the Human Spaces report. "Even if your space lacks floor-to-ceiling windows or a large water feature in the atrium, there are ways of mimicking nature indoors and arranging working environments that can still deliver the same benefits as the real thing and not break the bank."
Ideas include graphics, wallpaper, a digital screen that depicts nature scenes, nature-inspired carpet tile, a stone floor or exposed wood trusses, he says.
"There are lots and lots of things you can do that don't involve plants, animals and water," says Terrapin's Browning. Terrapin published a list of 14 principles of biophilic design that describes the different elements of biophilia and ways it can be incorporated into a space.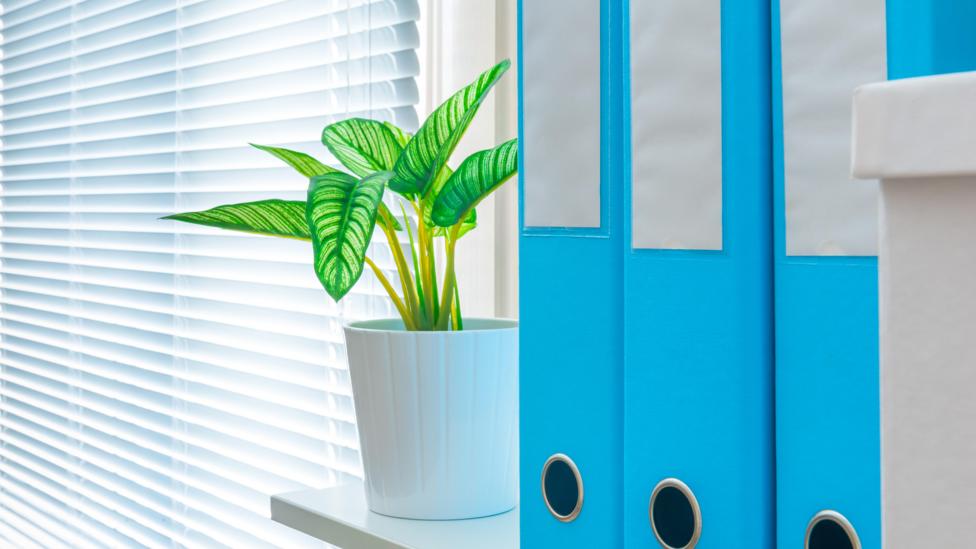 Incorporating nature into your office doesn't have to be a costly exercise (Credit: Alamy)
Yes, there is lighting, air flow, water features and greenery to consider — even sustainability and energy efficiency principles. But there are also things you might not think of, such as movement (think fish tanks or how leaves move in a breeze); or the use of naturally occurring shapes, patterns and colours (think wave patterns, for example); or certain materials.
"We find that natural materials can have an impact. Natural materials have layered fractal patterns within them," Browning says. Not all biophilic elements elicit the same response, he adds, some help with stress whereas others can help improve cognitive performance, creativity and mood.
Not all biophilic elements elicit the same response
While the effects of looking at the colour green are well known — a 2011 report by the University of Munich in Germany showed that even a brief glimpse of green prior to a creativity task enhances creative performance — Cooper's Human Spaces report, in which Browning is quoted, found that other colours have different impacts. Blue, green and yellow were associated with productivity and creativity.
Geography may also be a factor: different countries have different preferences when it comes to biophilic-office-design elements. For example, the colour purple is predictive of employee happiness in Canada, but in China, it's brown.
The colour purple is predictive of employee happiness in Canada, but in China, it's brown.
So if your office has blank, white walls, you might not be doing your best work.
Fad or fantastic idea?
More than a fad, experts say this design movement is here to stay.
"Technology is a wonderful thing and has taken us so far so quickly; however, it cannot replace our innate, human need to be connected to nature," Interface's Gerson says.
Cooper agrees: "You'll always have fads on the interior design of an office, but I suspect the most sustainable thing will be a need by people to have some link with nature."
And the quantifiable evidence in favour of biophilia is mounting, especially where companies like it the most — the bottom line.
A California Energy Commission study that examined worker performance in indoor environments, and which is cited in a 2012 report published by Terrapin on the economics of biophilia, demonstrated how it can boost earnings.
At a call centre in Sacramento, California, workers whose cubicles had a view of vegetation through a window handled a larger volume of calls — about 6-7% faster — than those with no view. So, the company decided to spend about $1,000 per employee rearranging workstations. The result? Annual productivity savings averaging $2,990 per employee, an investment payback within four months, and a boost to long-term productivity and profits.
If the benefits of biophilia seem clear, but there's really nothing you can do with your horrible office space, there is still one other option for you to consider: up sticks and move to greener pastures.
To comment on this story or anything else you have seen on BBC Capital, please head over to our Facebook page or message us on Twitter.