The ultimate sea change might be to spend your golden years afloat.
R
Retirement has often been synonymous with quietly living out your golden years in a sunny climate. But for a more adventurous breed of retirees, the end of work life opens a door to a more extreme type of sea change.
The siren's call of cabin life is beckoning increasing numbers to traverse the globe via the ocean. And, it's a surprisingly more attractive – and affordable – option than assisted living for some retirees.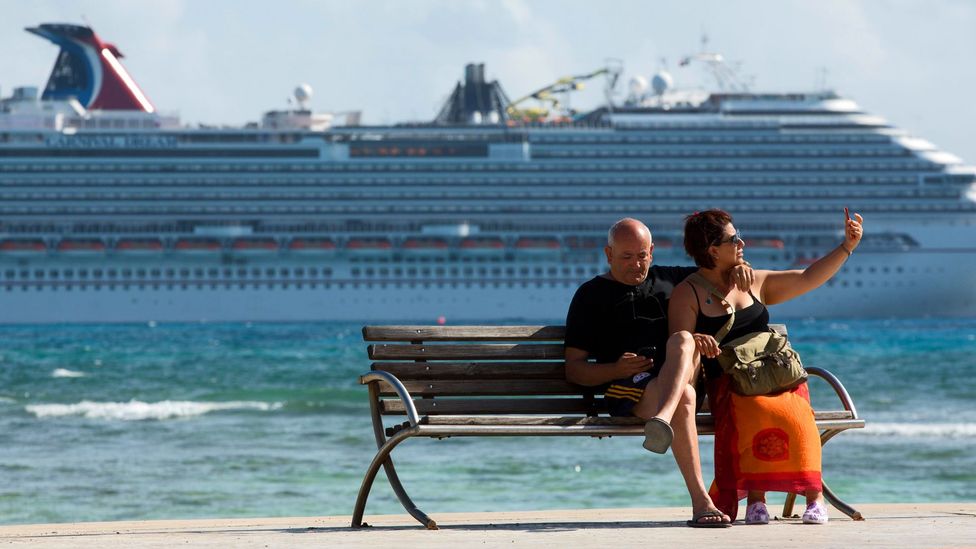 Travel to multiple ports, activities and hotel-like services make a cruising retirement attractive. (Credit: Alamy)
The number of people who take cruises is at an all-time high, with 24 million passengers expected to set sail this year worldwide versus 15 million a decade ago, according to the Washington, DC-based Cruise Lines International Association. Half of these cruisers are 50 or older, and, of those, a small number are making the ocean a second home or even their permanent home.
Cruise ships might be an ideal retirement destination, although some things can be tricky
Cruise ships might be an ideal retirement destination, although some things such as healthcare can be tricky. They offer, well, everything. From nightly entertainment to exercise equipment to Internet, most ships are equipped with anything you need to make a place home — including the travel, often a big priority for younger retirees. While no group tracks the number of people choosing this new form of retirement, a handful of cruise lines confirmed that they are seeing more near-year-round cruisers with some frequency.
Lap of luxury
For some, retirement at sea involves taking over a small stateroom on a standard cruise ship with repeated sailings and itineraries. For others, it means purchasing a "residence" (a high-end apartment at sea) on a luxury ship like The World, which is managed by Florida-based ROW Management Limited, or the yet-to-launch Southern California-based Utopia, both offering exotic destinations and expeditions.
 "[These are] people who love to travel, don't want to be responsible for any type of home maintenance, want to ditch the car, are healthy, and are comfortable living with an ever-changing 'neighbourhood'," says Jan Cullinane, Florida-based author of The New Retirement: The Ultimate Guide to the Rest of Your Life.
 It's so decadent. They do everything for you.
Jay Johnson, owner of Southern California's Coastline Travel Advisors, had one client in her mid-eighties who decided she wanted to take a cruise around the world before selling her home and moving into a retirement facility. But, after sitting down with Johnson and running the numbers, which came out to under $300 a day, she changed her mind.
"That's cheaper than what I would pay to live in a nursing facility," the woman told Johnson. She decided to sell her home and made plans to move on to the ship permanently.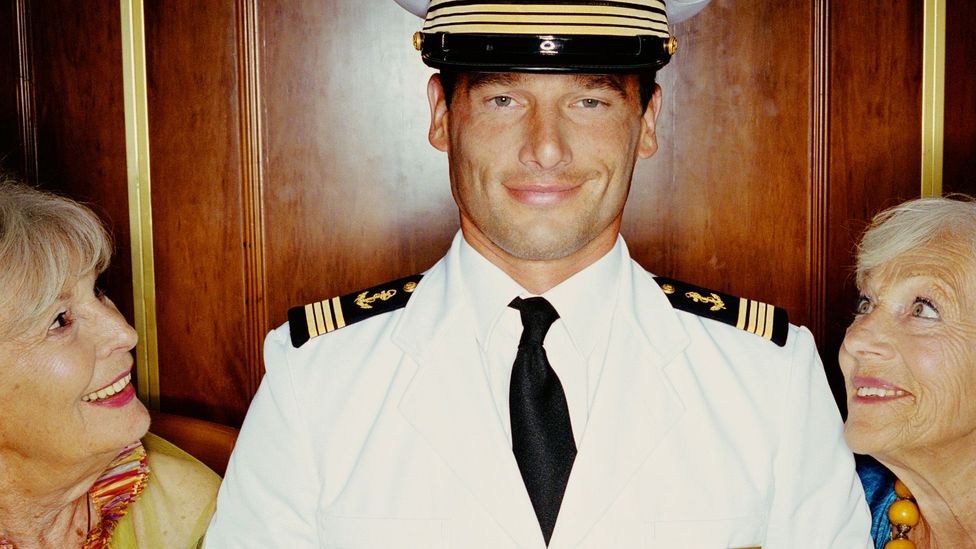 Some retirees are making the ocean their full- or part-time home. (Credit: Getty Images)
The cruise line wasn't wild about the idea at first, but eventually agreed to it, says Johnson. He wasn't surprised at the hesitancy. "Someone on a cruise ship year-round is probably not going to gamble, not going to drink, and not going to do a lot of shore excursions," he says. "They're basically going to take up a room and there's not going to be a lot of revenue coming from it."
Plus, with older passengers, there is always the concern about health issues. All cruise ships are required to have medical staff on call 24 hours a day, but most ships are not equipped to deal with serious conditions.
A second home
For Chicago retirees Jan and Dick Yetke, cruise line Holland America's four-month world cruises have been the antidote to brutal Midwest winters for the last nine years.
The Yetkes were inducted into the President's Club this year. It's the highest level of repeat cruisers on Holland America, 1,400 sailed days.(Credit: Courtesy of the Yetkes)
"They are our winter home," says 72-year-old Jan Yetke. The ships sail January to April roundtrip from Florida. The Yetkes also do other, shorter cruises throughout the year.
I would do it year-round in a heartbeat.
"I would do it year-round in a heartbeat," says Jan Yetke. "It's so decadent. They do everything for you. So, why not?" Her husband says he's not ready to give up his home on land and is content with spending part of the year near their children and grandchildren.
And he might be onto something. Having someone do everything for you could get old rather quickly, says Memorial University of Newfoundland professor Ross Klein, a cruise industry expert.
"Imagine being in the same limited space with the same staff/crew and being served the same food," he says. "It would become unattractive after a while."
On a grander scale
For some, a typical cruise cabin — averaging around 170 square feet (16 square metres)— might suffice. But there's a level of luxury available for those with the money to spend.
 It takes about two-and-a-half to three years for the vessel to navigate the globe with stops in roughly 100 ports each year.
The World, which launched in 2002, houses 165 private residences ranging in size from $1.65m studios to $15m three-bedroom, top-deck penthouses. Activities include tennis, shopping, a wine cellar, swimming, fine dining, and a theatre for lectures and entertainment.
"You can come and go as you please," says Joanna Meredew, account director for the London-based Dovetail Agency, which represents The World. It takes about two-and-a-half to three years for the vessel to navigate the globe with stops in roughly 100 ports each year.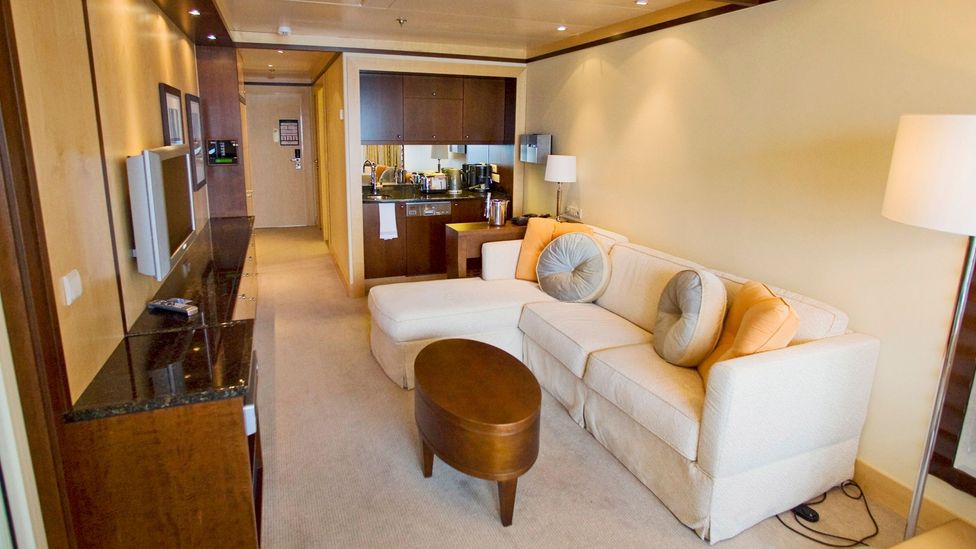 The World has 165 private residences and activities like tennis, shopping, swimming, and a theatre for lectures and entertainment. (Credit: Getty Images)
The ship's board, which is made up of residents, votes two to three years in advance on what stops to make. In 2017, it will go to the Antarctica's Ross Sea for the first time, and there will also be stops in Australia, New Zealand, East Asia, Canada, the US, Mexico, Central America, and Cuba.
Most residents choose to sail for a few months at a time, using the ship as a second home, and average length of ownership is five to six years. Prospective buyers can apply to rent one of the units before making the plunge to buy one. The average age on board is 58, according to Meredew.
Even larger than The World is the Utopia, which is not expected to start sailing for another three-and-a-half years. When it does sail, it will boast units ranging in size from 1,450 to 6,200 square feet, with mega-prices to match: $4m to $35m. The company expects most of its owners to use the ship as a second home, not a fulltime residence.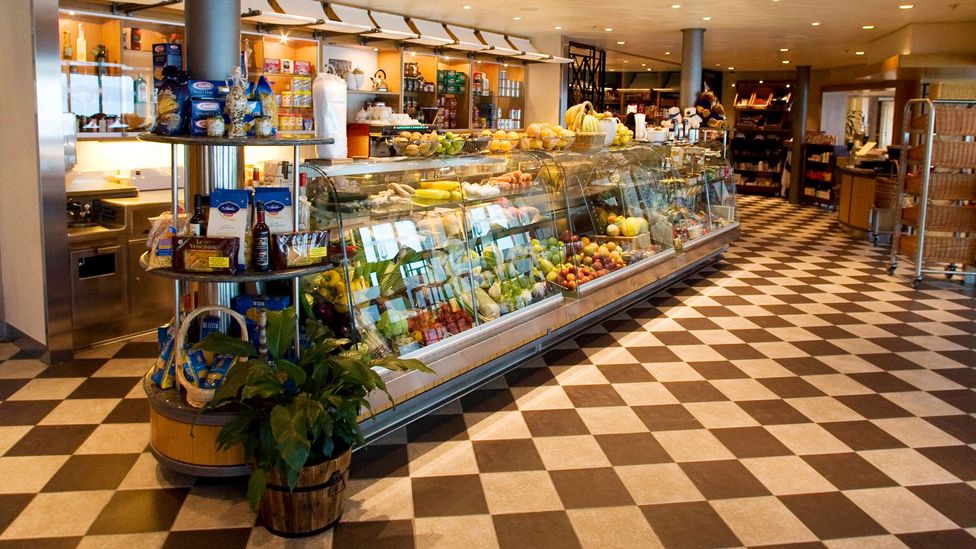 The World, a residential cruise ship, has its own grocery, among other things. (Credit: Getty Images)
Los Angeles-based luxury cruise line Crystal Cruises announced last year that it would build three new ships, each with 48 residences for sale in addition to regular cabins.
And, for those not ready to invest in their own piece of real estate at sea but who want something grander than a typical cabin, Cunard's Queen Mary II offers a number of decadent options, including its Grand Duplex Suites with private dining rooms, lounges, and deck spaces.
Health concerns
Of course, cruise ships don't have everything a retiree needs. Health care is one issue.  "Although some of the ships have helipads on them, one of the fears would be needing immediate care by a specialist, and ships aren't well equipped to contend with some of the potential challenges of aging. And, evacuation insurance is expensive," Cullinane says.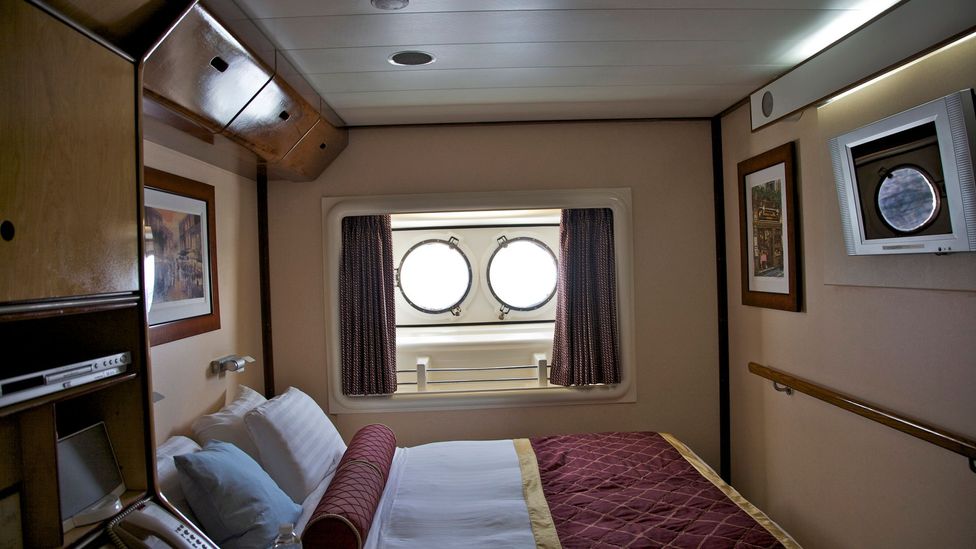 People who spend months on ships can book larger staterooms. (Credit: Getty Images)
Johnson's eighty-something client, for instance, took ill not long after she started cruising and had to leave her high seas retirement. "But she got to do it, even if it was only for a short time," says Johnson.
If you're relatively mobile and healthy, though, trips to doctors can be planned when you're in port. And retirees like the Yetkes say it's the cruises that help keep them active and social.
"We like to move and we like to travel," says Jan Yetke. "It just sounds boring to us to sit in a condo somewhere in Florida."
To comment on this story or anything else you have seen on BBC Capital, please head over to our Facebook page or message us on Twitter.