Would you trade your office desk or your dining table to work in someone else's home? A co-working movement launched in Sweden claims it will make you more productive and even happier.
I
It's 13:30 and 28-year-old Mårten Pella's smartphone starts pinging, a signal that it's time for us to stop working around his living room table and instead start our workout routine together.
He flicks to a seven-minute exercise video on his laptop. A cartoon character wearing bright red shorts begins instructing us to do star-jumps, squats and sit-ups around his suburban 1950's apartment, as we carefully avoid the hammock, vintage record player and giant pot plants.
Pella, a research assistant at Stockholm University, is part of the Hoffice movement, which invites workers — freelancers, entrepreneurs, or full-time employees who can do their jobs remotely — to work at each other's homes to boost productivity and tackle social isolation.
Those attending pop-up Hoffice events are typically asked to work in silence in 45 minute blocks
Those attending pop-up Hoffice events advertised on Facebook are typically asked to work silently in 45 minute blocks, before being encouraged to take short breaks together to exercise, meditate or simply chat over a coffee. In addition, each participant shares daily objectives with the rest of the group upon arrival, and is invited to report back on whether or not they have achieved them at the end of the day. The events are free.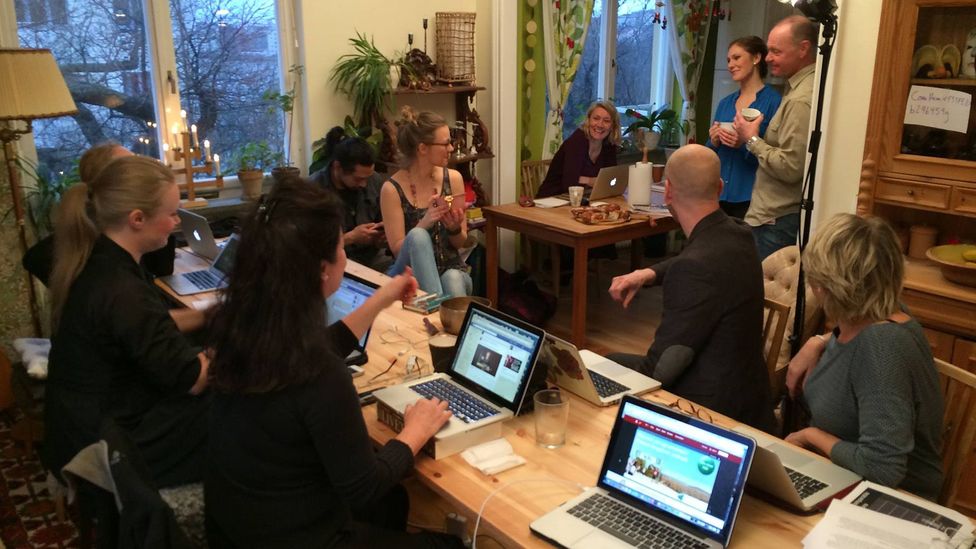 Working out of someone's home rather than an office creates a better sense of community and desire to contribute, say members of the Hoffice community (Credit: Amrit Daniel Forss)
"Often when I am alone, I can work focused for a couple of hours but then [I am] very easily distracted. The help of others makes me so much more disciplined," says Pella, who attends Hoffice events as both a guest and a host. Lunches mean networking and connecting with new contacts, he says. "People are coming from really different areas and have different professions so there can be really interesting discussions."
How it began
The Hoffice movement has grown quickly since it was founded in 2014 by Swedish psychologist Christofer Franzen, now 37. He had been giving lectures on the benefits of collective intelligence, but realised he was spending most of his own time working solo at his kitchen table or in coffee shops. He wanted to test more structured home co-working with friends in similar situations. At first the experiment operated simply by word of mouth.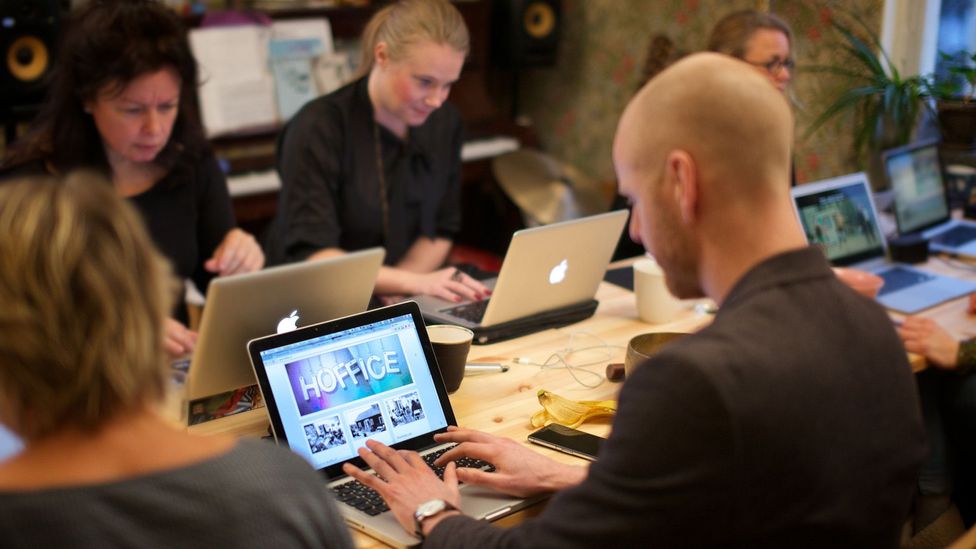 Hoffice co-founder Christofer Franzen working on the company's webpage (Credit: Amrit Daniel Forss)
Franzen says that holding events in houses and apartments create a unique atmosphere, because there's a sense of community and desire to contribute. He's looking for ways to expand the social value of Hoffice, by matching up members with relevant skills to share and even encouraging jobseekers to join its pop-up gatherings.
A matter of trust
There are no background checks on new Hoffice attendees or organisers, but that doesn't work everywhere.
People were like 'how can I trust that someone is not going to come to my home and rob me?'
"When we introduced the concept in India, for example, that became a big issue," he says. "People were like 'how can I trust that someone is not going to come to my home and rob me?' Swedish people don't really have those kind of fears."
Security is one of the selling points championed by a cluster of fee-paying shared dining table platforms that are emerging in parallel with Hoffice's growth around the world.
London-based Spacehop, launched in January 2016, gives freelance professionals and small teams the chance to rent spots in strangers' properties from around $10 a day. Meanwhile OfficeRiders has been offering similar guarantees for digital nomads (known as "riders") in France since 2014. Both companies give homeowners an insurance policy that covers theft and damage and gives users the chance to rate their temporary workspaces.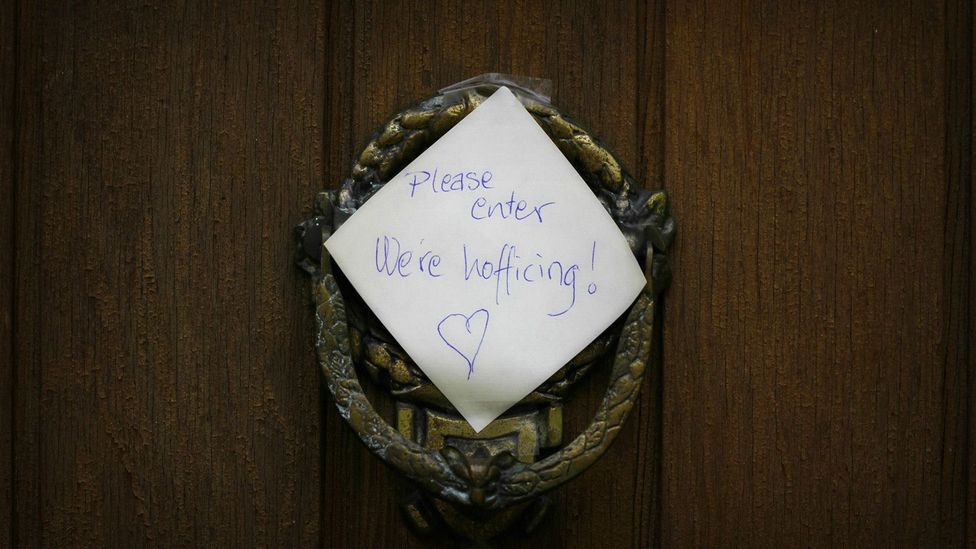 While there are no background checks at Hoffice in Sweden, this trust-based concept does not work as well elsewhere (Credit: Hoffice)
 "Introducing a financial incentive adds a layer of seriosity," argues 27-year-old Joachim Wernersson, the founder of HeyWork, a newly-launched platform designed to monetise the home-based coworking concept for the first time in Sweden.
If there is a transaction involved, the hosts get a bit more serious about keeping the place clean, keeping it professional
"If there is a transaction involved, the hosts get a bit more serious about keeping the place clean, keeping it professional. From the guests' perspective as well, once you've paid for something, you're keen on making sure you're behaving properly," says Wernersson.
His current model charges guests a minimum of just $20 a week, in an effort to help burgeoning entrepreneurs. Office-based employees who leave their homes empty during the day are the target hosts, encouraged to consider the benefits of a side-income at a time when rents and house prices in Sweden are sky rocketing.
Rising popularity
Stockholm's Hoffice Facebook group now has almost 1,800 members, in a capital of 1 million people. Events have taken place in locations ranging from luxury waterside homes to 20-square-metre-student apartments. Smaller offshoots are also cropping up in most of the Scandinavian country's major urban areas. Sweden, where more than half of all businesses are sole traders, is clearly a ripe location for such gatherings.
"It's also a matter of the low-level hierarchy that exists in Sweden and a high level of trust from managers when it comes to working flexibly," says Lena Lid Falkman, a researcher at Stockholm School of Economics who examines how technology is shifting our work patterns.
The movement has spread to dozens of other countries, with the largest attendance elsewhere in start-up hubs Sao Paulo and Toronto
The movement has nevertheless spread to dozens of other countries, with the largest attendance elsewhere in start-up hubs Sao Paulo and Toronto.
While Wernersson is unwilling to share how many paying customers have so far signed up for his new Sweden-based platform HeyWork, Spacehop reports signing up 300 hosts across the UK in its first year, with over 2500 "hoppers" using the service. Office Riders now has 1,500 listed spaces on its platform, and more than 10,000 "riders".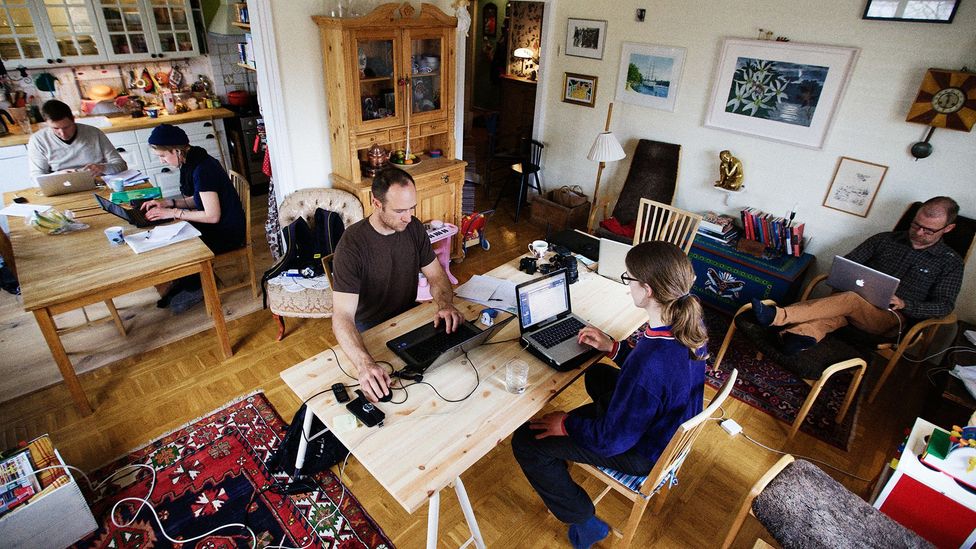 One of the very early Hoffice events in Sweden (Credit: Amrit Daniel Forss)
Is it effective?
A range of studies support Franzen's argument that people can achieve more when they work for structured short periods, but there is currently very little concrete research on whether the home co-working movement could facilitate longer-term efficiency or financial gains for those taking part.
However, growing numbers of academics are keen to investigate its potential amid the global boom in the 'gig' and sharing economies.
 "We're trying to figure out how this affects things like leadership, creativity, productivity and well-being," Falkman says. "But I am not surprised that we are looking for more creative and comfortable workplaces — that's part of being entrepreneurial."
To comment on this story or anything else you have seen on BBC Capital, please head over to our Facebook page or message us on Twitter.