There's a fast-growing industry catering to those willing to spend tens of thousands – or more – on popping the question.
I
In an historic theatre in London — amid stained glass, stone carvings and twinkling fairy lights — actors rehearse a love scene from Romeo and Juliet. Their only audience is Amanda Lynch, a Shakespeare fan on holiday from Long Island, New York. Her boyfriend Andrew Smith has popped out of the room. Amanda thinks she's passing time before meeting friends for dinner. But unknown to her, the starring role is hers.
A string quartet appears, a choir bursts into song and Andrew returns. Taking her hands in his, he says, "I honestly never thought I'd find someone like you... You loving me unconditionally is something I can never imagine living without." On bended knee he asks, "Will you marry me?"
Moments later, a diamond sparkling on her engagement finger, Amanda reads a 'Juliet Wall' of love notes from Andrew. Trembling with emotion, she says, "That was the coolest proposal ever."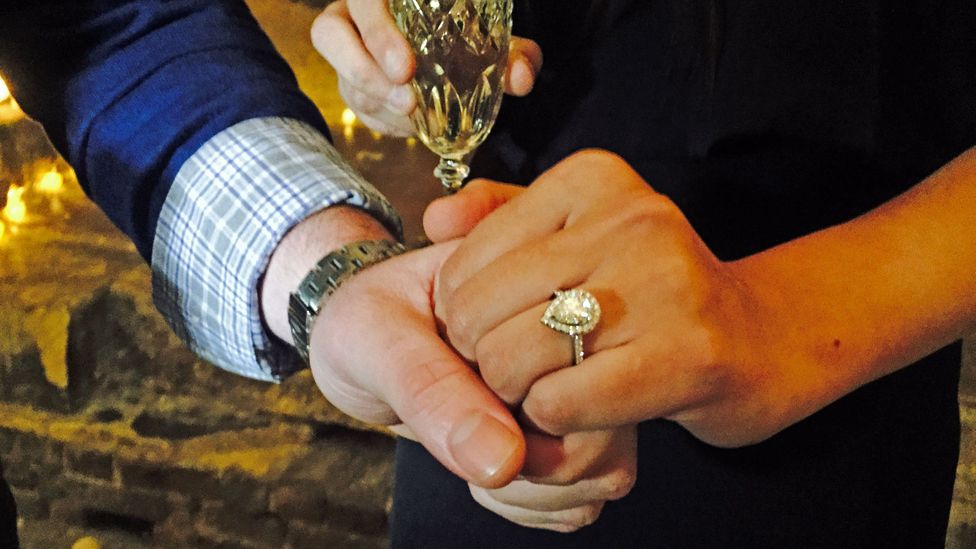 Andrew Smith and Amanda Lynch from Long Island, New York, newly engaged after a Romeo and Juliet themed proposal in London in November 2015 (Credit: Andrew Smith)
A new niche
Creating it involved two months' planning and a cast of 25 — including a choreographer and a musical director. The event was storyboarded and staged by London-based proposal planner The One Romance in November 2015 and cost about $4,000.
A growing cohort of suitors are enlisting professional help to pose the biggest question of their life
"I would do it again in a heartbeat. It was 100% worth it," says Smith, 32, who is vice-president of operations with a remodelling company.
The youngest of five brothers, Smith admits to a touch of sibling rivalry. One brother proposed at the Eiffel Tower in Paris, another at the Rockefeller Centre in New York City. "I'm the last to get engaged," says Smith. Also, he explains, "I'm a little bit type A, a bit of a planner. I don't like to do things haphazardly."
Smith is one of a growing cohort of suitors enlisting professional help to pose the biggest question of their life. Proposal planning is a relatively new niche in the wedding services industry; a market worth $72bn last year in the US alone, of which the wedding planning sector represents $1.2bn, according to market researcher IBISWorld.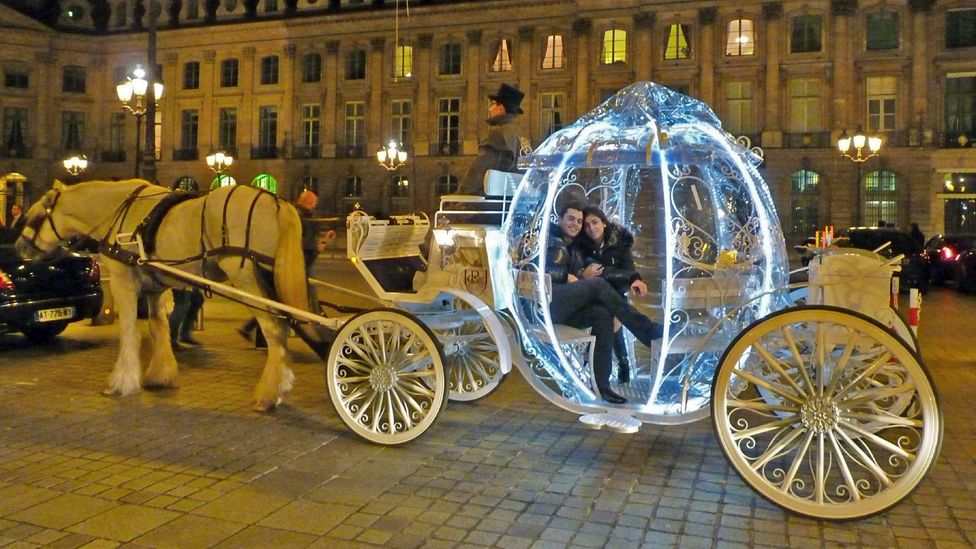 A horse-drawn Cinderella coach is one of the most popular proposal scenarios offered by Paris-based planner ApoteoSurprise (Credit: ApoteoSurprise.com)
A growing market
Staging engagements began as an add-on to existing wedding businesses, says Michele Velazquez of The Heart Bandits in Los Angeles, launched with husband Marvin in 2010 to focus solely on proposals. More than 2,000 couples later, Velazquez says it's "definitely" a growing market. "We get emails from people all over the world asking our advice on how to start a proposal planning company in their area."
One client paid £500,000 for a proposal involving 700 singers and a celebrity appearance
Most clients are men. Women taking the initiative with the man in their life are rare — even in a leap year, the traditional time for women to propose in some cultures. Same-sex proposals, however, represent about 10% of their business, says Velazquez.
Her most elaborate event was at a rooftop garden in New York, where surprises for the bride-to-be included a custom monogram at the bottom of the pool, 9ft (2.74m) orchid arrangements to frame the proposal and a gift of Manolo Blahnik shoes. The $52,000 cost covered, among other things, a string quartet and a celebration meal for friends.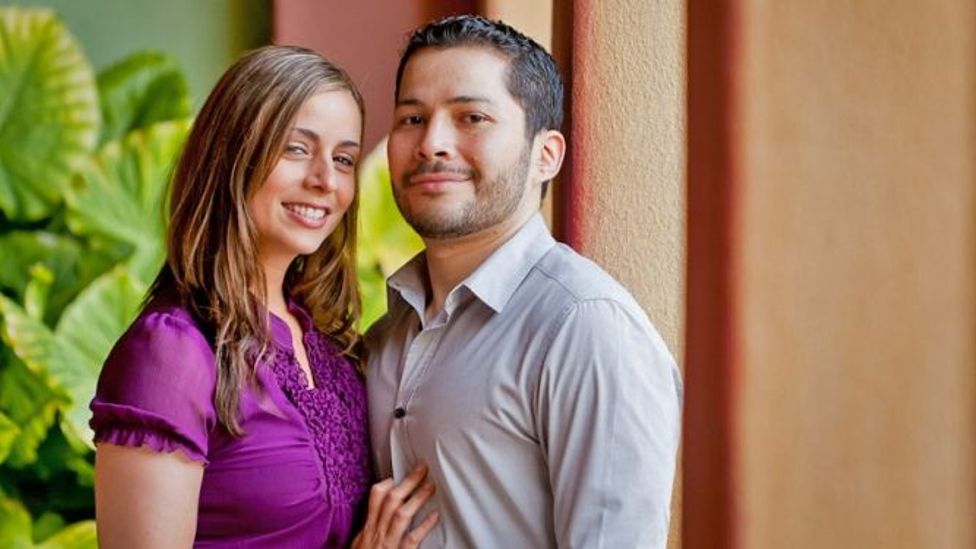 Husband and wife Marvin and Michele Velazquez founded The Heart Bandits in 2010 to focus purely on creating marriage proposals (Credit: Brian Leahy Photography)
Velazquez says, "I love that I get to take the stress away from the client and make sure they shine in their moment where they are completely vulnerable, they drop to their knee, and they propose."
Since launching The One Romance in London in late 2014, cofounders Tiffany Wright and her sister Amanda Brown have worked with about 2,000 wooers.
Social media has definitely bought out competitiveness in proposals
"Most of our clients are in high powered jobs and are quite time-poor. They're willing to brainstorm romantic ideas but they don't have the time to do the legwork," says Wright.
The starting budget is usually around £1,000 ($1,248), but one client paid £500,000 ($624,001) for a proposal involving 700 singers and a celebrity appearance.
The desire to share
As well as the power of love, clients are driven by a desire to share the moment online.
"Social media has definitely bought out competitiveness in proposals," says Wright.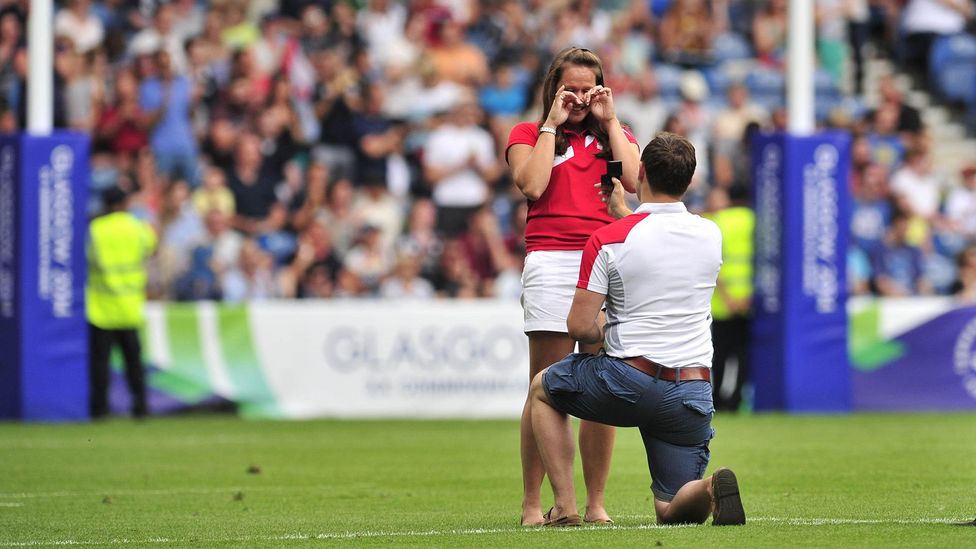 Some proposals – such as this proposal at a 2014 Commonwealth Games rugby match in Scotland – create a lot of news headlines and social media buzz (Credit: Alamy)
Isn't it a trifle unromantic to call in a planner? "We make the grooms-to-be work quite hard," says Wright. "There's a long form for them to fill in, asking questions like where they went on the first date and when was the first time they said 'I love you'. They have to be very open and honest," she says. "Once they see the idea in development they get very excited and start suggesting things themselves."
In March last year, Anthony Williams, a web designer and digital marketer from Kent, England, wanted to surprise girlfriend Dembi — now his wife — with a flash mob proposal.
Wright suggested the intimate setting of a private cinema screening, rather than a public space. After lunch at a trendy hotel in London's Covent Garden, hotel staff invited Anthony and legal personal assistant Dembi to preview a new movie. In the plush hotel cinema the lights dimmed and the movie began — starring 48-year-old Anthony.
"This is a moment I've prayed for all my life," he proclaimed on screen. "To meet a lifelong partner, someone truly as special as you." The film continued with him holding up flash cards displaying his reasons for loving Dembi.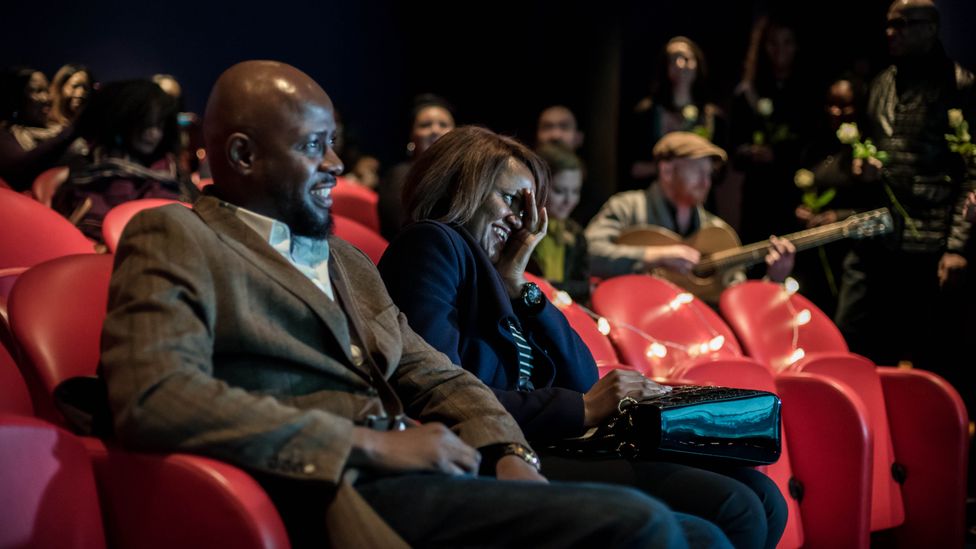 Anthony Williams and Dembi Anthony-Williams at their cinema flash mob proposal in London, arranged by The One Romance in March 2016 (Credit: Sandra Reddin photography)
Then, as the cinema filled with musicians and singers to serenade them, Anthony stood up from his cinema seat and proposed. In the video of the proposal, 33-year-old Dembi's face is aglow, and on Anthony's cheek a teardrop glistens.
"It's very emotional when you do something that you've waited for and it manifests itself in the flesh before your eyes," says Williams. He paid about £5,000 ($6,231) for his proposal experience.
An expensive bubble
It's all about creating "a romantic bubble" within which you build up from feelings of suspense to "an emotional peak", says Nicolas Garreau of ApoteoSurprise in Paris, France. Since 2006, Garreau has staged 1,600 proposals. As well as custom proposals, he offers 30 scenario experiences starting from 290 euros ($308).
I'm in the business of making women cry
For 19,900 euros ($21,183) a couple can cross Paris in a chauffeur-driven Rolls Royce Corniche before a gourmet lunch on the terrace of a manor house overlooking the Seine valley. A rumbling overhead will signal the arrival of four aeroplanes flying in formation. Their aerobatics display culminates with a massive heart drawn across the sky in white smoke.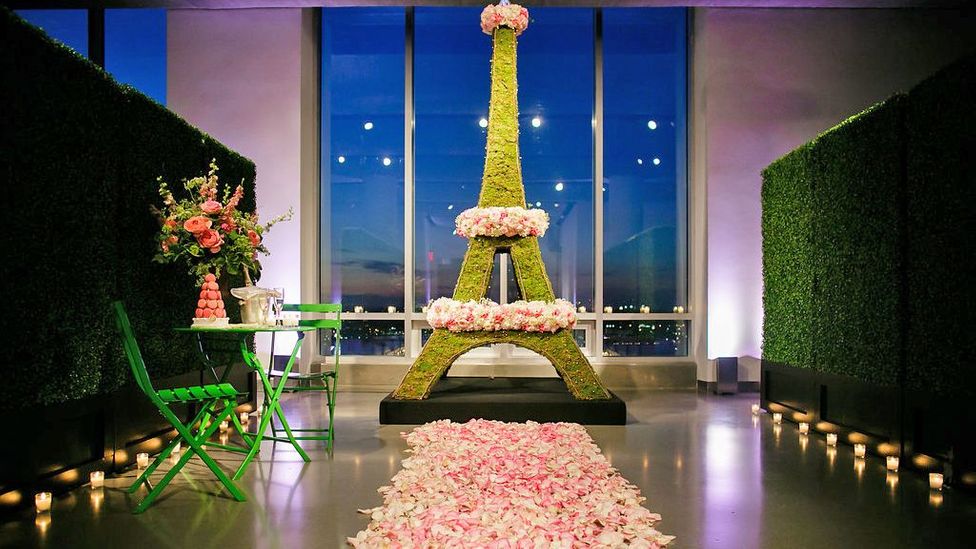 The setting for a 'Paris in New York' proposal created by Los Angeles-based proposal planner The Heart Bandits (Credit: Petronella Photography)
More often requested, says Garreau, is the 1,990 euros ($2,118) option of a horse-drawn Cinderella coach complete with a chocolate shoe in the woman's size, followed by a tour of Paris and dinner aboard a boat cruising the Seine.
"I'm in the business of making women cry," says Garreau. "If the tears didn't come I would feel I had failed in some way."
To comment on this story or anything else you have seen on BBC Capital, please head over to our Facebook page or message us on Twitter.