Malmö's international image is in need of a makeover — one that matches the genuine experience of its resident expats and citizens alike.
Saddled with a reputation for crime, the grittier neighbourhoods within Sweden's third-largest urban hub have gained notoriety in recent years after appearing in global smash-hit Nordic Noir drama The Bridge, while more recent international debates have questioned safety amid large-scale immigration. US President Donald Trump has suggested that media and the authorities have hushed up how bad tensions are in the city, while UK politician Nigel Farage claimed it was the rape capital of Europe.
There is another side to Sweden's third-largest urban hub
But there is another side to the city, where ornate fourteenth century buildings nestle beside sparkling new hotels and apartments along the Öresund strait.
Home to just 330,000 people — one third of whom are foreign-born — Malmö attracted more startup investment than any other non-capital in Scandinavia in 2016, according to Nordic Tech List.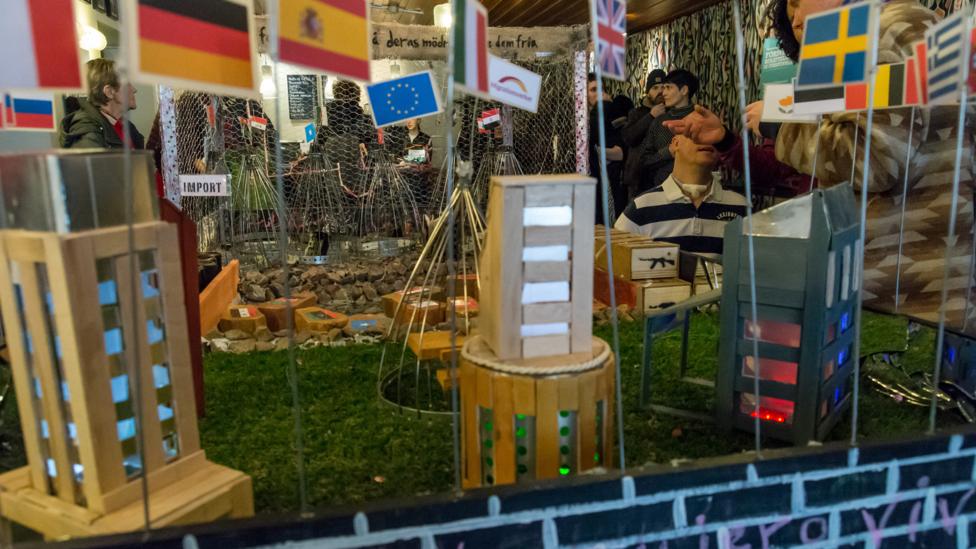 An art exhibit raised money to support refugees (Credit: Getty Images)
It is already home to the Swedish businesses behind some of the biggest mobile and video games in the world. These include King, which developed Candy Crush Saga and Massive Entertainment which produced 2015's fastest-selling game The Division. The latter is now working on a franchise based on the blockbuster Avatar.
Recently ranked by the OECD as the world's fourth most inventive city (after Eindhoven in The Netherlands, San Diego and San Francisco in the US) thanks to the large number of patent applications per capita, many of Malmö's other thriving industries are focussed on making a positive impact on the planet. These include green energy, digital healthcare and sustainable tourism.
Officials have worked to help residents reduce their individual carbon footprints too, with major investments in new cycle lanes, signs and free tyre pumps making Malmö the world's sixth most bike-friendly city. The majority of locations in the city are easily reachable in a 20-minute or less ride.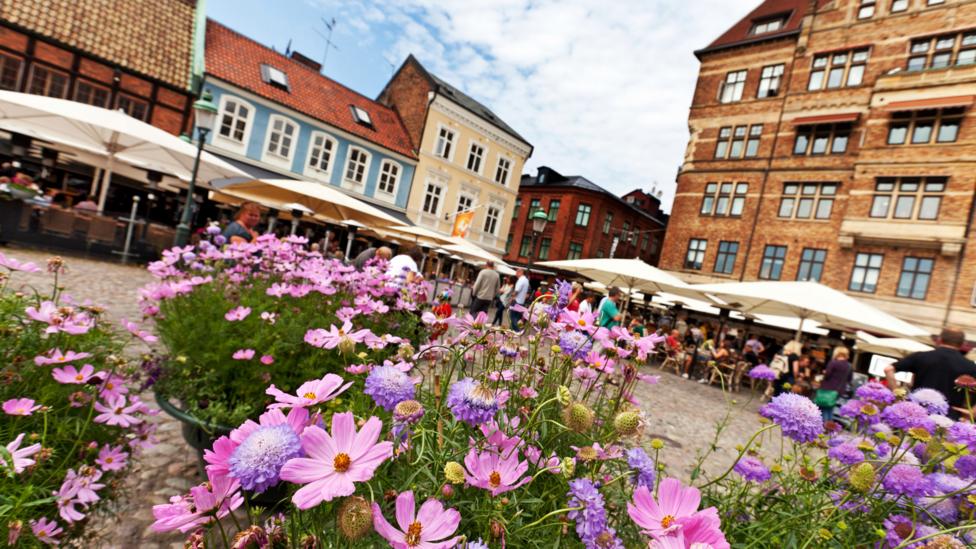 Lilla Torg Square, where people in Malmo walk and enjoy outdoor meals (Credit: Alamy)
Temperatures, while still chilly by global standards, rarely dip below freezing (0C) and often top 20C in summer, whereas other major business centres in the region such as Oslo or Helsinki are typically covered in snow and ice during winter and can struggle to reach above 15C during even their hottest months.
If you do need to warm up indoors in Malmö, there is a vibrant food scene, which is quickly catching up with neighbouring Copenhagen, long famed for its award-winning eateries. Three restaurants possess at least one Michelin star, while the city's diversity has also created a boom in affordable international cuisine.
The food in Malmö is genuinely fantastic
"The food in Malmö is genuinely fantastic," says 32-year-old year old Nicholas Nilsson-Bean, who grew up in the British city of Oxford and lived in Valladolid, Spain before getting a job on Sweden's west coast four years ago and relocating to Malmö in 2015.
"Malmö's known for its cheap, tasty falafel, thanks to its large migrant population. But there's also everything from great burger bars and casual dining restaurants to high end Nordic cuisine."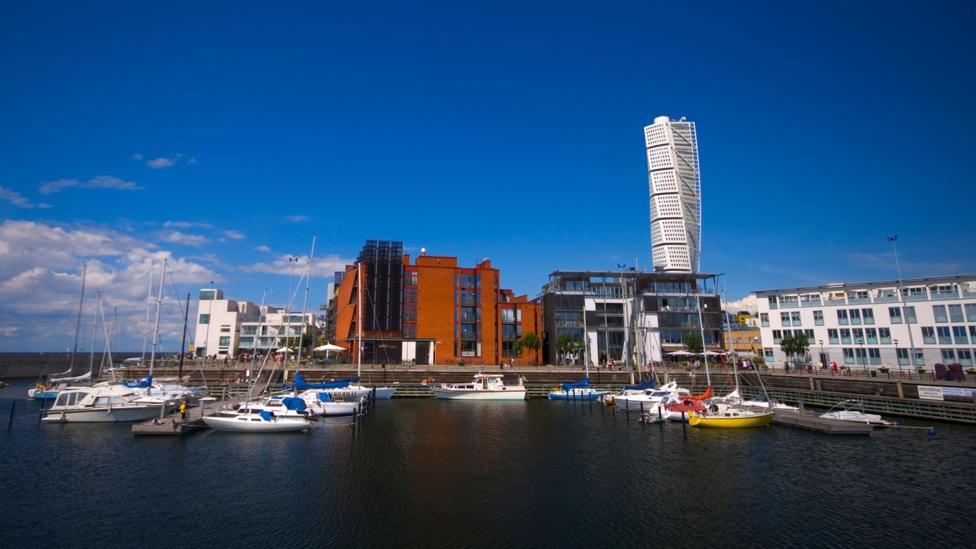 The Turning Torso skyscraper, the tallest in Scandinavia, is in Malmo and owned by HSB Sweden (Credit: Alamy)
Settling in
When it comes to finding a place to live, there is a squeeze on housing in Malmö. This means subletting tends to be the most common option for new arrivals without connections in the city, who are expected to trawl online marketplaces such as Blocket (similar to Gumtree or Craigslist) or join accommodation-focussed Facebook groups.
Fewer than 1% of employees clock up more than 50 hours a week
Still, it remains a less challenging market when compared with Sweden's capital Stockholm, where an infamous 20-year waiting list for rent-controlled apartments in some areas has resulted in a pricey black market. While the average cost of subletting a studio apartment in Stockholm is 7700 kronor ($US857) a month, this drops to around 4900 kronor ($US545) in Malmö, according to a study by Swedish property site Hem och Hyra.
"I'm literally paying a fifth of what I did in London, where I shared a house with three other people," says Alec Molloy, 25, an American product manager for Swedish e-health company Min Doktor.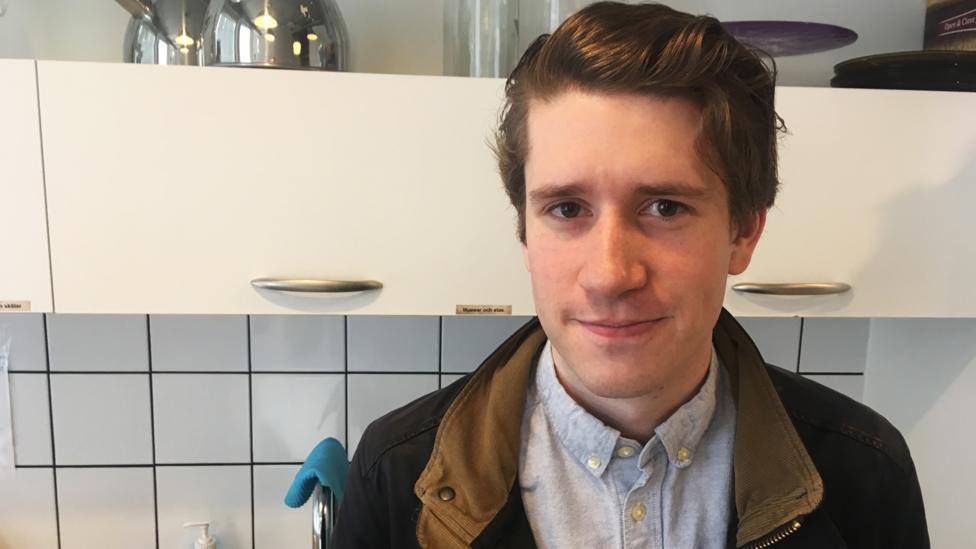 Alec Molloy, an American who has lived in London, says Malmo rents are cheaper and the work-life balance he has found in the city is worth lower pay (Credit: Maddy Savage)
Like many expats, he was drawn to the work-life balance in Sweden, where fewer than 1% of employees clock up more than 50 hours a week (one of the lowest rates in the OECD), new parents are given 480 days of leave to look after their infants, and childcare is heavily subsidised.
"I'm not earning as much as I could in London, or in Silicon Valley where I worked before, but when you look at the cost of living and work-life balance overall it's just not comparable," he says, adding that he feels both "physically and mentally healthier".
"Everyone with kids leaves the office at 5pm, so I've got time to do yoga or read," he says. "In London I would work until 9pm and then we'd go home and order takeaway."
Sweden's flat business structure is also a boon for many international workers, including Zhen Li from China. She works as an engineer for global graph database company Neo Technology, which has one of its European offices in Malmö.
There's no hierarchy and so I feel like all opinions are valued if we're discussing our product.
"It's really free here. There's no hierarchy and so I feel like all opinions are valued if we're discussing our product," she says.
According to Li, Malmö's size also helps facilitate easy access to leaders from various industries, thanks to a host of meetups in the compact city centre, organised by business groups, startup communities and social clubs, as well as Malmö University.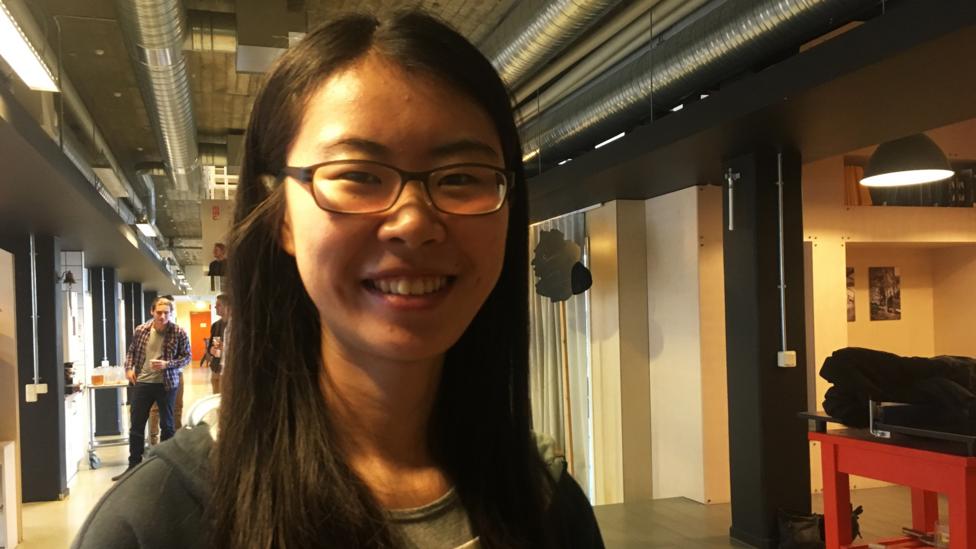 Zhen Li came to Sweden from China and says that a lack of hierarchy make working in the country easier (Credit: Maddy Savage)
"You can meet influencers and talk directly with experts and with all these activities you can grow your skills," she says.
Meanwhile, those wishing to launch their own companies in the city can benefit from cheaper operational fees than in neighbouring innovation hubs. A recent report by investment location analysts fDi Benchmark placed Malmö below Stockholm, Copenhagen and Berlin, with labour and property costs amounting to 11% less than the study average of $18.28m per year. One startup hub, Minc, even offers free office space for six months for anyone with a business idea.
Linguistic logistics
All EU and Norwegian citizens have the right to work in Sweden — or relocate there in order to look for a job — without obtaining a visa.
People from most other countries typically need to apply to the Swedish Migration Agency (Migrationsverket), demonstrating that they already have a job offer from a Swedish employer. In 2015, a total of 16,976 residence permits were granted on this basis.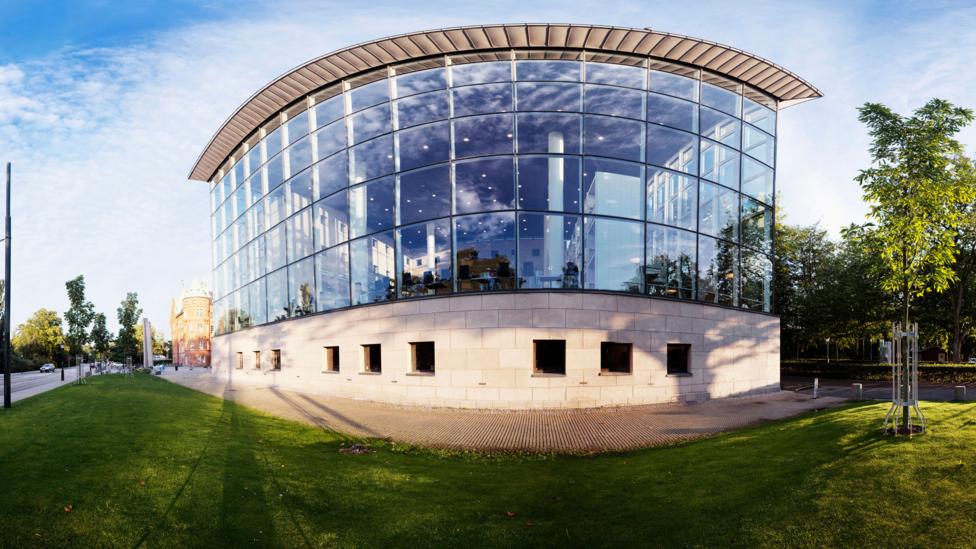 The city library is one of many interesting buildings (Credit Alamy)
With Swedes boasting the best English in the world outside of native-speaking countries, according to the international EF English Proficiency Index, and with many startups and larger companies within its borders selecting English as their working language, there are a range of work opportunities for educated expats in Malmö who have yet to master the local language.
If you get a job before you get over here then you are all set
But by contrast, those seeking entry-level jobs typically need high school-level Swedish, one of the factors that has been linked to the diverse city's unemployment rate of almost 15%, double the national average, in part because some immigrants lack formal education.
"If you get a job before you get over here then you are all set. But if you go the traditional way, you'll find most of the job applications are in Swedish," says Icelandic social entrepreneur Finnur Sverrisson, who adds that this "can be an issue" for people who relocate because of their partner's job.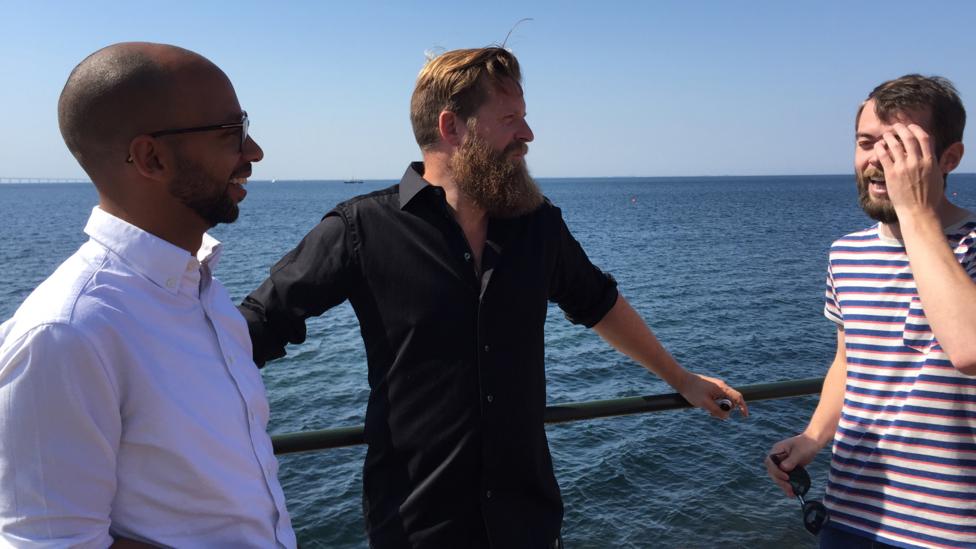 Finnur Sverrisson, an entrepreneur from Iceland, co-founded a group to raise the profile of Malmo as a city and boost support for immigration (Credit: Little Big Malmo)
The 33-year-old co-founded the organisation Little Big Malmö, which is trying to raise the city's profile by making it the most diverse place in the world, in part via boosting support for immigration. The non-profit group helps people from countries not yet represented there to find jobs and crowdfunds their relocation costs. Malmö already boasts residents from 170 of the 193 nations formally recognised by the United Nations, a figure topped only by New York, Washington and London.
Like many locals, Sverrisson believes that Malmö's international vibe and working-class roots makes it more open and relaxed than other parts of Sweden, which was named the worst country in the world for expats seeking to strike up new friendships in HSBC's Expat Explorer survey and has been described as the loneliest place for expats when it comes to dating.
Malmö might still be trickier than other places when it comes to building relationships
However, the Icelander — who has also lived in Australia and India — warns those mulling a relocation that Malmö might still be trickier than other places when it comes to building relationships.
"We've got a long way to go before people pop over and say 'hello, new neighbour!' like they do in the American movies," he says.
Commuter chaos
Another worry for some expats is transport links in the region, which is connected to Copenhagen via the famous 16km long Öresund bridge. There are currently photo ID checks on buses, trains and ferries between Denmark and Sweden, introduced in early 2016 as Swedish authorities tried to get a handle a record influx of asylum seekers from countries like Syria and Afghanistan.
The checks have added up to 45 minutes onto my journey home each day
The move has led to daily delays for thousands of Malmö residents who commute to and from the Danish capital, including Briton Nicholas Nilsson-Bean, who works at a marketing agency.
"The checks have added up to 45 minutes onto my journey home each day, which takes up a lot of time, energy and frustration," he says.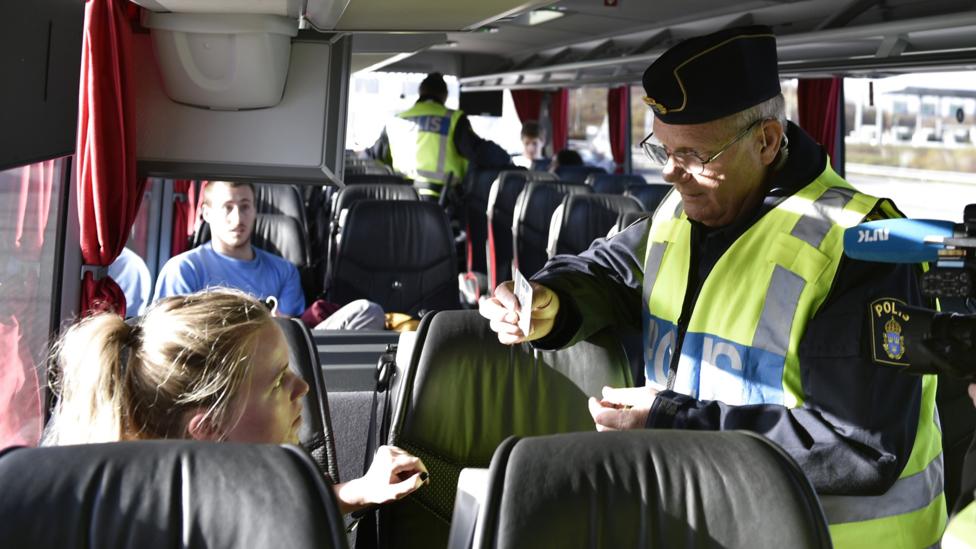 Border checks began in 2015 and have made some commutes more difficult (Credit: Getty Images)
Still, Malmö's proximity to Copenhagen remains a "major benefit" Nilsson-Bean says.
"It's a big capital city, with a larger expat community [than Malmö] and a lot to see and do," he says—plus, he adds, beer is less expensive in Denmark.
Safety first
Violence is a hot topic in Malmö, following a cluster of high-profile shootings in the second half of 2016 and early 2017. However a recent study by the city's police force found that while 77% of residents were concerned about crime, only 1% had been a victim of crime in the previous year.
This is the safest place I've ever lived
"There are things that happen, but it feels more like they are targeted cases, gang violence," explains American Susanna Lewis who works at a small all-female education startup alongside colleagues from Mexico and Romania.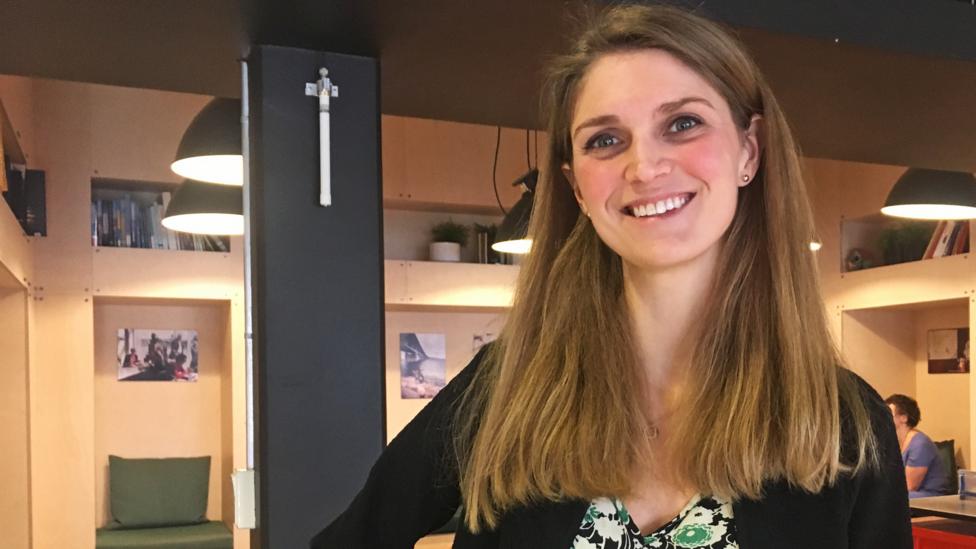 American Susanna Lewis works at a small all-female startup. She says she's felt safer living in Sweden than anywhere else (Credit: Maddy Savage)
"In the US, just parking your car if you go and meet friends for dinner — you're not sure if your car is there when you get back," says Lewis, who is from Georgia in the US.
As a woman, she is also used to being prepared and watchful as she walks alone in other places, yet she does not feel afraid in Malmö city centre or its outer suburbs.
"I never have had that fear in Sweden. This is the safest place I've ever lived."
To comment on this story or anything else you have seen on BBC Capital, please head over to our Facebook page or message us on Twitter.