This week, I spent part of my morning working from my parked car inside my dark garage. The lights and heat were off, even though it's winter in Chicago. I had no choice; I needed total silence to record a podcast for work, but my two young children were home and I couldn't risk interruption.
I always knew I wasn't the only one attempting to pull off spy-calibre manoeuvres in the name of working from home. Robert Kelly, political science professor and international relations expert, had the misfortune of being uber-interrupted on live television while conducting an interview with the BBC on the very serious topic of the impeachment and removal of South Korea's president.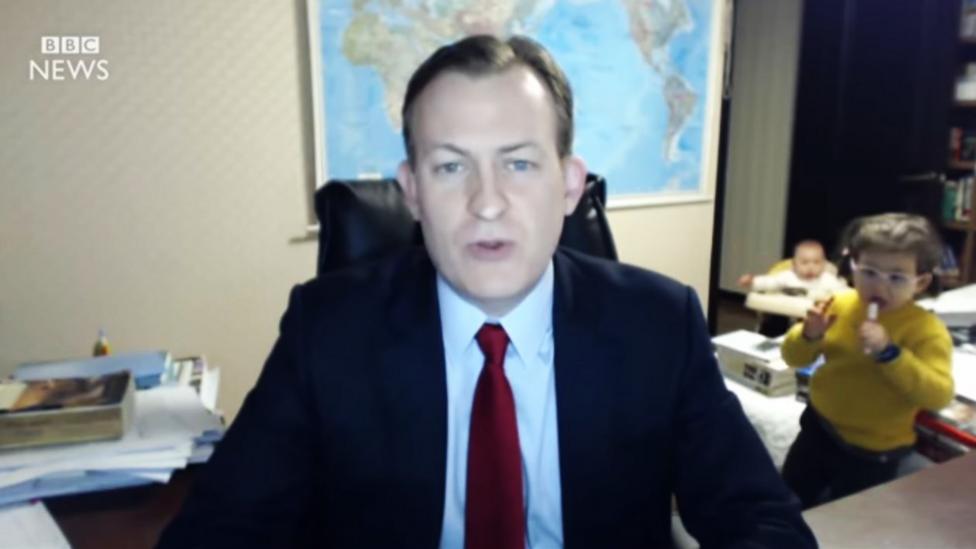 Robert Kelly, political science professor, interrupted by his children during a live interview with the BBC (Credit: BBC News)
Like the millions of us who telecommute, Kelly and I have something in common: we use smartphones and computers to work remotely and — even if we have a dedicated office — it's usually not a soundproof space for those calls that require total silence.
Her horse started neighing at the office window to get her attention during a conference call
And it isn't always precocious children interrupting. Christine Benton, a senior director at communications firm Burson Marsteller, has had to explain another kind of intrusion. When her horse started neighing at the office window to get her attention during a conference call, Benton turned her computer camera on Coco grazing in the yard and apologised for the distraction. That's not something soon forgotten.
"If you talk to the client, they would remember that," says Benton, who has worked from home for the past 13 years and owns a rural property near San Diego in California. But, she says, when Coco does make herself known, it's served to be a way to bond with clients.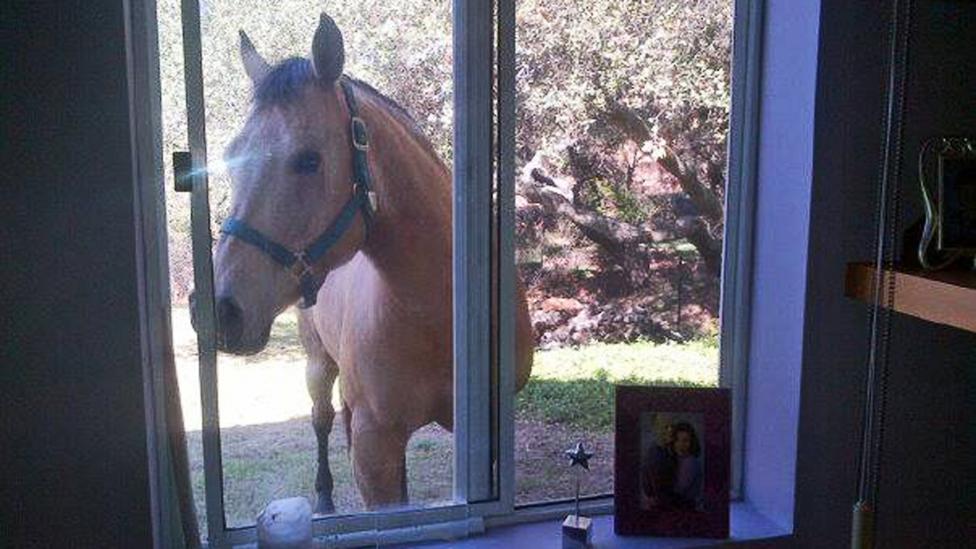 Yes, that's a horse at the office window. Sometimes Christine Benton's clients can hear Coco neighing (Credit: Christine Benton)
Even so, distractions can create a more stressful situation and make for some awkward moments. When Kelly was interviewed for BBC News this week, from his home office in Seoul, the video went viral as his children barged in to the shot. The comments on social media were largely sympathetic. Parents around the world identified with the plight and weighed in on how they would handle the situation. Others thought he seemed a bit too aggravated about the distraction.
No longer a career hazard
Being called out for these types of distractions is not as career-derailing as it once was. "Co-workers and clients understand that life can get in the way," says Jill Jacinto, a New York-based career coach who specialises in helping millennials. "There's less of a stigma."
Working remotely can seem like a stress-reducer — no commute, fewer distractions from colleagues, the hum of a coffee shop to work in. But, a joint report from Eurofound and the International Labour Organization found that 41% of employees who describe themselves as highly mobile complained of stress, versus 25% of employees who described themselves as office workers.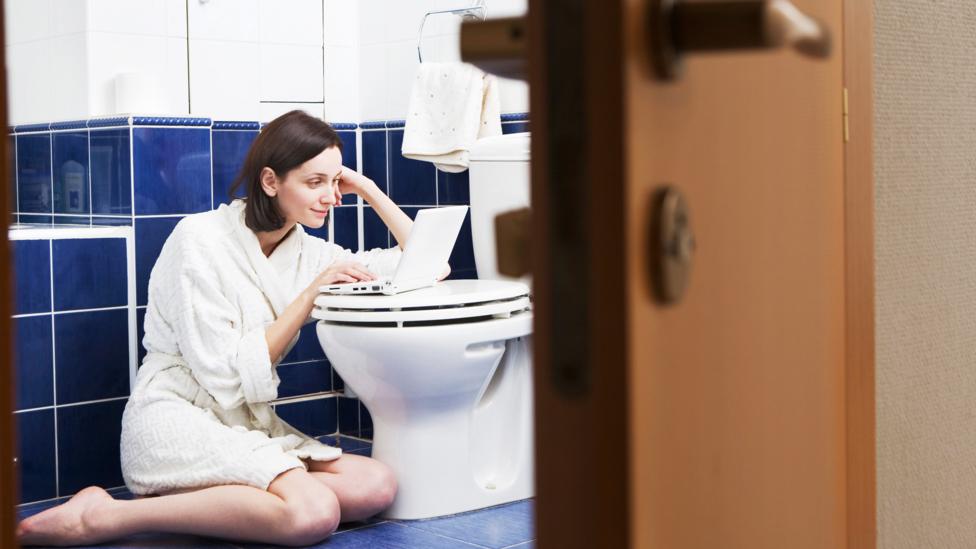 Parents working from home find unusual places to work, from garages to bathrooms (Credit: Alamy)
Few of us are likely to encounter distractions on live television. But, to prevent embarrassment, veteran telecommuters suggest warning colleagues about potential distractions. Often times, Mark Oser, New York-based founder of Anteris Consulting Group, tells clients ahead of a call that he has children in the house, which can make later disruptions less of a surprise.
The traditional model is shifting
Oser also allows his two school-age children to enter the room when he's working, but only when he's talking with associates that are familiar with his work-at-home setup, but tells them to be quiet and stay out of the room when speaking to newer clients. But even that's not a perfect solution, he admits.
"If the kids start a fight during the middle of me making a presentation, I hit mute and say 'excuse me.' Then I take the kids out to [tell them to stop] really quickly and turn on the TV for them," he says.
Understanding varies
As companies struggle to retain talent — especially younger workers — even larger firms are more understanding of the issues that crop up in a work-from-home setup, says Chris Layton, a managing director at Manpower Group, a global human resource consulting firm in Milwaukee, Wisconsin in the US.
Working parents are much more understanding, but younger people are not
It's not so different, he contends, as the adjustments you have to make when you're working with people in different parts of the world. "The traditional model is shifting," he says.
Of course, not everyone is so understanding about work-from-home distractions, warns Lynn Wu, assistant business professor at the Wharton School at the University of Pennsylvania. In her research, Wu found that younger workers without children may not be able to identify on a personal level and assume child-related distractions are unprofessional, she says.
"Working parents are much more understanding, but younger people are not," she finds. "They thought, 'that is very unprofessional to take care of your kids and work at the same time'."
To comment on this story or anything else you have seen on BBC Capital, please head over to our Facebook page or message us on Twitter.