You're likely to know who your friends are at work – but who are your rivals? They're not as easy to spot as you might think, finds Alina Dizik.
D
Do you have a work rival? Many of us do. But while we can easily name our favourite colleagues, it's more difficult to decipher who might be secretly vying to push you aside.
In many cases, we may not even know we have a work rival, experts say. And when it comes to handling a nemesis, there are a host of mistakes that employees are making, according to new research.
Often, unhealthy competition creates stress and affects our job performance and motivation. So how can you tell if you have a work rival, and what can you do if there's a growing antagonism between you and a peer or manager?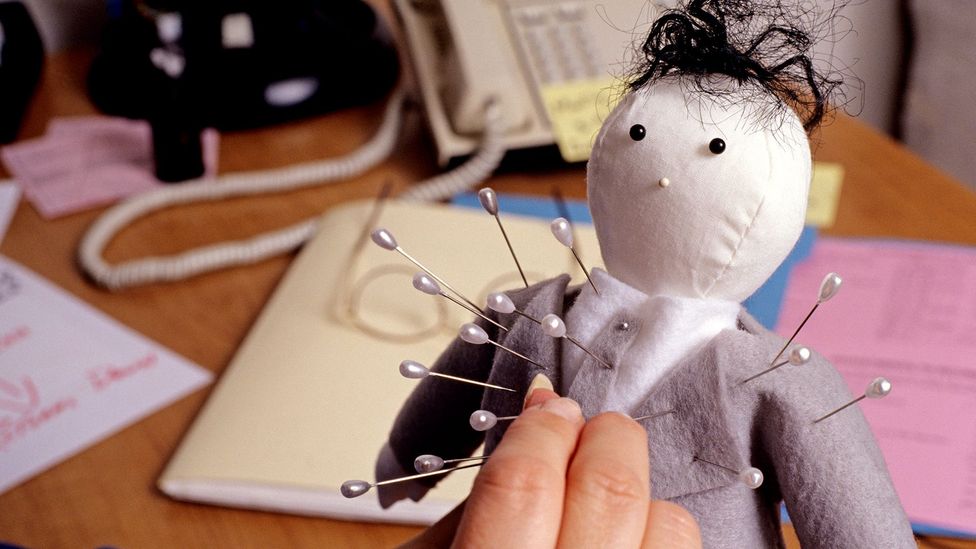 Employees can sometimes begin to see rivals as constantly in attack mode, prompting an emotional reaction (Credit: Getty Images)
Encountering one-sided rivalry
Rivalries exist because of the need to divide limited resources in the workplace. For employees, that can mean competing with peers for a promotion or bigger raise. Without clear guidelines on how to advance, the competition can turn into a more serious rivalry. Employees who are naturally more competitive are especially prone to this behaviour.
We're often unaware which of our colleagues feel threatened by our performance
We're often unaware which of our colleagues feel threatened by our performance, says Hillary Anger Elfenbein, a professor of organisational behaviour at Washington University in St. Louis, United States. She is one of three authors of a 2017 study about workplace rivalry which looked at data from sales employees at car dealerships and university students working on group projects.
Most of those in the experiments could predict how well they were liked by their peers, but not who was competing against them. That's because rivalries are often "not reciprocated", Elfenbein says. In other words, it's easy to tell if you have a friend at work: if you're friendly to someone and they respond in kind, you can be pretty sure you have a rapport. But to preserve social harmony, people are more likely to keep a rivalry hidden, the researchers found.
In her research, Elfenbein found that people tended to compete with high-performing colleagues. They were typically one-sided, more likely to occur between an employee and manager rather than among those who were peers. Often, the manager was the one in the dark.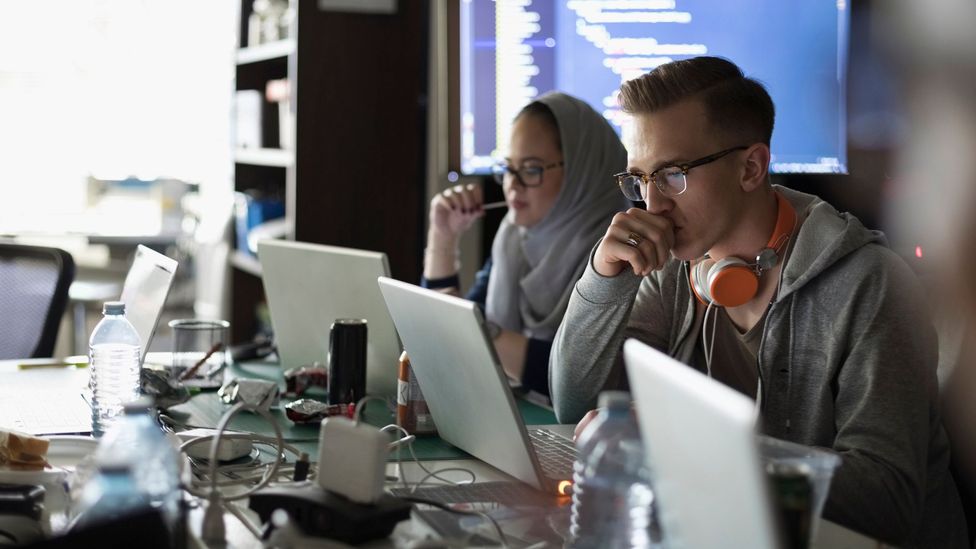 Are your great ideas suddenly blocked by a colleague? It could be a sign that you're seen as a rival (Credit: Getty Images)
More than competition
While the majority of workplace competition is friendly, "a rivalry is when it becomes personal," explains Elfenbein.
It's easy for rivalries to begin. With tight deadlines, high pressure and limited face-to-face conversations, employees often jump to conclusions and misconstrue the intentions of a peer. This can cause an unhealthy amount of competition and turn into a serious rivalry down the line, says Tom Diamante, an industrial and organisational psychologist at Corporate Counseling Associates, a New York-based consulting firm.
To spot a rival, Diamante tells workers to pay attention to whether their best ideas are getting suddenly blocked, look for multiple instances of unfair treatment and note when your viewpoints are not being heard. Often these signs can help you figure out a plan to crush a potential rivalry before the situation deteriorates.
The psychological impact is anxiety, worry, and self doubt
Reducing a sense of competition early on can help you feel happier and less stressed in the long run. But once a more personal rivalry begins, it can make your work-life more difficult. "The psychological impact is anxiety, worry, and self doubt," adds Diamante.
Moving past workplace politics
Quashing rivalries isn't a simple task. Some companies even encourage work situations where rivalries can occur, in the hopes of creating a high-achievement, high-stress environment, Elfenbein says. This is certainly true in some sales organisations or the financial industry, she adds.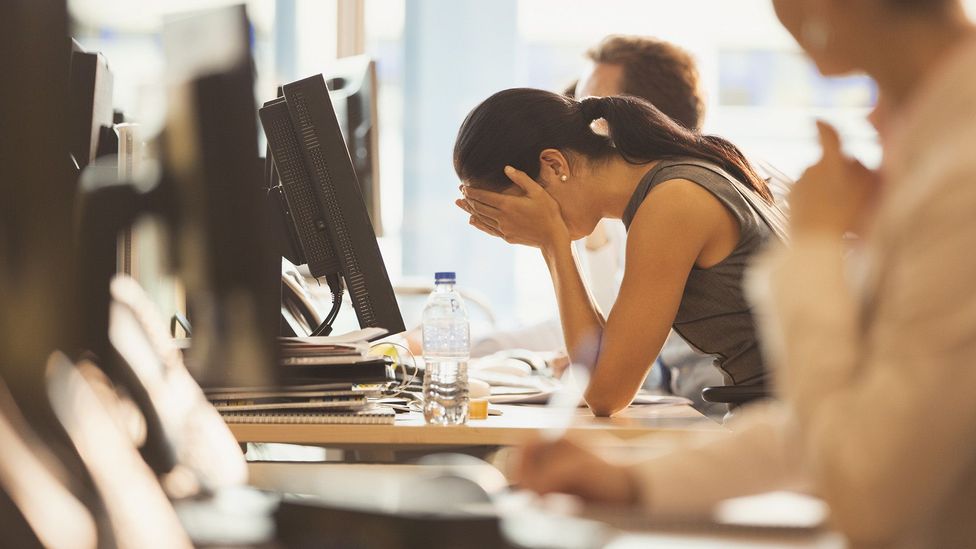 Competition and rivalry can make work more stressful, which can lead to poorer decisions down the road (Credit: Getty Images)
At the same time, naturally competitive people are more likely to have rivals and feel rivalry with peers, Elfenbein says: "any time you have long-term competition, there's room for rivalries". Sometimes these negative emotions can help competitive employees succeed.
Any time you have long-term competition there's room for rivalries
The opposite is also true. Managers who treat their subordinates with fairness can help reduce the need to compete on the part of their employees. "The key is fairness and transparency. That way, they are going to be less focused on what the other person does and more focused on achieving themselves," Elfenbein says.
So should you come to work every day in a state of constant paranoia, worried that your colleagues are out to get you? Of course not. Even when they occur, most rivalries don't last forever, and often they can dissipate with natural career progression.
Some can even turn into alliances in certain work situations – such as when there's a promotion or a department change, says Maryanne Peabody, co-founder of a leadership development firm in Boston.
But in instances when actions become unprofessional, the relationship can be ruined for good: "One has to keep perspective that [rivalries] are conditional, and you don't want it to get too emotional," Peabody says.
Getting the most out of a rivalry
While constant competition can be distracting, keeping an eye on any perceived rivals can be an asset.
Generally, employees don't pick low performers as rivals
Because most people end up subconsciously choosing rivals that are successful in the workplace, unlike allies who may not be doing the kind of work that elicits envy, the result is an ability to benchmark against the actions of high-performing peers, says Mark Murphy, author of Truth at Work: The Science of Delivering Tough Messages.
Don't shy away from recognising your own weakness for taking on the competition. Many people regard rivalry as a negative and are reluctant to admit their own perceptions of neighbourly competition that's suddenly become personal. "It's such a strong word that there is a social desirability bias that makes us less willing to say 'I have a rival'".
But in the long-term, it's better to disengage from the competition. Workers feel additional pressure and make poorer day-to-day decisions to combat perceived rivalries, says Murphy.
"The more focused we get on a particular rival, [the more] we end up chasing our tails."
To comment on this story or anything else you have seen on BBC Capital, please head over to our Facebook page or message us on Twitter.