Across the country, community-owned pubs are hosting activities like massage, lullabies for babies and financial advice. Could this model save Britain's locals?
Y
You might associate a British pub with drinking – but these days, buying a pint is one of the least interesting activities on offer. At a new breed of pubs across Britain, you can strum a ukelele, get money advice, rock babies to sleep or even try pigeon racing… all over a sociable drink.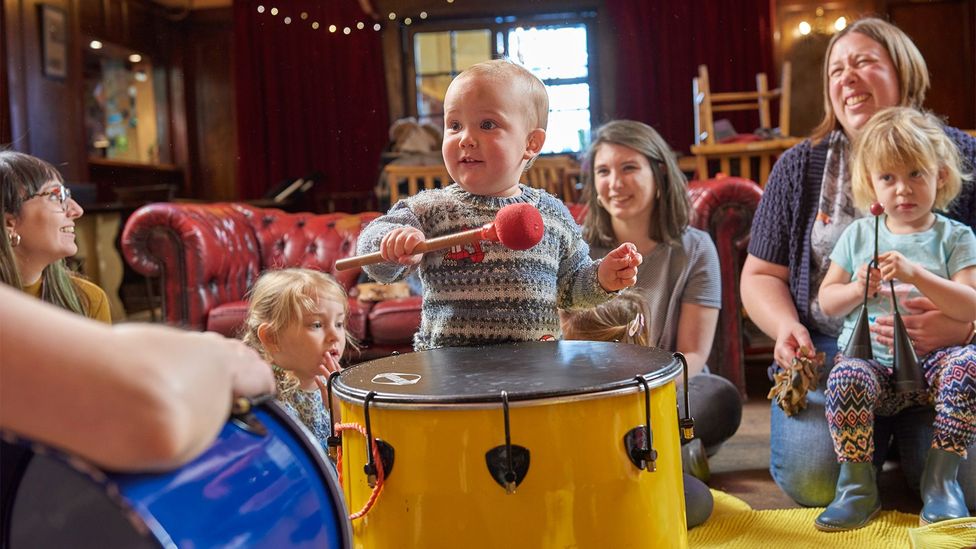 Some pubs even have activities aimed at children (Credit: Tom Watkins)
Called community pubs, these businesses have been bought by local people and transformed into hubs offering a multitude of activities and services along with beer.
The 18th-Century Raven Inn in the rugged North Wales village of Llanarmon yn Lal, for example, operates as a co-operative where all profits are ring-fenced for community use. In the eight years since being bought by the locals, the pub has offered youth clubs and Welsh lessons – as well as hosting the village post office. It also provides a meeting place for the local ukelele club, which features around 15 regulars aged from 30 to 83, ranging from beginners to skilled strummers. "I still can't get over the interest shown by all involved," says activity organiser Gill Nash. "There is no charge for any of these groups – and without the community pub they would not be happening."
How things have changed since regular headlines reporting the closure of another local pub in a beautiful village, often sold off by brewery corporations for property conversion. The spur to change was a law passed in 2011 which gave locals the right to list a pub as an 'asset of community value', or ACV. That gave locals first right to buy the pub if closure loomed, plus a period of time to raise the necessary cash.
Pub as hub
The British government is supporting people to buy their localwatering hole in other ways, too. The latest initiative is a £3.62 million ($4.68 million), 2-year programme offering business support and funding. Other organisations offering support include Pub is The Hub, the Campaign for Real Ale (CAMRA) and rural community organisation Plunkett Foundation.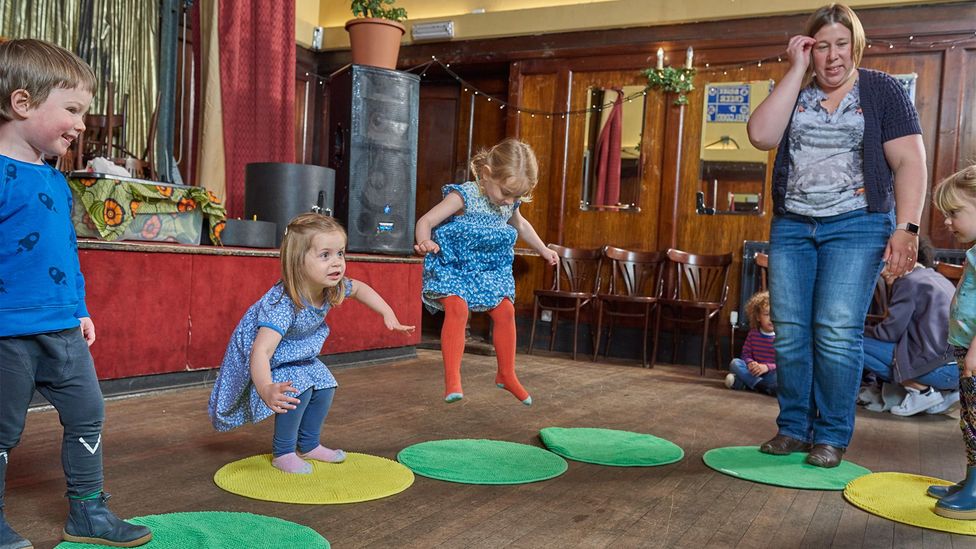 The Ivy House in Nunhead, London hosts live music, comedy – and a children's samba workshop (Credit: Tom Watkins)
There can be little doubt about the public's appetite for getting involved. Locals have seized on the chance to buy not just a pint, but the pub itself. Around 80 community pubs have now opened around the country, while around 1,500 pubs have been granted AVC status. As well as the social benefits of owning your local, research suggests pubs owned and run by the local community inject an average £80,000-£100,000pa ($100,000-$130,000) into the area through increased business and employment.
Meanwhile, recent research has found that people frequenting a thriving local pub were significantly happier, had more friends and better life satisfaction than their counterparts. "Friendship and community are probably the two most important factors influencing our health and wellbeing," says lead researcher Professor Robin Dunbar. And, he points out, both must "be done face-to-face."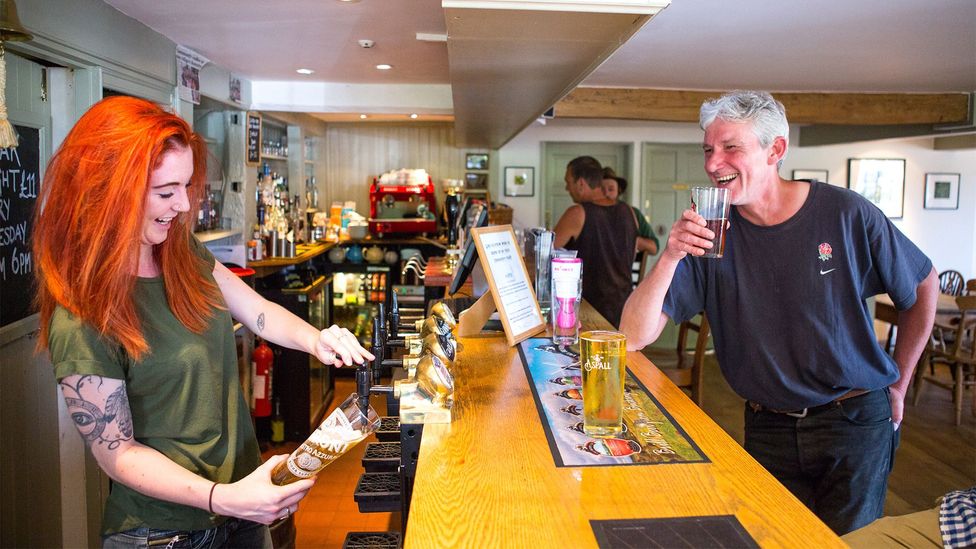 A local is served at the 400-year-old Seven Stars pub near Oxford; it closed in 2012 and was reopened by the community in 2013 (Credit: Plunkett Foundation)
The government's latest offering specifically aims to support pubs that provide a base for community activities. One of the most inspiring examples is The Bevendean in Brighton – closed in 2010, but re-opened in 2014 as Britain's only community pub on a city council estate. Known simply as The Bevy, the community raised an initial £50,000 ($65,000) by selling 'shares' to more than 700 locals. A government grant of £110,000 ($142,000) closed the deal, allowing the pub's transformation into a friendly drinking spot which offers perhaps more community activities than any other in the country.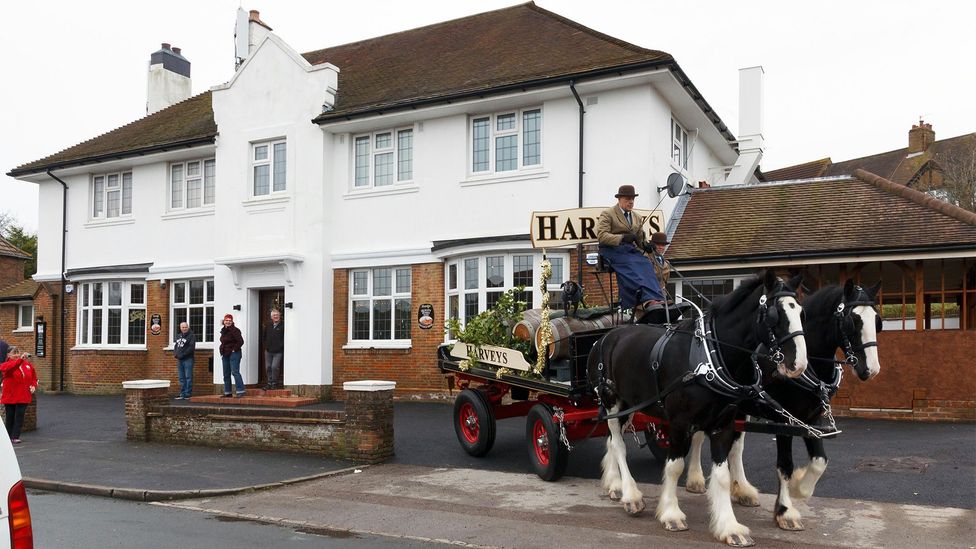 In celebration of The Bevendean's re-opening as a cooperative, horses were sent bearing casks of ale (Credit: Alamy)
"It needed to be more than a pub," says Warren Carter, chairman of the association set up to buy and transform The Bevy. He proudly reels off its current community offerings. "We host a weekly seniors' lunch club, disability groups, a training kitchen, a weekday running club, a choir, storytelling workshops for children, art drop-ins, money advice, a local councillor surgery, massage plus Brains At The Bevy academic talks." He pauses for breath before adding: "We also have pigeon racing starting soon!"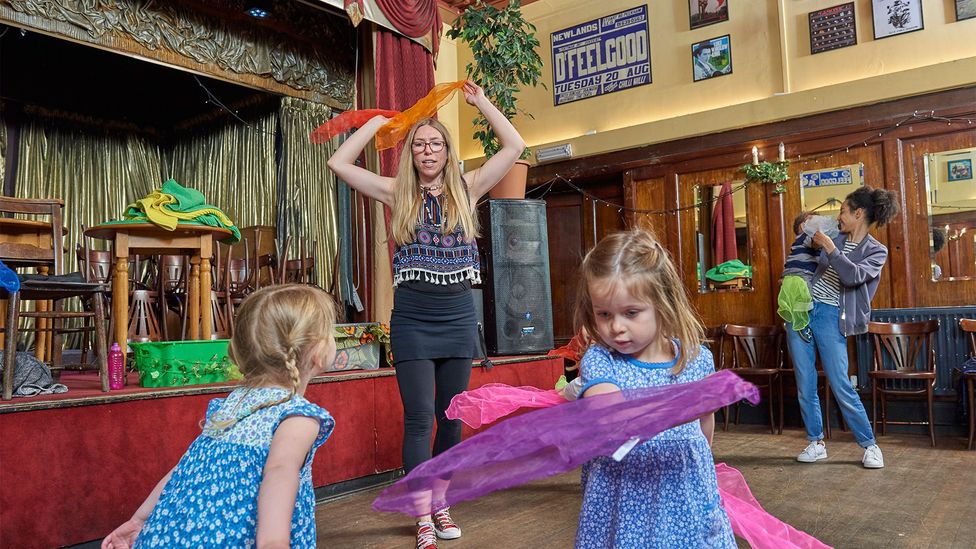 In London, the first pub to reopen as a cooperative was The Ivy House (Credit: Tom Watkins)
Similar 'pub as hub' stories abound. Take the King's Arms, a Norfolk pub that had provided beer and cheer on the village green in Shouldham since the 17th Century until its 2012 closure. Villagers raised £150,000 ($195,000) to re-open it in 2014. Now it hosts a weekly Knitters and Natters club, poetry nights and classic car and motorcycle meets, plus a cafe that provides a unique community benefit – the primary school across the road pays the pub kitchen to provide around 120 school meals a day.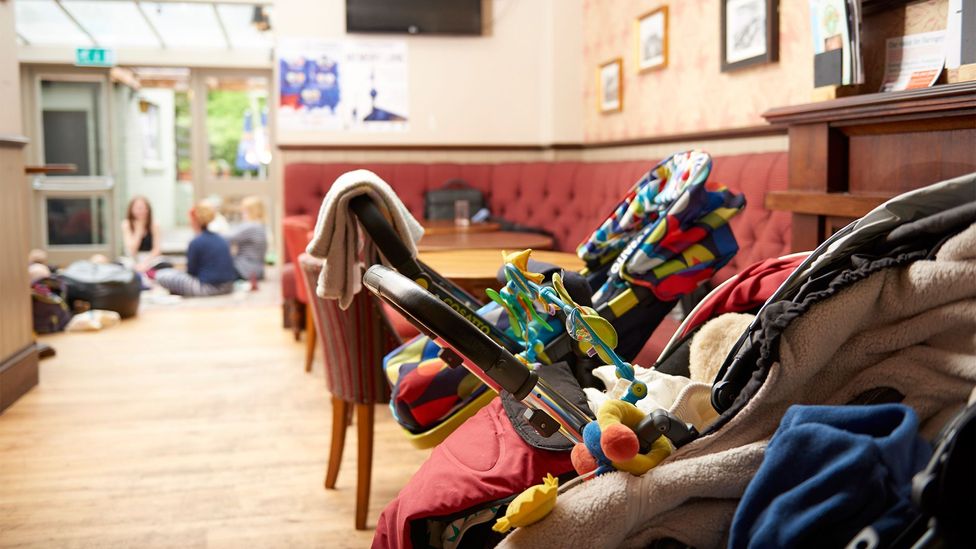 Strollers line up at Tottenham's Antwerp Arms as mothers and babies take part in a lullabies session (Credit: Tom Watkins)
The process of a community pub purchase usually involves offering shares at affordable prices to willing locals. The Antwerp Arms in London's Tottenham, for example, offered shares for just £50 ($65) each, prompting over 300 locals to invest in what regulars call 'The Annie'. Today, its community events include a weekly Lullabies For Mums and Babies, where tiny tots can doze and mothers can socialise over a well-earned drink.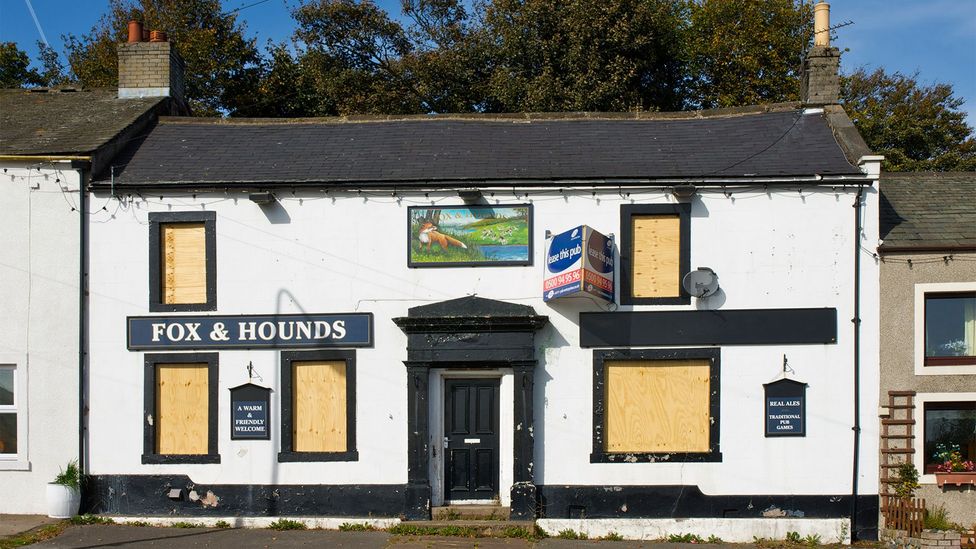 The Fox and Hounds pub shuttered in 2010 – but has remained open ever since it was purchased by the local community the following year (Credit: Alamy)
In the case of Cumbria's community pub Fox and Hounds, it took just eight days for villagers in Ennerdale Bridge to raise £67,000 ($85,000) via £100 ($130) shares – the amount they needed to buy the lease on the historic inn. As well as selling locally-brewed ale, the pub hosted a 150-book library for several years (it moved this year to a new village community centre). It still hosts a monthly book club plus a craft and stitching club.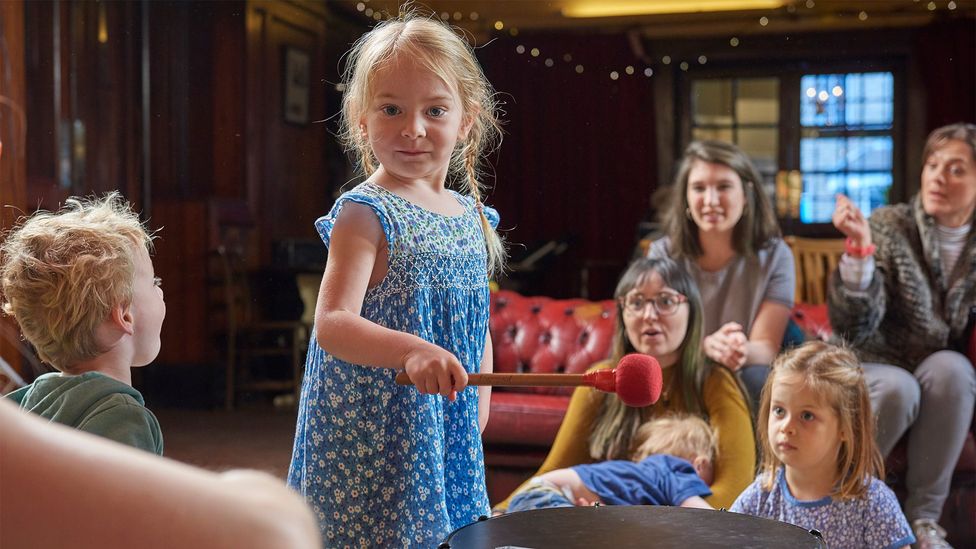 Playing samba at The Ivy House (Credit: Tom Watkins)
The Angler's Rest in the Derbyshire Peak District village of Bamford illustrates some of the practical benefits of community pubs. Its bar is augmented by a post office, a cafe with gallery, plus meeting rooms – extras which have provided 21 local jobs. As the pitch for shares put it, "this is not about buying a pub, it's about helping to sustain a community".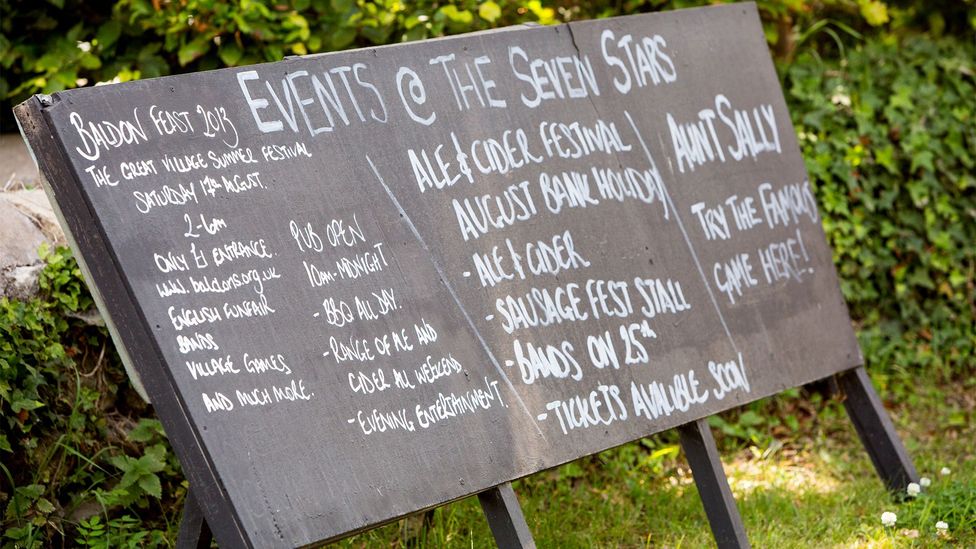 A sign at the Seven Stars promotes not only an ale and cider festival, but the quirky, traditional pub game Aunt Sally (Credit: Plunkett Foundation)
But even as they offer other activities, community pubs remain known for their two classic elements: friendship and drinks. As proof, earlier this year, George & Dragon in the Yorkshire Dales village of Hudswell scooped the Pub of the Year award in the CAMRA competition – the industry's own version of the Golden Globes.
Re-opened in 2010 after being closed in 2008, today the George & Dragon is home to a library, shop and community allotments as well as a beer terrace where patrons can admire panoramic views over the Swale Valley. "We're just a small Yorkshire Dales pub, owned by the community and run by me and my family," says landlord Stu Miller. "But I'm extremely proud of what our little pub has achieved."
Quirky pursuits:
At The Ivy House in Nunhead, there is Sunday morning yoga, a gramophone appreciation society, samba classes and music for pre-schoolers.
The Bull Inn in Great Milton and the Seven Stars on the Green, both in Oxfordshire, host nights where locals can play an old game called Aunt Sally, involving teams throwing objects at a model of an old woman's head.
The King's Arms, Norfolk, hosts poetry nights and classic car and motorcycle meets.
London's Antwerp Arms has a weekly Lullabies For Mums and Babies session.
The Cumbria pub Fox And Hounds hosts a book club.
At the North Wales pub the Raven Inn, there is a ukulele club.
Brighton's Bevendean hosts a running club, choir, money advice, massage sessions – and is planning pigeon races soon.
This story is a part of BBC Britain – a series focused on exploring this extraordinary island, one story at a time. See every BBC Britain story by heading to the Britain homepage; you can also follow us on Facebook and Twitter.