Does a workspace really need 'fun' fixtures to inspire creativity? We asked BBC Culture's architecture and design critic Jonathan Glancey for his take on the modern office.
"We don't stop playing because we grow old; we grow old because we stop playing," George Bernard Shaw once said. Perhaps Benjamin Franklin, too. In fact, any number of people have expressed the same sentiment over generations.
Lately, it's an idea that some companies have taken to the extreme. In the world of contemporary office design – or, at least at those companies embracing technology, innovation and creativity, such as start-ups, tech and advertising companies, this maxim appears to be laid down in corporate culture and expressed through wacky interiors featuring zany furniture. But is there any merit to it?
A growing number of design firms worldwide are helping to re-shape offices as creative playpens
One popular item of youthful office furniture is the Swing Table by Duffy of London. According to Duffy's online brochure, it brings the "playground into the boardroom". A photograph of smiling, laughing young people are shown swinging at a fun meeting under that quote from Shaw and Franklin.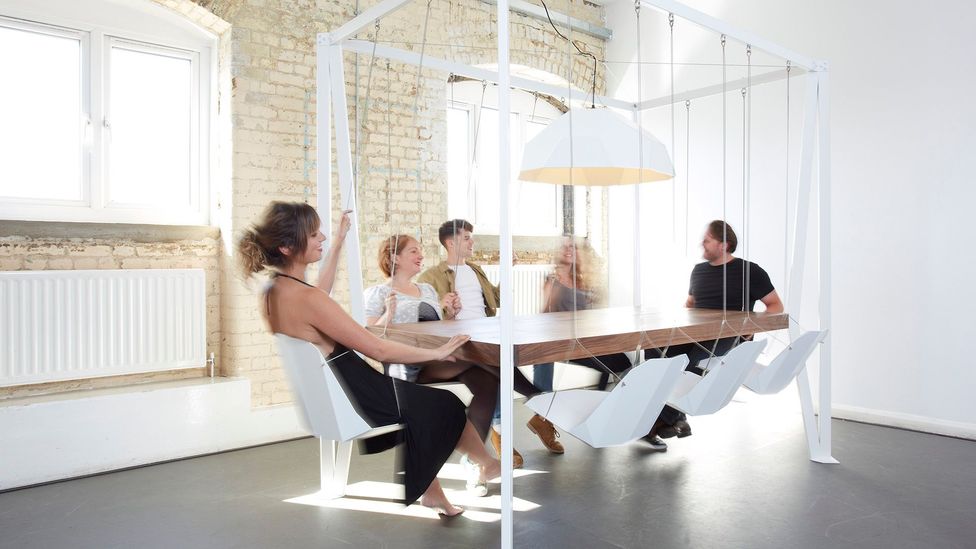 Only stuffy bores need legs and wheels on their office chairs – cool people have swings (Credit: Tom Oxley/Duffy London)
Duffy is just one of a growing number of design firms worldwide helping to re-shape offices as creative playpens. If this is a design movement, it began – and has thrived – in California and Washington state, where computing, casual office attire and childhood sensibilities have become corporate signifiers of innovation and cashed-up cool.
But do self-consciously playful offices really make employees creative? Facebook product designer Tanner Christensen's book The Creativity Challenge suggests you should "act like you're three again!" because young children tend to have unbridled imaginations. Such creativity, however, is in the child's own mind.
Playpen offices may well be more about controlling a workforce, and keeping them in the office for long hours, than allowing it to be free
Today's tech company playpens are designed to make young people feel creative in deterministic settings. A truly creative team can work in a shed or garage without toys, loud graphics and free food. Garages, of course, are where the digital tech revolution began. Playpen offices may well be more about controlling a workforce, and keeping them in the office for long hours, than allowing it to be free.
Although we may soon tire of them, playpen offices are meant to be young, hip, motivational and fun, if not exactly funny. But for all their nursery colours, big graphics, beach huts, hammocks, bowling alleys, punch-bags, 'Ideas Incubators', 'Thought Tepees', pods, slogans on walls boasting 'Awareness Happens Here', slides and jelly-bean machines, California's tech companies can barely hold a candle to Pittsburgh's outlandish Inventionland.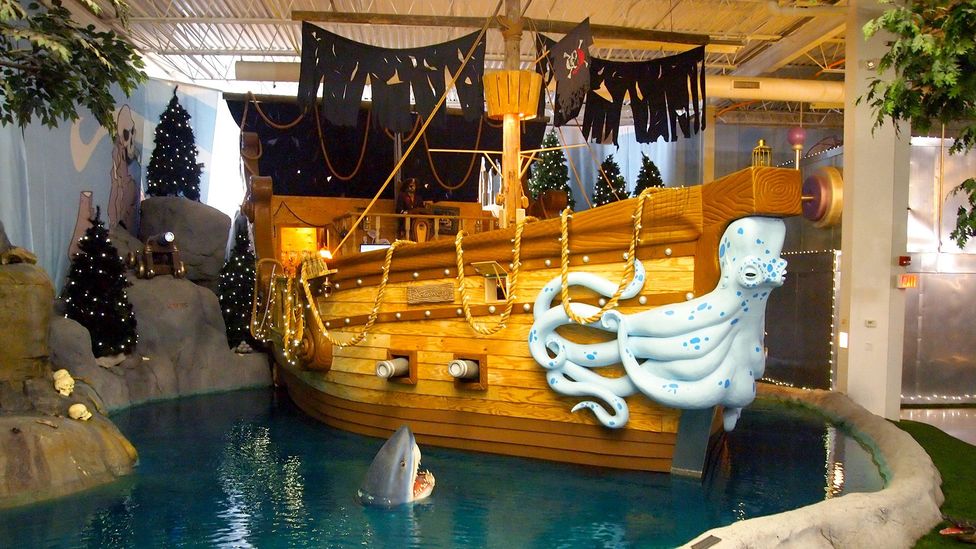 Pittsburgh's Inventionland – where big kids and lost pirates come to work (Credit: Norton Gusky/Flickr/CC by 2.0)
Moved to its new office in 2006 by founder George M Davison, here inventors work inside a giant robot, a speedway, a pirate ship or the Old Lady's shoe, as in the nursery rhyme, while Davison oversees the show from his Treehouse overlooking the waterfalls of the Creation Cavern and turrets of Inventalot Castle.
The playpen office is not for everyone. Some workers prefer to think creatively in adult work surroundings
Commercially, these are successful companies, so perhaps there is no arguing with the idea that offices taking employees back to their childhoods are good for business.
But, the playpen office is not for everyone. Some workers prefer to think creatively in adult work surroundings. So, what if you're the type to shy away from the tyranny of a forced-fun workplace, so reminiscent of American summer camps and children's parties? Or, if you are someone who likes the cool, seductive glamour of Mid-Century Modern offices portrayed in the American TV series Mad Men?
It would be a fascinating exercise to offer a nominally creative team space in a conventional office for three months, followed by three months in a playpen workspace. Would the team be more creative with fun things to look at and potty games to play?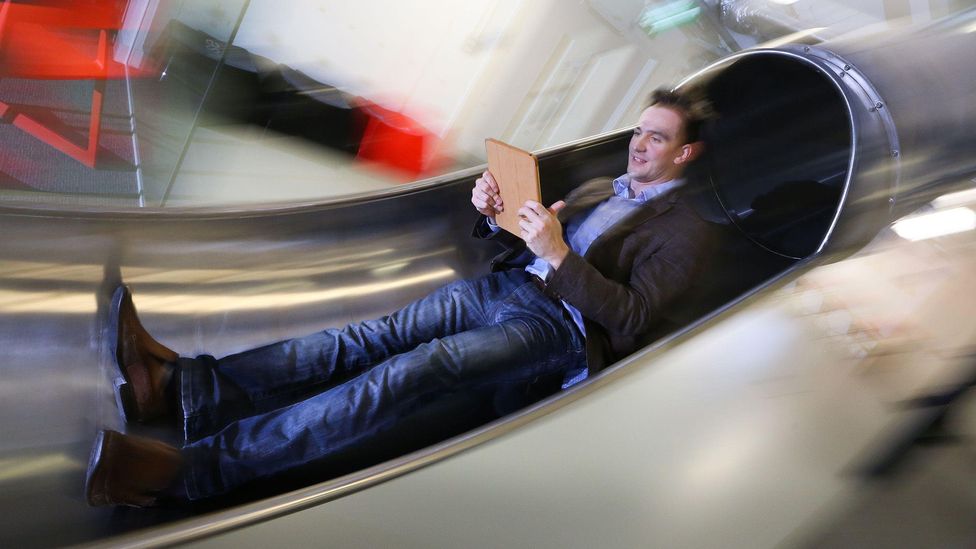 Relive your childhood by sliding to your next quarterly appraisal (Credit: Alamy)
While it would be wrong to prejudge the result, history suggests that creativity thrives whenever and wherever people inspire one another, and no matter what their surroundings, while some of the greatest inventions and works of art are by people quite content to work alone in the equivalent of a garage or garden shed. Concorde, the world's most adventurous airliner, was dreamed up and created in a mix of rather dreary looking offices and matter-of-fact industrial workshops.
Maya Angelou, the American writer, civil rights activist and author of the critically acclaimed coming-of-age autobiography I Know Why The Caged Bird Sings, liked to check in to hotel rooms early in the morning. Staff were instructed to remove all stimuli from the walls. Angelou's creativity was focused in her mind's eye.
Creative people, in other words, can and have worked at their best in the architectural or design equivalent of a vacuum or blank canvas. Perhaps playpen offices say more about those who commission them than they do about the nature of creativity itself.
Luckily, there are, and always have been, alternative yet self-consciously designed work spaces conducive to creativity.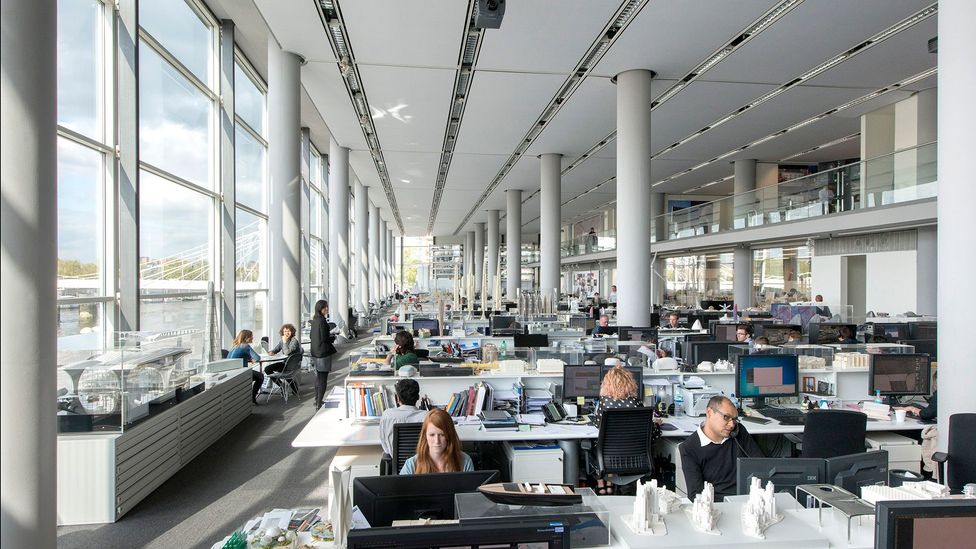 Foster and Partners' head office: no bean bags, but plenty of light and space (Credit: Nigel Young/Foster + Partners)
Look, for example, at Foster and Partners' head office in Battersea overlooking the Thames in southwest London. Opened in 1990, it evokes  the same kind of purposeful creativity as the fecund drawing offices of the great railway and aerospace engineering offices that have shaped beautiful and successful locomotives and aircraft. Norman Foster's firm has grown, through industry and creativity into Britain's premier architectural practice. His architects, most of them young and drawn from around the world, have needed no slides or beanbags to think and act creatively.
There is room for creative artistry in offices that are neither coolly hi-tech nor self-consciously childlike
Significantly, Foster and Partners, working with Apple's design team led by Jony Ive, have designed Apple's Campus 2, a seamless ring of hi-tech offices as sleekly cool as an iPhone for 13,000 staff at Cupertino, California due to open this autumn. As cool as a cucumber, with every last detail custom-designed, the Apple building will be a perfectionist's dream. No dangling wires. No hot tubs. No slides. A buiding as smooth as the fuselage on an airliner with interiors reflecting the look and feel if iMacs and iPhones. And, yet, the building opens up to nature through vast windows and through the 85-ft high sliding windows of its four-storey cafeteria. Clearly, Apple's belief is that this perfection will inspire its workforce to strive for greater perfection in future.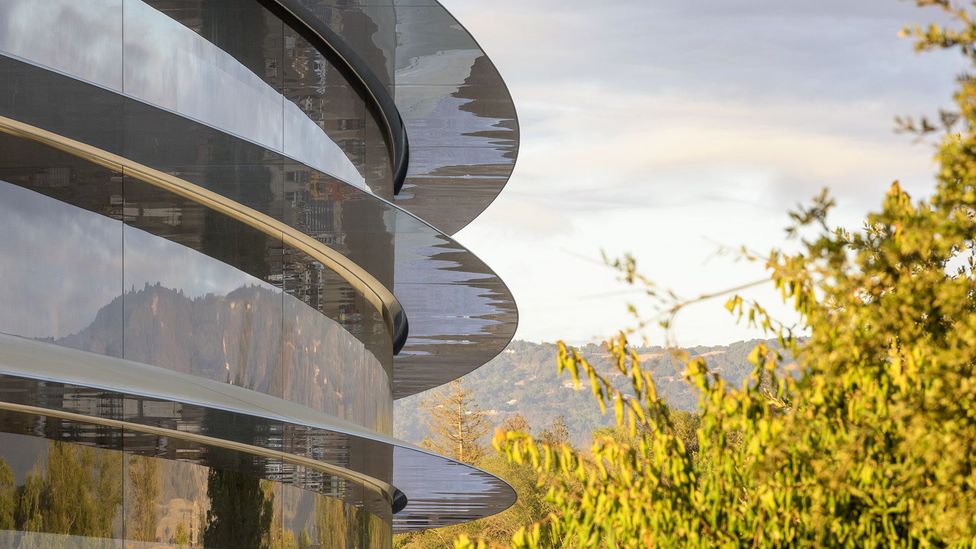 Miles of glass encase Apple's multibillion-dollar Campus 2, which has been designed to meet the tech company's famously exacting standards (Credit: Nigel Young/Foster + Partners)
There is, though, room for creative artistry in offices that are neither coolly perfectionist nor self-consciously childlike. Look at the exquisite St Jerome in His Study (c1470), a painting by the early Italian Renaissance artist Antonello da Messina. Here, the 4th Century scholar works in a timber pod set within a dreamlike chamber complete with lion, peacock, partridge and cat for company. Through the upper Gothic windows, swallows soar – with creative thought – into a pure blue sky.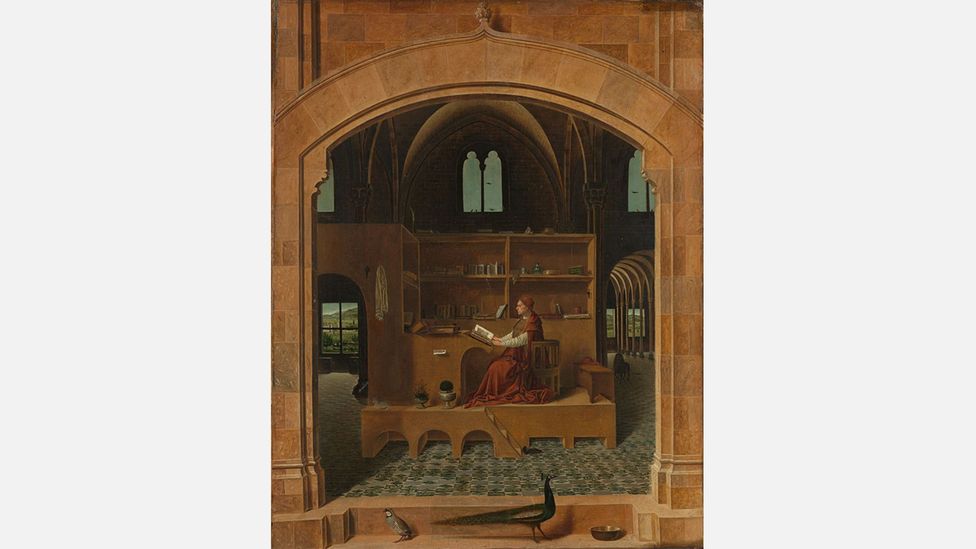 St Jerome in His Study (c1470) (Credit: Antonello da Messina/The National Gallery)
The Catalonian architect, Ricardo Bofill, recreated a sense of St Jerome's workspace in the offices of his firm, RBTA. Designed and built in the 1970s from abandoned concrete silos on the edge of Barcelona, it is a cinematic, special office for creative people without a hint of a Hula Hoop or Spacehopper.
Although dramatic, its walls are lined with books and paintings reflecting not just the design fads of the moment, but also a wealth of inventive culture dating back centuries. Architecture, of course, is one of the very oldest professions, its design references going back much further than 21st Century tech companies determined to be hip, new and of the moment. The moment, however, passes as architects like Ricardo Bofill know well.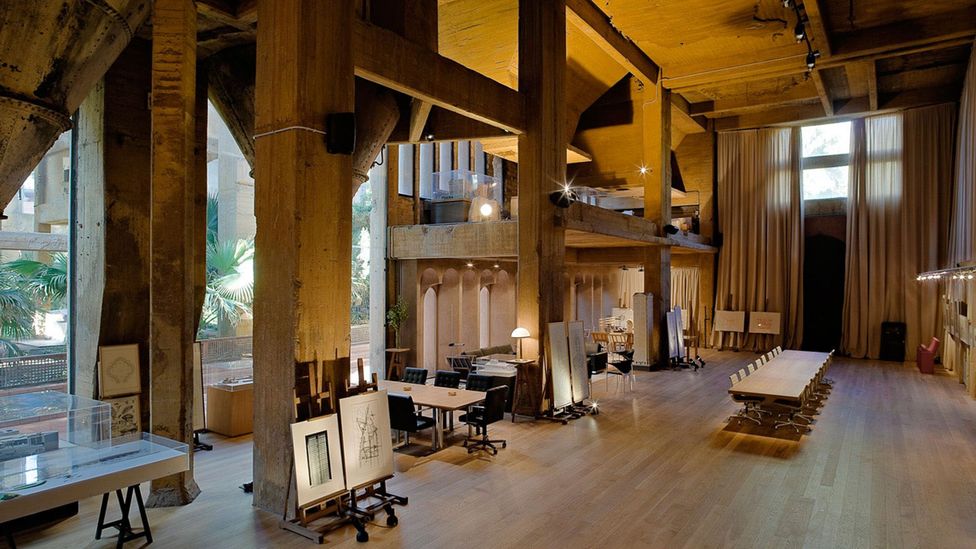 RBTA's offices are contained within abandoned concrete silos (Credit: Forgemind Archimedia/Flickr/CC BY 2.0)
Shortly before the Second World War, the great American architect Frank Lloyd Wright shaped a revolutionary headquarters for the Johnson Wax company in Racine, Wisconsin. An architectural wonder, the "Great Room" at its heart is a stylised forest of 30ft, palm-like columns woven around at ceiling level with miles of Perspex glass tubing. The result is a subtly lit office, both adult in style and highly imaginative. While it might be dramatic on first encounter, this space is a calm and relaxed one in which to work, and creativity thrives as much in calmness as with laughter, music and play.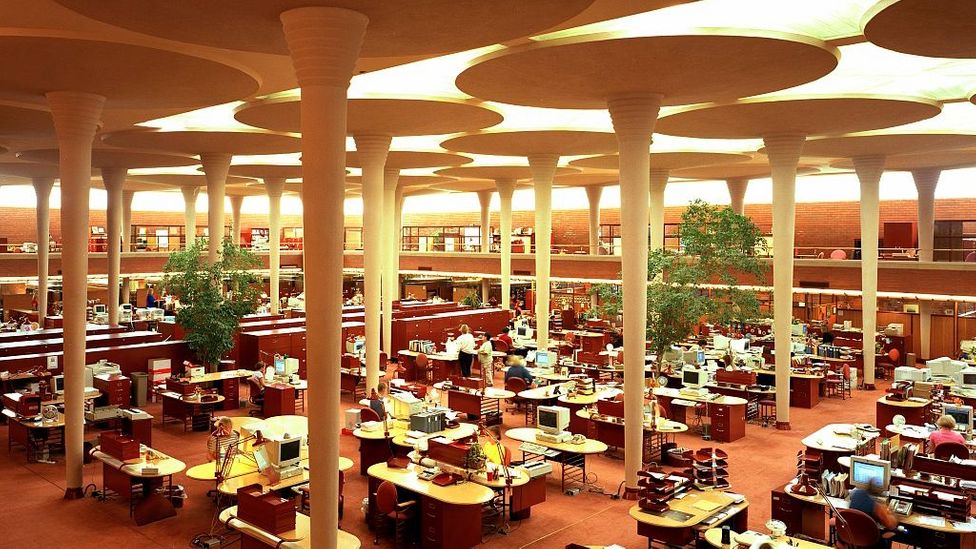 The dramatic columns of the Johnson Wax headquarters in Racine, Wisconsin (Credit: United States Library of Congress)
Back in California, San Francisco's GitHub, a software development platform, is trying to have its cake and eat it. While its office features crazy wallpaper, classic motorbikes and retro bar, its principal meeting room is modelled on the White House's Oval Office. While politics is a supposedly adult game, it is often played by people who are neither as grown up nor as creative as they might purport to be, whether or not their office – like those of tech companies – boast crazy graphics, hammocks, and those infantilising, and all-but-statutory fun! fun! fun! slides.
To comment on this story or anything else you have seen on BBC Capital, please head over to our Facebook page or message us on Twitter.
 And if you liked this story, sign up for the weekly bbc.com features newsletter, called "If You Only Read 6 Things This Week". A handpicked selection of stories from BBC Future, Earth, Culture, Capital and Travel, delivered to your inbox every Friday.