Weddings are the ultimate expression of selfie culture, and companies providing custom hashtags and social-media assistants are cashing in.
T
Through the end of the year, we are examining life's marquee moments through the unique experiences of baby boomers, Gen X and millennials in a series called the Generation Project. As part of the series, we're bringing back some of our favourite articles that tell these stories.
When Jessica Lehmann, a 33-year-old British expat in New York, posted a photo announcing her engagement to filmmaker Jesse Ash on Instagram, she already had the accompanying hashtag figured out: #JessTheTwoOfUs. She used it again when posting from her hen party in London in May, and will encourage guests to use the hashtag on social media when sharing pictures of the wedding itself, in Brooklyn's Prospect Park in September.
A brand strategist in her professional life, she says that she "definitely put some thought into it," explaining, "a good wedding hashtag says a lot about who the couple are. It makes them laugh, it's memorable. If you can get a pun into it, you're winning."
With 700 million active Instagram users worldwide, and more than a billion checking Facebook daily, it's unsurprising that young people are factoring social media engagement into their wedding planning. Now, a small but growing industry is starting to capitalise on the trend.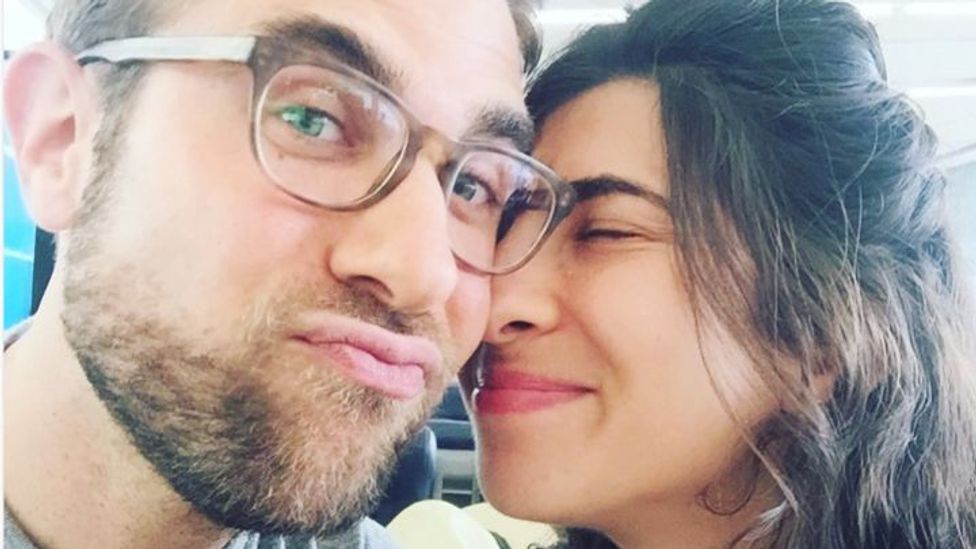 #JessTheTwoOfUs: Jessica Lehmann and fiancee Jesse Ash (Credit: Instagram/jessicazrl)
Branding together
Marielle Wakim is an editor at Los Angeles Magazine who founded the company Happily Ever Hashtagged in 2016, after being asked by friends to come up with personalised hashtags for their weddings.
Wakim charges $40 to come up with a single customised hashtag, or $85 for three
Hashtags are essentially a metadata tool, used to help people find content on a particular subject on Twitter, Instagram, Facebook and other platforms.
Wakim now charges $40 to come up with a single customised hashtag, or $85 for three, and has been so deluged with orders that she has a waiting list of around 150 customers at any given time.
Marielle Wakim shared her wedding hashtag story with BBC Minute - listen to the interview above. For more unusual jobs from around the globe, click here.
In March last year, 28-year-old graphic designer Allie Bertelson launched SnapchatGeofilters on online marketplace Etsy. Geofilters are special frames that people can layer on top of their Snapchat images when posting from a particular event, such as a Pride parade or a music festival. Anyone can create them, but Bertelson designs bespoke filters for couples who don't have the skills or time to do so. For £8 per filter, couples can offer wedding guests a selection of customised frames and encourage them to apply these to photos or videos taken at the event.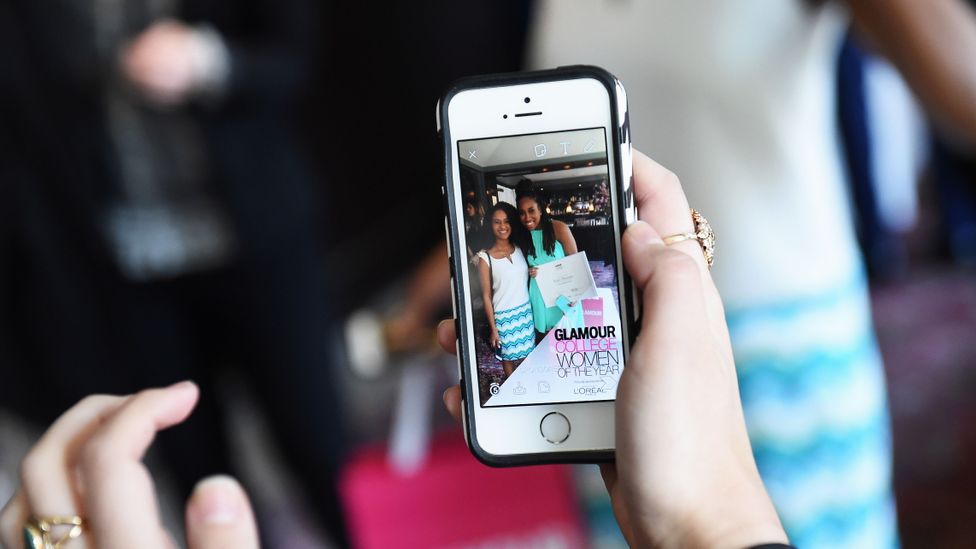 Geofilters add an extra layer of location-based graphics to Snapchat photos (Credit: Getty Images)
And if people are already going to be posting on Instagram and Facebook during your reception, why not project a continuous stream of these digital uploads on a digital wall?
Amsterdam-based entrepreneurs Yousef El-Dardiry and Pim Stuurman founded the company WeddingHashtagWall in 2014. Customers can order a virtual "wall" for $79 and receive a unique web address which displays a constant stream of uploads from wedding guests linked by customised hashtags. This allows people who aren't present take part in the revelry, and those who are there to share photos in real time.
There are even companies offering designated social-media assistants to snap and post during your special day
There are even companies offering designated social-media assistants to snap and post during your special day. The New York-based start-up Maid of Social was founded in 2015 by two former editors at wedding magazine The Knot, and describes itself as "your PR team for your wedding day."
Its offerings range from a $500 package of hashtag creation, a post on the company's Instagram account and tips for boosting a wedding's online virality, to the full "5-carat package". At this level, priced in the thousands and aimed at social influencers with huge followings, you get an onsite team, media strategy for any brands you might be partnering with on the day, Instagram and Snapchat takeovers, and even help securing press coverage.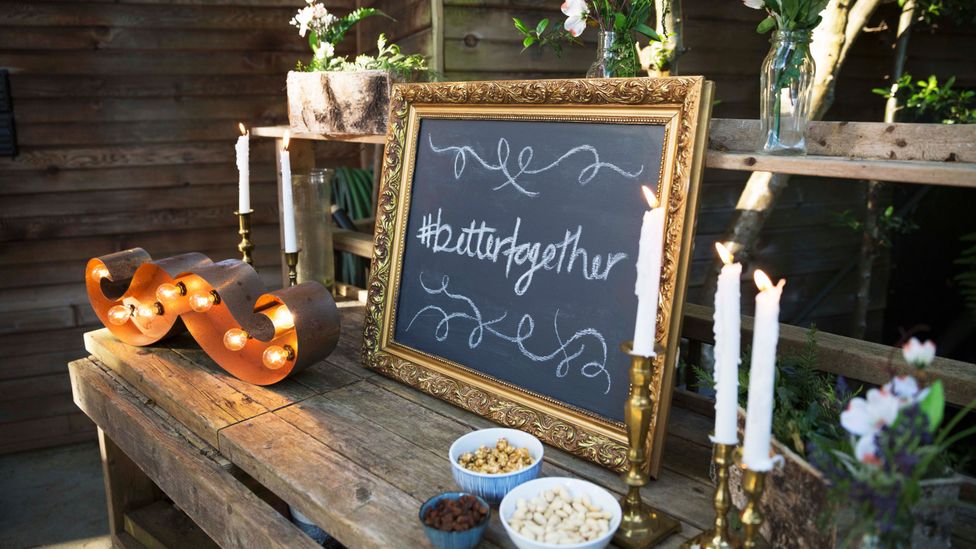 Nothing brings people together like a custom metadata tool, or in other words, a personalised hashtag (Credit: Getty Images)
A bridge too far?
For those who aren't ardent social-media users, all this may seem a little over the top. But digital natives are used to seeing their online profiles not only as an extension of their personal life and identity, but also as an opportunity to promote their professional or creative endeavours.
It's like the red carpet for regular people - Jean Twenge
"It's like the red carpet for regular people," says Jean Twenge, author of the books Generation Me and the forthcoming iGen. "Millennials are highly individualistic and are more comfortable with getting attention than previous generations were at the same age," and weddings "are the one occasion when it is acceptable to draw attention to yourself."
Social media's demand for constant photo ops, and its tendency to encourage one-upmanship, may offer one explanation as to why the average price for a wedding is steadily rising, despite the fact that many millennials are reluctant to engage in the same traditions as previous generations.
The figure recently surpassed £25,000 in the UK and $35,000 in the US, according to studies conducted in 2016 by websites Hitched and The Knot, respectively.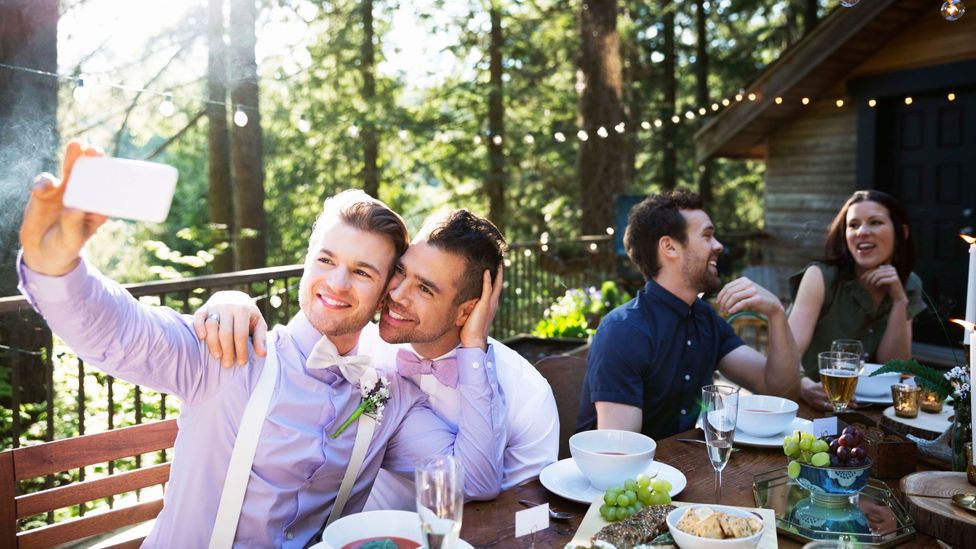 If no-one shares it on Instagram, did the wedding really happen? (Credit: Getty Images)
Lehmann admits that browsing online scrapbook site Pinterest for wedding ideas can create unrealistic expectations that are hard to fulfil on a budget. "You get wrapped up in 'oh my wedding has to look like this amazing emporium of candles and flowers and stars hanging from the ceiling and I'm carried away on a magic carpet,'" she says.
You do sometimes tailor things for the experience, but also the optics - Jessica Lehmann
"You have to remember that most of those photos have been styled for the purpose of being posted online. It's easy to get caught up in things that don't matter that much." That said, she does want to walk out of the ceremony under of arch of glowing sparklers held up by guests: "You do sometimes tailor things for the experience, but also the optics."
Pressure for perfection
Does all of this curation create an environment where a couple can be so caught up in capturing a moment that they barely experience it? In her book Alone Together, MIT social science professor Sherry Turkle suggests that the distraction of phones can be a barrier to intimacy in social situations, making our connections shallower and increasing isolation.
The distraction of phones can be a barrier to intimacy in social situations, making our connections shallower
There have been staged photos at weddings stretching back decades, she points out, "but now, there are so many 'vignettes' that need to be special, so many moments that people will be discovering and potentially sharing and judging, it increases the pressure for perfection," she says. "This is our new paradox: we preach authenticity but practice self-curation."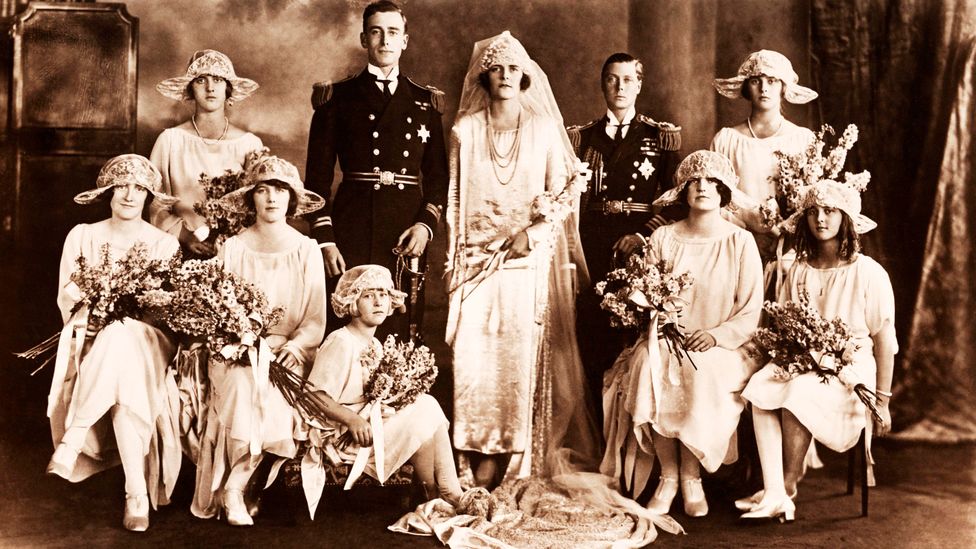 Posing for snaps on the big day is nothing new – but pouting, posting and platforms have added a new dimension (Credit: Getty Images)
Turkle expects to see a growing counter movement emerge – "the device-free wedding" – but, in the meantime, she sees nothing wrong with nudging wedding guests to use specific hashtags on their posts, if they're going to be using their phones anyway. "It makes sense to give them a channel and a focus."
Lehmann has considered these pros and cons. At her reception, she'll encourage photos with a photo booth set up with props and selfie sticks, and instant cameras for physical mementoes. She'll also have the #JessTheTwoOfUs hashtag on display as a reminder. "It actually takes some pressure off," she says, to know that friends will be capturing various moments from a day that's likely to rush past in a blur. She's looking forward to browsing through the photos the next morning, "seeing everyone's vantage point, maybe getting some hidden gems," and perhaps cherry-picking one or two to post to her own followers.
Still, she plans to asks guests to turn their devices off during the actual wedding ceremony, and she won't have a phone on her on the day.
"You do have to draw the line," she adds. "People say that your wedding day goes really quickly, and you want to enjoy as much of is as you can by being present and in the moment.
"It's hard to do that if you're on your phone."
To comment on this story or anything else you have seen on BBC Capital, please head over to our Facebook page or message us on Twitter.
If you liked this story, sign up for the weekly bbc.com features newsletter called "If You Only Read 6 Things This Week". A handpicked selection of stories from BBC Future, Culture, Capital and Travel, delivered to your inbox every Friday.