In an age of 'extreme pitching' and personal branding, it can seem as if showing off is the only path to success. But is there a place for quiet people too?
A
As he back-flipped into an ice hole cut into the Baltic sea, Didrik Dege Dimmen drew gasps from onlookers in Oulu, Finland. Waist-deep in freezing seawater, his bare chest inked with his product's name, the 24-year-old Norwegian proceeded to pitch his smartphone stabiliser to a panel of venture capitalists.
His performance may have clashed with the unwritten Nordic 'law of Jante', a cultural norm that ostentation should be frowned upon. But Dimmen went on to win first prize in the 2016 Polar Bear Pitching contest – 10,000 euros ($11,128) and a stay in Silicon Valley – plus global publicity and fresh contacts.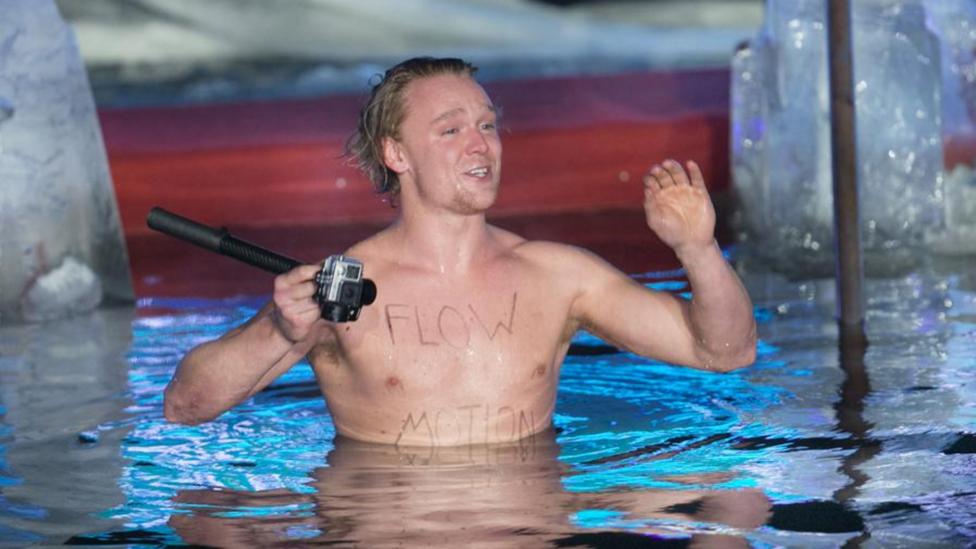 Norwegian entrepreneur Didrik Dege Dimmen takes the plunge while pitching to panel of venture capitalists in Oulu, Finland (Credit: Jarmo Kontiainen)
"It was a highly efficient way of marketing ourselves," he says. Since co-founding FlowMotion Technologies in Oslo two years ago, the start-up's increasingly visible public profile has helped attract $1.3m in funding.
Showing off, getting noticed and cultivating a personal brand is becoming increasingly important
While jumping half-naked into ice-cold water is perhaps an extreme way to get funding, it's part of a trend where showing off, getting noticed and cultivating a personal brand is becoming increasingly important.
Pitch contests such as this are proliferating worldwide, with new genres such as 'start-up battles' and weekend-long events popping up all the time. The more extreme versions pose eye-catching challenges to hopeful entrepreneurs such as Thea Myhrvold, who pitched her online learning platform Teach Me Now in the back of a car lapping a race track at 112 mph (180 kmh). The 27-year-old went on to win the 2015 Infiniti Speed Pitching final in Hong Kong and $40,000 in cash.
Reality television has also wholeheartedly embraced the concept of the outlandish investment pitch. Programmes like Dragon's Den, Shark Tank and Adventure Capitalists – all featuring entrepreneurs pitching investors for funding – can be found in nearly 30 countries around the globe. Even tech giant Apple has joined in, with a new show featuring app designers pitching their product to celebrities while descending a large studio escalator.
Thea Myhrvold, a 27-year-old entrepreneur based in Dubai, won $40,000 by pitching in the backseat of a speeding car (Credit: INFINITI Speed Pitching)
It's one thing to show off for the cameras, but research suggests that shrinking violets may be on the decline in general. A 27-year study of American university students found in 2008 that levels of narcissism were rising, and the researchers noted that their findings complemented previous studies showing increases in other individualistic traits such as self-esteem and extraversion. Likewise, a 2011 study into the rise of narcissism in modern China found that this was indeed the case among younger Chinese.
 He who shouts the loudest
Reality television has had a hand in shaping this 'look-at-me' ethos, says Jonathan Hirshon, a Silicon Valley PR strategist behind launches for Sony, Apple and Pioneer.
After the US scriptwriters' strike a decade ago, reality TV kicked into high gear, giving rise to Paris Hilton, Kim Kardashian and the Jenners, says San Francisco-based Hirshon. "What we ended up with is the idea of living one's life publicly," he says.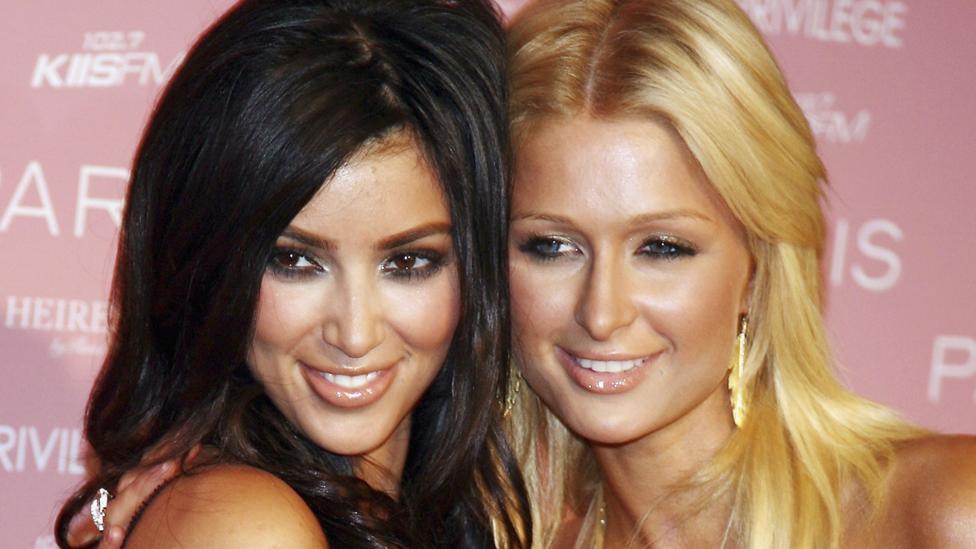 Kim Kardashian and Paris Hilton are partly to blame for a 'look-at-me' culture, says Jonathan Hirshon (Credit: Getty Images)
It's an aspiration facilitated today by a vast array of social media platforms dependent on billions of people sharing details of their life and thoughts in varying degrees of digital exhibitionism. The rise of YouTube stars and Instagram influencers has further emphasised the importance of standing out from one's peers with a strong personal brand.
It seems that your ideas, hard work and talent won't get you very far, unless you can learn to shout about them and show them off
Hirshon says the concept of showing off began overlapping into the business world in the mid '90s, when Silicon Valley started taking off in a big way. The competitive culture and rivalry for funding expressed itself in pitching contests with increasing demands on participants to bring entertainment value to their presentation. And this attitude continues to build today.
"There are so many new companies coming out of the woodwork in the last few years that people have decided that they need to shout as opposed to whisper."
In this environment, it may seem that your ideas, hard work and talent won't get you very far, unless you can learn to shout about them and show them off. But what do you do if that's not your style?
A cultural advantage
For Hirshon, the trending tendency towards showing off is an "unfortunate" one. "A lot of the companies that are shouting have the least viable technology and the worst business plans," he says.
The danger in rewarding showing off is that it favours certain personality types
It also puts people from more reserved cultures at a disadvantage. "Boasting in Japan is the fastest way to get nowhere," he adds. "Boasting in the Nordics is the fastest way to go nowhere. That's a problem because their cultures are antithetical to places like the US and the UK, where shouting has become the norm."
Conversely, being too modest in more boastful cultures can put you at a disadvantage, says Charlene Solomon of RW3 CultureWizard, an online intercultural training platform. In a job interview or pitch in the US, "you have to be willing to talk about yourself, because if you understate your capabilities it can even ruin a deal."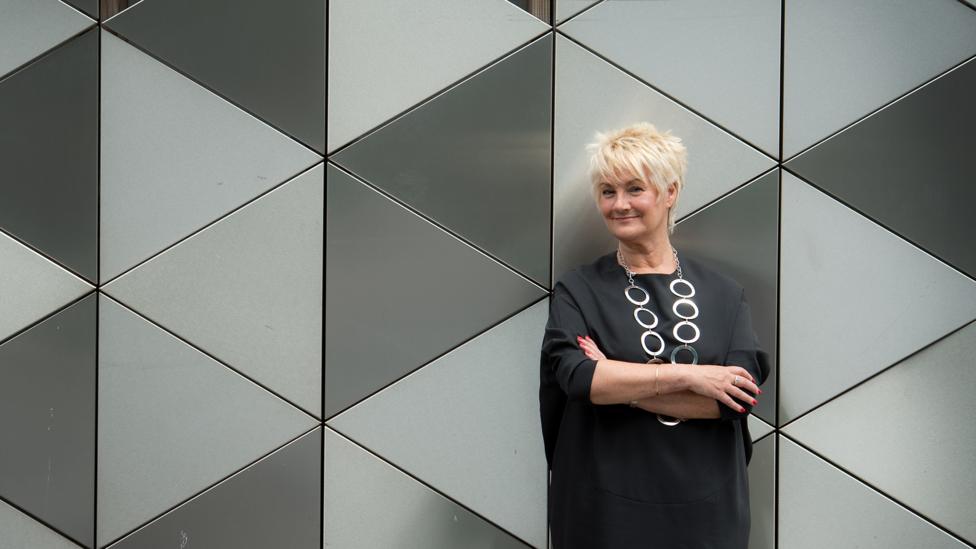 Quieter people are often the ones with the good ideas, even if the blusterers get all the attention, says business professor and executive coach Ros Taylor (Credit: Paul Hackett)
The danger in rewarding showing off is that it favours certain personality types, warns clinical psychologist Ros Taylor, who works as a executive coach as well as teaching business at Strathclyde University in the UK. The common wisdom in many companies is that the best leaders need to be extroverts who see the big picture and can talk about it boldly, she says.
"It means everything is bluff and bluster and nothing has any bottom or credibility," says Taylor. "That's a worry because the quieter, more contemplative person – the reflector – is often the one with the sterling idea and the creative thinking.
True diversity is about having different types of people around the table, and that means introverts and extroverts - Ros Taylor
"I spend my time going round boards and senior teams and saying, 'No, no, no – there is no one type of person to be a leader'. True diversity is about having different types of people around the table, and that means introverts and extroverts."
Even when it comes to leadership, a reserved personality may well out-perform louder rivals. A recent study of more than 2,000 CEOs found that introverts were more likely to surpass the expectations of their boards and investors than charismatic extroverts.
If you can't beat 'em
If you feel you need to be more visible, but being outspoken doesn't come naturally, is there anything you can do?
From her work as an executive coach, Taylor believes everyone can learn to speak up for themselves, and says quiet people who steel themselves to be just slightly larger than life can experience remarkable success.
Before coaching sessions with Taylor two years ago, 44-year-old Gerry Tyrrell would sit silently in meetings. As an experienced financial controller at a mulitnational technology firm in Scotland, he was confident in his expertise, but felt inhibited about speaking up. Especially, he says, when colleagues would sometimes become "more bullish" and adopt "a high-five mentality" to make their points.
He had always worked in the background, spotting financial risks and sharing his guidance with people before or after big meetings, but felt a lack of recognition was not helping his career. "I knew I needed to project myself a wee bit more."
Tyrrell says that coaching has given him the confidence to slow down, to pick one or two key points and to get his message across
Softly spoken, and with a tendency to talk faster when nervous, Tyrrell learned to slow down, to pick one or two key points and to get his message across. So is he ready to stand in the spotlight in the way that extreme pitchers do? "Two years ago there's no way that I'd have done that. Now I'd do it but I wouldn't be over-the-top. I'd deliver things my way.
Hirshon, who's been a judge at Polar Bear Pitching, has had to coax a modest entrepreneur to be more effusive. 
"I had a client in Sweden who had incredible facial recognition technology, better than anything else on the market, and they consistently went out and talked about [their] 'decent' technology," he recalls. "I finally trained them to say that 'We actually have something that is unique'."
Even so, he believes not everyone should have to learn to speak up.
"When everybody shouts, it's the person who whispers that gets heard," he says. "If a company has a great product, if you communicate it in a low key and factual way, people will get it, people will understand it.
"Public relations is not a shouting game. It's a chess game."
To comment on this story or anything else you have seen on BBC Capital, please head over to our Facebook page or message us on Twitter.
If you liked this story, sign up for the weekly bbc.com features newsletter called "If You Only Read 6 Things This Week". A handpicked selection of stories from BBC Future, Culture, Capital and Travel, delivered to your inbox every Friday.