Can banning some corporate terms and replacing them with buzzier or more positive-sounding alternatives do any good?
A
Apply for a job at Davio's, a small chain of Italian-style steakhouses in the US, and you'll never hear one extremely common workplace term: employee. That's because CEO Steve DiFillippo has banned its use.
"I think 'employee' is an awful word," he says. "Who wants to be an employee? It just isn't something you strive toward." Instead, those who work for DiFillippo are known as 'inner guests.'
"A lot of servers and cooks go from restaurant to restaurant trying to find their way; we stop that," he explains. "They come here and realise they're in a different place where they'll be treated differently."
For DiFillippo, banning the word is both a way of empowering his 'inner guests' and explaining the company's core values to its 'outer guests' (the diners).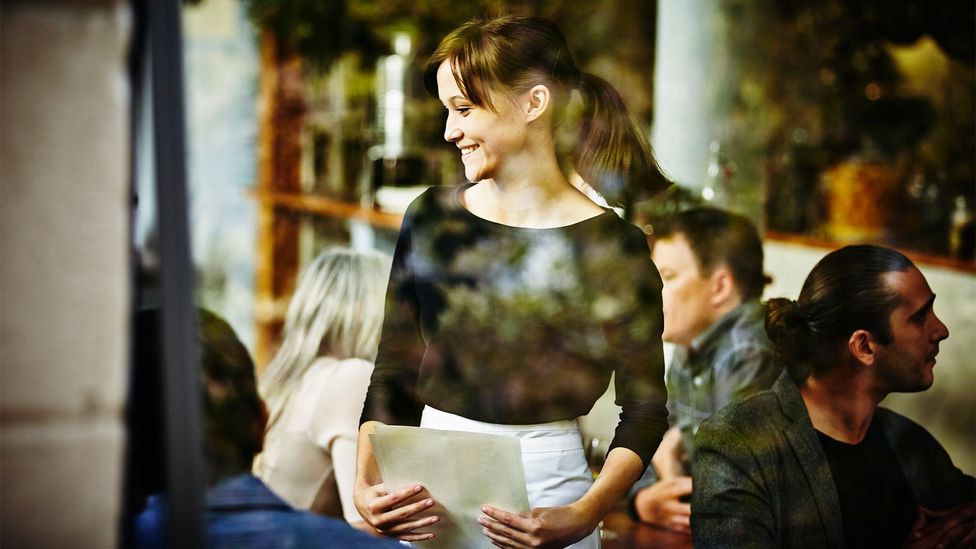 Banned words and suggested phrases are often employed to keep customer service consistent and personal (Credit: Getty Images)
The restaurateur is hardly alone in his desire to challenge the status quo. Montreal-based software company GSOFT recently banned the term 'human resources' for being too impersonal, replacing it with a department of culture and organisation charged with "harmonising collective action." Meanwhile the term networking is now verboten at British property development and investment company Allied London (instead, workers can attend 'talking shop' events).
But can banning one traditional term and replacing it with a buzzier alternative really do any good? Or does muddying the pool of workplace jargon with double speak just make it all more complicated for everyone involved?
Sherpas, prophets and evangelists
To understand the rise in banned words it helps to first look at the proliferation of new and creative corporate terms, from the 'sandwich artist' who makes your lunchtime sub to the 'genius' at the Apple store who sets up your iPhone. Tech companies have become particularly adept at this, with 'innovation sherpas' at Microsoft, 'fashion evangelists' at Tumblr and 'digital prophets' at AOL.
A linguistic twist can provoke some healthy engagement and introspection
Dan Cable, a professor of organisational behaviour at London Business School, says that while he doesn't necessarily think that having a title like 'imagineer' will make engineers at Walt Disney any more creative, he does believe a linguistic twist can provoke some healthy engagement and introspection.
You may also like:
"If you can get individuals to think about how they add unique value to a company, then just a word or two can serve as a constant reminder to them: you are necessary, you are valuable, you have a purpose," he says.
By hiring, say, 'inner guests' instead of employees, "it's possible you could attract a different sort of person and get them thinking certain thoughts even before they join the company," says Cable. His research shows that, beyond making a splash in recruiting,  creative job titles can be important vehicles for both reducing stress and energising workers.
Branding the workplace
The trend towards manipulating workplace language and ethos is largely driven by millennials, who, research shows, seek a greater purpose out of work than their predecessors. Outright word bans and suggested terms take this to the next level.
Company-wide bans have usually dealt with words or phrases that could bring negative associations to a brand. Documents released in 2014 as part of a General Motors' settlement with the US government revealed that the company had coached engineers to avoid 69 incendiary words and phrases, including 'defect,' 'flawed' and 'death trap.'
And according to a 2011 report in the Wall Street Journal, which assessed confidential training manuals and a recording of store meetings, Apple coached workers at its retail stores to avoid words like 'unfortunately,'. Instead, Apple's 'geniuses' were told to say 'as it turns out' to sound less negative when an issue arose.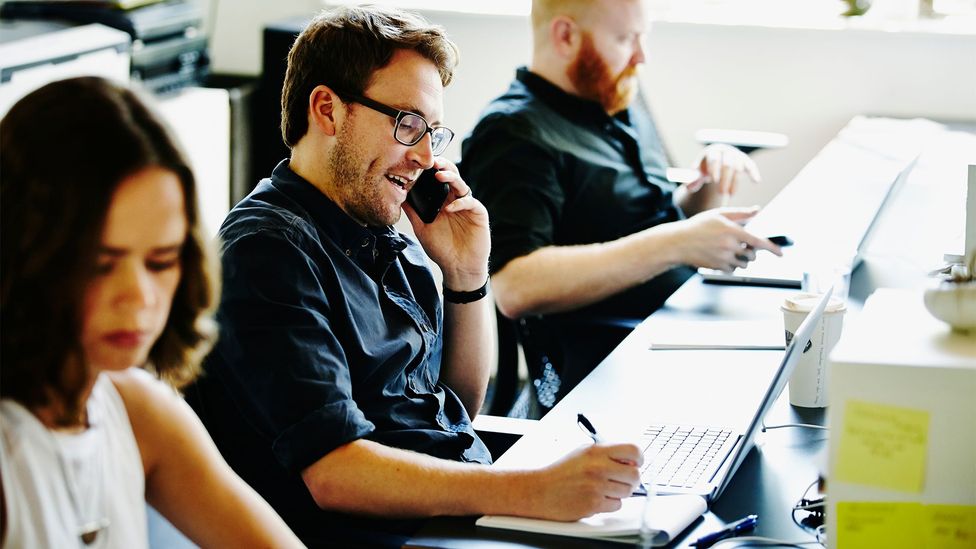 When it comes to product issues and customer complaints, negative-sounding words are often discouraged in favour of more optimism-inducing phrases (Credit: Getty Images)
Tech site Gizmodo, which also looked at a confidential employee manual, noted that Apple employees were also forbidden from using phrases such as 'bug' or 'crash' where 'not responding' was preferable. Meanwhile, 'warm' was preferred over 'hot' when describing a product that was giving out heat.
More recent bans are much more nuanced and have come about with words, titles and phrases that are perceived as too rigid or not reflective of the company culture.
Cable says the act of banning a word is often an elaborate form of self-branding that sends a message both externally to the public and internally to the workers. When, for example, you rid your company of a customer service department and replace it with a group of 'happiness heroes,' as social media management platform Buffer did, you do so to separate the us (young, progressive) from the them (old, uninspired).
When you start banning words and replacing them with something else it can be a little Orwellian
When names become dated
Lisa Merriam, a New York City-based brand consultant and author of Merriam's Guide to Naming, says that setting language rules can often backfire. "When companies attempt to be cool, it's sort of like your dad trying to be cool: It's the opposite. It's cringingly embarrassing," she says.
Merriam adds that, by changing the jargon – and job titles in particular – to reflect our current age, workers are ultimately making themselves invisible to future recruiters with "cool titles that truly don't age well."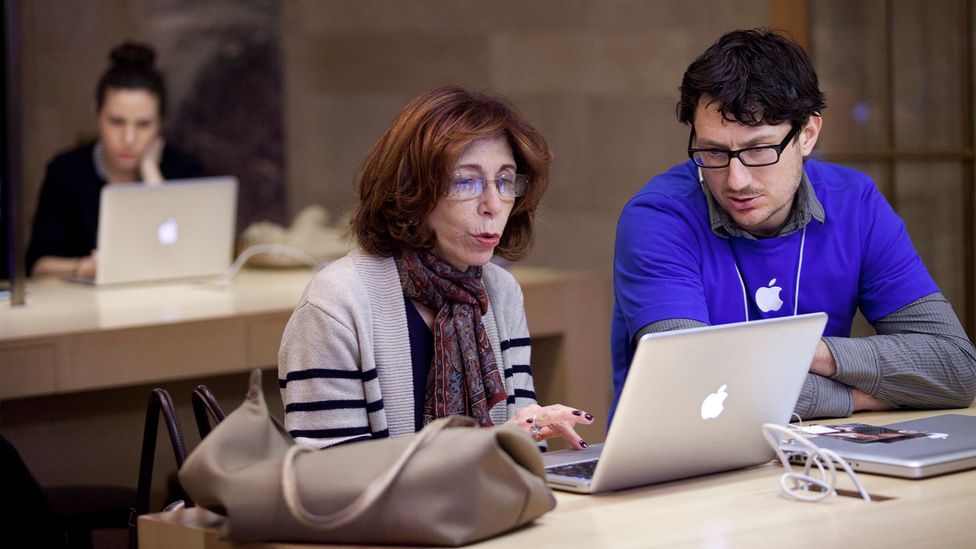 The practice of switching up traditional job titles for more creative-sounding roles can often create more problems than it solves (Credit: Getty Images)
A recent survey of 1,000 UK adults asked them to identify whether 18 job titles from the tech industry were real or fake. The result: Cloud Master (a 1980s computer game) was a more plausible sounding occupation than six of the nine actual tech jobs.
Henry Goldbeck, President of Vancouver-based Goldbeck Recruiting, highlighted this issue in a LinkedIn post. Potential employers aren't doing a keyword search of their candidate database for accounting 'ninjas' or 'rock stars,' he argued. They're looking for accountants.
Perhaps more importantly, Merriam believes, you have to tread carefully with banning anything in the workplace, particularly in today's charged environment.
"When you start banning words and replacing them with something else it can be a little Orwellian," she notes. "By choosing new words to replace clear, known and understood words you can also create confusion or mistrust and may inspire employees to feel scorn for the company."
To comment on this story or anything else you have seen on BBC Capital, please head over to our Facebook page or message us on Twitter.
If you liked this story, sign up for the weekly bbc.com features newsletter called "If You Only Read 6 Things This Week". A handpicked selection of stories from BBC Future, Culture, Capital and Travel, delivered to your inbox every Friday.