Norman Foster's new building in London for Bloomberg is a thing of beauty and a feat of sustainability. Laura Clarke takes a tour and meets the brains behind the project.
"I mean there are ribbon cuttings, Mike, and there are ribbon cuttings," London Mayor Sadiq Khan joked with New York's former Mayor Michael Bloomberg, as he opened Bloomberg LP's new European Headquarters in the British capital.
The news and information company is celebrating 30 years in London by bringing 4,000 employees from four sites under one roof.  Although it stands upon an ancient Roman Temple and Roman road, both carefully restored by the company, the building "really does represent a glimpse into the future," according to Khan. "I don't know about the Romans, but I think this building is more futuristic than the latest Blade Runner movie."
We had a billionaire who wanted to be an architect working with an architect who wanted to be a billionaire - Michael Bloomberg
Officially credited as the most sustainable office building in the world, the latest opus from architects Foster + Partners (designers of London's Gherkin and City Hall, Wembley Stadium, The British Museum's famous atrium, New York's Hearst tower and HSBC's Hong Kong headquarters) took almost ten years to build and was spearheaded by Lord Foster himself.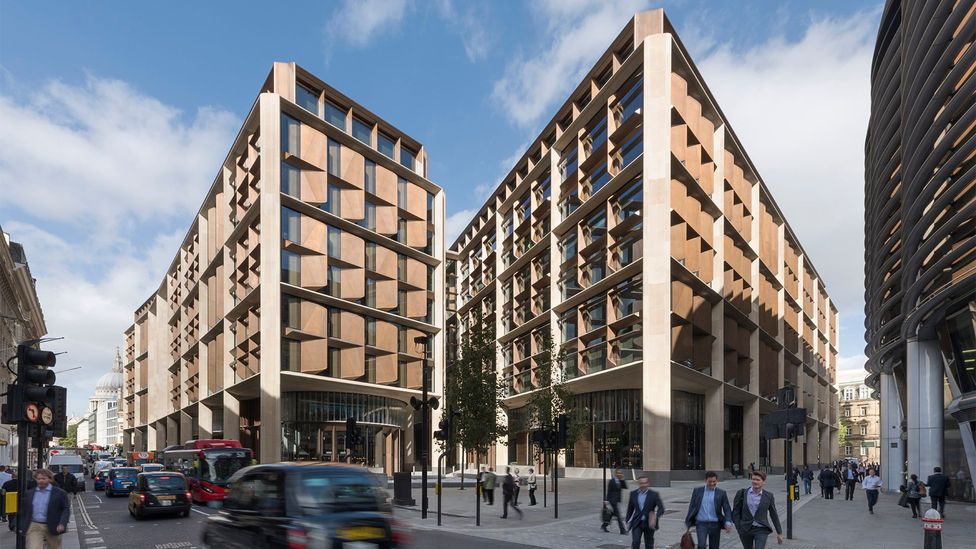 Bloomberg's new European HQ comprises two buildings divided by a pedestrianised dining arcade, amounting to around 1.1m sq ft of space (Credit: Nigel Young/Foster + Partners)
"Some people say that the reason it took us almost a decade to build this is that we had a billionaire who wanted to be an architect working with an architect who wanted to be a billionaire," quipped Bloomberg as he took the stage.
Still, flashy it is not. In fact, on approach from Bank underground station (to which it will have its own entrance) it is remarkably unassuming, almost hiding behind the City of London Magistrates Court. But touring this building is an education in considerate, cutting-edge construction. BBC Designed was shown round by Michael Jones, Senior Partner at Foster + Partners and Kate Murphy, Partner.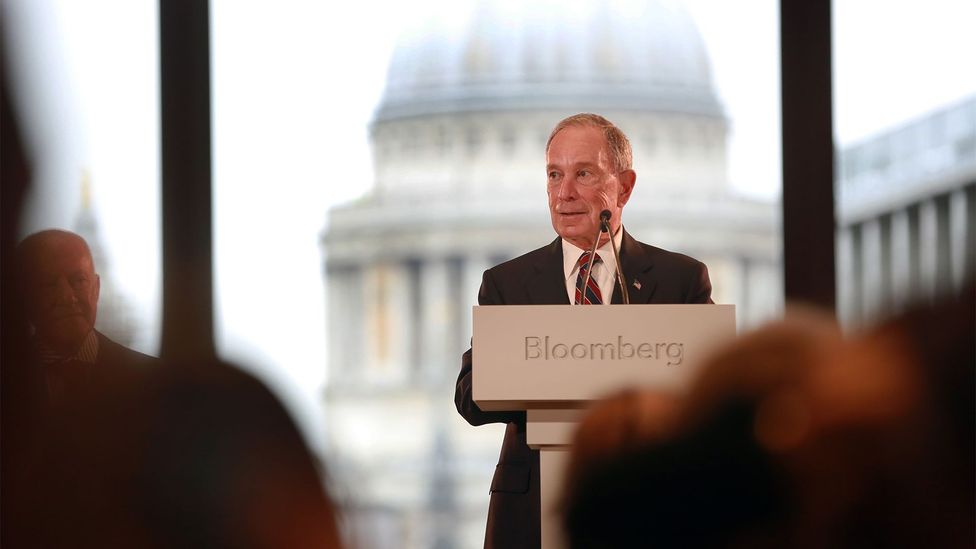 Michael Bloomberg, founder of Bloomberg LP, hosts a press conference to unveil the company's new European headquarters in the City of London (Credit: Matt Alexander/PA Wire)
Groundwork
Bloomberg, who bankrolled the project to the rumoured tune of £1bn, had the option to build as high as 22 storeys on parts of the site. The highest he went was eight. Foregoing 14 floors of free space is a near-unfathomable decision when one considers today's real estate market, and that the company's London software team alone grew three-fold to 800 people in the last four years.
"For many companies our size, building a new HQ would have meant opting for a glass skyscraper, and given the price of London real estate and the costs of construction materials, the economics would bear that out," explained Bloomberg. "But we have never made decisions based on short-term costs… and that's the beauty of being a privately held company."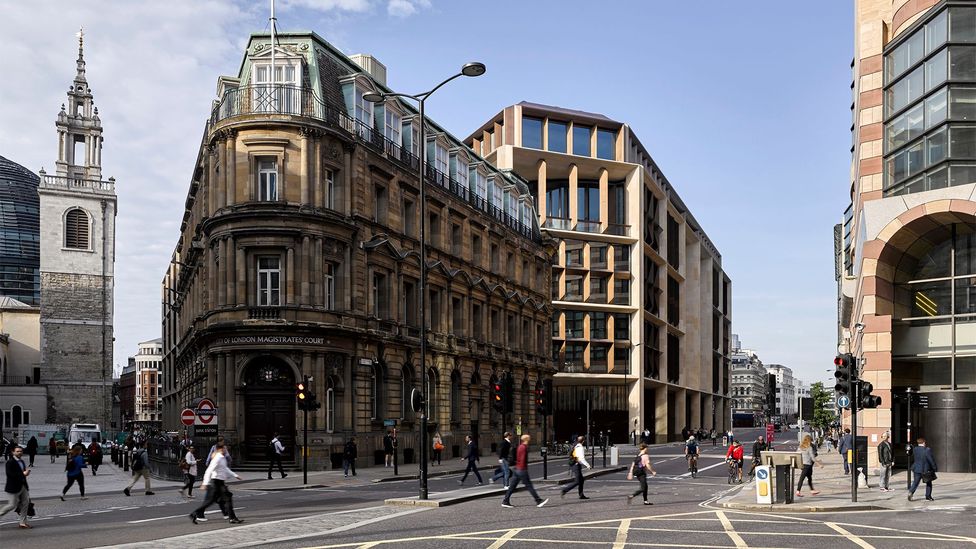 Approaching the building from Bank underground station (to which it will have its own entrance) it looks remarkably unimposing, but that's on purpose (Credit: James Newton)
"We have always placed great value on being good neighbours in the cities that host us," he added, standing against an uninhibited backdrop of St Paul's Cathedral, itself for a time the tallest building in the world. "[Foster] is known as a brilliant innovator who recognised the opportunity to do something extraordinarily modern and eminently British. In designing the building, we wanted to respect London's aesthetic traditions."
For many companies our size, building a new HQ would have meant opting for a glass skyscraper - Michael Bloomberg
Around 90 per cent of the project's cost was spent within the UK, on materials including 84,000 cubic metres of sandstone from the same Derbyshire quarry that produced stone for the courts next door. No expense was spared to ensure it would fit well with its surroundings. Murphy reveals much of the 600 tonnes of bronze used was hand-patinated by artisans in Japan to ensure it would age well.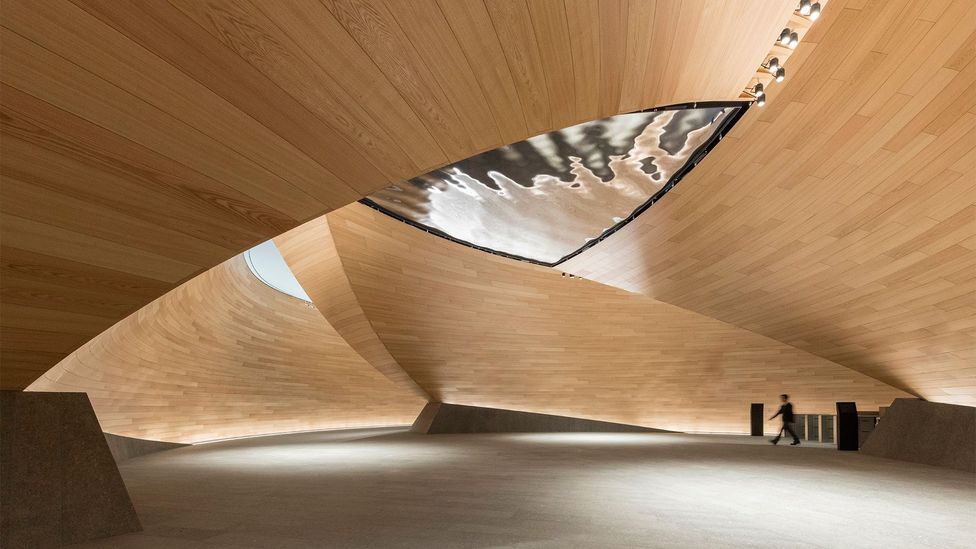 The vortex, topped by Olafur Eliasson's shimmering artwork, is a fun twist on classic timber-panelled lobbies (Credit: Nigel Young/Foster + Partners)
Easy being green
In a sketchbook Foster was using in July 2010, around the time Bloomberg tapped him for the project, he scribbled some select words: his first vision for the building. "Respectful. Fitting in. Understated. Conservative. Classy on the outside. Wow inside. Enduring materials. Improving with age." Then, in capitals: "SUSTAINABLE."
According to Bloomberg: "Everybody wants to, in this day and age, be part of something that sends a message that they care about our planet. People want to be proud of where they are."
"Innovation in sustainability is the very heart of this building's design," says Heather Walker, head of EMEA facilities for Bloomberg. The company, a zero-landfill operation since 2010, aims to get 100 per cent of its power from renewable resources by 2025. This building should help: BREEAM, the global environmental rating scheme, awarded it a 98.5 per cent sustainability score, the highest of any major office development in the world.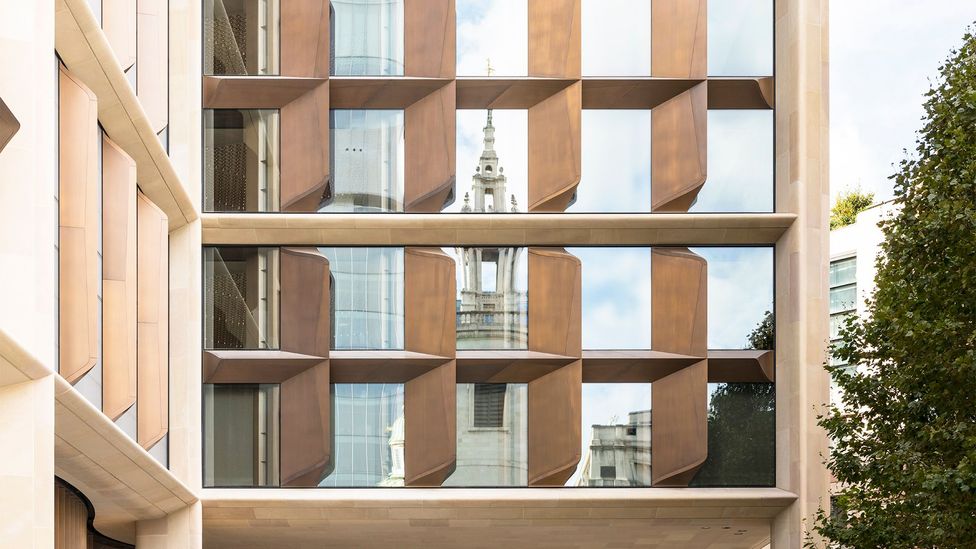 Christopher Wren's St Stephen Walbrook is reflected by the façade, a deep stone frame with serrated glass and bronze 'gills' that ventilate (Credit: Nigel Young/Foster + Partners)
It uses 70 per cent less water than an average office and also delivers a 40 per cent reduction in energy use and carbon emissions.  This was achieved via a number of initiatives: an on-site power-generation centre converts gas to power and the waste heat from that process is used; rain water is captured on the roof; sink-water is retreated and reused and aeroplane-style vacuum-flush toilets in the minimalist, futuristic bathrooms use 75 per cent less water than regular toilets.
Innovation in sustainability is the very heart of this building's design - Heather Walker, EMEA facilities, Bloomberg
"The systems that we are putting into the Bloomberg building could become the regular systems of the future," says Trevor Farnfield, operations director at building services consultants SWECO.
Mainly, however, savings were achieved through exceptional innovation.
Bloomberg has been vociferous about his belief that businesses should play a vital role in the fight against climate change, that governments shouldn't be left to tackle climate issues by themselves. Foster's team, it seems, was practically given a blank cheque. "Very early on, Mike told us not to be afraid to show him something because it would be new or different," Murphy tells BBC Designed.
"Projects like this are really important in terms of sharing experience and giving confidence to the industry to innovate and experiment," says Alan Yates, technical director of BREEAM.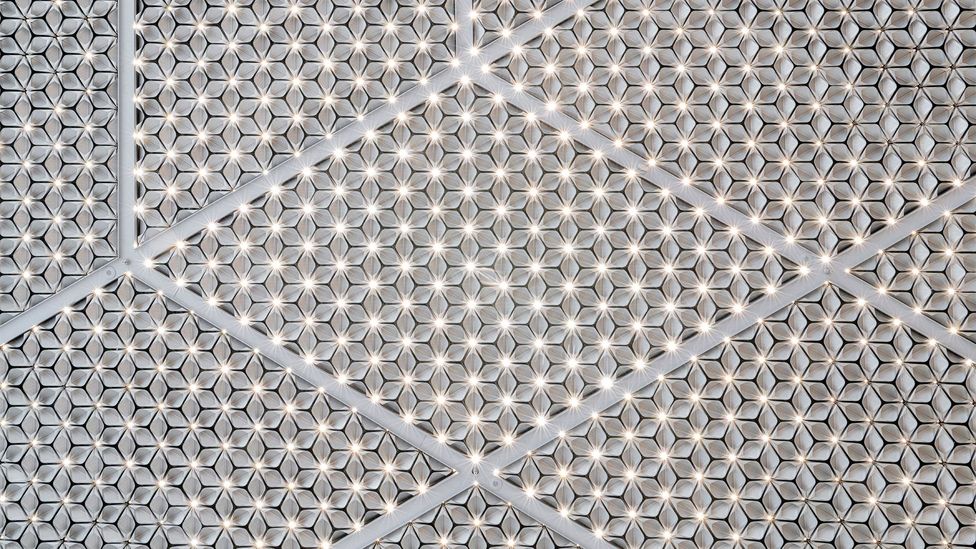 Bespoke integrated ceiling panels combine heating, cooling, lighting and acoustic functions in an innovative petal-leaf design (Credit: Nigel Young/Foster + Partners)
Foster describes the building as a template for the future. "I sometimes talk about the building as like the tip of an iceberg," he says. "What you don't see is the process, the huge teamwork, the collaboration between experts… to create innovatory solutions. What I'm describing has never been done before, but it didn't come easily."
For starters, the building breathes. In place of an energy-guzzling ventilation system, bronze harp-shaped gills that can be opened and closed flank the exterior and moderate traffic noise. In a warehouse in Battersea, "we did a model of the entire building, which we put in a salt bath to simulate the way that air moves, using water with dyes," explains Chris Tott, head of sustainability at Foster + Partners. "All parts of the building will be well swept with air [that] moves efficiently up the atrium and out of the roof." Smart carbon sensors direct airflow according to the number of occupants in different parts of the building at any time. The model was subjected to simulated extreme weather conditions, even mimicking predicted effects of climate change.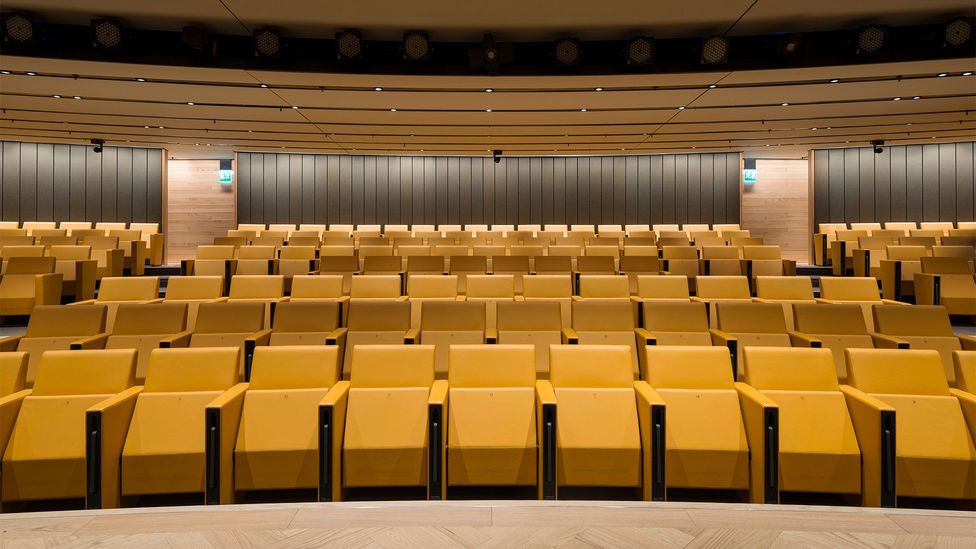 An auditorium is fitted with 'voice lift' technology that carries sound, so speakers and participants can talk and be heard without the need for microphones (Credit: James Newton)
Foster's team also re-imagined the humble ceiling. Here, it is made up of more than two million highly polished aluminium petal-leaf structures. As well as being aesthetically pleasing, each of these combines heating, cooling, lighting and acoustic functions, incorporating 500,000 LED lights and using 40 per cent less energy than a fluorescent lighting system.
"It just goes to show what's possible when you place a premium on sustainability and make environmental considerations a priority from the outset rather than simply treating them as an afterthought, or as a box to be ticked," said Khan at the unveiling.
People and productivity
A state of the art news studio rotates. In the auditorium, a system called 'voice lift' carries and balances sound, making every voice equally loud and clear across the room, no roving microphones needed. Glass 'scenic lifts' – designed especially – run smoothly up and down the building's façade, though you're pushed to notice them. By changing the lifting mechanism from a 'pull' to a 'push' from underneath, Foster's team hid the engineering, allowing maximum visibility through the building from outside, and from the lifts to the inside and outdoors. 
I'm fascinated by the way that design can somehow enable your organisation and its values to function better - Lord Foster
But ingenuity abounds particularly in how this building relates to its occupants and their behaviour. More than anything, this is a building for people and for productivity. If Bloomberg's philosophy is that collaboration fuels innovation and results, his latest campus houses a thousand tiny nudges to get people talking and working.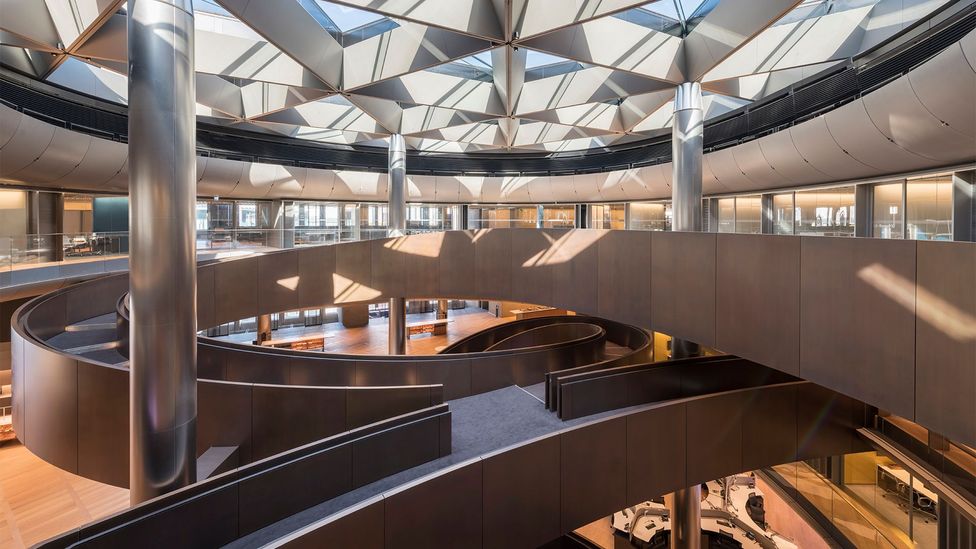 The centrepiece is a spiralling ramp spanning six floors in a triple-helix formation, designed as a place of meeting (Credit: Nigel Young/Foster + Partners)
"I'm fascinated by the way that design can somehow enable your organisation and its values to function better," says Foster.
The centerpiece of the interior is a giant, spiralling triple-helix ramp, 700 feet long. Wide enough for people to walk together, it is intended to be a meeting place. Floors branch off from the ramp, with hardly any interruptions to the flow of space.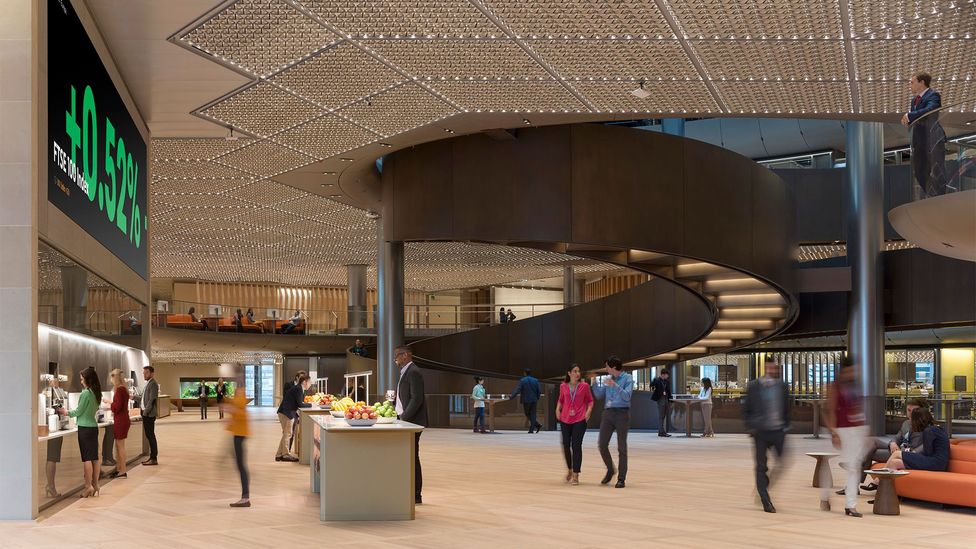 Workers and visitors are funnelled through the the sixth-floor pantry, the central hub of the working space (Credit: James Newton)
Columns were engineered out, along with the 'core' of the building, lifts and service functions that what would usually occupy the centre. If it's initially disorientating, workers can use a smartphone app and smart screens to navigate the space and set meeting places.
"There are no walls between people and teams, no private offices. Everyone has the same size desk, including me," says Bloomberg.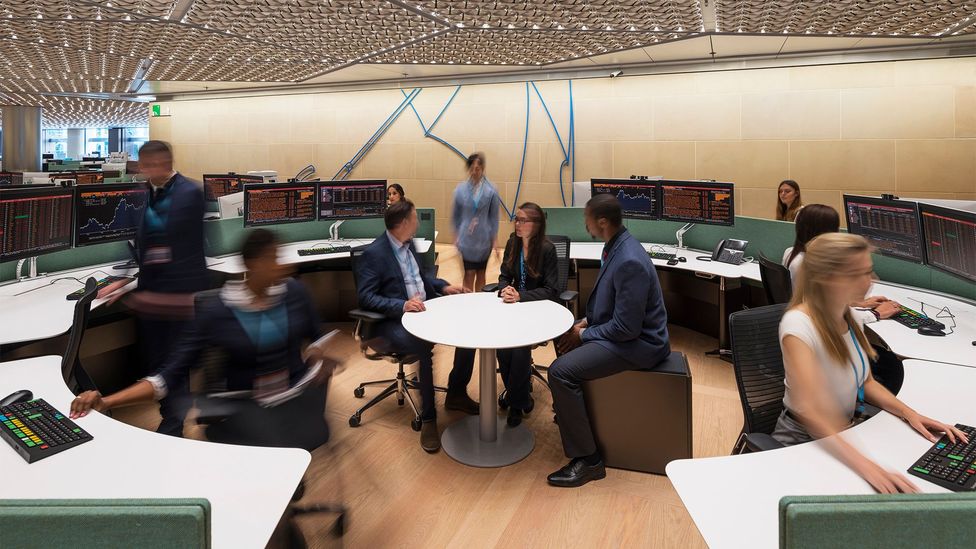 Each employee sits in their own space within a circular formation of desks, with a table in the middle to encourage impromptu meetings (Credit: James Newton)
He draws the line at the ubiquitous trend for hot-desking, wanting each employee to have their own 'home' at work. That is echoed in the warm colour of the timber flooring, which initially presented a problem in terms of wiring access. Foster's team mitigated it by developing a magnet system to secure the floorboards. Apparently, encouraging employees to see the office as another home was worth it.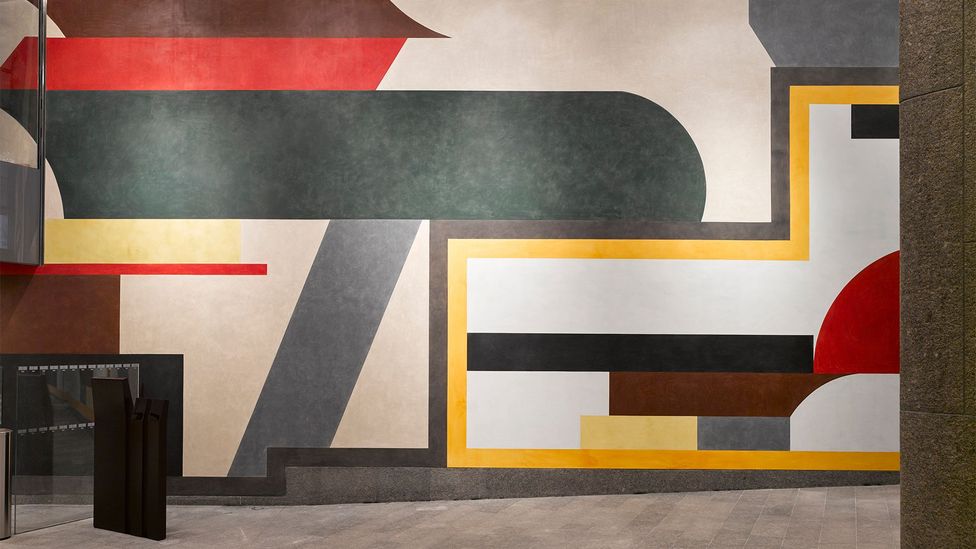 City Drawing #1, an artwork by British installation artist David Tremlett, is located in the south building reception hall and elevator lobby (Credit: James Newton)
Each employee sits in their own space within a honeycomb formation of desk banks. In the middle of each circle of desks is a small meeting table, which Bloomberg hopes will spur impromptu brainstorms. The tops of the filing cabinets beneath the desks are upholstered so they can be pulled out and double up as a seat should a colleague want to pop by and chat.
"We did something very unconventional here. What we need is everybody to be able to work together, have some privacy and share ideas," says Bloomberg. "Once again it comes back to getting people together."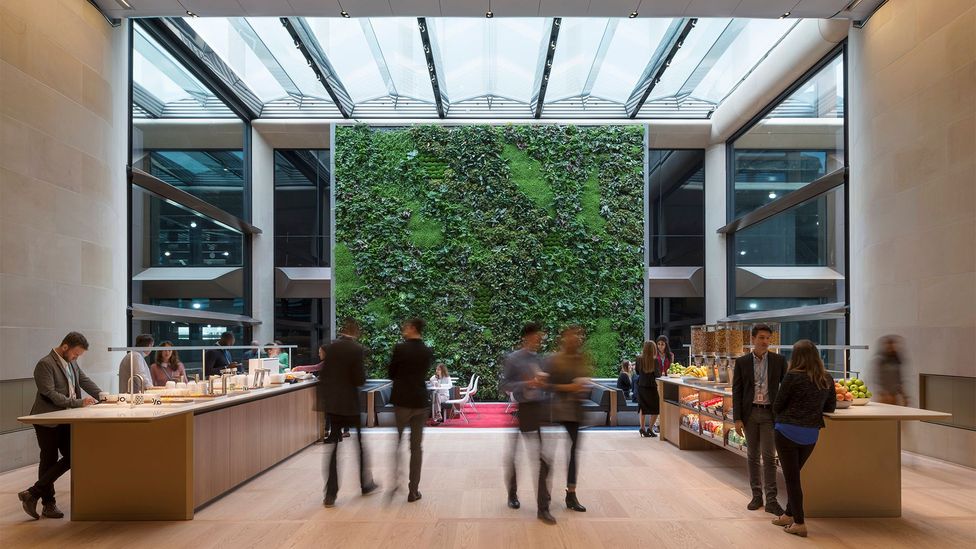 The communal double-height pantry features a 'living wall' (Credit: James Newton)
Every visitor passes through a giant timber lobby dubbed the 'vortex' – a futuristic entrance designed to excite and impress potential customers and employees. They then journey up to the 'pantry' – a double-height open-plan space replete with complimentary snacks and high-end coffee machines. The space is peppered with specially-commissioned artworks and Bloomberg's signature large-scale fish tanks.
"The future of your company is your employees and no matter what it costs, you want your people to be happy, to come in every day, to tell their friend 'I work in that building,'" says Bloomberg.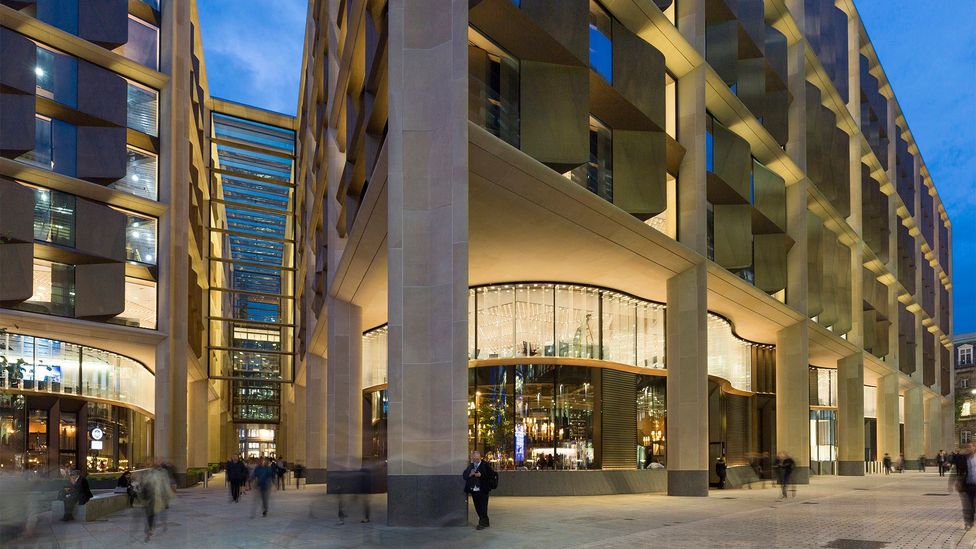 Bloomberg Arcade, a pedestrianised dining area with ten independent restaurants, follows the path of Watling Street, once a Roman road (Credit: Aaron Hargreaves/Foster + Partners)
A good neighbour
There are more silent messages to the external community. The stone frame of the building is three times thicker than a typical office façade, which the designers hoped would signify longevity. This space is to function as a modern-day piazza, a convening place for the community, for influencers and newsmakers.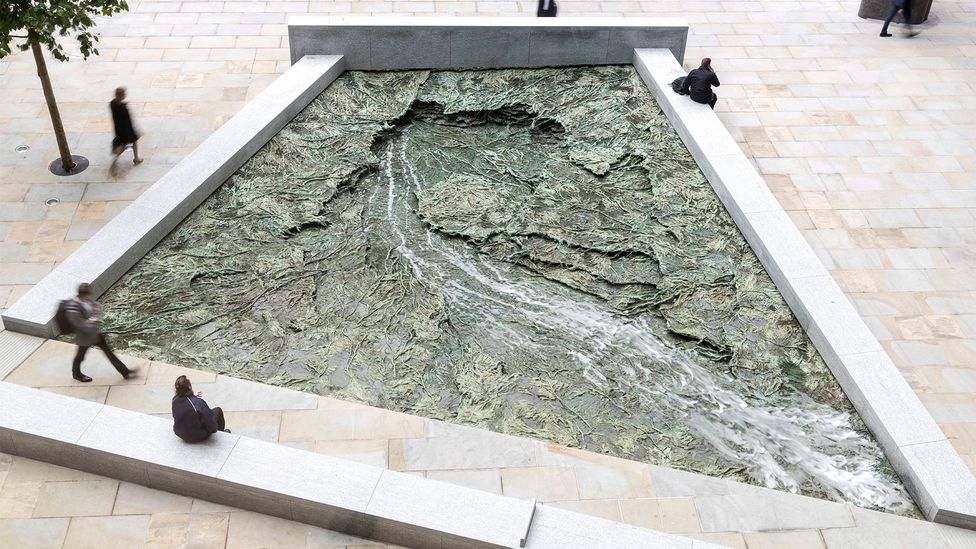 Forgotten Streams, a work by Spanish installation artist and sculptor Cristina Iglesias, occupies two of the public plazas around the site (Credit: Nigel Young/Foster + Partners)
As part of the building process, Bloomberg restored the ancient Roman Temple of Mithras on the site and worked with the Museum of London to preserve 14,000 artefacts unearthed during excavation, including a tablet bearing the first mention of London. The discoveries will form part of a public cultural-and-education space within the building, giving a glimpse into the city almost 2,000 years ago.
Entertainment and event spaces can be booked by external parties. The arcade that separates the two parts of the building, and that follows the ancient Watling street (the Roman road connecting the South coast to St. Alban's) will host a number of restaurants, including "a New York-themed burger joint. So that I will have something to eat," jokes Bloomberg.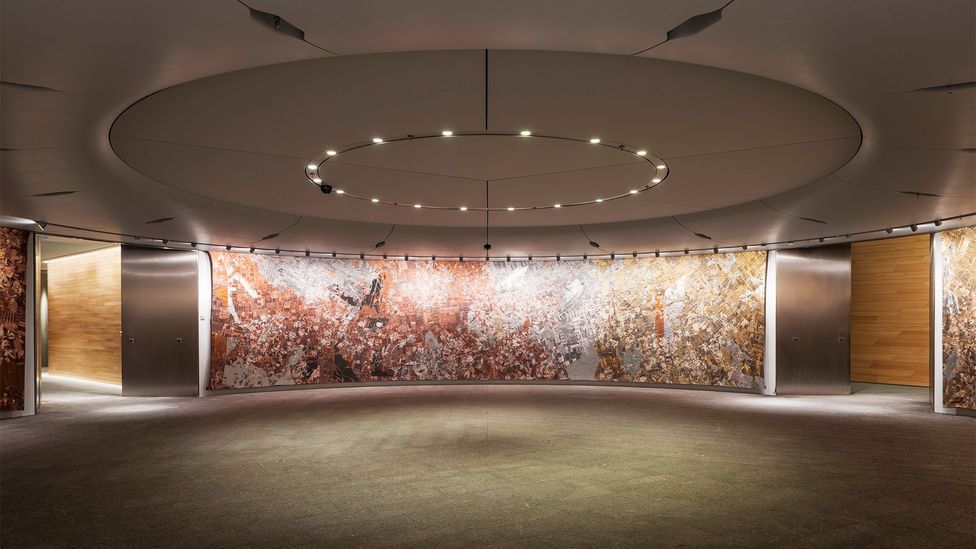 A flexible event space is enveloped by a luxurious tapestry work by American visual artist Pae White (Credit: James Newton)
Bloomberg is a man who likes to put his name on things and be proud of the things that bear his name. Branding here is big. When you start a job at the company, you undergo week-long training classes in 'The Bloomberg Way.' And make no mistake, this project is a masterclass in brand alignment.
As people use the space, as they visit and circulate, sipping responsibly-sourced Bloomberg coffee from sustainable Bloomberg coffee cups, the idea is that the company's carefully curated, all-encompassing brand messaging is perpetuated, attracting potential clients, potential talent.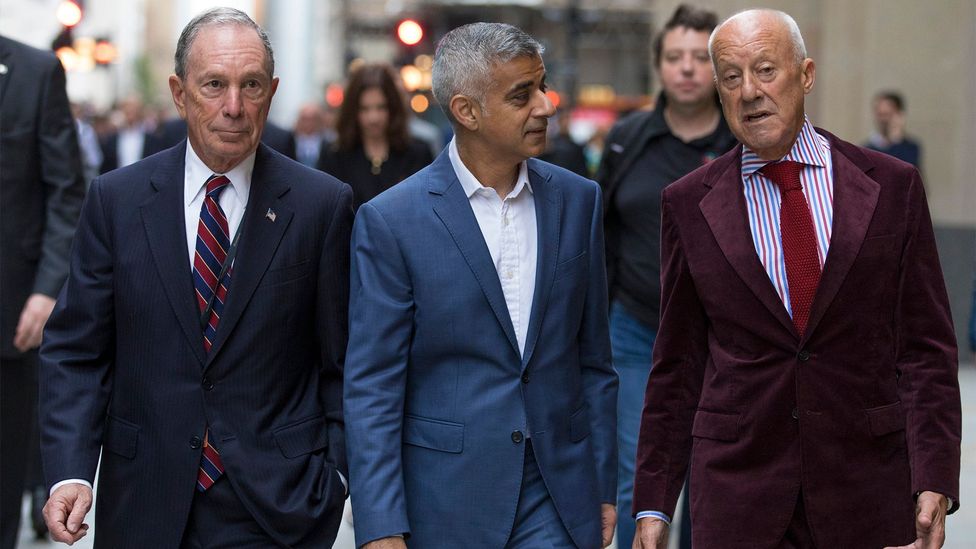 Michael Bloomberg, Sadiq Khan and Norman Foster explore the public spaces surrounding the building (Credit: Jason Alden)
It would be easy to be cynical about all of this virtue and the myriad slick ways employed to communicate it were it not so painstakingly executed, pulled through into realisation down to the most minute detail, especially in this building with its second-to-none credentials.
"Mike is unusual, a rare individual in that he preaches but he also practices what he preaches," says Lord Foster.
"I can recall the very first meeting in New York, in his favourite diner," says Foster. "He said I want to do something that will fit in, which will be part of the historic setting of London. That shared patronage, civic pride, social idealism and the extraordinary collaboration between the public world and the private world, I think that's a great combination to celebrate."
Laura Clarke was previously a reporter at Bloomberg.
To comment on and see more stories from BBC Designed, you can follow us on Facebook, Twitter and Instagram. You can also see more stories from BBC Capital on Facebook and Twitter.
If you liked this story, sign up for the weekly bbc.com features newsletter called "If You Only Read 6 Things This Week". A handpicked selection of stories from BBC Future, Culture, Capital and Travel, delivered to your inbox every Friday.