Every new guide to the world of work and leadership brings the promise of money, power and success. But which ridiculous buzzwords and jargon-laden phrases are the most popular? And how have they changed over the years?
U
Unlock your potential. Turbocharge your productivity. Transform the ordinary into the extraordinary.
These are just some of the bombastic guarantees of self-help book titles, which make up a substantial portion of the staggering 11,000 business books published in the US every year. The US market for self-improvement books and audiobooks is huge: it's worth over $1.5 billion a year, including non-business titles.
Around 11,000 business books are published in the US every year
So, which ridiculous buzzwords and jargon dominate? And are there differences between the irritating clichés of today and those popularised 20 years ago?
To find out, I gathered around 750 different business titles from various best-of lists, including New York Times business best sellers, books longlisted for the Financial Times and McKinsey Business Book of the Year Award and others.
To be sure, a sample of 750 isn't comprehensive, and most of the books were published after 1990, which limits the conclusions you can draw, but it's a large enough sample to reveal some insights. The majority are self-help style books, but the list also includes historical non-fiction and memoirs, economics and management tomes, the odd Ayn Rand novel and a sprinkling of Dr. Seuss.
The ten most common words tend towards the generic, but analyse the trends over time, though, and fresh trends emerge
The ten most common words tend towards the generic, as you might expect. The top word across all business book titles and subtitles was – by a comfortable margin – 'business', followed by 'world', 'life', 'new', 'money', 'guide', 'work', 'leadership', 'success' and 'power'.
Analyse the trends over time, though, and fresh trends emerge.
Comparing titles published before 2000 with those published in the 2000s and 2010s reveals a small crop of words that seem to be gaining in popularity, including 'money', 'world', 'future' and 'entrepreneur'. Other more traditional business staples are going out of fashion, including 'strategy', 'management', 'leadership' and even 'market'.
The rise of the freelance economy also means today's business books are more likely aimed at the start-up founder in sneakers than the suited company executive.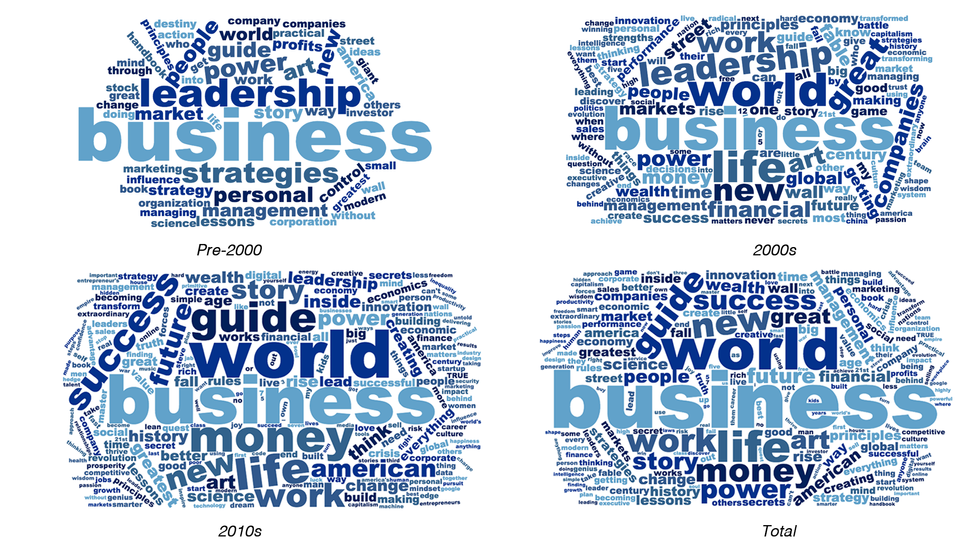 From pre-2000 to the 2010s, words like 'strategies' and 'leadership' give way to 'world', 'future' and 'success'. (Credit: Kieran Nash/WordClouds.com)
What's hot, what's not
Going up
Money
World
Success
Inside
Future
Entrepreneur
Going down
Strategy
Management
Leadership
Market
Click or pinch to zoom.
The word 'start-up' appears in book titles after 2010 to refer to what might earlier just have been termed 'small businesses' – a phrase that appears only twice, both times in books published before 2000.
Other new entries this decade include 'digital', 'data', 'lean', 'dream' and 'prosperity', as well as 'men' and 'women' – probably reflecting a growing awareness of workplace gender issues. Words like 'quest' and 'fight' suggest a shift to a more combative 'mindset' (also a new entry in the 2010s) perhaps reflecting the feeling of battling in an increasingly tough business environment.
Surprisingly tech speak has yet to disrupt the world of business books much, though. 'Disrupt' itself only gets three mentions, and while 'revolutionise' and related words might be getting more popular over time, it's hard to tell from this number of titles.
Number crunching
Around one in seven titles contain numbers, including the classic 'The 7 Habits Of Highly Effective People', 'The 48 Laws of Power' and Tim Ferriss' bestseller, a how to guide to escaping the rat race, 'The 4-Hour Workweek'.
In business book titles, as in other genres, authors and publishers love a good list. Numbered lists of rules are stubbornly popular: '12 Key Strategies', '21 Irrefutable Laws of Leadership' and 'The 39 Essential Rules for Delivering Sensational Service' all make an appearance.
The subtitle will often be a list itself, typically containing three items. The last one will be the clincher that really piques the reader's interest: 'Wealth Can't Wait: Avoid the 7 wealth traps, implement the 7 business pillars, and complete a life audit today!'
In business book titles, as in other genres, authors and publishers love a good list
The most common two-word phrase is 'How to', which occurs in 7% of titles.The most common three-word phrase is 'The art of', probably referencing Sun Tzu's 'The Art of War', an ancient Chinese guide to military strategy. Titles that nod to Sun Tzu include 'The Art of Innovation', 'The Art of Startup Fundraising', 'The Art of Executive Appearance', Donald Trump's 'The Art of the Deal' and, most cleverly, Steven Pressfield's 'The War of Art: Break through the blocks and win your inner creative battles'.
Science fares less well: 'The Science of' gets a paltry five mentions.
Cutting through the hype
Every new guide to the world of work and leadership brings the promise of money, power and success. This is an apt summary of what self-help business books do best – entice us with the sweet dream of a happier, wealthier, more productive future. And we're addicted, it seems.
But with the publishing industry in crisis – in the US the number of books published annually is exploding, yet sales are stagnant – titles must ramp up the hyperbole just to get noticed. Companies are rarely good, always great. Performance is not just satisfactory, it's outstanding. Goals are not just important, but wildly important. Histories are secret, rules hidden and ideas nothing short of revolutionary.
Read the book, and your career will not merely be changed, but transformed. You'll be able to take on the world. And if there's one thing we know about the world, it's that it's uncertain. And complex.

To comment on this story or anything else you have seen on BBC Capital, please head over to our Facebook page or message us on Twitter.
If you liked this story, sign up for the weekly bbc.com features newsletter called "If You Only Read 6 Things This Week". A handpicked selection of stories from BBC Future, Culture, Capital and Travel, delivered to your inbox every Friday.