Streetwear brands are using scarcity and social media hype to supercharge the traditional supply-and-demand model – and fuelling a remarkably lucrative resale industry in the process.
O
On November 18 last year, a major event in the sneaker community came to pass.
Adidas had just released the latest shoe in the Yeezy Boost collection, its famed footwear collaboration with Kanye West. This sneaker – the Yeezy Boost 350 V2 – was not a new model, and cost $220, the same as other sneakers in the range. The difference was the colour: Semi Frozen Yellow, a muted fluorescent hue with grey and red highlights.
For those in the know, this was a huge deal. Sneakers or trainers in this particular colour were the most limited release to date, and would fetch big sums on the lucrative resale market. For days before the sneaker was available for sale, forums and Instagram accounts buzzed with hype of the release.
The hype reached a crescendo at 10am, when these sneakers became available for sale. But less than a minute later, they had sold out: by some estimates, it had taken just 15 to 30 seconds for online buyers to clear the shelves.
Welcome to the world of the "drop", a sales tactic deployed by a number of streetwear brands to supercharge the traditional supply-and-demand model.
An announcement on social media about the limited release of, say, a new sneaker is all it takes to cue the hype. Next, the message is amplified across social media, especially Instagram, where celebrities, fashion-forward influencers, and collectors create an echo chamber of excitement.
Once these items are released, some can sell out in a matter of seconds before emerging on resale websites, marked up 1,000% or more. For the brands who have mastered the art of the drop, and for the legions of fans buying and reselling their products, such hype can produce remarkably lucrative results.
Streetwear fans queue for hours at a store opening in Brooklyn, New York, to get their hands on a valuable T-shirt. Video by Kieran Nash and Yinxue Liao.
Scarcity frenzy
One company in particular has harnessed this hype to its full extent: Supreme, a cult clothing brand founded as a small skate shop in downtown New York City in 1994.
It's now estimated to be worth an billion dollars: last year, The Wall Street Journal reported that private-equity firm Carlyle Group had bought a 50% stake in Supreme for about $500m. (Carlyle Group declined to comment on the acquisition, and Supreme did not respond to requests for comment for this article).
Supreme has built its reputation on maintaining product scarcity, collaborations with other brands or designers and limited releases of odd accessories such as hair clippers, nunchucks, and dog bowls. The Supreme box logo is far more than just a label, but a brand insignia that endows any item with cult appeal. In 2016, Supreme even released a branded brick, which sold out in minutes. Streetwear culture site Highsnobiety said the novelty item showed Supreme's "sadomasochistic relationship with its fans."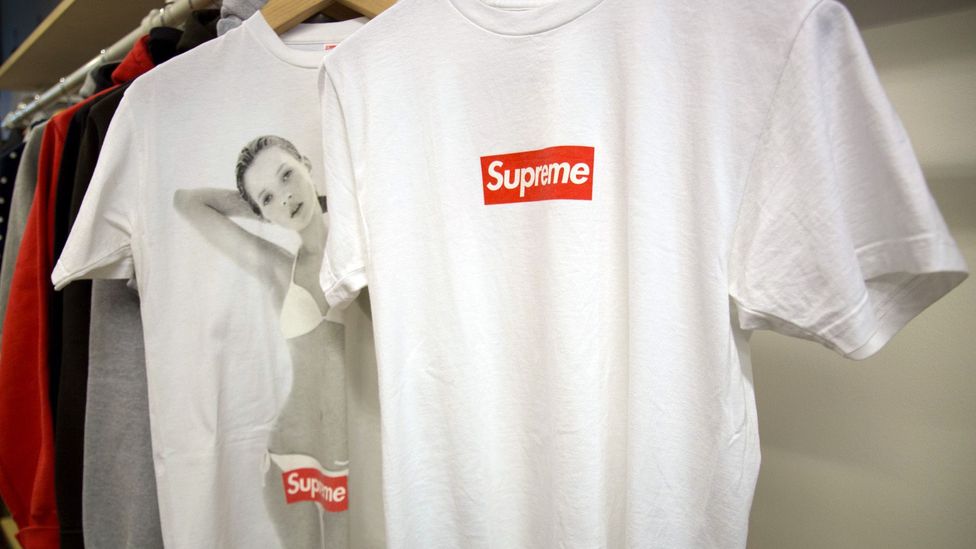 The simple white T-shirt means a lot more to those in the know (Credit: Javier Hirschfeld)
Product placement
The company releases new, limited-edition products weekly in two "seasons" every year. Once news of a new product or collaboration is announced, word spreads quickly across fan sites, with aficionados earmarking the ultra-rare products they really desire.
Then each Thursday at 11am, flagship stores around the world open their doors to long lines of mostly young men, often teenagers, who are ready to spend what they can on Supreme gear. (Still others can take their chances on the web store, or even pay an ecommerce company a premium price to deploy a web bot to connect to the Supreme server at the moment of the drop).
This method isn't exclusive to Supreme, though. Most in-demand streetwear labels follow a similar method, with similar results.
"If you want to create a scarcity frenzy, and your brand has a strong following, all you need to do is release a large number of different products, but very few of each one," says Adam Alter, a marketing professor at NYU Stern School of Business and the author of Irresistible: The Rise of Addictive Technology and the Business of Keeping Us Hooked.
"The beauty of fashion is that it's conspicuous; everyone knows what you're wearing, so if you're wearing a scarce, fashionable product, you get the benefit of knowing privately that you own something scarce, but also the benefit of being able to show other people that you own a scarce product."
Inside the mind of a Supreme collector
 London DJ Ross Wilson is selling his collection of more than 1,000 Supreme items. Video by Dan John and Javier Hirschfeld.
Mark of the beasts
There's a label for these super-consumers: "hypebeasts". They're members of an entire subculture built around streetwear brands and getting access to the rarest products available.
"The culture is about exclusivity. When people post Instagram selfies of themselves wearing these items, people get jealous and it just grows from there," says Kyle Maiorano, a 20-year-old university student majoring in business studies at Binghamton University in upstate New York. Maiorano goes by the handle KicksbyK on Instagram, where recent posts show tantalising images of multiple yellow Yeezys, or sneaker boxes piled high in his room.
At the last Adidas drop, Maiorano scooped up as many as he could. He says he has cultivated "inside sources" who can tip him off about a drop before it goes public, and has proxies in Europe (where the demand may not be as red hot) to buy up stock for him.
The Adidas Yeezy Boost is, he says, "his bread and butter." He claims to have made revenue of $200,000 last year reselling sneakers – not bad for a first-year university student. But, he warns, sellers can easily lose money if they don't keep on top of the market. For example, explains Maiorano, Adidas tanked the aftermarket price of the exclusive Yeezy Boost Zebra (which was fetching $1,500) by restocking the sneaker. An insider from Adidas tipped Kyle off allowing him to divest, but others lost a lot of money when the price "bricked out".
The world of a streetwear trader
Teenage streetwear trader Jack Dawling has made thousands in profit while still in school. Video by Dan John.
Sneaker stock market
Entrepreneurial streetwear fans such as Maiorano find their customers through online marketplaces such as GOAT, Grailed, or StockX.
StockX describes itself as the stock market of things. Since it was founded in February 2016, it has grown to become the largest sneaker marketplace in the world, but it also sells Supreme streetwear, luxury handbags and watches.
Rare collaborations and colours are in hot demand. Interested in The North Face x Supreme Mountain Baltoro jacket? Its listed retail price is $498 but its market price is around $1250.The $220 Semi Frozen Yellow Yeezy Boost, which sold out in seconds, is priced between $590 and $1100.
The site operates using the same principles as the stock market, bringing buyers and sellers together at the same time. "We can create a market price for consumer goods," says Josh Luber, the CEO of StockX. "When Adidas puts out a pair of Yeezys with a retail price of $225, that has no bearing at all to what the market price of that thing is worth. StockX gets to a market price [the difference between the highest bid and the lowest ask] then allows both parties, buyers and seller to transact across that price."
Once a sale is made, StockX will authenticate the product for the buyer before it releases the funds to the seller, thus regulating the market.
Luber says this secondary market in goods has always existed, but now thanks to social media and the access of buying and selling online, "we're in a golden age of consumer secondary markets".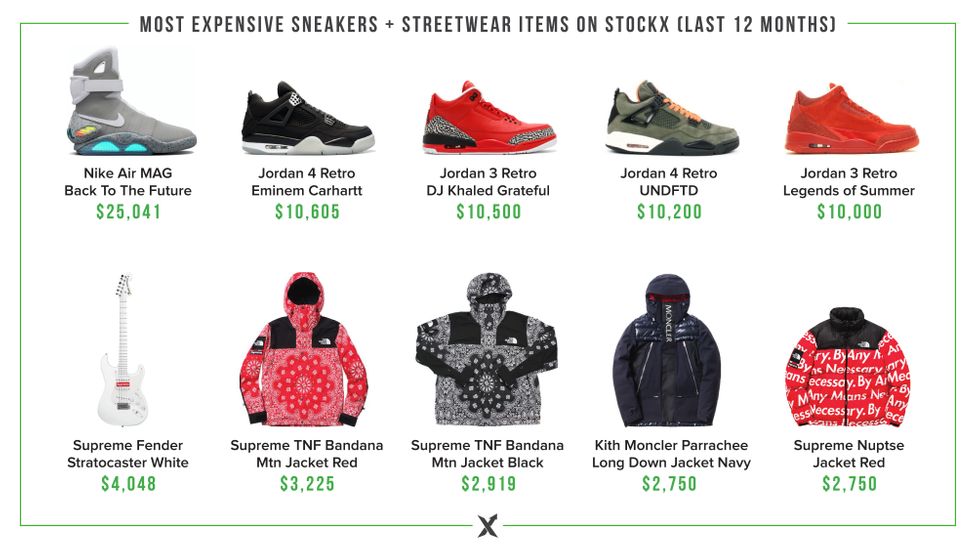 The top five most expensive sneakers and streetwear items sold on StockX over the past 12 months (Credit: StockX)
Birkin' mad
This business of hype has a curious parallel – in the world of super-expensive high fashion.
 "Limited-edition collections have long been a feature of luxury brands," explains Avery Booker, the CEO of Enflux, a data-tech company that helps companies predict trends and consumer behaviour.
Take, for example, the Birkin bag, a legendary accessory made by French fashion house Hermès. It is considered by handbag hunters to be the "holy grail." The lowest retail price of a Birkin directly from Hermès is approximately $10,900, according to Evelyn Fox, the co-founder of Baghunter, an online handbag marketplace. Rare versions, however, can go for hundreds of thousands of dollars. They also hold their value. According to a Baghunter study, the market price for Birkins has risen an average 14% per year over the last 35 years, making it a better investment than gold.
But purchasing one isn't a matter of going online and adding one to your cart, or even walking into a store and ordering it. They are notoriously hard to find. A handbag aficionado must get on a waiting list and be prepared to wait for years before a call comes in announcing the arrival of a bag.
"Obtaining a Birkin directly from Hermès requires a long purchase history, patience, and luck. In addition, the majority of people who are offered a Birkin at a Hermès boutique have no guarantee of receiving their preferred colour, material or hardware," says Fox. "This has led to a thriving secondary market which allows people to purchase their preferred Birkin bag immediately without a long wait."
The outsize scarcity of the Hermes Birkin bag has contributed to its high resale value (Credit: Getty Images)
Social investment
But unlike a Birkin bag or a DeBeers diamond, the exclusivity of streetwear brands like Supreme isn't based on price, but because it's impossible to acquire unless you're tapped into the subculture. There's credibility in owning something that few others managed to grab. "When you own a scarce, fashionable product, you align yourself with an esteemed social group," says Adam Alter. "You're investing in your social image."
Because of this, the hypebeast community can be especially critical toward brands that compromise the particular culture they have sought to cultivate. The wrong celebrity endorsement, for example, or a misstep in quality control. Or just the perception that the brand is being watered down, or doesn't care enough about its followers. "Once a brand loses exclusivity, people shy away from it," says Walter Harvin, editor-in-chief of Uncommon magazine, a publication for young artists in New York City. "If it's a streetwear company it has to have some kind of authenticity, some backstory."
Successful streetwear brands understand the importance of this authenticity, such as Jerry Lorenzo, the founder and designer of the Fear of God chic-grunge clothing line. Fear of God devotees are already anticipating a new collaboration with Nike for the designer this year, thanks to a short Instagram post by Lorenzo – a cryptic clue and a strategic bit of hype: "no more vans. swoosh for '18." For the hypebeast community, this is breaking news and inspires  threads of fanboy commentary across social media. It's as much about the mindset, it seems, as it is about the clothes.
"At the end of the day, this drop culture really is a trend built for and maintained by a young consumer," says Booker. "The younger customer is already well tuned into it. They have a unique eye, they know what they can resell, and they know many brands. I think they are very discerning customers in a way, which is fascinating.
"You can't fake your way into being a sought-after brand."
To comment on this story or anything else you have seen on BBC Capital, please head over to our Facebook page or message us on Twitter.
If you liked this story, sign up for the weekly bbc.com features newsletter called "If You Only Read 6 Things This Week". A handpicked selection of stories from BBC Future, Culture, Capital and Travel, delivered to your inbox every Friday.