Driven, practical and entrenched in social media – here comes the post-millennial workforce.
D
Dan Miller is a 19-year-old business student in London.
He's also the CEO of a social media company that aims to reach five million young Brits by 2022.
Called Young Professionals UK, it is currently available at over 400 schools and universities in the UK.
"Our mission is to be the next LinkedIn, but for students. They don't want to be on LinkedIn – it doesn't speak their language," he says.
The company, founded on an entrepreneurial scholarship two years ago, made £45,000 ($63,000) last year, plus a £50,000 investment. Miller employs 10 people across three offices in the UK, and works with companies like Barclays, KPMG, Rolls-Royce and L'Oreal that want to recruit users of his networking app.
He's an example of the youngest generation of innovators that will define how we work in years to come.
The post-millennial workforce
It's hard to give a definitive age range for Generation Z, as descriptions vary among experts. But roughly, the oldest members of this group are around 22, which means some are starting to leave school, to apply for jobs and make money.
These members of Gen Z (also called "iGen") are already replacing millennials as the youngest members of the workforce. The oldest millennials are in their mid-30s – some run large companies or are in middle management and their effects on working life are already being felt.
It will soon be Gen Z's views and habits that shape and change how we work. But how?
'Screen animals'
This generation grew up with social media, watching people like Justin Bieber go from YouTube obscurity to global fame. The importance of social media – both in how it's shaped Gen Z and how Gen Z will use it to reshape the workforce – can't be overstated.
"This is a generation that has actively had entrepreneurial opportunities growing up – in many ways, if you've grown up managing your personal brand on Instagram, you're much better wired to think of yourself as an individual brand instead of a cog in an organisational machine," says Arun Sundararajan, a business professor at New York University.
Miller echoes this sentiment: "I think social media is a big influence – everything strikes us as, 'we can start our own company,'" he says.
It's not hard to see where he's coming from: on YouTube alone, young people have launched their own business of reviewing makeup, creating slime (and writing a follow-up book about it), unboxing new trainers or getting strangers to watch them play video games.
This will be the first generation that actively embraces the micro-entrepreneurial jobs as their primary way of earning a living – Arun Sundararajan
For a generation where flexible work and the gig economy have always been career options, making money from a large online following is one of many "micro-entrepreneurial" ventures that has replaced the traditional career path.
"This will be the first generation that actively embraces the micro-entrepreneurial jobs as their primary way of earning a living, rather than stable, full-time employment," says Sundararajan. "The one word is 'entrepreneurial' – that's the critical differentiator."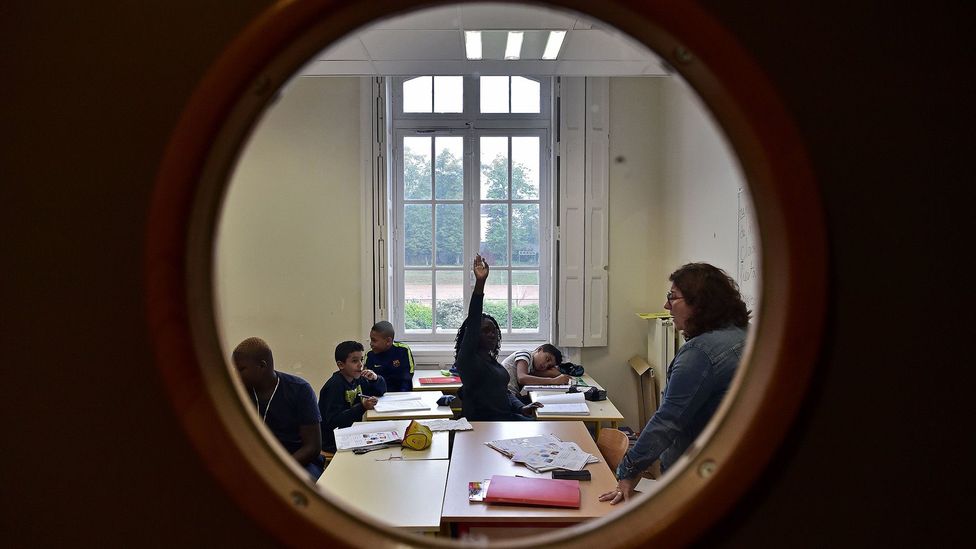 Experts say that young people currently in school or getting ready to graduate from university are driven people with strong work ethic (Credit: Getty Images)
But labelling Gen Z as "entrepreneurial" is a common mistake, says Jean Twenge. She is a psychology professor at San Diego State University and author of iGen, a book about the post-Millennial generation that focuses on young people in the US and what kind of adults they'll be.
"Absolutely, they're driven," Twenge says. "In some cases, it's driven by fear, or ambition. They're just not driven to take risk."
Her book cites research from the University of Michigan: in 2015, over 55% of American high school students in their final year reported they were "willing to work overtime" – the highest that figure's been since 1993. And in 2016, only 37% of university students said that "becoming successful in a business of my own" was important, compared to 50% of people the same age in 1984.
Absolutely, they're driven. They're just not driven to take risk - Jean Twenge
This is the mindset of a generation that grew up during the Great Recession: "Millennials grew up in economic prosperity and thought everything [in life and in the workforce] would be easy," says Twenge. "iGen doesn't have that illusion."
On the hunt
Social media also plays a key role in how the youngest generation check out potential employers, and that smartphones play a critical role, says Jason Dorsey, president of the Center for Generational Kinetics, a research firm that studies generational demographics.
"It really is a lens into an employer – unlike even millennials, who had to adapt to social media," Dorsey says.
Gen Z, however, finds nothing futuristic about Skype, or chatting face-to-face with someone on the other side of the world in the palm of your hand. That almost psychic connection to mobile technology will come with them into the workforce.
[Gen Z has] never not known YouTube... unlike even millennials, who had to adapt to social media - Jason Dorsey
"We tell employers, if you can't apply for a job through a mobile device, then you're not going to get Gen Z to apply," Dorsey says.
Incidentally, Dan Miller's app – the 'LinkedIn for young people' – also heavily incorporates elements from social media. Applicants can upload video CVs, and an upcoming feature allows real-time chat with current apprentices or alumni at the companies that users want to apply to.
"They've never not known YouTube," Dorsey says. "For them, professional development in the workforce should look like YouTube, and not a binder. Video is really important."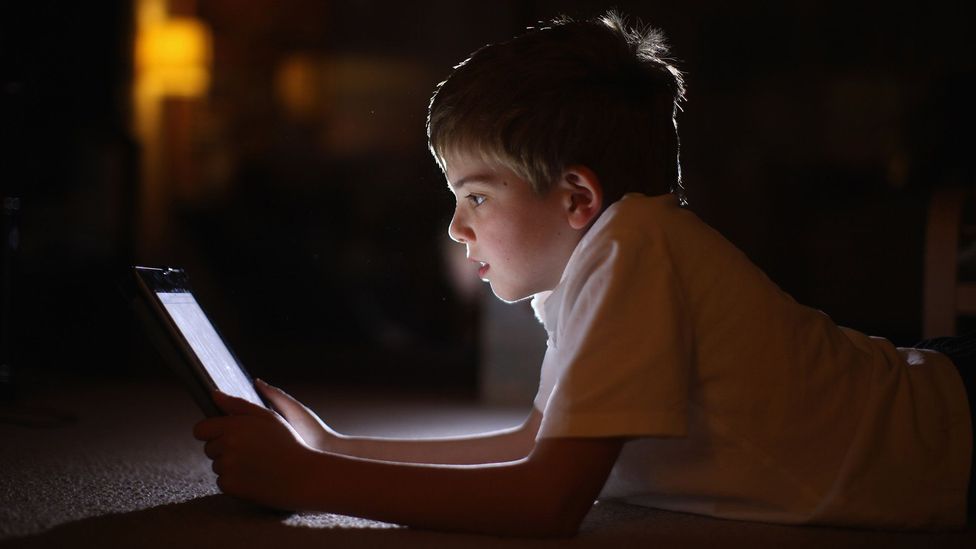 One of the defining traits of Gen Z is that they were raised on digital, internet-connected devices, whereas Millennials had to adapt to them (Credit: Getty Images)
Sundararajan jokes that this was the generation that, when they were babies, were given a handheld, glowing smart device to distract them, instead of a shiny pair of keys. Cary Cooper, professor of organisational psychology at the University of Manchester, has a unique name for them: "screen animals."
"They're tech-orientated. They'll be able to think about how AI can be helpful to them, rather than be frightened of it," says Cooper.
Trevor Yu, an associate professor of business at Nanyang Business School in Singapore, agrees.
"Expect a more adaptable workforce," he says. "Adaptable to changes in technology and the way people work. The boundary-less nature of work will be even more relevant to this generation, with administrative control, temporal, and physical boundaries that have defined work in the past century set to be even less relevant."
Culture change
Despite watching people like tech giants Mark Zuckerberg and Evan Spiegel find wild success, or self-made YouTube stars like Whindersson Nunes and Yuya, Gen Z is more likely to be practical and risk-averse, experts say.
For example, they want to steer clear of crippling student debt, which has left millions of 20- and 30-somethings unable to buy a home.
They'll be able to think about how AI can be helpful to them, rather than be frightened of it - Cary Cooper
"They get a degree and waste 50 grand going to university in something they're not really interested in," Miller says.
Many young people might also want a company that connects with their values. Gen Z is set to be the most diverse generation yet, in terms of race, LGBTQ views and more. "They will expect more diversity all the way up the organisation," Dorsey says.
Having grown up amid tweets and instant status updates, they're good at articulating succinctly, sharing opinions and putting them on the internet to effect change. They know the power of the internet inside and out, and will bring that knowhow to the workforce.
"'I'm going to open my mouth and change things,'" Cooper says on the Gen Z mentality. "This is a very observant generation who have seen the consequences of their parents' and maybe older brother and sisters' generations."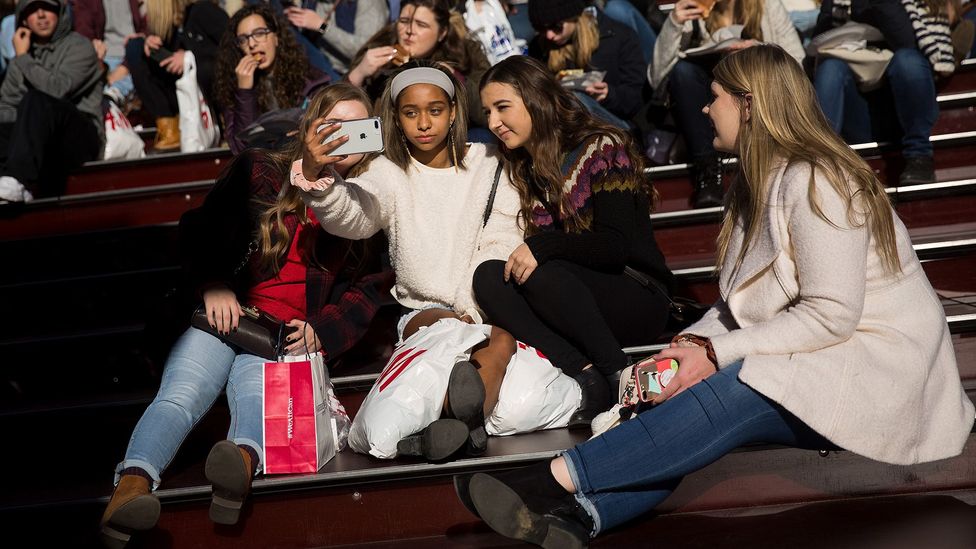 Generation Z - those born around 2000 or later - were born with social media. They will bring these skills into the workforce (Credit: Getty Images)
A bright future
Mihir Garimella is an 18-year-old computer science student at Stanford University in California. He has worked in labs at MIT and organises one of the nation's biggest hackathons. His current project is designing autonomous drones that can fly into disaster zones that humans can't reach.
He echoes a lot of the sentiments independently brought up by experts when it comes to Gen Z, their characteristics and how they'll shape the workplace.
Willing to work hard? Check: "All of this I could learn by Googling, [but] I enjoy my classes because they're hands-on. I love the professors. People my age are very practical: 'how can I apply this?'"
Risk-averse? Check: "People like Zuckerberg who dropped out believe something they make will catch on and be successful. [But] being in a college environment extends the runway for that."
And motivated by the greater good? Check: "My dream is to build something that will improve the lives of a billion people – Google-scale level."
While Garimella and Miller are high-achieving people and a bit exceptional, they still represent larger patterns of their age group that experts all identify. They are generally self-motivated, take calculated risks and know how to work hard to make technology and social media complement and amplify their talents and message.
"Their Gen X parents told them, 'We do not want you to end up like the millennials,'" Dorsey says. "'You're going to need to work harder, be more self-reliant. It's on you to make it work.'"
Based on the data we have so far, if anyone's going to make things work, it's going to be them.
--
To comment on this story or anything else you have seen on BBC Capital, please head over to our Facebook page or message us on Twitter.
If you liked this story, sign up for the weekly bbc.com features newsletter called "If You Only Read 6 Things This Week". A handpicked selection of stories from BBC Future, Culture, Capital and Travel, delivered to your inbox every Friday.