Tiny, metropolitan Hong Kong is packed with millions and many can't afford a proper home. But one architect's unusual plan could help.
T
This story is from Living in a Box, an episode of Business Daily on BBC World Service. It was presented by Manuela Saragosa. To listen to more episodes of Business Daily please click here. Adapted by Sarah Keating.
There are a lot of people in Hong Kong – 7.4 million to be more specific, all in an area that's 1,098 sq km (424 sq mi). Alongside a dense population, prices have soared at breakneck speed, leaving many unable to afford the dizzy heights of property prices.
That's why a local architect wants to turn giant concrete water pipes into mini-flats, stacking them atop each other in vacant lots. It looks like a construction site from afar – but it might be an ingenious solution to Hong Kong's housing problem.
It's an issue that's needed a solution for a while now.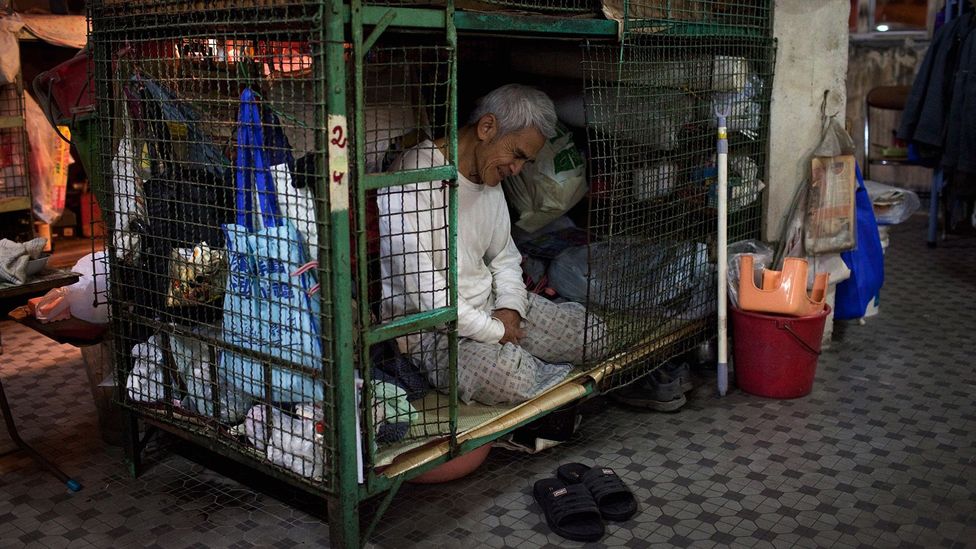 For nearly a decade, many in Hong Kong have struggled to keep up with soaring housing prices, forcing many to live in cages (Credit: Getty Images)
The search for affordable homes has already thrown up ever smaller, sometimes quite bizarre alternatives. Some architects are experimenting with insanely small flats known as "nano-homes". One such home, smaller than a parking space at just 121 sq ft, recently sold for 1.93 million Hong Kong dollars ($242,805). Such is people's desperation to find a place to call home.
Thousands of people are left with no option but to rent a space of around 16 sq ft – built from materials that make it a literal cage
Hong Kong-based architect James Law describes how Hong Kong has become notorious for miniscule accommodation in sub-divided apartment and commercial buildings – buildings that have partitions inserted into them. "No sunlight, no proper ventilation, extremely small, little compartments created [in] about 50 sq ft," says Law. "Basically it's a way for landlords to really sub-divide their space down to micro-units because people just can't afford a normal apartment."
It doesn't end there. People have started finding accommodations that are, essentially, cages.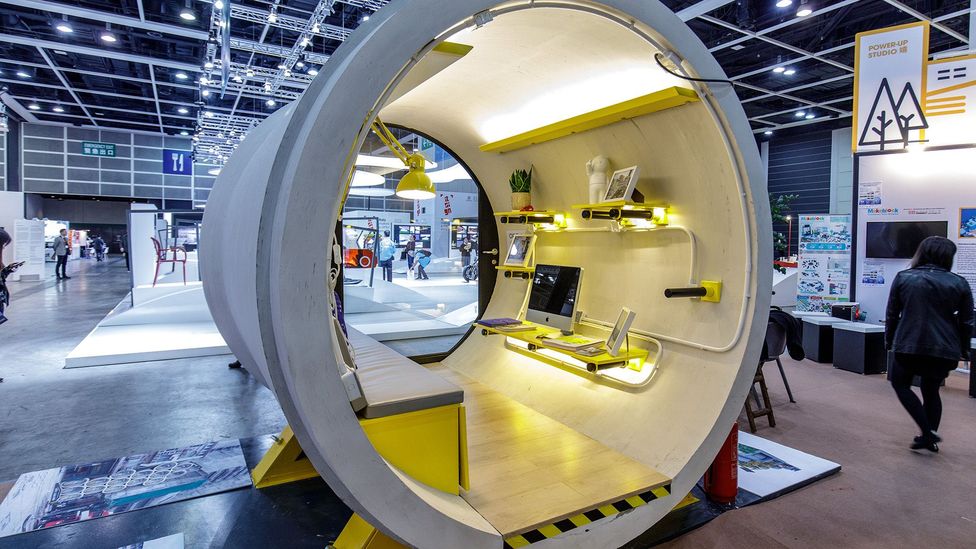 Architect James Law hopes to build homes out of concrete water pipes and stack them atop each other (Credit: OPod/James Law Cybertecture)
Thousands of people are left with no option but to rent a space of around 16 sq ft – built from materials that make it a literal cage.
"A typical cage house will have three levels of bunk beds. And then in order to give you security and privacy, there is actually corrugated mesh which is surrounding your area. A bit like a jail," says Law. "It's an absolutely dire form of living."
And people actually have to pay to live like this. A sub-divided flat around 50 to 100 sq ft in size will cost somewhere between £300 to £600 a month ($418 to $837). Meanwhile, a cage unit is not much cheaper: around £300 a month, according to James Law.
So, Law arrived at a possible solution.
James Law wants urban planners to think how housing like the OPod could be slipped into the crevices and leftover spaces
Architects like him are trying to come up with ways to utilise the space that's available (and there's not much of it). One idea he is working on is the OPod – micro-houses built using giant concrete water pipes which can then be stacked on top of each other and fitted into unused urban space. It is a quick way of building a tower block of apartments.
"[They are] used normally underground as storm water drainage," he says. "And we procure these very cheaply from the contractors because they actually have excess and spare production every year. Instead of going to waste, they give them to us at bottom dollar. And then we inject a little more capital and can actually fit it out with furniture, with a bathroom, with a shower, with a small kitchen, with a sofa bed… immediately you have a home."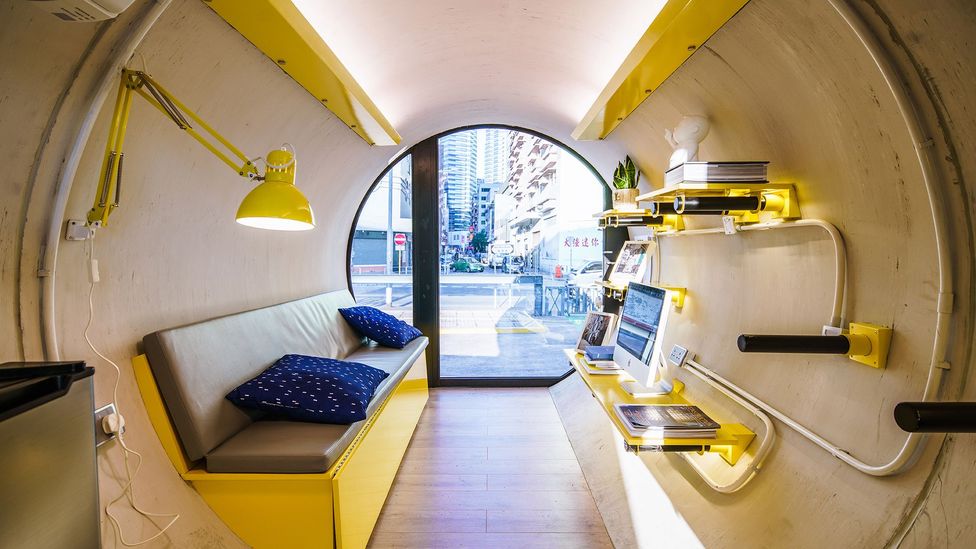 The inside of an OPod (Credit: OPod/James Law Cybertecture)
The OPods have a modern, industrial style to them which is designed to be customised by its future inhabitants.
Law admits that this is not really a long-term solution to Hong Kong's housing crisis. But that was never his intention.
"At no point do I think that this OPod is a total solution to the problem, because there are so many other issues which are entangled in this whole problem," he says. "A singular architecture could not possibly solve everything in one go."
There was another reason for the creation of the OPod: the misconception of space in Hong Kong. Law maintains that while lack of land is often blamed for property prices being sky high, this is only part of the picture. 
"Hong Kong is a very dense city. However, the statement [that] we don't have enough land is not totally true. We don't have large tracts of land to build giant housing estates. We need to reclaim that from the sea. But if we really look at our city as it is today, you actually see a lot of leftover land. Under flyovers, on top of buildings, in between buildings that are often left empty for years and years."
Law wants urban planners to think laterally about how to develop the city and how housing like the OPod could be slipped into the crevices and leftover spaces.
As the cost of living goes up in Hong Kong but isn't matched by a rise in wages, more must be done to provide solutions. Until then, there will still be those who have to climb into a cage at night.
--
An earlier version of this article incorrectly stated Hong Kong's area to be 106 sq km (41 sq mi).
To comment on this story or anything else you have seen on BBC Capital, please head over to our Facebook page or message us on Twitter.
If you liked this story, sign up for the weekly bbc.com features newsletter called "If You Only Read 6 Things This Week". A handpicked selection of stories from BBC Future, Culture, Capital and Travel, delivered to your inbox every Friday.