Could venture capitalists offer Greece's young talent a way to return home?
A
Antonios Chalkiopoulos's story is typical of many Greeks. After studying in London, he returned to Athens in 2002 and worked in software engineering.
"Then the crisis happened," he says. "I decided to go back to the UK and seek new opportunities."
Since Greece's near bankruptcy in 2010, life has been particularly hard for the country's young people. Although there are finally some tiny signs of recovery - the economy grew by 1.6% in 2017 and the country is expected to exit its bailout programme in August – unemployment for under-25s remains around 45%.
We've had mass migration from Greece before, but this is different because it's a real qualitative drain – Aliki Mouriki
For the lucky ones who do find a job, options are limited. Average salaries are around €700 ($856) a month, and it's one of the most expensive and difficult places to start a business in Europe.
It's no wonder then, that up to 180,000 graduates have left the country to seek work elsewhere in the last eight years. And surveys suggest that up to 76% of teenagers are considering studying or working abroad.
"We've had mass migration from Greece before (in the post-war decades), but this is different because it's a real qualitative drain," says Aliki Mouriki from Greece's National Centre for Social Research. "It's the most highly-educated people leaving, and the UK and Germany are benefiting when they haven't paid a single Euro towards their education."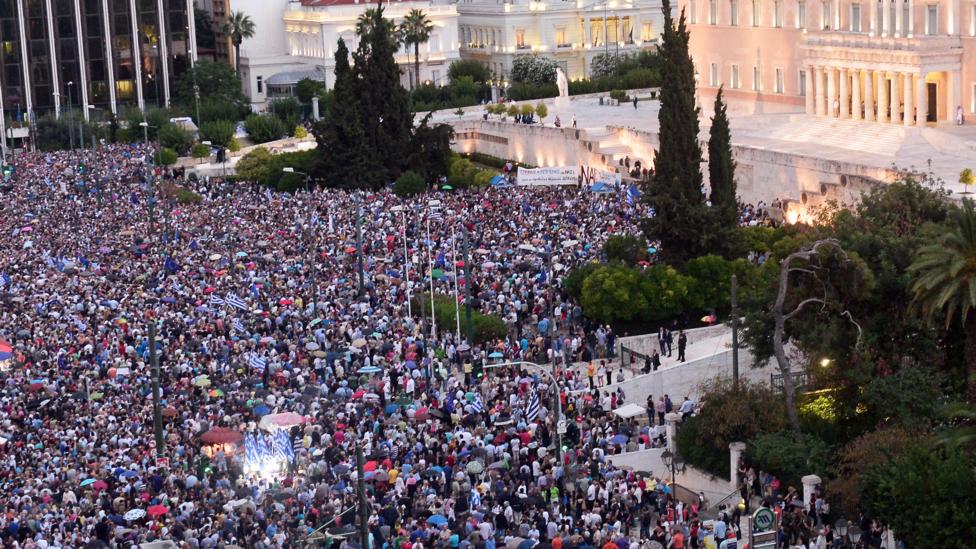 Greece teetered on the edge of bankruptcy in 2010 and accepted a controversial bail out package from the EC, IMF and ECB (Credit: Getty Images)
Human capital flight, or 'brain drain' – when highly-skilled workers quit home for opportunities overseas – can weigh heavily on the economies of poorer countries the world over.
Governments and academics work hard to fight these trends, by forming research or distance learning programmes to figure out what would tempt the best graduates back.
But Chalkiopoulos is part of a very different kind of project driven by market economics.
Venture forth
His software company Landoop, which he founded in London, last year received $1 million investment from Marathon Venture Capital, a venture capital fund specifically targeting Greek entrepreneurs. But there's a catch – he must spend around half of that cash in his home country and build part of his team and company there.
A venture capital firm is created by a group of wealthy investors, banks or financial institutions, who club together to provide a 'seed-stage' investment, or cash infusion, to get one or several new business off the ground. The VC then will often expect equity in return.

Panos Papadopoulos manages Marathon Venture Capital. He wants to use the skills migrant workers gain overseas to help build those same opportunities within Greece.
"Most local entrepreneurs just service the Greek market," he says. "We're going after founders that want to solve global problems and have a global mindset. We're building mini-multinationals," although he adds that the fund will still work with entirely Greece-based entrepreneurs "if it is the right type of company".
The Marathon fund is receiving money from the Greek government, the European Investment Fund and European Investment Bank. They provide 50-90% of the capital, and Marathon typically takes a 15-20% stake in companies. The EIF, EIB and Greek Government have in total invested $320 million in nine different VC firms.
Papadopoulos says that while Marathon owns the equity, its investors, including the Greek government, are entitled to shares of the proceeds "if someone wants to acquire our stake in the company we have invested."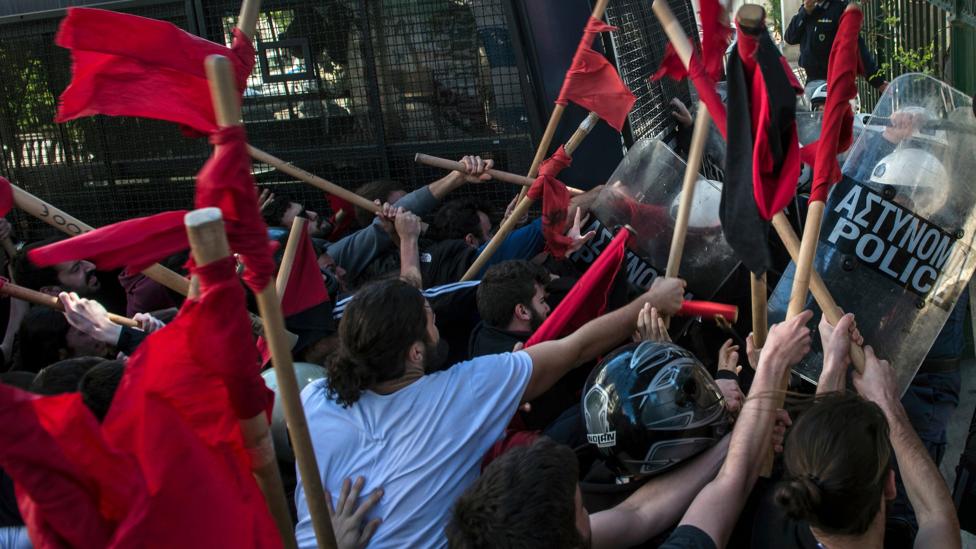 Tough austerity measures in Greece have seen funding to higher education slashed sparking a series of protests (Credit: Getty Images)
No place like home
How do you convince someone to expand their company in a country when the economic prospects and business environment are still gloomy?
According to Astyanax Kanakakis, CEO and co-founder of Stockholm-based tech firm norbloc, one of the first companies Marathon invested in, it's an emotional decision tied ultimately to a sense of home. "I've lived in many different countries and Athens is still the place that feels most like home," he says. "Most of my friends who've returned have done so out of nostalgia, rather than because they had a great business opportunity."
Most of my friends who've returned have done so out of nostalgia, rather than because they had a great business opportunity – Astyanax Kanakakis
Papadopoulos agrees. "People are not rational… it's an emotional thing, it's a trust thing. It's easier to build trust if you have the same language and experiences." He also believes the founders he works with want to help create better opportunities for other Greeks.
When he was offered the investment, Kanakakis was already looking to build an overseas hub that would be well-situated for visiting clients in both Europe and the Middle East, so the opportunity "made sense". His company now has seven employees in Greece – some of whom were previously working overseas and wanted to return home – and he hopes to have 25 by the end of the year.
However, he describes the process of setting up a subsidiary in Greece as "extremely painful. If I were a new entrepreneur, I do not know if I would go to all the trouble."
No drain, no gain

A similar, more mature VC model may already be established in Israel. After enduring tough economic times through the 1970s and early 1980s the country has developed in to a tech and innovation hub. Some of this growth was spurred by the government's Yozma Fund, which invested in Israeli and Israeli-linked companies and helped kick-start the country's venture capital ecosystem. The industry that has grown around it is highly focused on playing 'brain drain' to Israel's advantage. There are around 60,000 to 100,000 Israelis living in Silicon Valley and more than 100 Israeli-run start-ups in the area, and a whole host of organisations have been set up to draw Israeli tech talent to the US and match firms with American investors.
"We don't have a local market to sell in to," explains Yaron Samid, founder of TechAviv, an international network of Israeli founders. "So once an Israeli tech company gets to a certain stage it will look to build a front office in the market it is servicing – which is usually the US – but will leave their engineering teams in Israel. These offices then directly learn the latest and greatest techniques coming out of the Valley.
"Often founders will move to the US, Asia or Europe, once they've sold their company they'll return to Israel and start their next company there. People are very patriotic and like the lifestyle we have here."
Some academics argue that countries can naturally profit from human capital flight when workers return with new skills. For example, University of Pennsylvania political science professor Devesh Kapur has argued that Indians in Silicon Valley shaped the structure for India's own venture-capital industry, as well as helping Indian software companies break into the US market. "If people return, it will balance the drain out, as they will bring with them not just professional skills, but social and personal skills," agrees Mouriki. The VC model could potentially accelerate a pattern that can occur organically.
However, Kapur is sceptical about the extent to which VC could help developing countries' economies. "It's still very small for most countries, you have to have a sophisticated tech sector and human capital – there has to be fertile ground already for any VC industry to take off," he says.
This model also isn't right for every entrepreneur, Kanakakis says: "By stipulating that you have to spend a certain amount of money in Greece, you are forcing a company to make a business decision. And it may not be the right time for them to make that decision."
Marathon has already invested in five companies with another two in the pipeline, and has created 20 technology jobs in Greece. It plans to fund 20 companies in total over the next four years. "If we're successful, we'll have two or three companies employing around 1000 people each," says Papadopoulos.
Kanakakis adds: "I'm cautiously optimistic. I hope projects like this spark changes in mindsets, which then spread."
--
To comment on this story or anything else you have seen on BBC Capital, please head over to our Facebook page or message us on Twitter.
If you liked this story, sign up for the weekly bbc.com features newsletter called "If You Only Read 6 Things This Week". A handpicked selection of stories from BBC Future, Culture, Capital and Travel, delivered to your inbox every Friday.