A fed-up pair of artists took to Twitter to collect quotes and illustrate imagined portraits of bosses who refuse to pay creatives for their work.
'Hi Bryan, could you write something up for me really quickly?'
This is a request I sometimes get from casual acquaintances: write a blurb for their website, edit a CV, generate a script for someone's video project. Do them a favour.
Of course, for friends and family, I'm happy to help.
But if such a request came from a complete stranger, offering not payment but exposure, my answer would be an emphatic no – this is my trade, and exposure doesn't pay the bills.
Unfortunately for people working in the creative industries, requests to work for exposure are all too common – to have a client or publication interested in your work, but not interested enough to pay real money for it.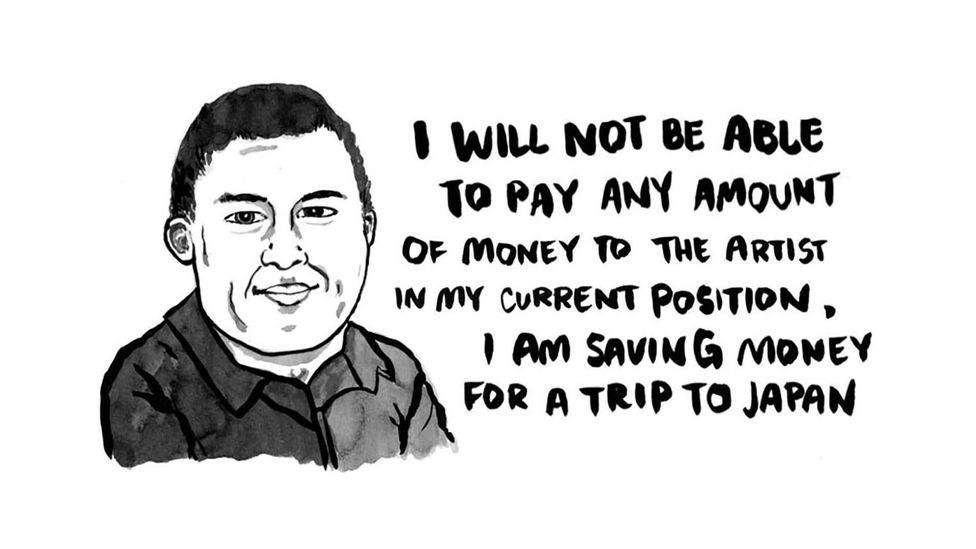 Frustration over that injustice inspired South Korea-based cartoonist Ryan Estrada to take action.
In 2013, he created a Twitter account to highlight this ongoing battle. Called @forexposure_txt, it asks readers to submit some of the most ridiculous responses from clients they've received once they raise the issue of payment.
Reads one tweet: "The perfect applicant would have a consistent income elsewhere that will financially enable them to see the project through release."
Another: "People are doing art for the love of it, if you are doing art for money please quit and do something else."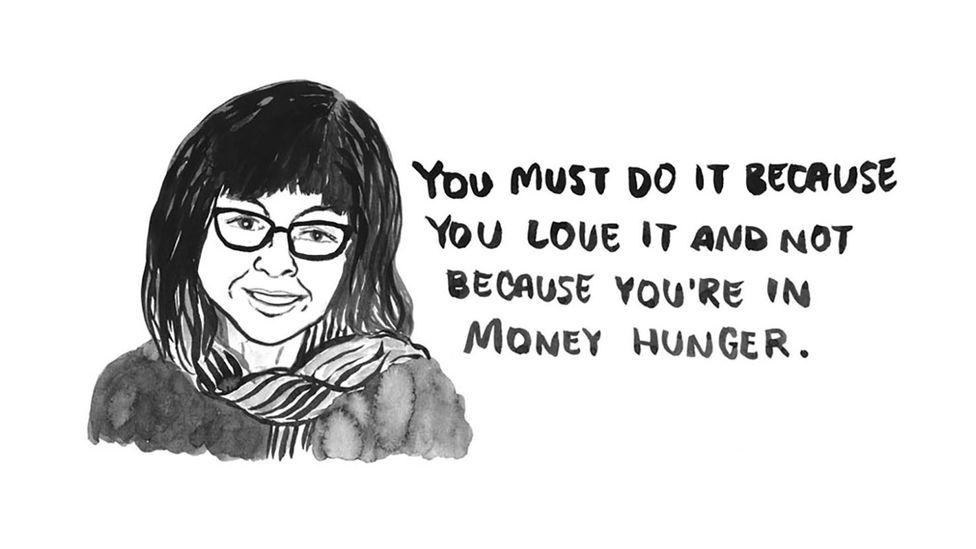 Creative industries are already cutthroat and budding artists often leap at the chance to get their work in front of as many people as possible.
"I was very confused as a young artist," he says. "I had all of these people telling me that they were just small companies, so they couldn't afford to pay me, but could offer me exposure so that big companies would want to hire me."
Many told him that he was lucky to be getting the opportunity at all.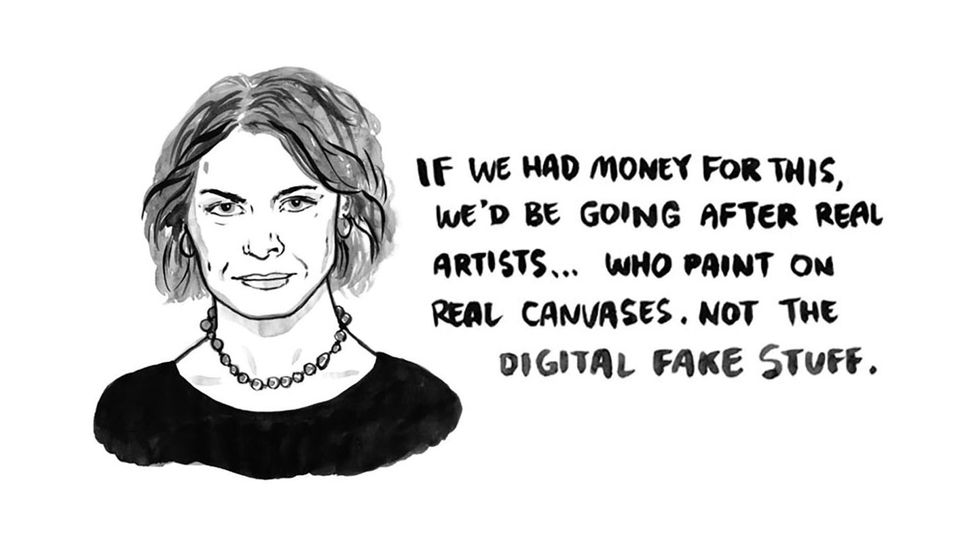 "I realised that I had to be my own advocate for my work, and figure out a way to make a living."
The Twitter account struck a chord with creatives around the world. Since he opened the account five years ago, it has grown to over 167,000 followers.
While their job is often fuelled by their passion, it still demands long hours in a studio, time away from friends and family, or side-gigs to supplement income for expensive materials.
"People think that art is just a fun hobby," he says. "But it's the difference between enjoying baking brownies on the weekend and working as a chef in a restaurant. That person won't be able to afford their own food if all their time goes into cooking for strangers. Many businesses just don't see that."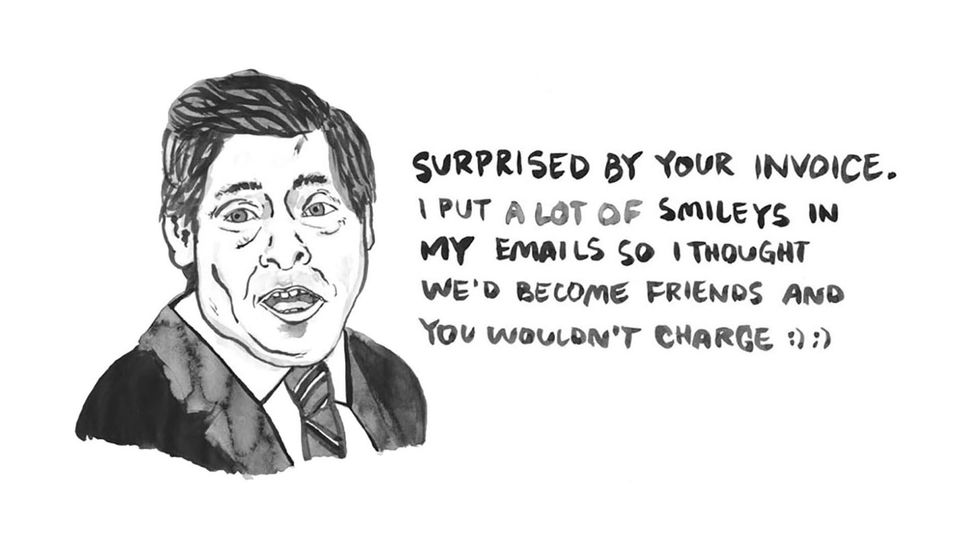 Estrada has also worked with Toronto-based artist Emmie Tsumura to give this project a visual twist. Tsumura is the artist behind a viral art project called OK Cucumber, where she drew portraits of some of the anonymous men sending her unwelcome messages on dating service OkCupid.
Online publication Format Magazine asked Tsumara to apply the visual style of OK Cucumber to the anonymous requests compiled by Estrada's Twitter account.
"I just tried to read into it and imagine the face of someone that would say something like that," Tsumura says of the For Exposure project. "I looked up pictures of CEOs and just imagined faces of people in power."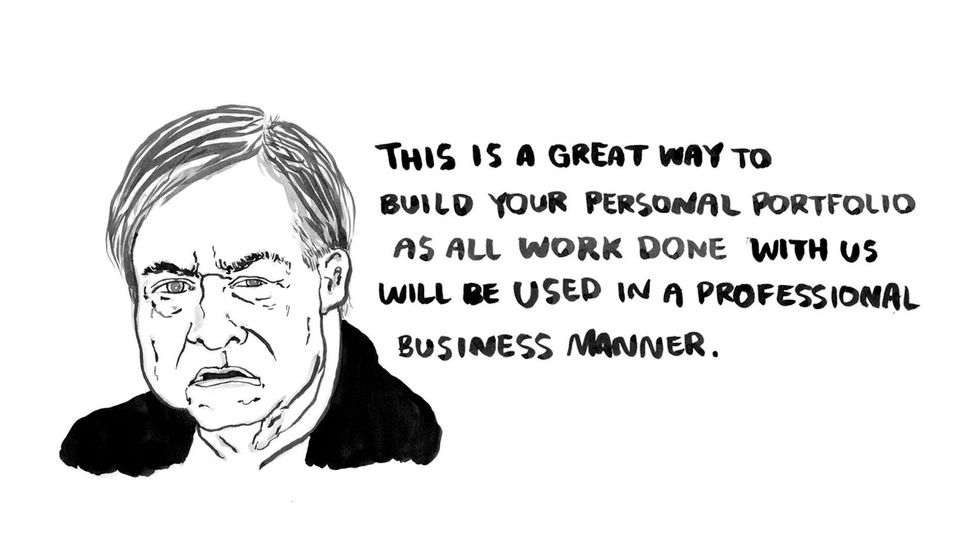 She calls this a "graphic survey" approach –  drawing illustrations that put a face with the crowd-sourced quote – that would create a space for creatives to share their experiences.
"It's fun to create that in-joke where people have experienced these things," she says. "But the other people [who aren't in on the joke] are like, 'What's going on, am I getting made fun of?' It creates awareness, and hopefully it gets shared."
The goal of For Exposure, beyond creating a platform for frustrated creatives? It's not only to arm them to be savvier – it's also hold the people they work for accountable.
"I want artists to learn to recognise red flags," Estrada says. "And I want clients to learn how not to be insulting."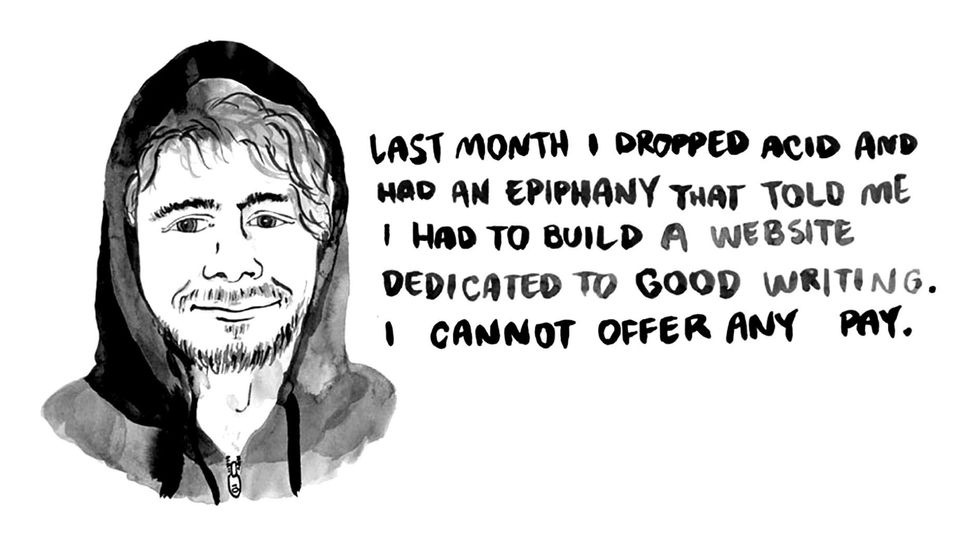 --
To comment on this story or anything else you have seen on BBC Capital, please head over to our Facebook  page or message us on Twitter.
If you liked this story, sign up for the weekly bbc.com features newsletter called "If You Only Read 6 Things This Week". A handpicked selection of stories from BBC Future, Culture, Capital and Travel, delivered to your inbox every Friday.