"Thrilling" is the word repeatedly used by Jan Ramqvist to describe how he felt about participating in a nationwide mission to get all Swedish motorists and cyclists to change the habits of a lifetime and begin driving on the right-hand side of the road for the first time.
"Everyone was talking about it, but we really didn't know how it would work out," explains the 77-year-old, who was just 26 and a newly qualified traffic engineer working in the city of Malmö when the potentially catastrophic changeover took place on 3 September 1967.
The day was officially known as Högertrafikomläggningen (right-hand traffic diversion) or simply Dagen H (H-Day). Its mission was to put Sweden on the same path as the rest of its continental European neighbours, most of which had long followed the global trend to drive cars on the right.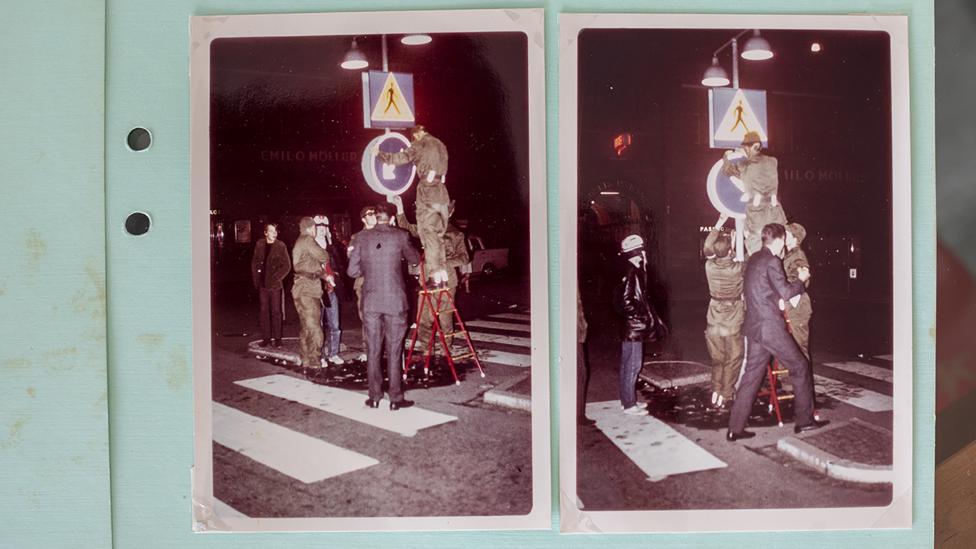 The swapped direction of the blue arrow road sign became an iconic symbol for the Dagen H project (Credit: Jan Søndergaard)
As well as hoping to boost the country's international reputation, the Swedish government had grown increasingly concerned about safety, with the number of registered vehicles on the roads shooting up from 862,992 a decade earlier to a figure of 1,976,248 recorded by Statistics Sweden at the time of H-Day. Sweden's population was around 7.8 million.
You would be sitting on the opposite side to what made sense… and you were looking down into the ditch! – Lars Magnusson
Despite driving on the left, many Swedes already owned cars with the steering wheel on the left-hand side of the vehicle, since many bought from abroad and major Swedish car manufacturers such as Volvo had chosen to follow the trend. However, there were concerns that this was a factor in rising numbers of fatal road traffic accidents, up from 595 in 1950 to 1,313 in 1966, alongside an increased frequency of collisions around Sweden's borders with Denmark, Norway and Finland.
"The market for cars in Sweden was not so big and so we tended to buy left-driven cars," explains Lars Magnusson, a professor in economic history at Uppsala University. "But that meant that you would be sitting on the opposite side to what made sense… and you were looking down into the ditch!"
'Incredibly hard'
In the run-up to H-Day, each local municipality had to deal with issues ranging from repainting road markings to relocating bus stops and traffic lights, and redesigning intersections, bicycle lanes and one-way streets.
Several cities including Stockholm, Malmö and Helsingborg also used the change to implement more wide-ranging transport changes, such as closing tram lines to allow for more bus routes. Hundreds of new buses were purchased by municipalities around the country, and around 8,000 older buses were reconfigured to provide doors on both sides. The total cost of amending public transportation came in at 301,457,972 Swedish kronor.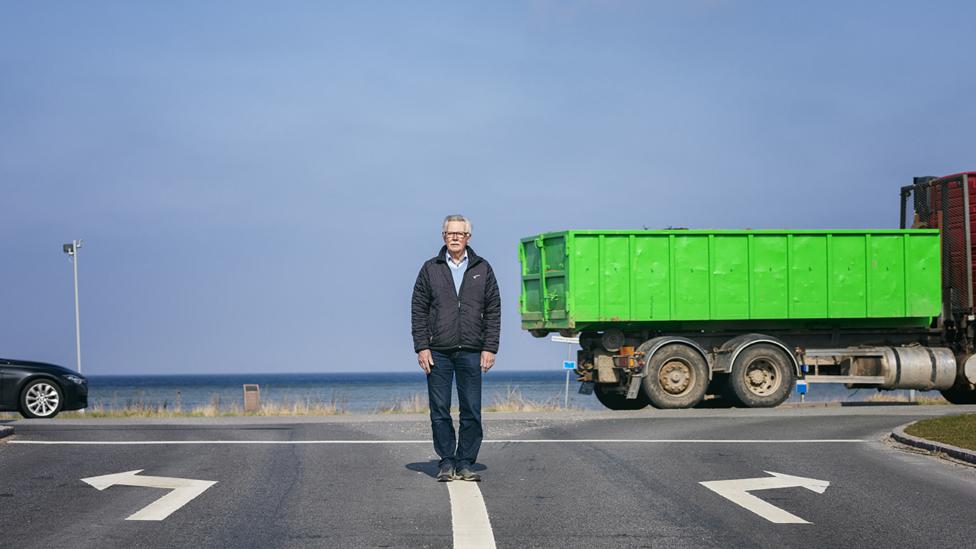 Jan Ramqvist, 77, was a traffic engineer during Dagen H and described the mood during the switch as 'thrilling' (Credit: Jan Søndergaard)
Some 360,000 street signs had to be switched nationwide, which largely took place on a single day before the move to right-hand driving, with council workers joined by the military and working late into the night to ensure the task got done before H-Day formally revved into gear on Sunday morning. All but essential traffic was banned from the roads.
The most challenging thing was the shortage of time, no vacation at all, too many hours a day for months – Arthur Olin
"I worked incredibly hard on the night itself," remembers Ramqvist, who shared the responsibility for ensuring around 3,000 signs in Malmö were moved correctly.
"My boss was very proud because we were one of the first (municipalities) to ring Stockholm and tell the head of the commission that we were finished," he says, recalling a charged and celebratory atmosphere. "We found ourselves eating cake and drinking coffee in the middle of the night!"
Others remember the stress of the project more vividly.
"The most challenging thing was the shortage of time, no vacation at all, too many hours a day for months, I almost killed myself," says Arthur Olin, now 82, who was working as a traffic consultant in the city of Helsingborg and says he spent a full year knee-deep in logistical planning.
The stress caused him to "hit the wall" a year later. "I had to go to Africa for two weeks just to cut all connections to the job – doctor's sharp instructions!"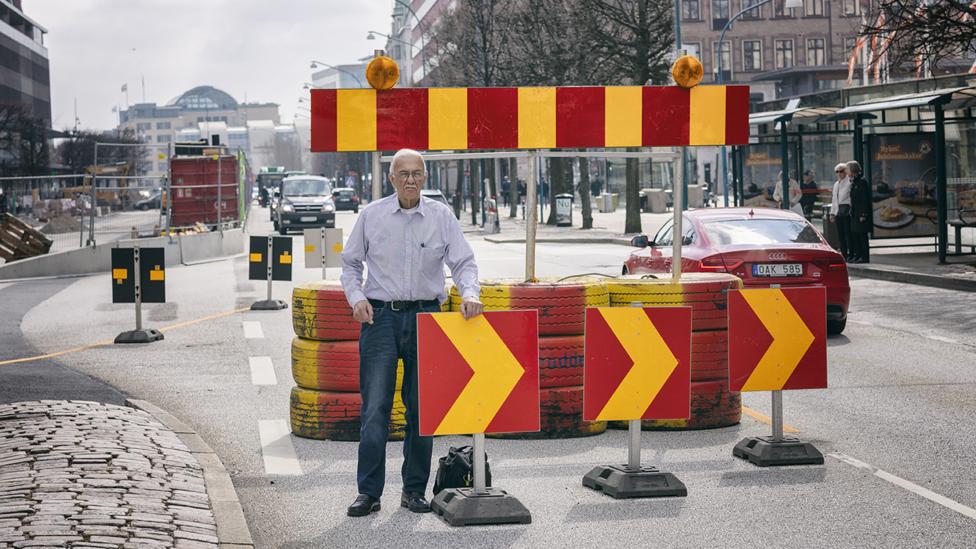 Arthur Olin, 82, was a Dagen H traffic consultant who spent a full year planning with no holiday (Credit: Jan Søndergaard)
A new era
But as Dagen H finally dawned, the hard work all appeared to pay off. Swedes began cautiously driving on the right-hand side of roads around the country at precisely 5am on 3 September 1967, following a radio countdown.
Olof Palme, the Swedish Minister of Communication (who later became Prime Minister), went on air to say that the move represented "a very large change in our daily existence, our everyday life".
Never before has a country invested so much personal labour, and money, to achieve uniform international traffic rules – Olof Palme
"I dare say that never before has a country invested so much personal labour, and money, to achieve uniform international traffic rules," he announced.
In total, the project cost 628 million kronor, just 5% over the government's estimated budget two years earlier, and the equivalent of around 2.6 billion kronor ($316m) today.
But economic historian Lars Magnusson argues that this figure is actually relatively small, given the scale of the plan, which was the biggest infrastructure project Sweden had ever seen.
As a point of comparison, he refers to the total 2017 budget given to the Swedish Transport Administration (the government agency responsible for transport planning) for roads and railways – some 25 billion kronor ($2.97bn).
"[Dagen H] was a fairly cheap transfer in a sense – it was not a very big sum even at that time," he explains.
This, he says, was partly due Swedish officials living up to their global reputation for efficiency and careful planning, alongside the logistics of the era.
"The road system was not so developed as it is today and so the costs in infrastructure were not extremely high and it was also because we already had the left-hand drive cars."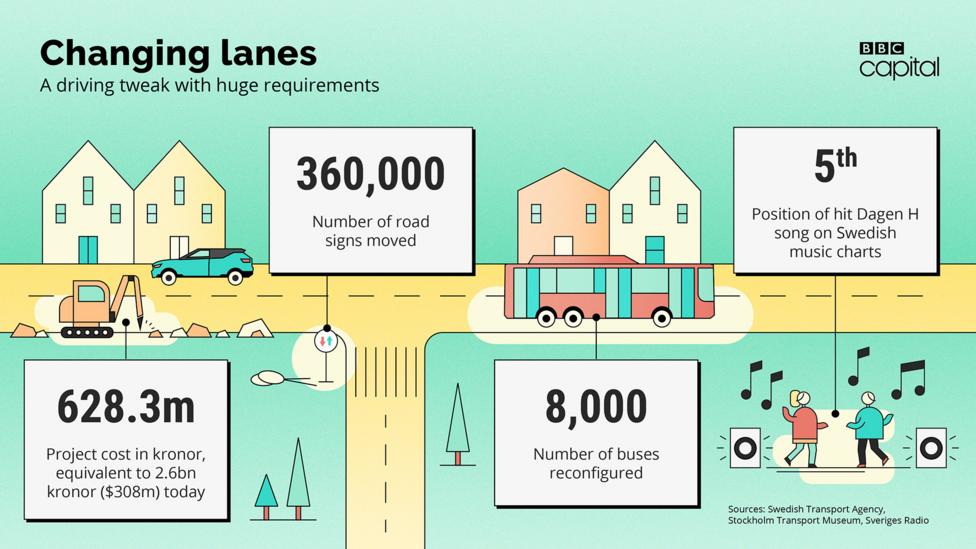 Click or pinch to zoom on mobile.
Crisis averted
In safety terms, the project was declared a success almost immediately. As Swedes began their working week on the day after H-Day, 157 minor traffic accidents were reported around the country, slightly less than average for a typical Monday. Nobody died.
Peter Kronborg, a Stockholm-based traffic consultant and author of a book about Dagen H, Håll dig till höger Svensson (Keep to the right, Svensson), was 10 years old on the day of the switch and recalls excitedly riding his bicycle on the right-hand side of the road for the first time, as well as a buzz around global media gathering in the Swedish capital to report on the day's events.
The journalists were waiting for this bloodbath – a huge number of accidents. They were a little disappointed – Peter Kronborg
"It was the most important thing to happen in Sweden in 1967," he says. "The journalists – especially the guys from BBC – they were waiting for this bloodbath – a huge number of accidents. They were a little disappointed. At least that's what I read!"
A total of 1,077 people died and 21,001 were injured in 1967, the year of Dagen H, down from 1,313 and 23,618 respectively in 1965, which was largely considered to be a result of the extra caution taken by Swedes as a result of the switchover and the state's nationwide campaign. It took another three years before accident and fatality rates returned to their original levels, during which time car ownership continued to increase rapidly across the country.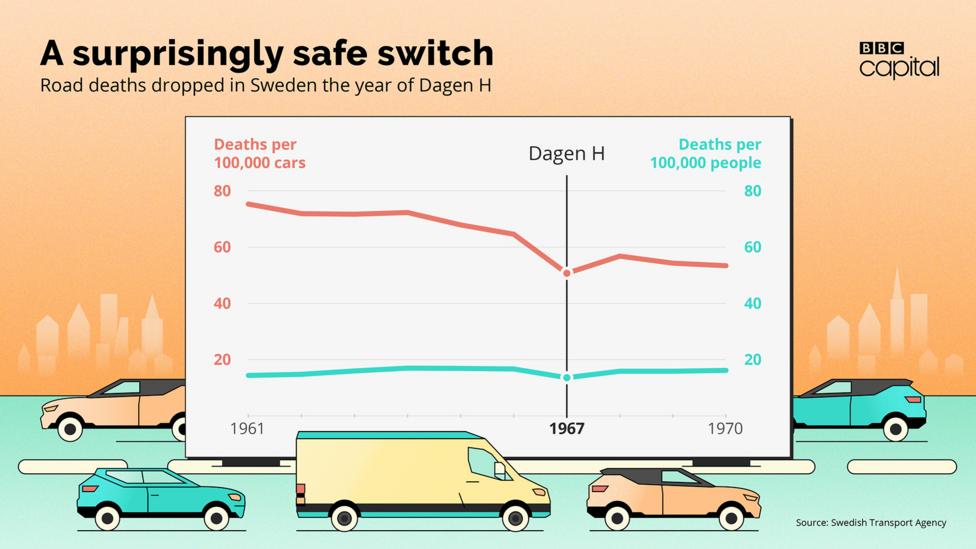 Click or pinch to zoom on mobile.
Driving school
The investment in the planning and logistics needed to prepare the roads clearly helped to avoid confusion among drivers. But a large part of the government's budget for Dagen H was also spent on communication initiatives designed to educate the Swedish public and get them behind the change. On paper, it didn't look easy: in a public referendum in 1955, 83% of voters had actually been against the switch.
The information campaign – costing around 43 million kronor (out of the total 628,349,774 kronor spent) – included television, radio and newspaper advertisements, and talks in schools. Dagen H had its own logo, emblazoned on billboards, buses and milk cartons.
There was even a theme tune to accompany the switch, reaching number five on the Swedish hit parade
There was even a song contest to select a theme tune to accompany the switch, with the track Håll dig till höger Svensson (the title of Peter Kronborg's book) selected in a national vote and reaching number five on the Swedish hit parade. Meanwhile public service television booked global celebrities to appear on its most popular television shows, designed to attract large audiences who would be informed about the Dagen H during the same programmes.
"The politicians realised that it wasn't enough to have an information programme, they needed a propaganda campaign!" laughs Kronborg. "The ambition was not to reach 99% of everyone but to reach 100%."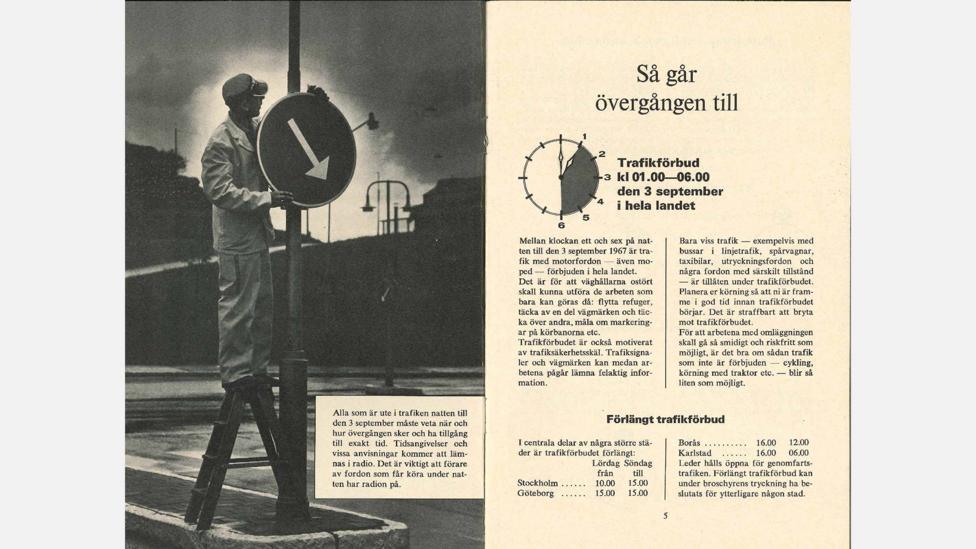 Meanwhile Lars Magnusson adds that a more general "culture of conformism" and trust in authorities prevalent in Sweden at the time helped enable the shift in public opinion.
"The media was at that time less critical and they were reporting what the experts told them and if the experts said that this would not be very costly and it would benefit everybody, well, the media would accept that and I suppose the public would accept it as well."
Magnusson believes that as well as being important for Sweden's global reputation, when viewed as part of the Nordic nation's wider efforts to be seen as a major player in Europe, the switch might potentially also have had other longer-term costs and benefits such as increased trade and transportation from other parts of the continent. However, this broader economic impact is, he argues "difficult to estimate" since the changeover occurred "during a period where the economy was growing a lot - and GDP - each year, so it is difficult to distinguish the possible benefits on trade and transport".
Future lessons
So could Sweden pull off anything like Dagen H today?
Recently ranked top in Europe in Bloomberg's global innovation ranking, with a transport infrastructure quality above the EU average and one of the region's strongest digital economies, the Nordic nation would certainly have a head start should it decide to embark on a similarly disruptive transportation project.
But the prevailing sentiment among those who've studied Dagen H closely is that today's political, economic and media climates would present numerous fresh challenges to those that existed at the time Dagen H.
Peter Kronborg's key argument is that ministers and public authorities would struggle to shift public opinion and shape a new consensus so dramatically. He says that "everything about Swedish society became a little more individualistic" just a year after Dagen H, in the wake of student radicalism and counter-culturism across Europe, and he believes that today the Swedish public would be outraged if politicians went ahead with a project so vehemently opposed in a referendum.
Fifty years on, economists and urban planners still look to Dagen H as a paragon for public works projects (Credit: Getty Images)
Meanwhile he suggests our current media diet of YouTube and Netflix amid the demise of "prime time television" would make it "much more complicated" for politicians and campaigners to reach the entire population, whereas at the time of Dagen H there was only one television channel and one radio channel and "everybody watched and listened to them".
From an economic perspective, Lars Magnusson estimates that the financial cost of implementing Dagen H today would be greatly increased due to Sweden's road networks and infrastructure being "much more developed" than 50 years ago.
The financial cost of implementing Dagen H today would go up at least 10 times
"It's difficult to give an exact estimate, but I would say it would go up at least 10 times. This is my guess," he says.
Even Sweden's current transportation strategists are sceptical that an equivalent to Dagen H could be implemented anywhere near as smoothly today as it was in 1967.
"My personal belief is that it would be very difficult," says Mattias Lundberg, head of traffic planning for the city of Stockholm.
"In those days, a few – normally men – could really gain a lot of power in order to influence things on a very broad scale. Today society is so much more diverse."
But he notes that Dagen H is a monumental event which is still occasionally talked about in his office and that it helped to encourage an ongoing focus on road safety in both public and political discourse.
In 1997 Sweden started what became a multinational project to work towards no fatalities on public highways, known as Vision Zero. The country currently has one of the world's lowest road death rates. 270 people died in 2016, compared to 1,313 in 1966, the year before Dagen H.
Yet these days a large proportion of the work done by Lundberg's team is about planning for a future where far fewer Swedes get behind the wheel at all.
The Swedish capital's current strategy has a sustainability focus that prioritises walking, cycling and public transportation. The nation's first self-driving buses launched in Stockholm in January and officials are also looking at what will perhaps be the most major shift in travel since Dagen H: the arrival of autonomous cars.
Lundberg argues that any dramatic changes are still "quite a long time away" though and – unlike Dagen H – they will most definitely follow a period of heavy public consultation.