Crime fiction writer Val McDermid knows a thing or two about football shirts. Long-time supporter of Scottish League 1 football club, Raith Rovers, McDermid wanted her name on the back of her team's strip. Instead of forking out around £1 a character for a personalised version, she took a different approach – she paid £20,000 plus VAT, per season sponsorship.
"I think I'm the only writer doing this," she explains. "I was on the board at Raith and, like many lower division Scottish football clubs, money has always been a challenge. We had one shirt sponsor but they didn't want to continue, so it was beneficial for me to step in. It's been great. I've really got a lot of bang for my bucks from it and raised my profile as an author. I realised it had really gone far and wide when I got a call from The New York Times."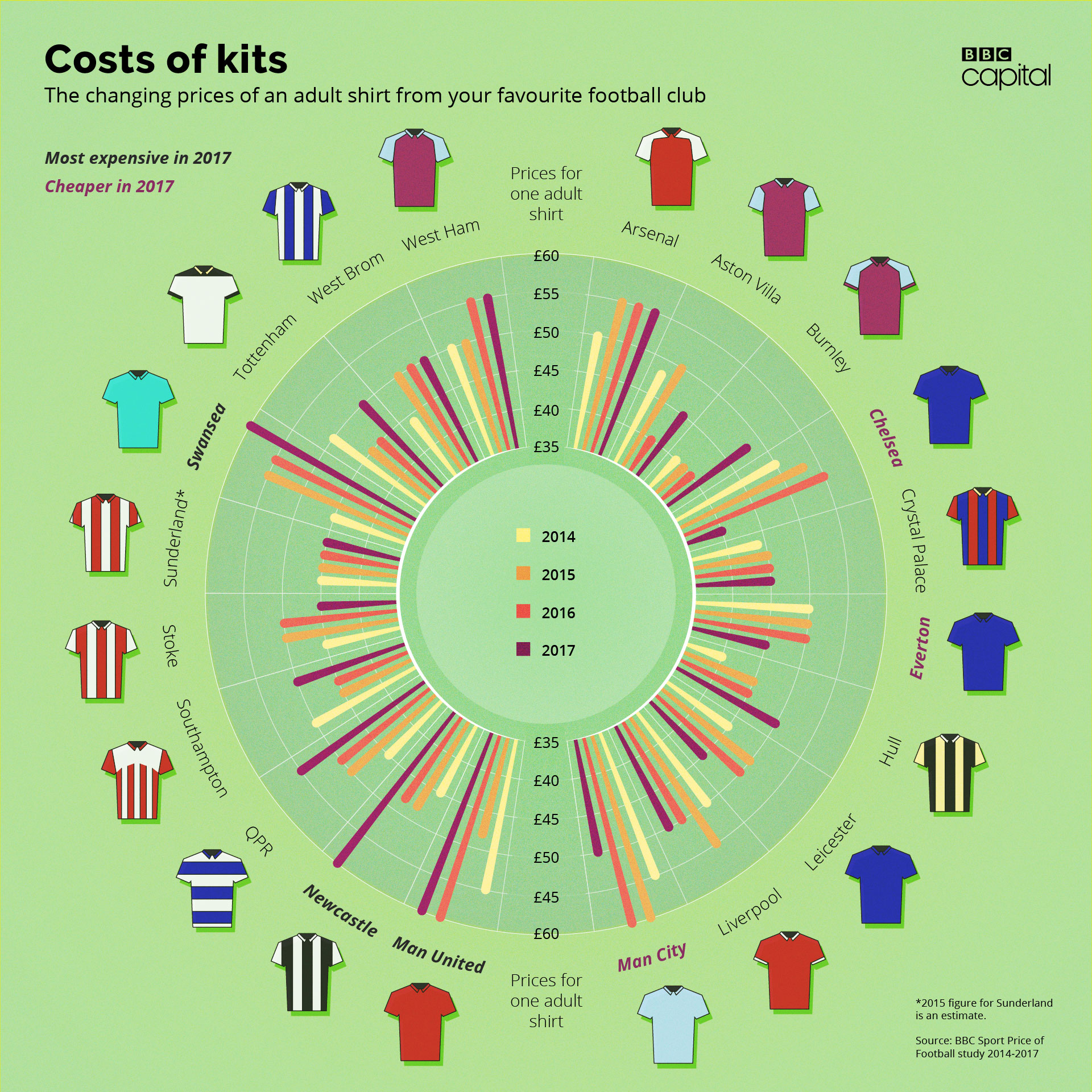 Pinch and zoom on mobile to expand
But while McDermid went to great lengths to have her name emblazoned on shirts, other fans have to settle for replica versions of team strips. Even this can cost dedicated supporters hundreds of pounds to keep up with changing football fashions. McDermid believes big clubs' shirt prices are often "pitched ridiculously high" for fans who are being "gouged" in their efforts to show their support.
South of the border shirt politics are even more contentious. And really big business. The growing cost of replica kits (replicas are the official ones sold in club shops and other high street sportswear chains), and the increasing regularity with which the elite football teams alter not only their first-choice but also their second and third-change strips, is a sensitive issue for clubs, especially those that feature in the English Premier League.
The price of replica shirts has come a long way since Leeds United became the first club to sell a replica shirt to fans in 1973, for the princely sum of £5. An adult shirt from the side today costs more than ten times that amount at full price.
Kit inflation
Since the season of 2011/12, Premier League fans have faced an 18.5% increase in shirt prices, with the average adult shirt costing £50.90 in 2017/18, according to research by Peter Rohlmann, a marketing analyst who specialises in football merchandise. Kits for children have increased in a similar way, with a junior replica shirt costing 19.8% more last season – an average of £40.25 – than it did six years earlier.
According to the BBC's annual Price of Football survey, Premier League champions Manchester City, along with Manchester United and Tottenham Hotspur, sold the most expensive adult shirts last season, priced at £60-£66. United also sold the most expensive junior shirt, priced at £51.78.
But it is not just the cost of the shirts that is changing – the number of strips released is also increasing. In the summer of 2017, 10 clubs released three different strips for the season. Third kits were originally used in case of a clash between a team's away kit and a home club strip. But now clubs are introducing third kits more and more. For instance, Newcastle United had four kits in 2011/12 – home, away, a third and a Europa League kit.