It is tempting to see unhappy customers as moaners, but complaints can be turned to a company's advantage
A
A few months back a four year-old little boy called Robin was "a bit poorly and desperate for beans-on-toast" so his dad opened the kitchen cupboards only to discover that all the tins of baked beans he'd bought were damaged.
"We didn't want to risk the beans," says Robin's father, Matthew Campbell Hill, who lives in Cornwall in the UK.
So he posted a message complaining about their plight on Twitter that evening.
"No beans on toast 4 sad toddler," he tweeted, tagging on the hashtag "#heartstrings" for added effect.
By the next morning, Heinz had contacted Campbell-Hill, a former international wheelchair fencer.
To make up for the dented tins, the company sent Robin a Play-Doh set and then for his birthday he received a card emblazoned with the words "Robin: No1 Baked Beans Fan" that was signed by all the office.
The result of what began as a disgruntled complaint was a happy beans eater.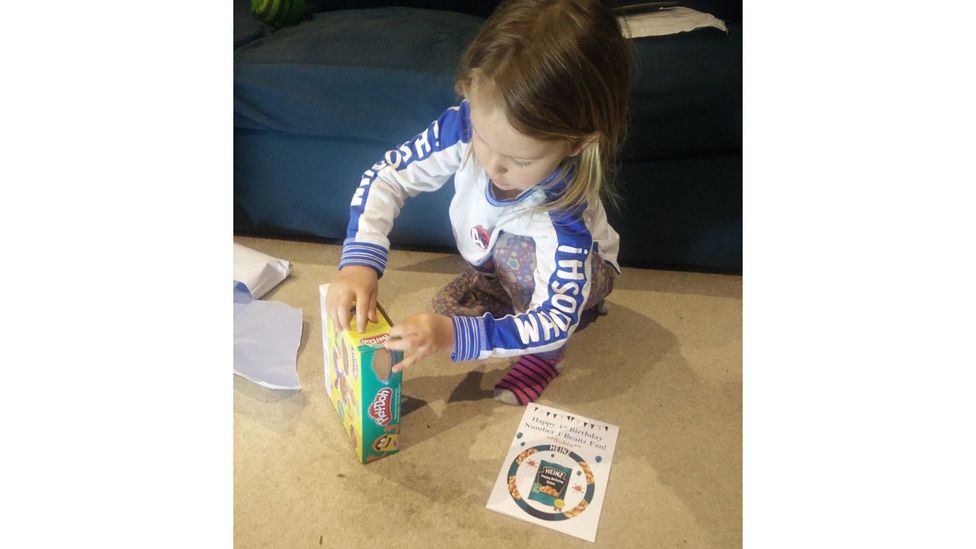 Robin Campbell-Hill, 4, got a surprising response when his family complained to Heinz about the state of their cans of beans (Credit: Matthew Campbell-Hill)
Many of us deal with moaning and complaints every day. Social media has made publicising these gripes easy and sites like TripAdvisor have given customers the opportunity to voice their displeasure like never before.  The majority of people under the age of 50 in the US check online reviews before buying new products, according to the Pew Research Center.
And all this whinging can have a significant financial impacts. Every star a company receives on the online ratings site Yelp, for instance, can affect its revenue by 5-9% on average, according to research by Michael Luca, who studies the economics of digitisation at Harvard Business School in Cambridge, Massachusetts.    
So what can experts tell us about the best ways of keeping people onside?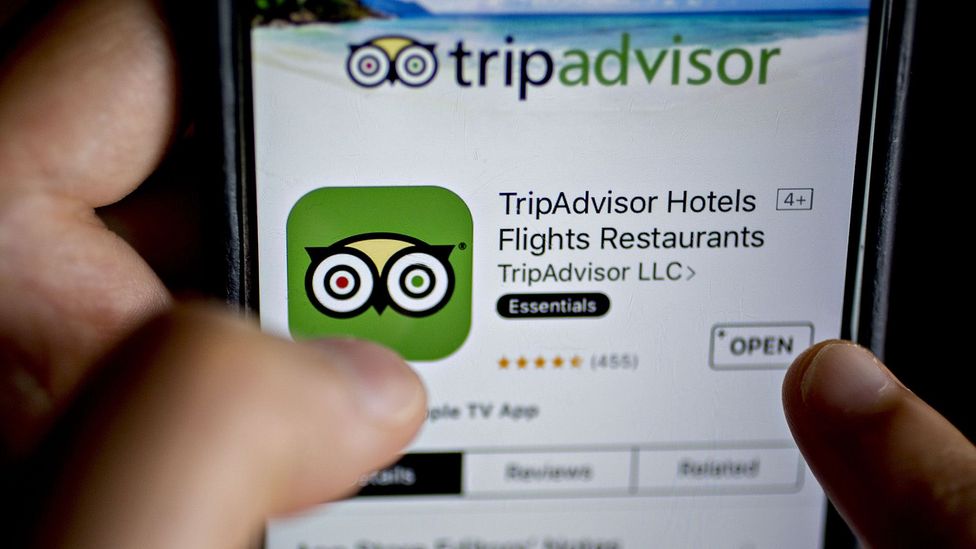 In a survey of 14,000 TripAdvisor users, 85% agreed "a thoughtful management response" to a bad review improves their impression of a hotel (Credit: Getty Images)
Playing to the audience
Complaining is something we all do, says Robin Kowalski, a professor of psychology at Clemson University in South Carolina, but the reasons behind it can vary. They can be social, so complaints can serve as unifying icebreakers in a waiting room or on a crowded train, for example. A good whinge about bad service can do wonders to bring strangers together. Others might complain about wine at a reception to "give the appearance to others that they are discriminating in their tastes".
The most effective complainers are strategic, according to Kowalski. "They select their audience and they complain in moderation."
But regardless of why someone is moaning, a key secret to minimising the impact of their complaint is to be fast.
'I'll be right with you….'
"If you respond within 24 hours you have a 33% higher probability of that person going back and upgrading the star rating of their review," says Darnell Halloway, director of local business outreach at the ratings website Yelp. "That's a really easy thing to do, but I still see businesses not respond in a timely manner, or not at all.
"Many may be reading negative feedback, and getting frustrated by it, but not doing anything."
Doing nothing at all could be a fatal mistake, agrees James Kay, from the reviews site TripAdvisor. In a survey of 14,000 TripAdvisor users, 85% agreed "a thoughtful management response" to a bad review improves their impression of a hotel, he says.
Don't fight
Another crucial tactic is to avoid turning a complaint into a confrontation. Kay says 69% of his site's users find an aggressive or defensive response to a bad review will make them less likely to visit a business.
Perhaps the worst way to respond, however, is to simply say "you are wrong and we are right", adds Mikkel Svane, Danish chief executive of Zendesk, which provides customer services support for other businesses.
"The instances when people are trying to cheat you are actually very, very rare," he explains.  And if most of your sales come from repeat business, by "spending so much time trying to avoid [cheats], and damaging everybody else, just hurts you."
Making it easy is also important, says Svane. Insisting that customers contact you by telephone after they initially complain by email, for example, is only likely to make matters worse, especially if they have to wait on hold to speak to someone, he adds.
The customer is always right wasn't always a mantra. In 1926, the Soviet Commissariat of Commerce ordered complaint books to be placed in all retail stores, including the Glávnyj Universáľnyj Magazín (Main Universal Store), the famous department store in Red Square better known as GUM.
The GUM "seldom found in favour of consumers", notes Soviet historian Marjorie Hilton. When one customer, named only as comrade Zhivotovskii, reported that he couldn't buy products 15 minutes before closing time, the complaint's book records that store workers responded by calling him a hooligan.
Staff at the former State Department Store GUM in Moscow had a rather confrontational style of dealing with customer complaints (Credit: Josef F Stuefer/Wikimedia Commons)
And when another customer complained about being sold dirty sugar, a salesman in the food department named Smirnov responded simply by saying that someone had to receive it.
Frequent feedback
Encouraging people to give frequent feedback can also help you head problems off sooner.
Places like Heathrow Airport or the San Francisco 49ers stadium have fitted terminals that feature four buttons with smiley and unhappy faces on them.
The terminals can produce alerts in real time, allowing people to react to potential problems, says Ville Levaniemi, co-founder of HappyOrNot, the Finnish company that makes these feedback terminals.
Data gathered by these terminals have helped to reveal that people in airports around the world tend to be happiest at around 9 am and least happy at 10 pm. Tuesdays also appear to be the happiest days while Sundays are the saddest.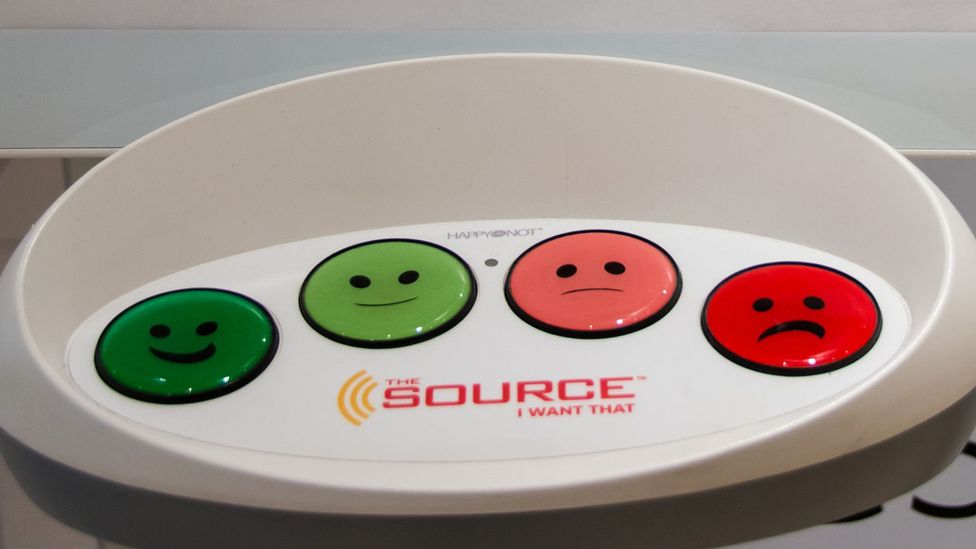 'Happy face' buttons like these are now commonly placed outside shops and businesses, and places like Heathrow Airport, to gauge customer happiness (Credit: Getty Images)
Listen and learn
Perhaps the best way to treat complaints is to see them as a source of crucial, valuable information.
"There's good data there," says Alex Gillespie, a professor of psychology at the London School of Economics who flags two significant examples of mismanaging available information.
Both Wells Fargo's 2016 account fraud scandal and safety flaws leading to the 2017 Grenfell Tower fire in London were first raised in complaints that were ignored, he says.
Kensington Council responded by threatening one Grenfell resident, who raised concerns about the safety of the cladding put on the outside of the tower, with legal action, saying the dweller's blog posts constituted "defamation and harassment".
But the number of organisations treating complaints as a useful source of intelligence is growing, says Gillespie.
"I know some hospital CEOs read through their complaints every morning," he says.
So in short, it may pay off to try treating your customers more like Heinz baked beans eaters and less like those in the former Soviet Union.
--
To comment on this story or anything else you have seen on BBC Capital, please head over to our Facebook page or message us on Twitter.
If you liked this story, sign up for the weekly bbc.com features newsletter called "If You Only Read 6 Things This Week". A handpicked selection of stories from BBC Future, Culture, Capital and Travel, delivered to your inbox every Friday.