Why there will be so many jobs in the autonomous vehicles industry.
W
With a glance at the road behind him, Ben Shukman edges the car out into heavy traffic on the palm-lined streets of Las Vegas. The rain is lashing down and the glare from the city's famous lights on the wet road make for less than ideal driving conditions.
This is the first time he has driven in the area. In fact, Shukman has never visited Vegas - and he is not there now. Although he is steering the car through the city's busy streets, he is actually 500 miles (800km) away in Mountain View, California.
It could totally transform the work-life balance of professional drivers
Shukman is one of a handful of skilled new drivers who take control of self-driving vehicles should they get into sticky situations that the onboard computer is not able to handle.
If they get stuck, the machines send an alert to a control room manned by remote operators who are monitoring the vehicles' progress. Passengers in the vehicles can also hit a button to ask a human operator to take control remotely if driving conditions get too challenging for their liking. Currently the drivers are mainly called upon to take control of test vehicles during trials on public roads, but they are also working on active self-driving vehicles that are being used in mines, airports and other controlled locations.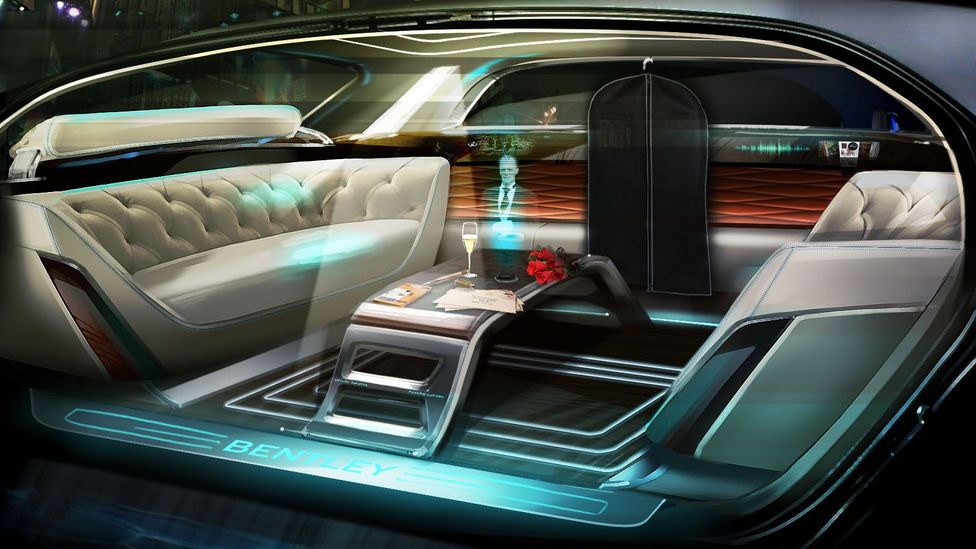 Designers will be needed to come up with services for the newly-idle former motorists - in-vehicle digital entertainment even virtual butlers (Credit: Bentley)
As more self-driving vehicles appear on roads around the world, it is a job that is likely to become increasingly important.
"This is a new form of driving," says Shukman, who is employed by Phantom Auto, a small company specialising in teleoperation safety technology. "But it quickly becomes second nature. At the moment professional drivers have to spend days and even weeks away from home. I see this role evolving into more of a full-time office job in the future. We can have control centres where hundreds of remote operators will come to work, close to where they live. It could totally transform the work-life balance of professional drivers."
While less than a decade ago self-driving cars may have seemed like science fiction, a number of major technology companies and car manufacturers are testing autonomous vehicles in trials on public roads around the world. Google was the first major company to begin sending robotic vehicles out on public roads around California, but traditional car firms including Ford, Jaguar Land Rover, General Motors, BMW and Volkswagen have now developed self-driving systems of their own. Other firms like Amazon, Pizza Hut and the online supermarket Ocado have been investigating using self-driving vehicles to make deliveries.
But there have been setbacks too – the computer vision technology used by Tesla in its semi-autonomous technology has been implicated in at least one serious accident. Earlier this year Uber suspended its self-driving operations after an accident led to the death of a pedestrian. Most recently Apple's self-driving car was involved in a minor accident. 
 
While these incidents mean the industry still has significant hurdles to overcome, the momentum seems unstoppable. Between 40% and 95% of car journeys will be done in autonomous vehicles by 2030, according to different analyses. Ford says it plans to have fully autonomous vehicles with no steering wheel or accelerator on the roads as early as 2021.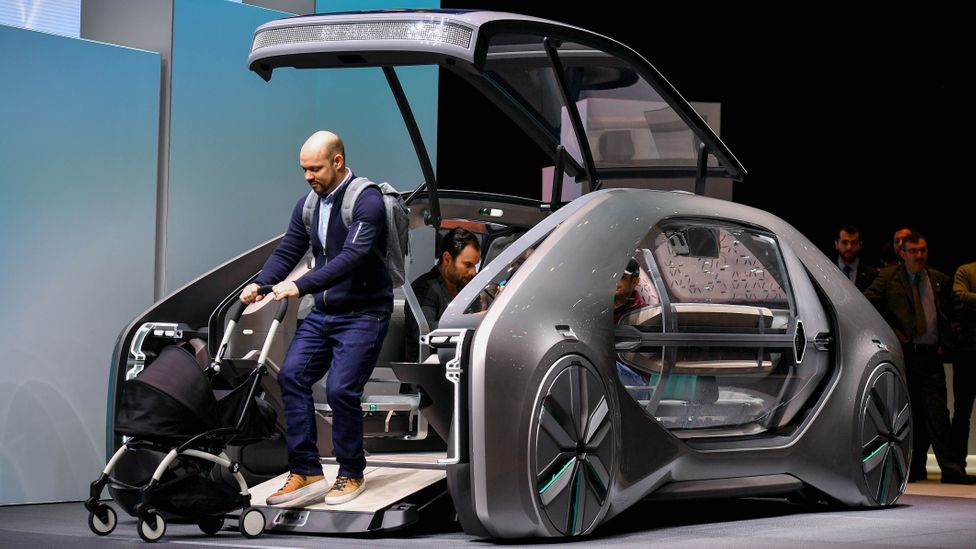 The autonomous urban concept car Renault EZ-GO at the Geneva International Motor Show (Credit: Getty Images)
Most projections suggest autonomous vehicles will lead to widespread unemployment for the millions of professional drivers who transport goods and people. According to estimates by Goldman Sachs, for example, as many as 25,000 jobs could be lost a month in the US as self-driving vehicles replace truckers, taxi drivers and public transport workers. The International Transport Forum predicts there could be a 50-70% reduction in demand for professional truck drivers in the US and Europe by 2030 due to the technology.
The Society of Motor Manufacturers and Traders also estimates that autonomous vehicles could result in an additional 320,000 jobs being created in the UK alone
But other analysis suggests the majority of these job losses are not likely to be felt until 2030 and will be mitigated by new job creation. Roles such as those being performed by Shukman and his colleagues will become increasingly in demand. Analysis by Uber also sees the number of trucking jobs increasing as the focus shifts from humans doing long-haul driving to local delivery.
But autonomous vehicles will bring new roles too.
"We expect that the transportation sector will have an increase in jobs that require directly interfacing with customers of autonomous vehicles, particularly for consumers who are older or disabled," says Amitai Bin-Nun, vice president of autonomous vehicles and mobility innovation at the US think-tank Securing America's Future Energy. Drivers would be freed up to focus on customer service, including helping passengers in and out of vehicles, or offering them onboard services. Workers will also be needed to maintain large fleets of technologically-advanced vehicles. "It is also likely that there may be many high-skilled jobs created to develop autonomous vehicle technology and find new applications for its use," adds Bin-Nun.
Car manufacturers and other firms active in the field are already searching for those with the skills needed to put self-driving vehicles safely on public roads. While trials are underway around the world, they are still strictly controlled and require humans to sit behind the wheel, ready to step in at a moment's notice.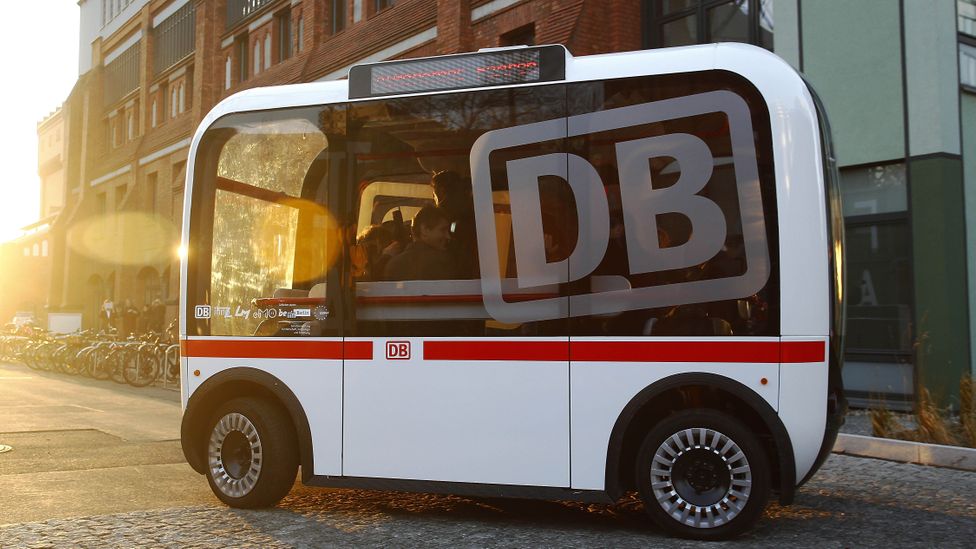 A self-driving public bus in Berlin, Germany is a collaboration between Deutsche Bahn and Berlin's Technical University at the university's EUREF campus (Credit:Getty Images)
According to recruitment firm ZipRecruiter, the number of job adverts in the autonomous driving sector has increased by 27% year on year, with a 250% jump in the second quarter of 2018 compared to the same time last year. The Society of Motor Manufacturers and Traders also estimates that autonomous vehicles could result in an additional 320,000 jobs being created in the UK alone.
"The industry is going to need an army of people to develop these autonomous systems," says Graeme Smith, chief executive of Oxbotica, a UK company testing self-driving vehicles. "We will need engineers who can make them work, testing them, validating them and certifying the technology. Then we will need new product designers, as everything will be done differently compared to today if humans are not in the loop."
What Smith is referring to is the radical change in vehicle design that is likely to accompany self-driving cars. The way people interact and control their vehicles has remained largely unchanged for decades. But with pedals, gear sticks and steering wheels redundant, what will be the best way to interact with the onboard computer and tell it where you want to go?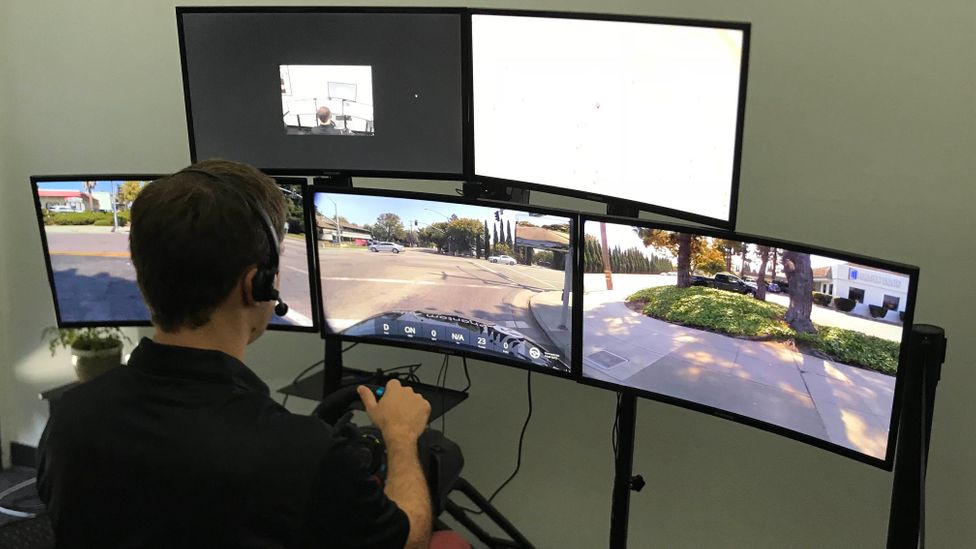 The Society of Motor Manufacturers and Traders also estimates that autonomous vehicles could result in an additional 320,000 jobs being created in the UK alone (Phantom Auto)
ZipRecruiter predicts a wide range of new jobs could appear as companies start to adopt self-driving vehicles. Engineers proficient in autonomous navigation and robotics will be essential, it says, as will technicians capable of repairing vehicles that break down. "Autonomous driving is going to be at least as big as today's engine industry," adds Smith.
The global automobile engine industry is worth around $301bn and employs around 1.6 million people. But there are some who believe that the impact of autonomous vehicles could be greater still. The World Economic Forum predicts that the automotive industry could grow by up to $144bn within the next 10 years thanks to self-driving vehicles, while a report by microchip company Intel, which is working with BMW on self-driving cars, estimates autonomous vehicles could be worth up to $7 trillion to global economies by 2050.
Much of this value, according to Intel, will come from new occupations that will emerge around the self-driving car industry, delivering something it calls the "passenger economy". This will create jobs such as managers capable of overseeing vast fleets of self-driving taxis or goods-delivery vehicles. It is something Bin-Nun agrees with.
"As autonomous vehicles are likely to foster a transition to individuals travelling in vehicles owned by fleets rather than independently owned, these fleets will require programming, maintenance, consumer support and monitoring. These all represent significant opportunities for job growth at all skill-levels."
WEF predicts that the automotive industry could grow by up to $144bn within the next 10 years thanks to self-driving vehicles 
But Intel also sees jobs being created for those who can provide innovative goods and services for the newly-idle former motorists during their journeys. Demand for coffees and snacks will increase, as will the need for in-vehicle digital entertainment and even manicures while on-the-move. Then there is the need for planners, architects and engineers capable of creating the new road infrastructure that self-driving cars will need.
But demand for drivers is not likely to die out any time soon either.
"We want people who are experienced, expert drivers," says Elliot Katz, chief executive of Phantom Auto, which provides remote operators for many of the leading manufacturers developing autonomous vehicles. "Autonomous vehicles in the future are not going to have any manual controls for passengers to take over with. So that is where remote operators will come in and their skills are going to be in great demand."
For Shukman, it is an unusual job that comes with a lot of responsibility. "It is fascinating and fun to be driving in a place I have never physically been to," he says. "But at the end of the day I am responsible for the safety of the vehicle and its occupants. This focuses the mind, knowing people are relying on me."
And at the end of his shift, how does he feel about getting into his old-fashioned, manually controlled car?
"Driving through this new perspective has added to my awareness on the road," he says. "It has made me a safer driver."
--
To comment on this story or anything else you have seen on BBC Capital, please head over to our Facebook page or message us on Twitter.
If you liked this story, sign up for the weekly bbc.com features newsletter called "If You Only Read 6 Things This Week". A handpicked selection of stories from BBC Future, Culture, Capital and Travel, delivered to your inbox every Friday.