From March next year, commuters in the tiny nation will not be charged for trips on its trains, trams and buses. Marc Auxenfants crunches the numbers of such a move.
You can drive across Luxembourg in two hours, taking in vineyards by the Moselle river in the east, the winding valleys of the Ardennes in the north and charming villages filled with castles and old farmhouses in the centre.  
But you can also spend two hours just commuting to and from work in the capital, Luxembourg City, because traffic congestion is a major issue.
Late last year Luxembourg made headlines when it announced that all public transport would be free. From 1 March 2020, there will be no charge for using the trains, trams and buses that traverse the tiny tax-haven sandwiched between Germany, France and Belgium.
The move will benefit the Grand Duchy's 602,000 residents and 175,000 cross-border workers alike, as well as around 1.2 million annual tourists. But what's behind the move – and what will it achieve?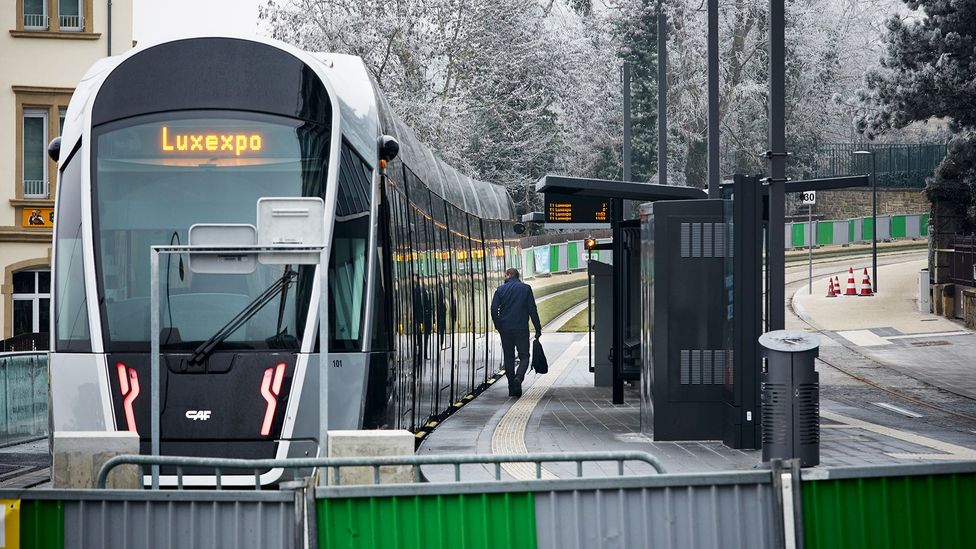 It costs almost 500m euros to run Luxembourg's transit network (Credit: Eric Devillet)
The Grand Duchy has the highest number of passenger cars per inhabitant in the EU
Today, the Grand Duchy has the highest number of passenger cars per inhabitant in the EU (including company cars registered there used by non-resident cross-border workers). More than 60% of commuters use their cars to get to work, compared to just 19% who use public transport.
Yet cutting congestion and improving the environment are not the main drivers of the free public transport initiative, according to minister for mobility and public works François Bausch.
"It is primarily a social measure," he says. "The objective is to stop the deepening gap between rich and poor. For people on low wages, transport expenses matter. Therefore it is easier to make it free for everyone."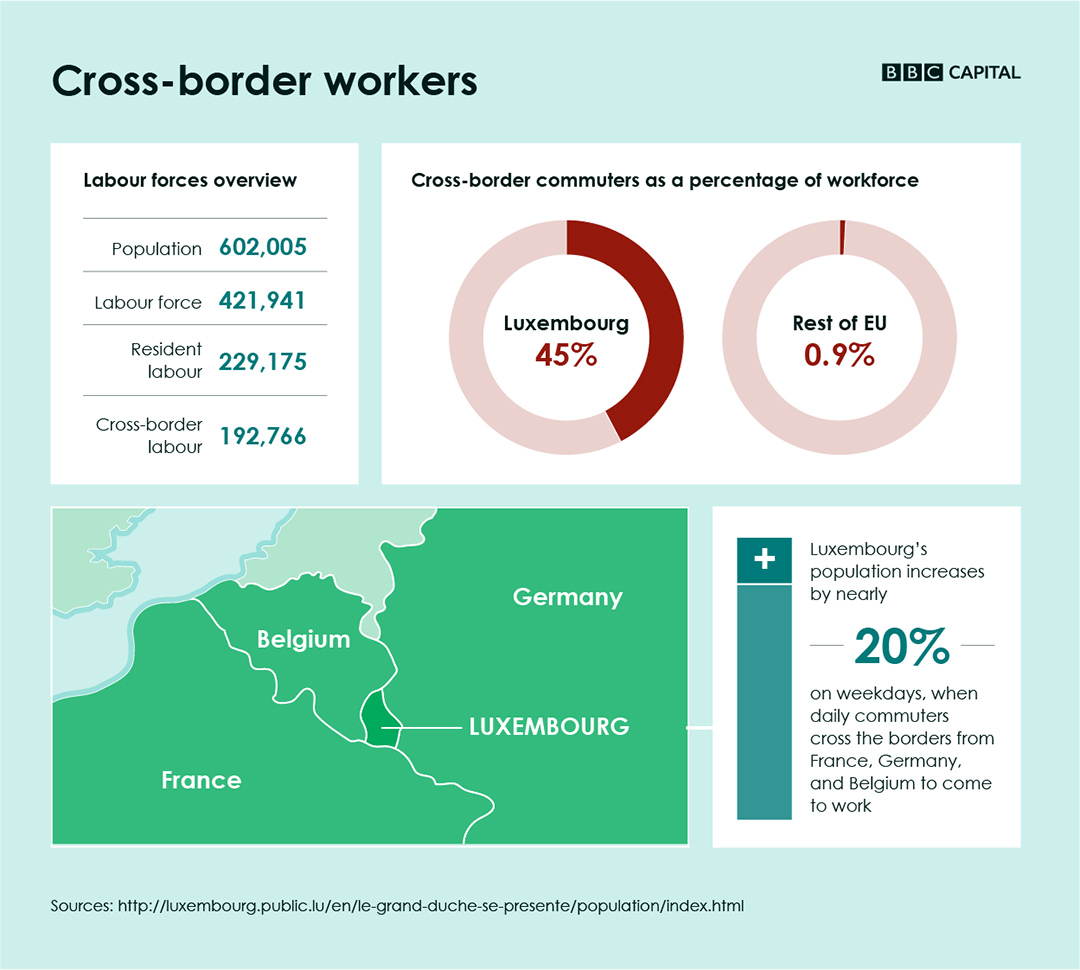 Pinch and zoom on mobile to expand.
Luxembourg is widely seen as a wealthy nation – it has the highest average annual salary of all OECD countries. But poverty is increasing: the bottom 10% live on an average of 1,011 euros (£878, $1,144) per month, according to Luxembourg's statistics office. Thirteen percent of workers and almost 10% of pensioners are at risk of poverty.
Free public transport is one of several pieces of social legislation the recently re-elected government is keen to pass in 2019, including raising the minimum wage, pension adjustments and financial aid for higher education.
'Awesome idea'
"Free transport is an awesome idea," says M'Barek Rabii. He works at La Provençale, the national wholesale market hall. Divorced with a 12-year-old child, he earns the legal minimum wage. From his after-tax monthly salary of 1,770 euros (£1,540), he spends around 900 euros on rent and 50 euros on public transport each month, explaining he cannot afford to buy the 400-euro season ticket.
"Together with the minimum wage increase, it will help people with low salaries like me to better make ends meet," he believes.
But persuading car drivers to jump on board free trains and buses may be a difficult proposition, given many see the public transport system as clunky and inconvenient.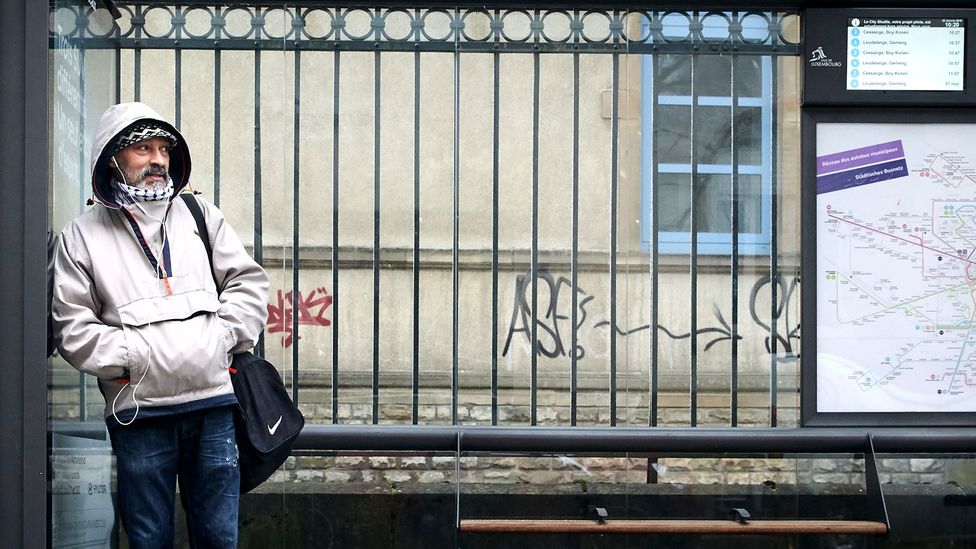 M'Barek Rabii says free transport will help low income earners (Credit: Eric Devillet)
Fatima Braga cleans homes during the day and offices in the evening for the minimum wage. During breaks between jobs, she goes home to take care of her dog.
"Free transport would help me save a lot of money in car expenses," she says. "However, as I travel back and forth from home to different places, I would spend at least 1.5 hours every day on the bus against 50 minutes by car."
For those in a higher income bracket, switching seems even more unlikely. Anne Klein teaches German at a high school in Lamadeleine, 30km south of her home in Luxembourg City. In the morning, her commute takes 30 minutes as she drives away from rush-hour traffic.
If she returns to the school in the late afternoon, as rush-hour gets going, she doubles her travel time – yet she's not tempted to change.
"It takes me one hour to go to work by train. And I need to change to another train, which brings me to school either too early or too late," she explains. Plus, she has to carry heavy bags of books. "Even if it's more expensive, car remains the most convenient transport alternative for me," she says.
The government plans to invest in transport infrastructure and its new mobility strategy, Modu 2.0, envisages a public transport network that carries 20% more people by 2025 with reduced rush-hour congestion. The plan includes rail network modernisation, better cross-border connections and new train-tram-bus exchange hubs (as well as road-related initiatives), with state investment of 2.2bn euros by 2023.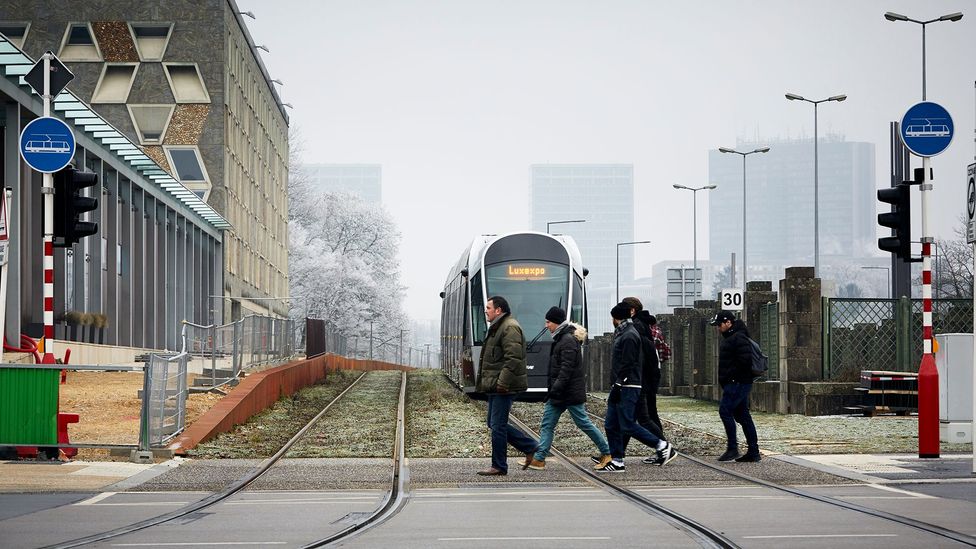 More than 60% of commuters drive to work, compared to 19% who use public transport (Credit: Eric Devillet)
Fare deal?
It sounds expensive – particularly if ticket revenues will disappear.
Yet public transport is already heavily subsidised – a two-hour ticket costs 2 euros and an all-day second-class ticket 4 euros– and many people already get it free of charge: under-20s, students under 30, people with a minimum guaranteed income, for example.
Annual revenue from fares – 41m euros – covers less than 10% of the network's 491m-euro operating costs. Bausch says while introducing free transport will not lead to savings on fare collection, the cost of implementing it is "minimal".
In parallel, the government is planning to review legislation that allows workers to deduct a lump-sum for travel expenses from their annual tax bill. The move could potentially help replenish state coffers and bring in up to 115 million euros annually, though details are not yet clear.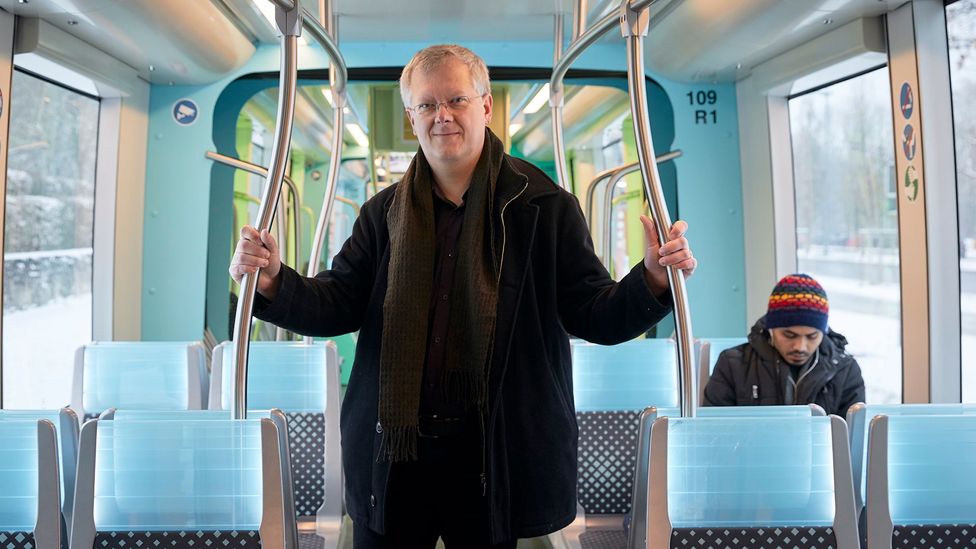 Fred Tiné drives from France to his office in Luxembourg, a trip which takes 26 minutes by car – but up to two hours by train (Credit: Eric Devillet)
 Fred Tiné, a bank worker who commutes from Mondorff in France into Luxembourg, could be one of those losing out. At the moment he deducts 2,079 euros in travel expenses from his annual tax declaration for his 45km, 26-minute daily drive to work.
If I used public transport every day, I'd save around 2,000 euros annually – Fred Tiné
"If I used public transport every day, I'd save around 2,000 euros annually," he says. "But it takes me 1.5 to two hours to cover the distance, with a bus or train departing once every hour. And if I miss the late bus at 19:35, I have no alternative but to take a taxi home. Luxembourg's transport network really needs improving."
Cross-border commuters who use the train will benefit, however. Bausch says train and bus fares will be adjusted down "after discussion with neighbouring transport networks". And for those who like to travel in style, the option of buying a ticket to go first class will remain for an annual fee of 660 euros, or 75 euros per month, Bausch says.
Gravy train
The move to free transport has attracted a great deal of international attention.  "If the country had launched a promotional campaign, it would have cost millions," comments economist Michel-Edouard Ruben. "With this announcement, Luxembourg just achieved a worldwide ad campaign for free."
But he feels the style outweighs the substance. "Free transport is a false, fashionable idea," he argues. He feels the money would be better spent on rent subsidies or social housing.
Constance Carr, a senior postdoctoral researcher at the University of Luxembourg, voices similar views, saying: "Free public transport is a complex issue and fees are not the problem." She highlights high-priced housing as the key social issue, saying rising costs are driving people out of the city to border areas. Making more land available for housing would be one potential solution, she says, but whether land owners would support that "is a big question".  
National transport unions are opposing the plan. "Making transport free might lead to an increase in vandalism," said Mylène Bianchy, president of railway union Syprolux. "People appreciate it less and vandalism increases." Unions also fear the scheme will lead to staff dismissals. But Bausch says nobody will be laid off. "Ticket inspectors and desk staff will remain on board and in the stations, and will be redirected to information and security tasks."
Will it work?
Luxembourg is not the first nation to try this: the Estonian capital Tallinn introduced free public transport in January 2013, with twin purposes of tackling congestion and helping low earners. Residents pay 2 euros for a green card that allows them to travel throughout the city, while non-residents and tourists still have to pay. The French city of Dunkirk also introduced free buses in September 2018 for its 200,000 residents.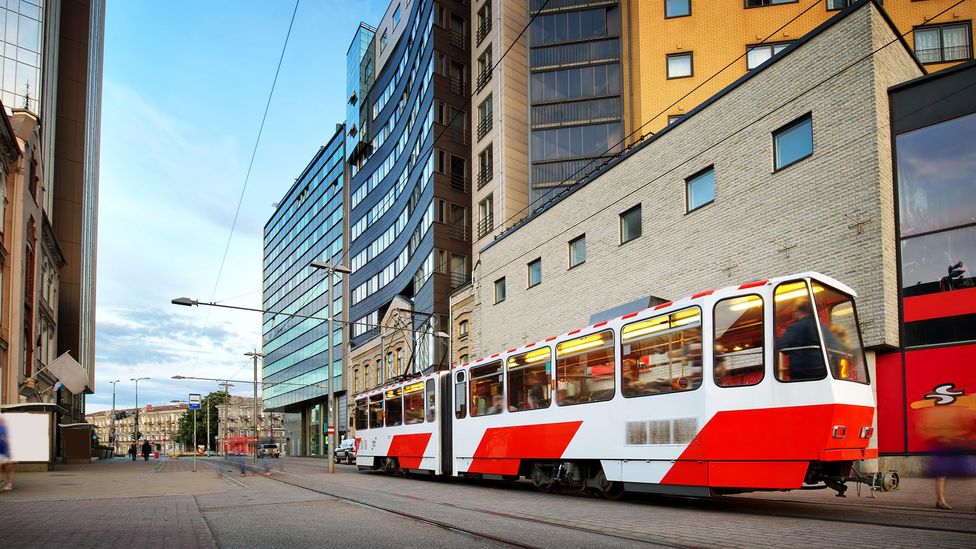 Estonia's capital Tallinn introduced free public transport six years ago, with some surprising results (Credit: Alamy)

One month on, Dunkirk mayor Patrice Vergriete said passenger numbers were up by 50% on some routes and as much as 85% on others, and that people appeared to have more appreciation for the bus service than when they paid for it.

One unexpected downside emerged in a study of the switch in Tallinn. The average trip length dropped by 10%, suggesting people were using public transport to replace trips they might otherwise have taken on foot or by bike, rather than in their cars.

Passenger numbers rose 3% in the city centre, however, and by over 10% in one high-unemployment district. A subsequent report found there was "mixed evidence" concerning whether the change improved mobility for low-income and unemployed residents. More trips were generated but there was no indication that "employment opportunities improved as a result of this policy", the report said.

For now, Luxembourg's residents appear more interested in other parts of the government's social legislation agenda, and the transport shift is not really dominating conversation.

Few seem willing to abandon their cars for a free commute. "Education is needed to overcome this addiction," Carr says. "But policies aimed at reducing car use remain unpopular and politically taboo."

Marc Auxenfants is a reporter at the Luxembourg Times.

To comment on this story or anything else you have seen on BBC Capital, please head over to our Facebook  page or message us on Twitter.

If you liked this story, sign up for the weekly bbc.com features newsletter called "If You Only Read 6 Things This Week". A handpicked selection of stories from BBC Future, Culture, Capital and Travel, delivered to your inbox every Friday.

;