Bahrain ranks high on a list of best countries for expats. What's it like for foreign professionals in the archipelago?
A
Alaa Nofal moved from his home in Jordan to Bahrain aged 25 to take a job in sales for a software provider.
Within three years, he had been promoted to sales director. Today, at the age of 37, the computer engineering graduate is general manager of global operations for 01 Systems, which serves leading banks across the Middle East and in India.
"There are good opportunities in Bahrain for people who work hard," Nofal explains. Although he could do his job from Jordan, he says Bahrain is a better place to live and work, "and people here are very professional and open-minded".
A lesser-known part of the Gulf region, the tiny nation of Bahrain – which in area is 200 times smaller than the US state of Florida – has a population of just 1.5 million people.
In recent years the kingdom's economy has suffered due to the low price of oil, its main export. There are also deep political tensions between the Sunni Muslim ruling family and the Shia majority population, which resulted in violent anti-government street protests in 2011, a subsequent clampdown on opposition groups and human rights activists, and ongoing outcry from human rights groups.
Nonetheless, a recent survey ranks Bahrain – actually an archipelago of more than 30 islands – as the second-best place in the world for expatriate careers, putting it behind Germany but ahead of other popular overseas hubs like the United Arab Emirates (UAE), Singapore and Hong Kong.
The study, released in early January by HSBC Expat, the offshore banking arm of HSBC Group, analysed the views of more than 22,000 global professionals on measures such as work-life balance, job security, career progression, employee benefits and earning prospects.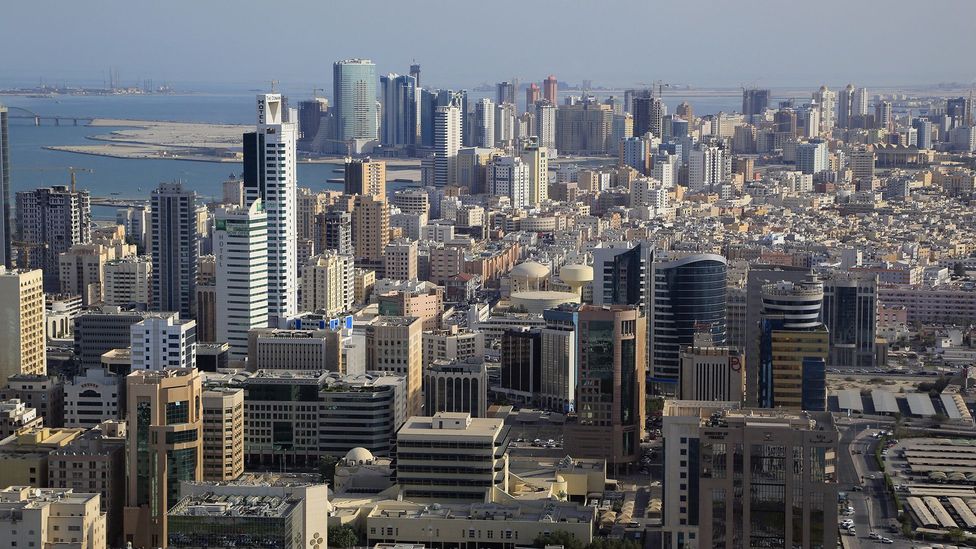 Tax-free wages and add-ons for housing, education and travel are also an incentive for skilled professionals to work in Bahrain (Credit: Getty Images)
When it came to Bahrain, nearly 60% said the work culture was better than in their home country. The kingdom also scored well for job security, personal fulfilment and career progression opportunities.
In HSBC Expat's main survey, the annual Expat Explorer, which came out in October 2018, Bahrain ranks overall as the fifth-best place for expatriates to live.
Sadaf Karim moved to Bahrain with her husband, who had a job in a bank, 13 years ago, and took a part-time teaching position. When their marriage ended, she chose to stay and raise her daughter in Bahrain.
"I stayed because I had a good job and I liked the environment. I have done well here in terms of my salary and career growth, and I am now in a co-ordinator role," says Karim, from Pakistan, who teaches English and music. "In terms of knowledge and experience, I have gained a lot from being here."
Nofal said that in his experience, people felt secure in their jobs in Bahrain and were loyal to their employers. Within his firm, he said those that left nearly always did so to go home, rather than to join another company or take up another expatriate posting.
He also felt that Bahrain was more inclusive than other Gulf countries.  'There is a good mix of nationalities," he says, adding: "But you are rewarded based on your performance, not your nationality. People here are very professional."
Tax-free wages and add-ons for housing, education and travel are also an incentive for skilled professionals to work in Bahrain. More than two-thirds of respondents cited the good earning potential and additional allowances in their salary packages as another benefit. The Bahraini Dinar is pegged to the US Dollar, which is currently strong and this means wages feel higher.
"High pay is an important factor for expats moving to Bahrain," notes John Goddard, head of HSBC Expat. But he said work-life balance and leadership development opportunities were also key contributors to its high score and 10-point jump in the career-specific rankings compared to last year.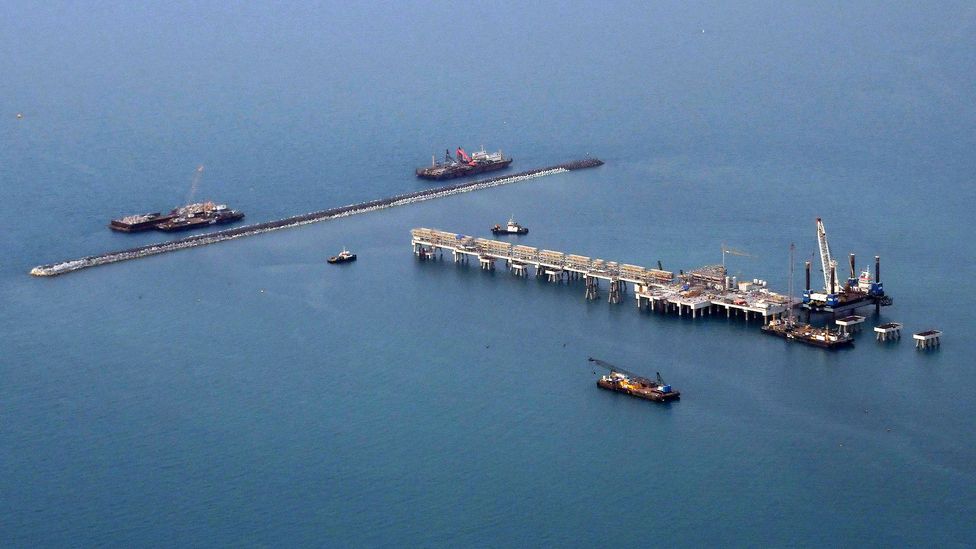 Bahrain is diversifying into other sectors to shield against falling oil prices (Credit: Getty Images)
Pierre De Vuyst, a Belgian who arrived in Bahrain in 1992 to set up operations for Japanese engineering firm Yokogawa and is now the company's CEO for Middle East and Africa, told BBC Capital: "Salaries here may not be as high as in places like Dubai, but the cost of living is much lower than I think most of the rest of the Gulf and that means money goes a lot further."
Overseas workers make up more than 50% of Bahrain's total population. As in other Gulf countries, a large portion are from South and South East Asia doing blue-collar construction and service-level jobs. They are typically employed under the controversial Kafala sponsorship system, which ties them to in-country sponsors, from whom they need consent to obtain visas, exit permits or to move to another job, and there has been criticism of their treatment.
In recent years, Bahrain has made efforts to reform this system to improve conditions and rights for workers, although there continues to be criticism of their treatment.
Salaries range enormously depending on sectors and levels. According to data collated by the Dubai-based business magazine Gulf Business, the overall average wage in 2018 was $7,867 a month. A CEO of a multinational can expect in the region of $33,000 a month, a lawyer $8,133 and an HR manager $7,438, but a receptionist may only get $1,699 and a labourer or housemaid far less.
Many people choose to live in Bahrain and work across the border in Saudi Arabia's oil-rich Eastern Province
The oil sector is big source of employment for foreign professionals. The country has only small reserves, but many people choose to live in Bahrain and work across the border in Saudi Arabia's oil-rich Eastern Province, commuting daily along the 25km King Fahd causeway.
There is also a significant US and UK military presence in Bahrain, due to its location close to the Strait of Hormuz, one of the world's busiest shipping lanes, which runs past Iran.
Banking is the country's leading non-oil sector, which has long been a leader in Islamic finance, offering Sharia-compliant investment, insurance and credit facilities.
More recently, as part of a wider push to diversify the economy away from oil, Bahrain' Economic Development Board (EDB) been promoting the country as the Silicon Valley of the Middle East with the government offering generous incentives and a supportive environment for so-called fintech and e-commerce start-ups as well as other private investment.
HSBC's Goddard said the push for economic diversification and focus on innovation was helping to create exciting new opportunities for "skilled expats" looking for "the next step up the career ladder".
In 2016 Indian entrepreneur Amjad Puliyali chose Bahrain over the United Arab Emirates (UAE), where he had worked for 10 years, to launch his mobile grocery delivery start-up GetBaqala.
The 35-year-old, from Kerala, said Bahrain was a good place for entrepreneurs to cut their teeth because it was a small market that was easier and less expensive to operate in than its regional peers, but with the added bonus of road access to customers in Saudi Arabia.
"There are a lot of opportunities for entrepreneurs in e-commerce and Fintech in Bahrain," he said, citing generous government incentives like part-payment of salaries for Bahraini nationals hired by tech firms, which had helped him stretch his seed funding further.
In Dubai, when things go up, of course, they really fly, but then they come crashing down again. Here it is more consistent and stable ­– Amjad Puliyali
"There is also amazing work-life balance here," he adds. "You can live close to your work and you don't get stuck in traffic like you do in busier places like Dubai so you can be a lot more productive with your time."
Puliyali said although Bahrain was smaller than its Gulf peers, he felt it had more stability compared to the usual expat favourites like Dubai.
"In Dubai, when things go up, of course, they really fly, but then they come crashing down again. Here it is more consistent and stable, and that makes it a good place to work."
To comment on this story or anything else you have seen on BBC Capital, please head over to our Facebook page or message us on Twitter.
If you liked this story, sign up for the weekly bbc.com features newsletter called "If You Only Read 6 Things This Week". A handpicked selection of stories from BBC Future, Culture, Capital and Travel, delivered to your inbox every Friday.