The millions of food allergy sufferers around the world spend more each trip to the grocer's – even though they don't have a choice to eat another way.
I didn't realise I'd had a stomach ache for nearly my entire life.
Perhaps that sounds insane – and maybe (probably) retrospectively it is. But when you have an autoimmune disease like Coeliac, you often do not know what it is like to live another way.
For me, before a blood test revealed a Coeliac diagnosis late last year at age 31, I had always felt a dull ache when I pressed on my gut. I never gave a second thought to how often my stomach painfully swelled with no warning. But when a bout of what I thought was the worst food poisoning I'd ever had didn't let up after two weeks, my husband pushed me to consult a doctor.  
I learned my immune system had been attacking itself every time I ate gluten.
Coeliac disease is an autoimmune reaction to the proteins found in wheat, barley and rye. That is not the same as a gluten intolerance. Diagnosed individuals sustain intestinal damage from ingesting gluten and, if not identified or managed correctly, Coeliac disease can be a precursor to cancer.
The refrain from those I tell about my new medically-necessitated gluten-free diet is always something like, "At least you have so many gluten-free options now!"
And although there is never a good time to have a food allergy, they have a point: growing awareness of food allergies has led to greater choice for once-marginalised sufferers. Shelves are stocked with lactose-free nut milks, gluten-free beers and nut-free biscuits; many markets include dedicated 'free-from' sections to peruse as you do your weekly shop.
In the UK, the 'free-from' market has ballooned more than 133% over the last five years and was estimated at £837m ($1.01bn) in 2018. The 'free-from' boom has even crept into popular culture, with treasured UK TV show The Great British Bake Off featuring gluten- and dairy-free challenges from nearly the beginning.
A 2018 UK study showed that some gluten-free foods cost on average 159% more than their conventional counterparts
Despite the increasing ubiquity of 'free-from' offerings, however, keeping to a special diet for food allergies, intolerances and autoimmune responses is not cheap. Looking specifically at gluten-free foods, a 2018 UK study showed that some items cost on average 159% more than their conventional counterparts.
My own grocery bills have shot up: a bag of pretzel sticks for which I used to pay at most $3.00 (£2.30) is now $4.50 for the gluten-free alternative; I went from spending around $2.50 for whatever fresh sandwich bread was on sale to spending $4.50 for a frozen gluten-free loaf; and the $0.99 pasta which I used to stock the larder is closer to $4.50. If I dine out, I can't choose based on price – I have to order the often sole gluten-free option, even if it's $10 more (which it often is).
There are, of course, many more costs associated with a food allergy. In 2012, researchers with the American Medical Association surveyed 1,643 caregivers of US children with food allergies – more than a quarter allergic to peanuts – and found that those parents spend an additional $4,184 per child annually.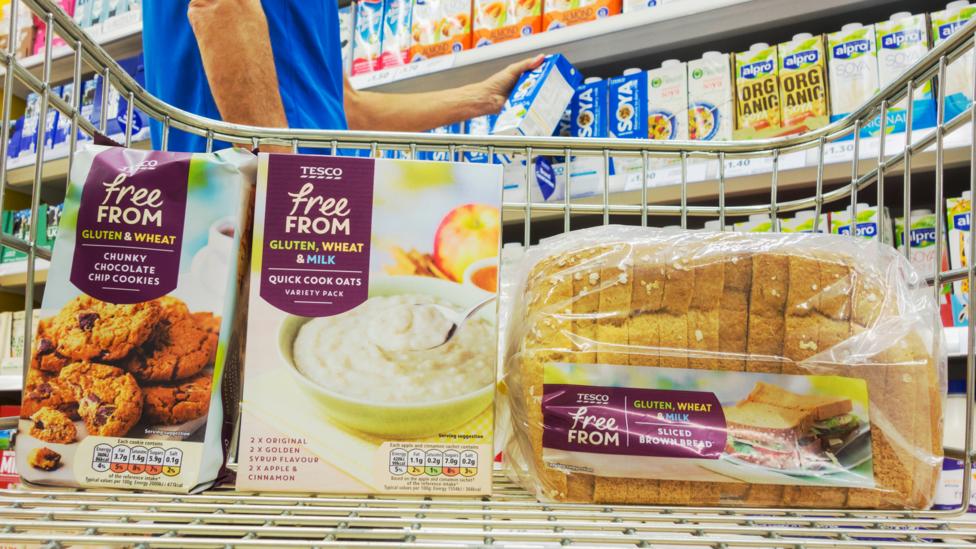 A gluten-free loaf of bread may have more than 20 ingredients in its recipe to compensate for the lack of wheat – and more ingredients often means higher cost (Credit: Alamy)
Researchers concluded that treatment for the estimated 8% of US children with food allergies totalled nearly $25bn per year. Of that number, out-of-pocket medical costs (including co-payments to doctors, hospitals and medicines like epinephrine injections), as well as childcare and special diets, totalled $5.5bn. The same year, Finnish researchers similarly estimated that the median annual cost incurred from food-allergy-specific spending on children was 3,182 euros ($3,600).
It is hard to find concrete data specifically around the money spent on special 'free-from' groceries. Still, regardless of the number, these extra costs are non-negotiable.
"Avoidance of the trigger food [or foods] is central to effective self-management," says Audrey DunnGalvin, who both directs the early years and childhood studies degree programme at Ireland's University College Cork and also teaches paediatrics and child infectious disease at I.M. Sechenov First Moscow State Medical University in Russia. "Accidental unintentional ingestion is common, causing frequent and sometimes life-threatening reactions."
One study in the US state of Illinois showed that hospitalisation for food-induced anaphylaxis, a common severe reaction to allergen exposure, shot up about 30% between 2008 and 2012 (independent of race, ethnicity and socioeconomic status). The spike appears to be due to an increasing number of food allergy diagnoses, which, according to the US Centers for Disease Control & Prevention, rose 50% in children between 1997 and 2011. (It is not fully clear why more people are developing food allergies, though theories abound.)
For many, special diets are not a matter of preference, but rather of life and death.
A recipe for higher prices
Manufacturers do not appear to gouge special-diet consumers simply because they can.
Dedicated facilities for free-from foods are often expensive to develop and maintain. "Every ingredient must be free from contamination from the field to the processing to the packaging plant," says DunnGalvin. She adds that manufacturers incur costs to implement strict allergen-free guidelines.
Even then, once free-from claims are made, facilities risk high-cost exposure in the event they must recall a product or legal exposure if consumers are sickened.
Food makers are also unlikely to be able to exploit economics of scale for free-from products. "Manufacture of foods for special diets is not necessarily as easy to sell in large quantities," says Miranda Mugford, emeritus professor of health economics at Norwich Medical School. "This keeps prices high, because high fixed costs of manufacturing can't be spread over so many sales."
Additionally, although it might seem counterintuitive, many free-from foods contain more ingredients than their regular-recipe counterparts. For example, the National Association of British and Irish Flour Millers notes that a gluten-free loaf of bread may have more than 20 ingredients in its recipe, mostly to compensate for the lack of wheat. These ingredients cost two to three times that of an equivalent conventional loaf.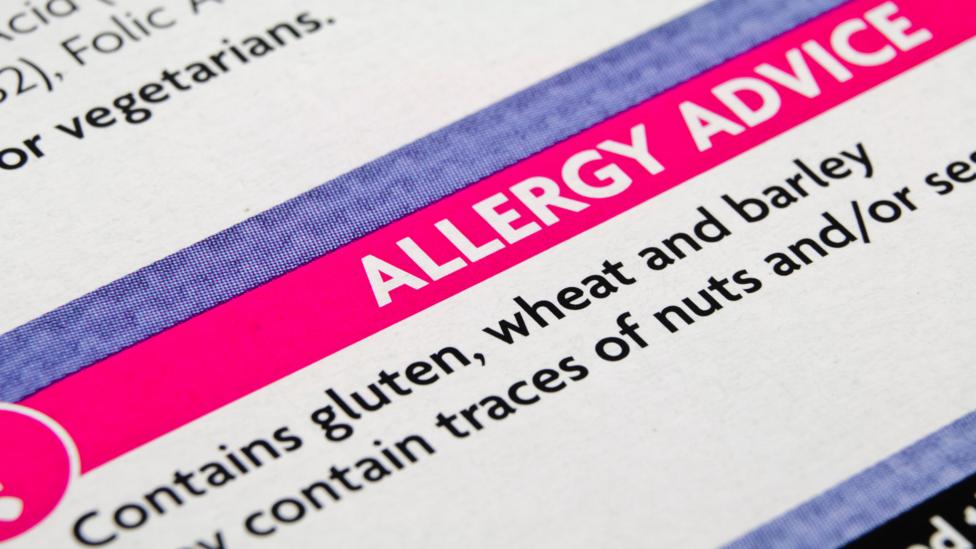 The UK 'free-from' market has ballooned more than 133% over the last five years and was estimated at £837m ($1.01bn) in 2018 (Credit: Alamy)
In some cases, new ingredients and substitutes have begun to appear in the formulation of free-from foods. "Innovations including novel flour concepts have led to gluten-free products virtually on par with their gluten-containing counterparts," writes Mintel food and drink analyst William Roberts Jr.
However, although the gluten-free loaf may improve in taste, parity does not extend to pricing.
Low availability, high impact
In the International Food Information Council Foundation's 2018 Food & Health Survey, 64% of consumers ranked price among the top two drivers of food purchasing habits.
Those with food allergies are just as price sensitive as other consumers – perhaps even more so "due to the fact that many of them are also budgeting for medications," says Robyn O'Brien, a former food industry analyst and author of The Unhealthy Truth. (Epinephrine injectors are covered by the NHS in the UK, but retail for upwards of $300 each in the US; those with severe allergies are recommended to carry two EpiPens at a time).
Costs represented barriers that were perceived as especially salient for the working poor, immigrants, youth living in poverty and food bank users – Audrey DunnGalvin
Still, food-allergic individuals rarely have the luxury of making food choices based on cost. The same study that analysed the overall cost of gluten-free food also showed that Coeliac-friendly cereals were an average of 205% more expensive, and bread and bakery products were 267% more expensive. It's not just gluten-free foods that empty your wallet: in Finland, cow's milk was shown to be the most expensive food allergy.
DunnGalvin points to research that says low-income individuals may have greater difficulty accessing allergen-free food. "Costs represented barriers that were perceived as especially salient for the working poor, immigrants, youth living in poverty and food bank users," she says.
Rural communities and those with few shopping options also feel the squeeze particularly hard. Looking specifically at gluten-free foods, UK researchers observed that 82% of Coeliac-friendly foods were "significantly more expensive online compared with regular supermarkets" and concluded that the "food desert within convenience stores and budget supermarkets will continue to disproportionately impact poor socioeconomic cohorts, the elderly and physically disabled".
A formula for progress
Manufacturers of consumer packaged goods (CPG) are well aware of the price disparities for special-diet foods versus their counterparts, says O'Brien. Despite industry limitations, she believes pricing is elastic with supply and demand, which means costs will likely come down.
"As the [free-from] sector grows and the number of people with allergies continues to grow, the sector is reaching beyond the grocery store and into restaurants," she says. She notes that large, international CPG companies, including Danone and Nestlé, are "capitalising on formulas that are free-from. Nestlé Health Science shares that their allergen formulas are some of their fastest-growing product lines."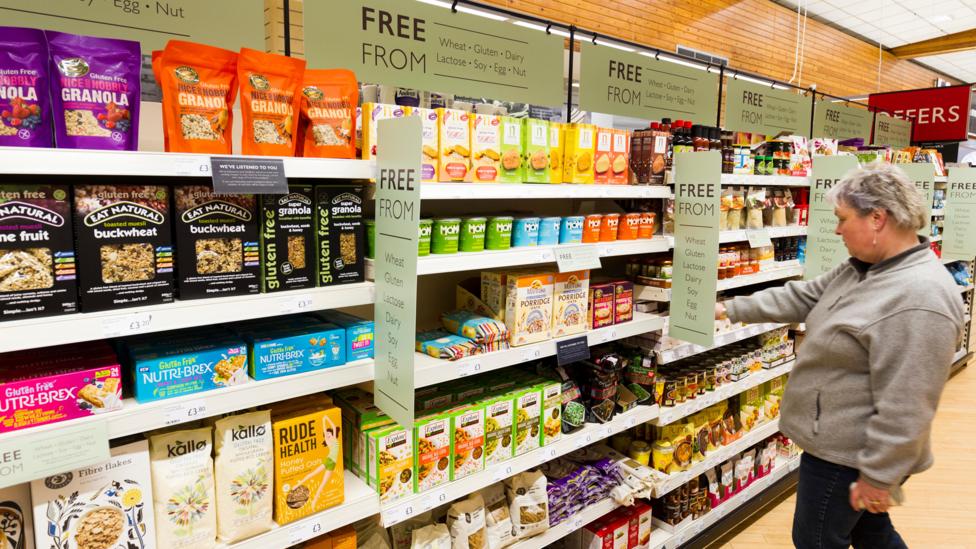 Growing awareness of food allergies has led to greater choice for those who eat 'free from', which includes entire sections in many shops (Credit: Alamy)
DunnGalvin says other factors that could drive down prices include improved production methods, more efficient allergen-testing methods and increased awareness of consumers who must (or wish to) follow a special diet. It is also important to get everyone involved – food producers, food scientists, consumer and patient groups, health professionals and regulators – on the same page. Currently, they are not, due to competing priorities among profit, health and safety, access and more.
I can't say I will ever love cauliflower-crust pizza anywhere near the way I used to love a slice from my favourite pizza restaurant in New Haven, Connecticut. But the growth of free-from foods has provided me, and millions of other food-allergy sufferers, with certain kinds of relief: better health, more options, less fear of contamination and hope for even more progress.
Still, it could be a long time until we add economic relief to the list.
--
To comment on this story or anything else you have seen on BBC Capital, please head over to our Facebook page or message us on Twitter.
If you liked this story, sign up for the weekly bbc.com features newsletter called "If You Only Read 6 Things This Week". A handpicked selection of stories from BBC Future, Culture, Capital and Travel, delivered to your inbox every Friday.