For years, Hannah Louise Poston had a habit she wanted to kick: shopping for beauty products, clothes and homeware, even if she couldn't always afford it.
"I didn't have a completely debilitating shopping addiction," she says. "[I would charge] $3,000 (£2,332) or $4,000, and then I would panic and find a way to get it back down to zero. But that meant I never had any savings."
So she cut herself off. Poston, 33, decided 2018 would be a "no-buy year". Not only did she want to save money, but she also wanted to save herself the time and energy that shopping had consumed.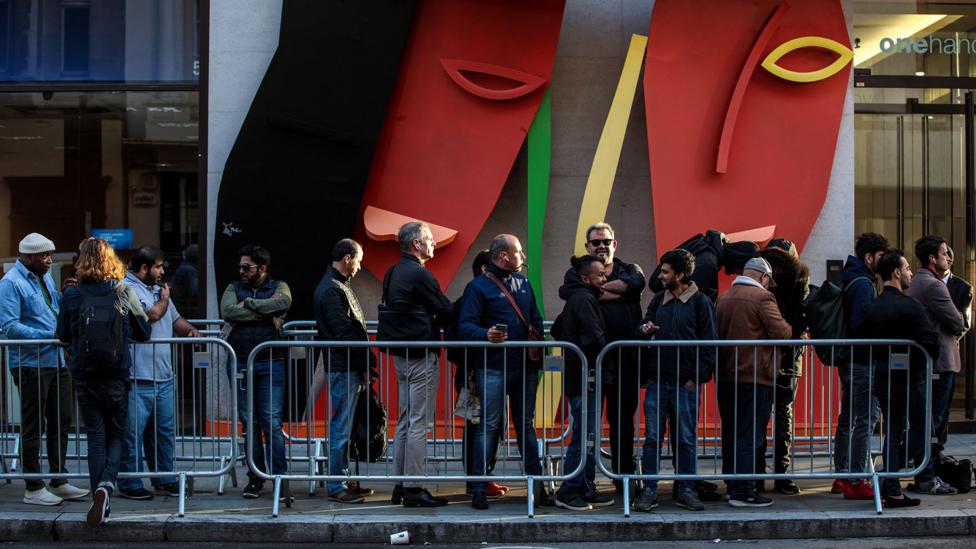 Consumerism remains a cornerstone of our culture. Here, people queue for the new iPhone in London last year (Credit: Getty Images)
For a year, she swore off new purchases of make-up, skincare products, clothing, crockery and furnishings, with the exception of replacing staple items like face wash. She even removed her credit card information from online retailers.
And she documented the experience on YouTube, where her experience resonated with viewers. She gained nearly 20,000 subscribers over the course of the year. "The overwhelming response was, 'You're speaking my truth,'" she says. "I get emails every day from women [who share the same problem]."
No-shopping commitments like Poston's aren't new. Bloggers have tried the challenge to better appreciate what they already have. Others have done so in an effort to reduce, reuse and recycle. In 2017, writer Ann Patchett wrote about her year of no shopping, sparked by the feeling she was using shopping as a distraction. Finance writer Michelle McGagh wrote a book called The No Spend Year the same year.
But now they appear to be growing in popularity and visibility. Search "no-buy year" or "no-spend challenge" on Google and platforms like YouTube and Reddit, where consumers go to share their experiences, and you'll find an abundance of results. On YouTube, the term "no-buy" is common on beauty channels, which feature things like a "no-buy month" or a "lipstick no-buy".
People are awash with products, clothing, beauty care, accessories. They're running out of space – Kitt Yarrow
San Francisco-based consumer psychologist Kit Yarrow says it's no wonder consumers are buying into no-buy. "In the past 20 or so years, we've been stuffed with cheap merchandise," she says. "People are awash with products, clothing, beauty care, accessories. They're running out of space."
Like the decluttering movement sparked by Marie Kondo, Yarrow says "the goal is the same: to feel in control of your things." She sees the no-buy year as an "antidote to gluttony".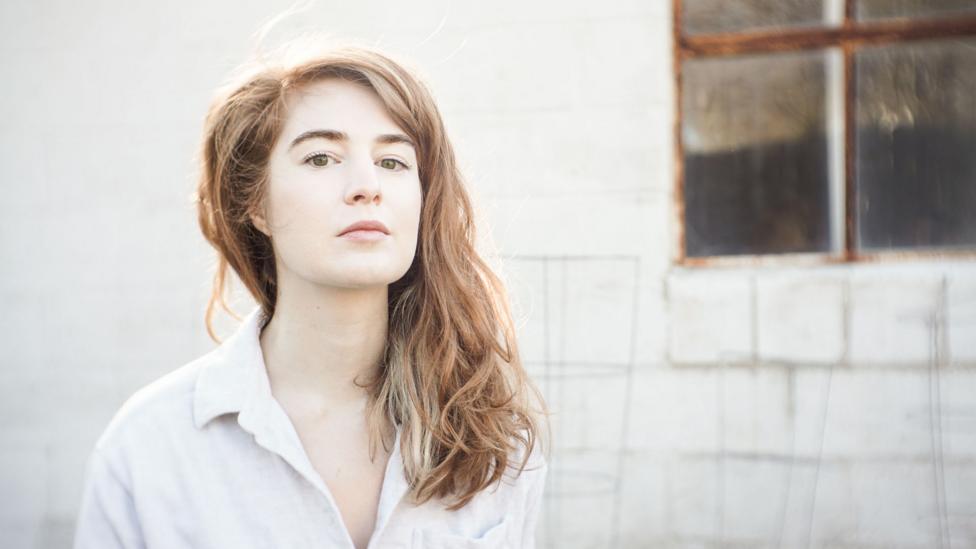 "I was using shopping as a way to distract myself from the things in my life that I didn't want to think about." says Poston (Credit: Hannah Louise Poston)
Some of those who take on the challenge want to consume less in an era of overproduction, help the environment or tidy up their homes. But others are worried that their shopping is becoming a problem.
A review of published research suggests that shopping addiction, or compulsive buying, affects around 5% of the population. Experts believe the condition, which can affect people to varying degrees of seriousness, is on the rise and that better tools are needed for diagnosis to accurately quantify the problem.
Compulsive buyers experience a high when they shop, not unlike highs experienced by users of some drugs. "We get a hit of dopamine when we shop and we have momentary feelings of good," says New York-based psychologist Jordana Jacobs, whose patients often deal with issues of self-esteem, sometimes manifesting through shopping.
For Poston, her habit got worse after the 2016 election. "I was using shopping as a way to distract myself from the things in my life that I didn't want to think about." She says she would spend afternoons at Sephora, a cosmetics chain, looking at make-up even when she didn't need or want anything.
Shopping addiction, or compulsive buying, affects around 5% of the population
Experts say the mental health benefits of doing a no-buy year are plentiful. "A lot of people use shopping as a distraction of misery, discomfort," Jacobs says. "The impulse is to buy and when we do that, what's really bothering us festers." Yarrow, meanwhile, says that while you may save money, a no-buy year is more about "saving your psychology".
Emma Norris, a 26-year-old full-time writer and blogger from Sydney, Australia, plans on trying a no-buy year for 2019. She hopes it will help her downsize and become a digital nomad, perhaps traveling to Bali and other countries with her partner.
She calls herself an "impulsive – but not compulsive – shopper, and chronic clothes hoarder" who used to shop as a way of avoiding boredom or loneliness. "I felt like I could never get on top of it, because I just kept acquiring more and more," she says.
Before her no-buy commitment, Norris decluttered her closet. That helped her come to terms with how much she owned and the fact that she didn't need any more. Barring necessary purchases, she doesn't plan to go into shops at all.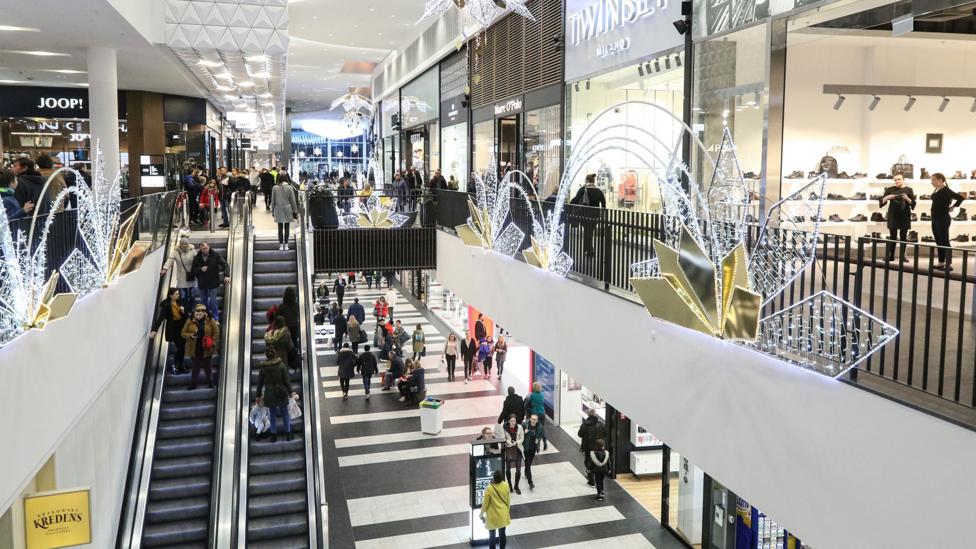 Whether online or at brick-and-mortars, shopping plays at our psychology and saps our wallets - so some are freezing their spending with a 'no-buy' year (Credit: Getty Images)
Though Norris expects her spending will drop, she's focusing more on reducing the quantity of items she owns. Instead of shopping for new clothes, she's renting them through a subscription service called GlamCorner for A$99 ($70, £54) a month.
As for Poston, she's used the time she once dedicated to shopping to her small business — a clothing line for people who dance the tango — and her YouTube channel. She also got herself out of credit card debt and began saving money.
The no-buy worked on a deeper level, too. "It completely transformed my life; not just my behaviours but my sense of self. I was using shopping as a way of avoiding my demons," she says. But it wasn't easy: "I started going to therapy, I got in lots of fights with my boyfriend. I made some lifestyle changes. When I took away buying things, I had to start down the actual path to being my best self."
Yarrow says not everyone needs to go on a spending freeze for a year, but the experience can dramatically change problematic behaviours. The key, she says, is for consumers to be honest with themselves about where they shop excessively and how they can best take back control.
--
To comment on this story or anything else you have seen on BBC Capital, please head over to our Facebook page or message us on Twitter.
If you liked this story, sign up for the weekly bbc.com features newsletter called "If You Only Read 6 Things This Week". A handpicked selection of stories from BBC Future, Culture, Capital and Travel, delivered to your inbox every Friday.