Each decade has a break-out self-help star, like today's current queen of clean. But what exactly is it that makes us embrace them?
M
Marie Kondo is an unlikely guru. The twinkle-toed expert that skips onto our TV screens, rifles through a householder's drawers and encourages them to squeeze a jumper to 'spark joy' has got the world transfixed. She motivates people to declutter and create a zen-like experience in their homes on her Netflix show Tidying Up With Marie Kondo.
But as the misty-eyed homeowners thank Kondo for helping restore some order to their lives, it's clear she has achieved more than just a bit of spring cleaning. By ridding them of their physical clutter, she appears to have given them more headspace and an ability to take on the world. The Japanese clean queen has, whether she intended to or not, become a self-help guru.
Kondo, whose TV show is based on her book The Life-Changing Magic of Tidying Up, has a simple system – throw out what you don't want, hold on to what 'sparks joy' and give yourself time to focus on what's more important in life. In an era when we are all busy washing out our jam jars amid consumerist guilt, Kondo is giving us the licence to throw things away.
Professor Carl Cederström, who trialled self-help guides for the book he co-authored titled Desperately Seeking Self-Improvement, has observed Kondo becoming part of the self-help pantheon.
"She has combined letting us throw stuff out with the very appealing idea of living a more simplistic life," he says. "She has arrived during a time when life can feel overbearing. People want a simpler, cleaner life – a detox. They want to rid themselves of all the things that are tearing them down. Kondo gives us a moral licence to throw things away without guilt."
The core of a self-help book comprises three themes – a secret method; a process based on ancient advice and the inclusion of a stunning 'origin' anecdote
The idea of this Japanese Mary Poppins being seen as a self-help guru isn't as strange as it may appear. When Cederström studied what was at the core of a self-help book, he found it comprised three themes – a secret method; a process based on ancient advice and the inclusion of a stunning 'origin' anecdote where the writer takes a hero role.
Kondo's philosophy follows these traditions. There's her self-created theory of tidying, which is based on a meditative Shinto philosophy. There's even an epiphany tale: Kondo reportedly fainted due to stress at the age of 16 and when she came round two hours later a voice told her to "look at things more carefully", and thus her KonMari tidying method was born. Each decade had its self-help hero – a guru that grasps the zeitgeist – and she is our current star.
Donald Trump and Ivana Trump pose with self-help author Norman Peale and his wife Ruth Stafford Peale at a party in 1988 (Credit: Getty Images)
In the 1950s there was American minister Norman Vincent Peale, who embraced the Power of Positive Thinking. His books had modest circulation in the 1930s, but when a religious boom came after World War Two sales increased dramatically. Other religious-based books also sat high in the charts around that time, including Pray Your Weight Away. Peale even influenced the current president: he officiated at Donald Trump's wedding to his first wife, Ivana, in 1977. Trump said in 2009 that he'd read Peale's book and was "a firm believer in the power of being positive". It's been suggested by Politico magazine that his "fact-flouting declarations of positivity" are a reflection of Peale's influence on him.
Each decade had its self-help hero – a guru that grasps the zeitgeist – and she is our current star
Then in the 1970s, when people were using all manner of approaches to explore the mind – like drugs – there was the drug-free Erhard Seminars Training. Founded by Werner Erhard, the seminars drew hundreds of thousands of people to weekend training camps in the US between 1970-1984. People learned how to shift their mindset from an attempt to survive to satisfaction with oneself.
In the late 1980s, when MTV was taking hold of our screens, so too was a lofty Californian with a tan and a blindingly white smile. Mic'd up like Britney Spears, Tony Robbins strode across the stage of his televised events and dazzled the new daytime TV generation.
His focus on finance and success in infomercial-style programmes was very appealing during a period of mass lay-offs. His star power was cemented when he appeared in the Hollywood movie Shallow Hal with Jack Black. During his recent Netflix special Robbins said: "There are lots of paths out there. I'm not the only path. I'm just the path for someone who wants to try something new."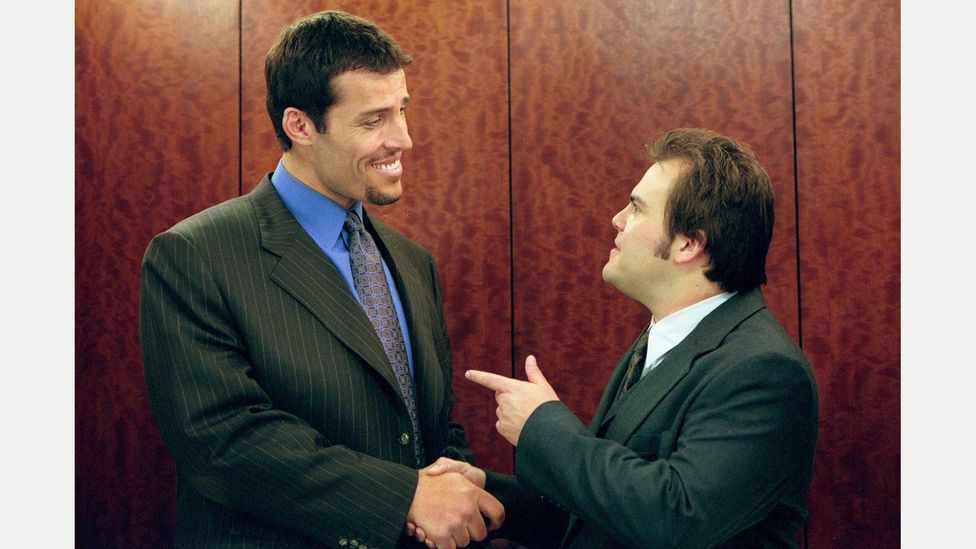 Tony Robbins made his way from infomercials to the silver screen, here with Jack Black in 2001's Shallow Hal (Credit: Alamy)
Then came the biggest TV self-help guru of all – Oprah Winfrey, in the 1990s. Yes, she gave us free stuff, but she also gave us the licence to feel good about ourselves. No one should see themselves as a victim on Winfrey's watch, not even during a recession.
"When people were feeling scared of being laid off, you would have Oprah Winfrey saying: 'If you've lost your job – congratulations! This was the best thing that could ever happen to you.' It offered another hopeful narrative that people liked to hear," says Cederström. "She also provided a narrative for people who didn't want to feel sorry about the person sat next to them. 'Okay, she lost her job, but I don't have to feel sorry about her.'"
But while the larger-than-life Robbins and Winfrey took over our TVs and are still going strong, it was stories of real people that captured the world's imagination and appeared on the New York Times' best-seller list from 1994 to 1998.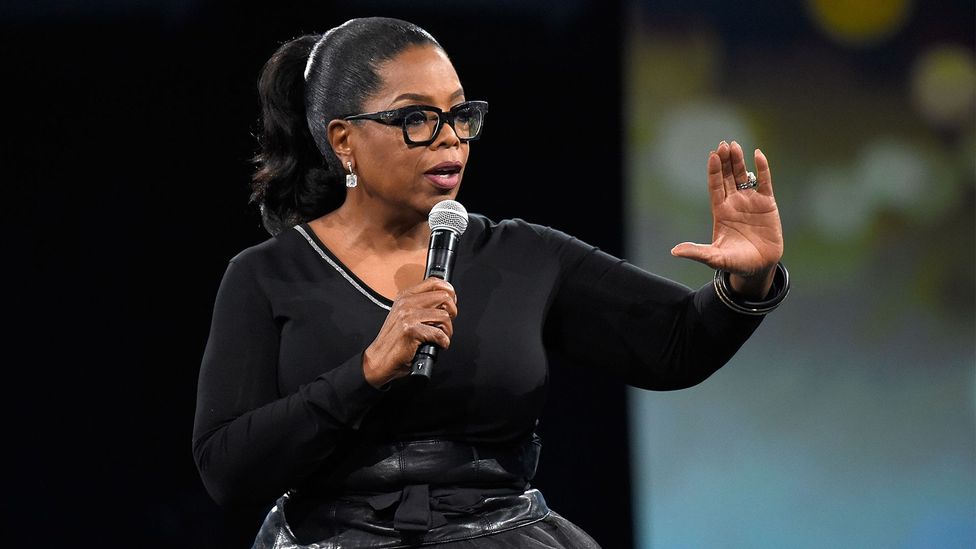 Oprah Winfrey offered a hopeful narrative that people liked to hear, Cederström says (Credit: Getty Images)
The Chicken Soup for the Soul series launched in 1993 by motivational speakers Jack Canfield and Mark Victor Hansen featured 101 stories from regular people and the life lessons they had learnt. Now owned by husband-and-wife team William Rouhana and Amy Newmark, the self-help series has turned into TV programmes, podcasts and even dog food. It still releases 10 books each year, with titles such as The Best Advice I Ever Heard, The Empowered Woman and Military Families. "It's like a portable support group. But instead of 10 people sharing their stories to help each other, it's 101 people," says Newmark.
In 2006, more than a decade after the first Chicken Soup launched, a new title started capturing readers' attention: The Secret. Ahead of the Great Recession in 2008, we were all still feeling positive and the book by Melbourne TV executive Rhonda Byrne struck a chord. The core of Byrne's book – which sold 30 million copies – was the laws of attraction, namely what you willed for came to you.
When the Great Recession took hold, people started to forget about material success and focus on their wellbeing
When people started talking about the need for the top 1% to be taxed more heavily, Byrne said they had power and wealth because they understood the laws of attraction. Her philosophy was shot down by critics for having no scientific foundation and because she held firm to her beliefs even regarding natural disasters such as tsunamis. Now, 13 years on, it looks as if 'The Secret' will start conversations again as it's about to be released as a movie this year starring Katie Holmes.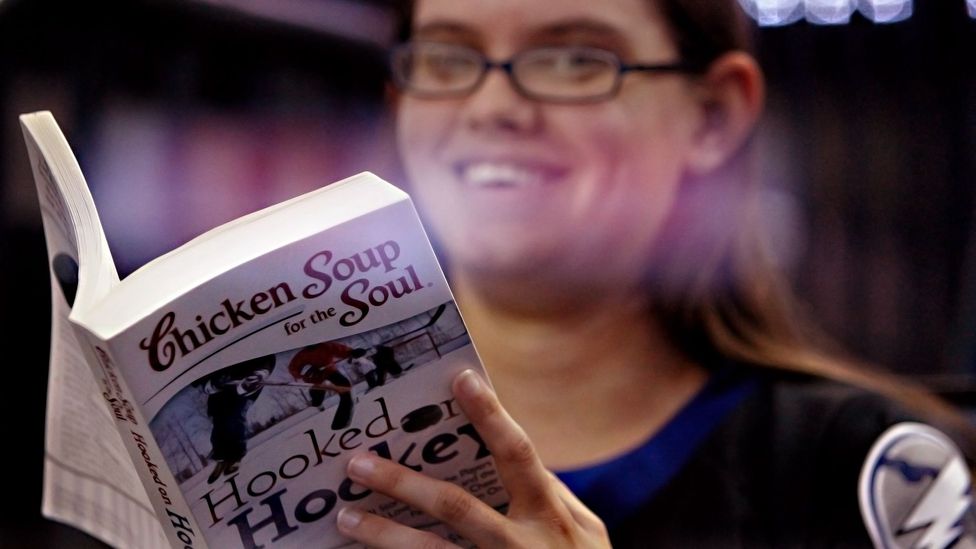 A single book of stories spawned dozens of spin-offs and a business empire (Credit: Alamy)
When the Great Recession took hold, sociologist Daniel Nehring – who has studied the self-help industry – noted how people started to forget about material success and focus on their wellbeing. He says this general inward turn also laid the groundwork for the mindfulness movement and Marie Kondo.
What Kondo's work does very well is convey that simple and practical changes to one's everyday life can have a big impact – Daniel Nehring
"When the big social problems seem so very intractable, the moral grammar provided by self-help entrepreneurs Marie Kondo and Rhonda Byrne becomes very attractive and very plausible. This is how they come to be widespread," says Nehring.
"In this social and political environment where things seem kind of stuck, people may think that very little is going to improve on a large scale. But what Kondo's work does very well is convey that simple and practical changes to one's everyday life can have a big impact." 
So while the political landscape may seem too much to tackle on a weekday morning, we can get ahead in life by stacking our T-shirts in an orderly fashion, throwing out dog-eared books and trying to master how to fold those fitted sheets.
To comment on this story or anything else you have seen on BBC Capital, please head over to our Facebook  page or message us on Twitter.
If you liked this story, sign up for the weekly bbc.com features newsletter called "If You Only Read 6 Things This Week". A handpicked selection of stories from BBC Future, Culture, Capital and Travel, delivered to your inbox every Friday.