A special follow-up day to Valentine's sees men gifting women. But what might a dip in its popularity tell us about modern Japan?
F
For many in the West, the red-and-pink heart-filled celebrations of Valentine's Day are already a month old.
But in Japan, shops and consumers have been gearing up for more commercialised romance, round two: a follow-up holiday called White Day.
It's only been around for about 40 years, but it's turned into a big-spending event and has even filtered into other East Asian countries like China and South Korea. Celebrated every 14 March – one month after Valentine's – it works as a mirror image to the holiday it precedes.
On Valentine's Day in Japan, women give chocolates to the men in their lives. A month later, on White Day, all the men who received presents must return the favour.
But these heavily marketed gender-specific holidays might be seeing a decline in popularity, amid broader changes in Japanese society.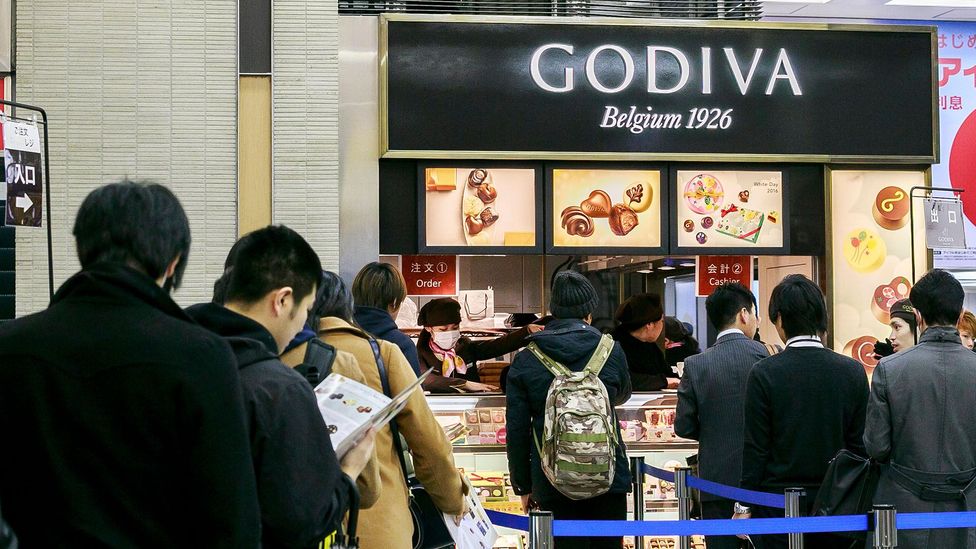 Men queueing outside a Godiva shop in Tokyo in 2016 to purchase White Day gifts for the women who gave them chocolates on Valentine's Day (Credit: Alamy Stock Photo)
Forced fun
Every 14 February in Japan, women give men "giri choco" – "giri" means "obligation", "choco" means "chocolate".
A month later, on White Day, men give their female gift-givers something white, like marshmallows, white cake or sweets, handkerchiefs or stationery, and sometimes more expensive fare like pearl-studded jewellery.
Ishimura Manseido, a sweet-making company in Japan's southern Fukuoka prefecture, claims to have invented the holiday around 40 years ago. In a country where giving gifts and showing thanks for those received are deeply entrenched, Ishimura capitalised on the popularity of Valentine's Day, encouraging men to thank women with chocolate-filled marshmallow sweets.
What started as something for lovers has extended to include a bevy of recipients: colleagues, bosses, family members, friends. It can get pricey, fast
But with the two holidays, what started as something for lovers has extended to include a bevy of recipients: colleagues, bosses, family members, friends. It can get pricey, fast.
"In the late '80s or '90s in the bubble economy, I experienced getting a Hermes scarf from a friend's father who had his own business, and this person was giving out the scarf to everyone," says Sawako Hidaka, executive director at the global not-for-profit Asia Society's Tokyo-based Japan Center.
"Now, this does not happen anymore, so my guess would be anything from 500 yen to 2,000 yen ($4.50-$18, £3.40-£14) would be average. But mind you, you are not giving it to just one person, so it does add up."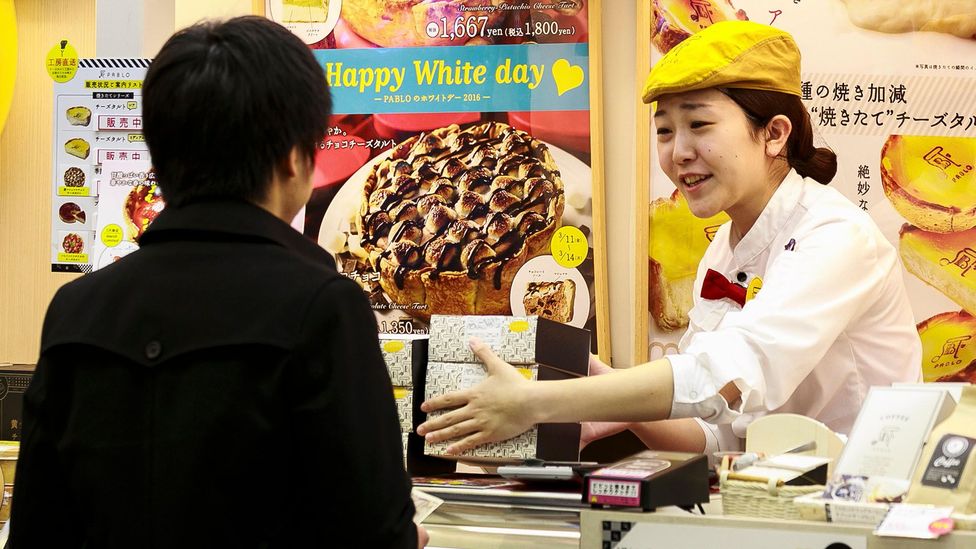 A clerk assisting a man with a White Day purchase. Spending for both Valentine's Day in February and White Day in March in Japan were down last year (Credit: Alamy Stock Photo)
Gifts given, gifts received
Of course, arbitrary, made-up holidays exist all over the world. So-called "Hallmark holidays" in the US, for example, include "Sweetest Day", essentially a much less popular Valentine's Day in October on which people are encouraged to buy gifts or go out to dinner.
And while White Day exists for corporations to squeeze more money out of people, it's surprisingly connected to core values of Japanese society.
As White Day approaches, Hidaka says, "each retail outlet will try to force-sell their merchandise as 'okaeshi', which is deeply rooted in the culture".
Okaeshi means gifts given as thanks for receiving gifts
Okaeshi means gifts given as thanks for receiving gifts. Presenting tokens of appreciation and love is a symbol of affection and respect the world over, but the practice takes particular importance in Japan, a country that highly values group harmony and smooth-running social and professional relationships.
Generally speaking, "Japanese gift-giving is a time-honoured tradition or long-standing cultural practice in that if you receive a gift, you are obliged to reciprocate. It's not based on romance per se", says Setsu Shigematsu, associate professor of media and cultural studies at the University of California, Riverside.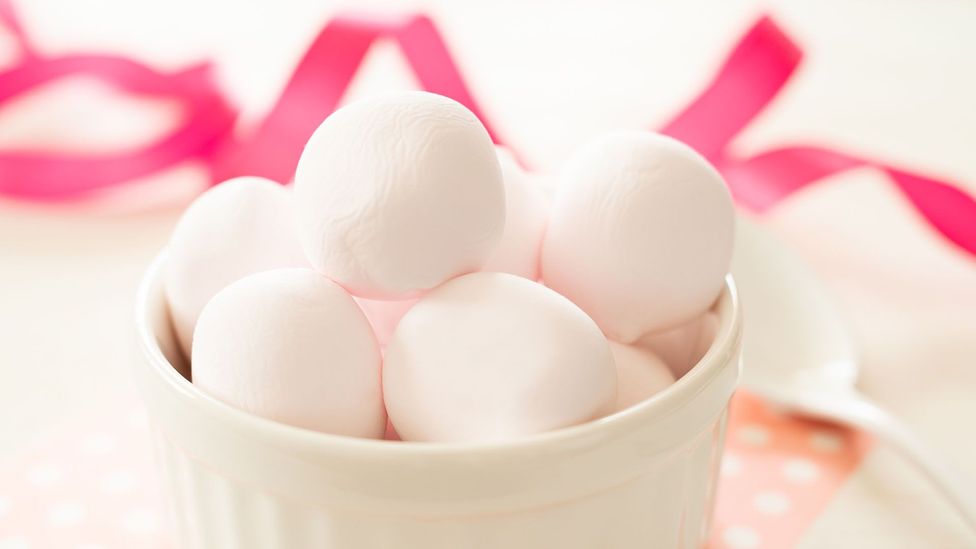 White Day started in Japan around 40 years ago and focused mostly on men gifting women in their lives with marshmallows and other white-coloured sweets (Credit: Getty Images)
"Obviously, the misunderstandings that can occur here through such exchanges are readily apparent. People may be tired of the hassle that can come from this particular exchange of gifts, since it blurs the lines between romance and obligation."
The near-mandatory nature of Japanese Valentine's Day has led to gift-giving burnout in recent years. Could it take White Day down with it?
Decline in popularity?
According to the Japan Anniversary Association, an organisation that registers and studies the nation's events and holidays, White Day spending last year fell about 10% from 2017, from 59bn yen (around $530m, £404m) to 53bn yen ($475m). It's expected to fall to 49 billion yen this year.
There's a simple reason for the decline, the association says: Valentine's Day spending in Japan is down, too. If there aren't as many women giving out chocolates, there will be fewer men spending cash to thank them a month later.
The same organisation estimates that Valentine's Day spending in Japan dropped 3% last year. Still, that's over $1bn, and not small business.
"For us, the biggest impact event in business is Christmas – in Japan, a lot of people eat Christmas cake – followed by Valentine's Day. White Day should be the third most important," says Mayumi Nagase, a product manager for Puratos, a Tokyo-based chocolate and pastry company. "We sell a lot of chocolate and other ingredients to patisseries for making fresh cakes."
But as the BBC reported last month, as robust as Japan's chocolate sector is, the blowback against Valentine's (and subsequently White Day) is apparent. Chocolatier Godiva took out an advert in 2018 that read: "Valentine's Day is supposed to be a day when you tell someone your pure feelings. It's not a day on which you're supposed to do something extra for the sake of smooth relations at work."
Might we be able to infer something about modern Japanese culture from all this?
Gender roles and societal expectations
Some people in Japan are sick of the burden and strange power dynamics at play with Valentine's Day, especially in a context like the office. That includes men, too.
Mou Soejima is a chef and food coordinator based in Japan. He says he doesn't see any extra business or clients on White Day, as it's less about going out to eat, and more about giving and receiving okaeshi.
White Day is incomprehensible – have you ever seen marshmallows more expensive than chocolate? – Mou Soejima
"Return gifts that are more expensive than chocolate [received from women on Valentine's Day] are expected, so it is a troublesome day for males as they have to decide what to give back," he says. "White Day is incomprehensible – have you ever seen marshmallows more expensive than chocolate?"
"Clearly those holidays assign specific gender roles and sexual orientation," says Tomomi Yamaguchi, professor of sociology and anthropology at the University of Montana. "Heterosexuality is obviously the premise of the promotion of those holidays."
She points out that there are plenty of same-sex partners giving gifts on these holidays, or people giving gifts to platonic friends or even treats to themselves. But Japan's twist on Valentine's Day was, originally, entirely about women giving gifts to men.
"In those days, it was not common that women declare their love to men, but Valentine's Day was the day of being allowed to do so," says Mayumi Nagase.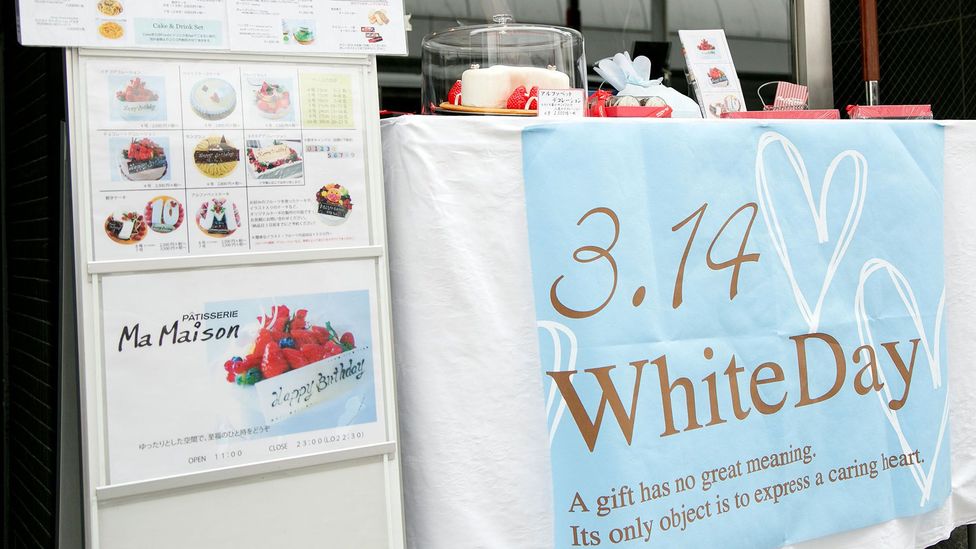 A White Day display in Tokyo in 2015 (Credit: Alamy Stock Photo)
Hidaka says that it was designed to give women the chance to show their feelings. "In a macho, male-dominated era, I guess that made sense," she says. Like White Day, the origin story behind Japanese Valentine's Day is a bit fuzzy, but around 1970, department stores started encouraging girls to buy chocolates for boys, so they could show their interest without using words.
Shigematsu thinks that people having less discretionary income has more to do with the holidays' decline. After all, some estimates say that the average disposable income for a Japanese worker is the lowest it's been in 30 years.
"Gender roles and gender identity are shifting in Japanese society, as elsewhere. The invented tradition of females giving gifts on Valentine's Day, followed by a month later by males reciprocating them on White Day, is just not holding in terms of sales figures, given the other economic and social shifts happening."
Yamaguchi, meanwhile, thinks that the exotic, Western allure of Valentine's Day is running dry for modern Japanese at this point, being replaced by more recent imported celebrations like Halloween.
Puratos's Nagase says that both Valentine's and White Day are becoming more casual and less rigidly defined by romance: "Chocolate lovers, not only women but men, spend a lot of money to buy premium chocolates for themselves."
So can White Day survive if Japan's Valentine's Day continues its identity crisis? Perhaps both could be rebranded for younger generations – a holiday where you treat yourself, rather than getting trapped in an expensive cycle of gift-giving.
"With the gift-giving-back culture, it does add up," Hidaka says. "People have started to rethink."
--
Bryan Lufkin is BBC Capital's features writer. Follow him on Twitter @bryan_lufkin.
To comment on this story or anything else you have seen on BBC Capital, please head over to our Facebook  page or message us on Twitter.
If you liked this story, sign up for the weekly bbc.com features newsletter called "If You Only Read 6 Things This Week". A handpicked selection of stories from BBC Future, Culture, Capital and Travel, delivered to your inbox every Friday.