Amsterdam's Red Light District, long a centre for sexual liberation, may soon face some big changes that are sparking debate about sex work elsewhere.
T
This story is from Should prostitution be a normal profession?, an episode of Business Daily on the BBC World Service. It was presented by Ed Butler and produced by Laurence Knight. To listen to more episodes of Business Daily, please click here. Adapted by Bryan Lufkin.
Amsterdam's Red Light District – with its winding alleyways filled with crimson-glowing windows where women attract passing customers – has become not only a tourist destination and cultural icon, but also a high-profile example of a place where safe, legal sex work has been practised for decades.
But that might soon end. Dutch parliament is currently preparing to debate the legality of prostitution in the Netherlands. With the industry facing opposition from both the Christian right and feminist left, sex workers in the Red Light District are under pressure to protect their right to work.
Could these debates lead to big changes in sex work around the world? And how could that affect the jobs and lives of the people in the industry?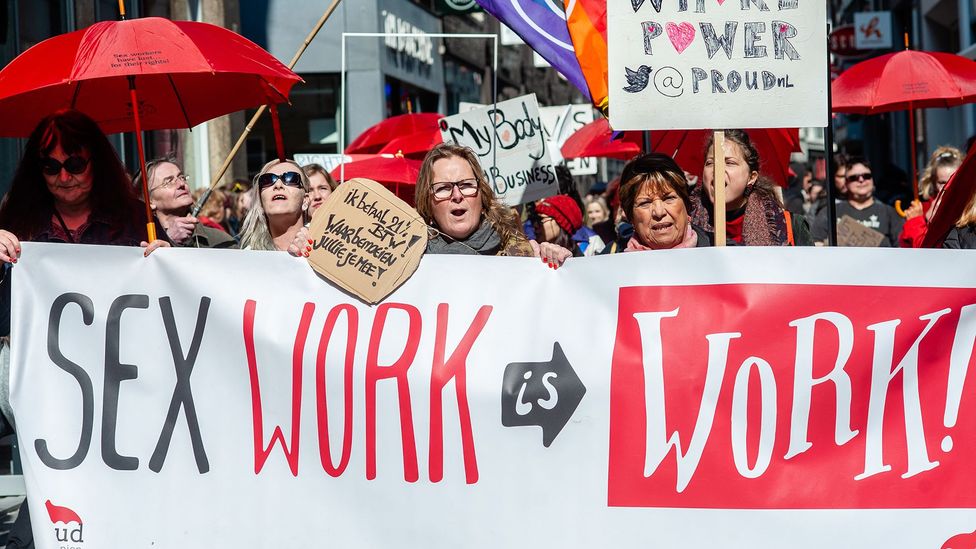 2019 protests for the "I Am Priceless" campain that aims to criminalise prostitution in the Netherlands (Credit: Getty Images)
Dutch changes
"What if it was your sister?"
That's one of the social media mottos in the youth campaign in the Netherlands that seeks to criminalise parts of sex work. The grassroots effort has gathered over 46,000 public signatures over a long seven years, finally prompting parliamentary debate, says Sara Lous. She works on the campaign, which is called "Ik ben onbetaalbaar" – or "I am priceless" in Dutch.
It aims to change the current laws so that they follow what's called the "Nordic model," in which male clients who hire prostitutes could be fined, in an aim to reduce violence against the working women. Right now, paid sex between two consenting adults in the Netherlands has been legal since 1971.
But Lous thinks that's outdated in the #MeToo era, no matter how sexually liberating or symbolic the Red Light District is: "This is not from this time anymore."
What do Red Light workers think, though? One from Romania, who goes by the pseudonym Cherry, says it's just a way to pay rent and put away cash until she can get a "normal job" and lead a "normal life." She's worked in the district for a decade.
"If the petition is going to go well, then it's going to be a good step to push me to get out of there," she told the BBC's Anna Holligan.
But another named Foxy thinks the petition could hurt prostitutes by making operations more taboo and opaque, and thus less accepted or monitored: "We'd have to go underground, so we don't have access to police that easy, or to the health services."
She goes on: "I do this on my own choice," and argues that problems like human trafficking happens in many sectors – not just sex work.
So would legal prostitution continue to give women freedom to make money the way they want – or is it actually oppressive?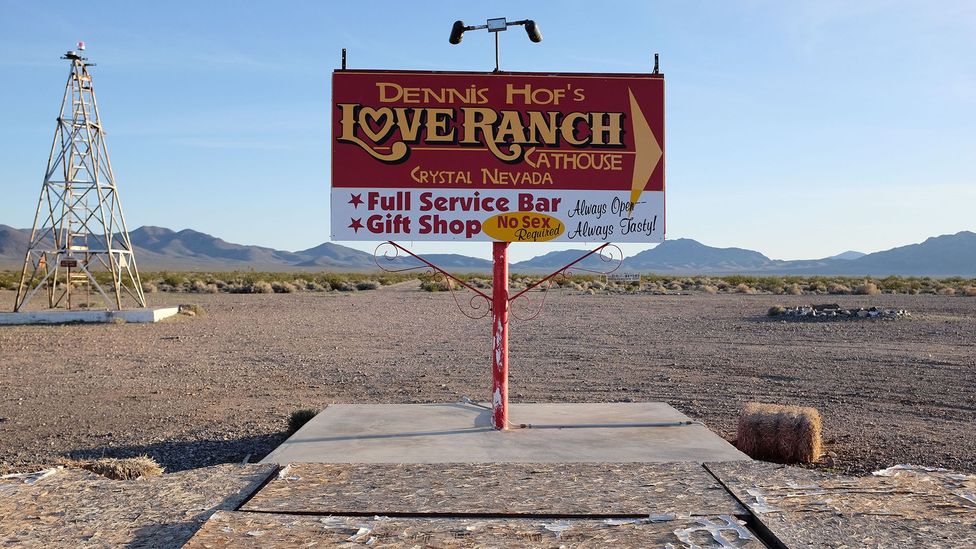 A billboard for a legal brothel in Las Vegas, Nevada (Credit: Getty Images)
Do anti-prostitution laws even work?
Prostitution laws, and how well they protect women and give them access to benefits like healthcare, vary greatly from country to country.
Experts say that in poorer countries, anti-prostitution measures are often weaponised to punish women sex workers for having control over their own bodies. Plus, these laws aren't always effective in stopping the spread of diseases, human trafficking or violence against women.
Experts say that in poorer countries, anti-prostitution measures are often weaponised to punish women sex workers for having control over their own bodies
"Anti-sex work laws are invariably forced to the detriment of sex workers' rights," says Prabha Kotiswaran, a professor of law and social justice at King's College London.
"What ends up happening is the sex workers themselves have to pay bribes to the police – either sexual bribes or financial bribes – to then escape the enforcement of the law. That simply means they have to do more sex work in order to make up the money they've paid to the state."
Campaigners who call themselves "abolitionists" seek to put any penalties on the johns – those mostly male customers who are the ones paying for the sex.
But others believe that the focus needs to be on empowering the women involved, who tend to already be parts of a vulnerable sector population. The best way to do that, some think? Make prostitution completely and 100% legal.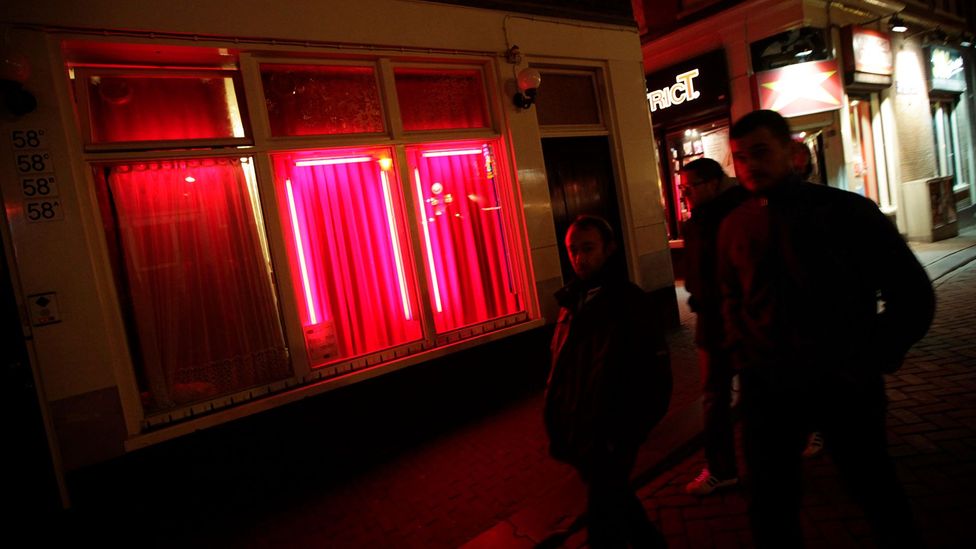 Amsterdam's famed Red Light District - a cultural icon for the city and symbol of sexual liberation for some (Credit: Getty Images)
Benefits of making it legal
"It is fine and dandy to go pay for sex," says Christina Parreira.
"And I think it's so silly that feminists want to take away one of the few industries where women make more than men."
Parreira is an occasional sex worker from the US state of Nevada who also holds a PhD, and she researches the sex industry. She's an opponent of making prostitution illegal, and says she's made a good living from sex work.
"I have made enough where now, I can finish my PhD, and barely have to work," she says. "I mean, what a luxury. Abolition would put hundreds of thousands out of work."
"What's great about the brothel is that, since it's legal, you're there and you're protected," says Parreira. She's talking about brothels in Nevada, where prostitution is legal in some places.
"If a client were to get out of hand, there's panic buttons."
But Julie Bindel, a journalist and campaigner against prostitution, argues more prostitutes are killed by pimps or johns in countries where it's legal. She says she's never needed a "panic button" working in journalism.
Bindel favours the "Nordic model" talked about in the Dutch debates – a model that's spread outside the Nordic region, and aims to decriminalise sex work itself, but can criminalise the johns. Bindel thinks that sex work still isn't safe enough for women, and therefore can't be grouped together with any other government regulated career path and spoken about in the same way. She says that problem will exist as long as sex workers are looked at as consumables, and points to "mega brothels" in Germany as an example.
"There are advertisements for men during their lunchtime to have as many women as they can and have a burger and a beer with it," she says. "It's become part of consumer culture. They're like the meat in the burger."
Bindel believes prostitution is rooted in gender inequality. That's why she favours a model in which a sex worker could pick up a phone and call the police, even if the man hasn't done anything wrong or violent – but because he could be planning to do so, she argues.
But Parreira says she's never experienced anything like that, or any man breaking the rules in a brothel, like refusing to wear a condom. She also points to data from Amnesty International and the medical journal The Lancet, which both support full decriminalisation. Between 2003 and 2008, there was a 30% decline in the US state of Rhode Island in violent assault against female sex workers after sex work was made legal, for example.
"There was no increase in the number of sex workers. This myth that more women will enter the trade – as if that's necessarily a bad thing – was not true," Parreira says. They could also negotiate safer sex practices and improved brothel conditions, she argues. They were empowered; even able to sue for rights violations.
As for the Nordic model? "It operates on the false premise that women cannot consent to commercial sex – that they never enjoy it. That fundamentally, the men are predators – but that is not the reality among most sex workers."
She says the Nordic model is "based on this false radical feminist narrative that we are 'renting the inside of our bodies' – the way abolitionists talk is so much more degrading and sexually fetishising than any client I've encountered." Abolitionists, meanwhile, argue that criminalising aspects of sex work – putting the onus on the client – keeps women safer and empowers them more in this particular workplace.
It's a debate that only seems to be ramping up, as Dutch parliament prepares to deliberate. Parreira says abolitionists need to actually talk to more sex workers themselves, but Bindel says Parreira's experience isn't everyone's.
But the discussion prompts needed scrutiny on the topic, and it also prompts reflection on why we call prostitution the world's oldest profession.
"As long as there are men, there will be demand for sex," Parriera says. "And that's OK for the consenting adult women that choose to do this."
--
To comment on this story or anything else you have seen on BBC Capital, please head over to our Facebook  page or message us on Twitter.
If you liked this story, sign up for the weekly bbc.com features newsletter called "If You Only Read 6 Things This Week". A handpicked selection of stories from BBC Future, Culture, Capital and Travel, delivered to your inbox every Friday.