Patriarchal workplaces have long demanded females look and dress a certain way. But despite how far we've come, "the reality is that people will judge" women's appearance.
T
This story is from an episode of Woman's Hour presented by Tina Daheley and produced by Dianne McGregor. To listen to more episodes of Woman's Hour from BBC Radio 4, please click here. Adapted by Sarah Keating.
A school teacher in Devon, England, Lindsey Bauer loves fashion. Whether it's a bright tropical dress or a sequined shrug, she believes what she wears to work, matters. A lot.
She describes how a student, who was quite often in trouble, once stopped her in the corridor while she was wearing emerald green, glittery shoes.
"Miss, I really love your shoes, where did you get them from?" she asked.
"We just started talking and… every time we passed each other afterwards, I'd always have a chat with her and she'd say, 'Miss, I'm doing such and such and I'm doing really well in English now'."
Bauer says standing in front of a class full of 15- and 16-year-olds is an intimidating experience. "You have to build a professional relationship with all of them," she says, "and one of the quickest ways to make those bonds… is by what you wear."
"As a woman, don't let yourself become invisible," she says. "Do be bold. Do wear colour… just wear something that pushes the boundaries a tiny bit and be emboldened.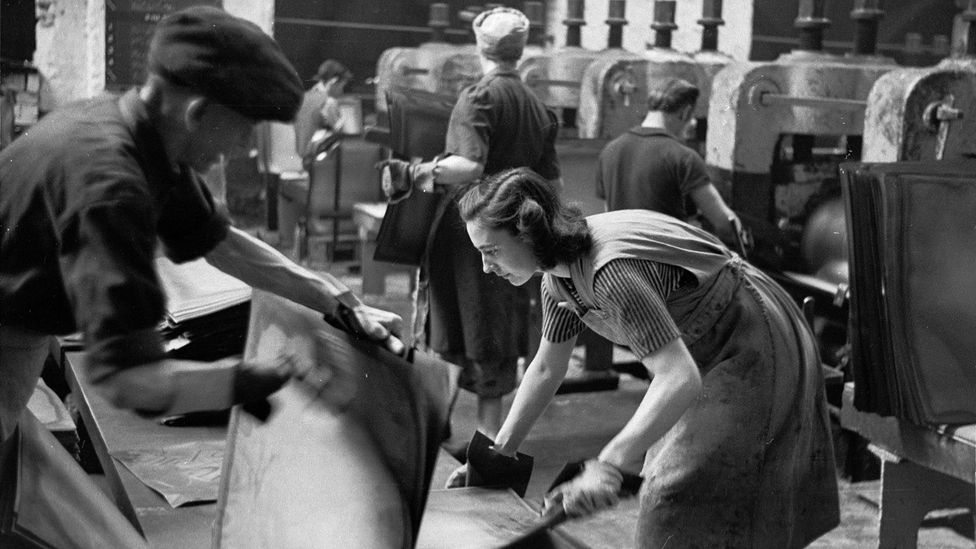 Even in Welsh factories in the 1950s, some women wore colourful blouses under their work aprons (Credit: Getty Images)
Lindsey Bauer's sense of style is certainly a far cry from teachers of old. But as Helen McCarthy, lecturer in early modern history at Cambridge University points out, the evolution of women's workwear is extensive.
Since later in the first decade of the 1900s – around the time that women started to be allowed to keep their own earnings, at least in the UK – the amount of control that women has had over their clothes depended largely on what type of job she had.
In domestic service, the largest source of employment at the time, women had very little control over what they wore. It was driven by whatever the boss prescribed for the role. Factory workers, however, had a little more scope to express themselves, McCarthy explains.
Underneath their apron or overalls, they might have worn a patterned blouse or colourful stockings, or they might have styled their hair in a particular way.
"What's interesting is that a lot of work women are doing [during this period] is very low paid," she says. "It's pretty routine, it's pretty repetitive. But women find ways to express their personality, to assert themselves, even though their position in the labour force is a subordinate one."
A lot of work women are doing [during this period] is very low paid. It's pretty routine, it's pretty repetitive. But women find ways to express their personality, to assert themselves, even though their position in the labour force is a subordinate one
For example, women making munitions (military weapons, ammunition and equipment) during the First World War had very strict rules about what they could wear. "But you still found them wearing a colourful bandana on their head or lacing their boots with colourful ribbons," she says. "So any opportunity they could to assert their personality and sort of push back against the homogenising tendencies of capitalist industry, they would seize it."
Following WW1, women's fashion, in general, relaxed from around the 1920s: waistlines dropped and hemlines rose, but many women's jobs at that time required a uniform; e.g., nurses, waitresses. And although that simplified the choice of workwear, in one respect, it also came with a heavy symbolic burden.
"Women in uniform carries a high psychic charge in British social history," says McCarthy. "Uniform is associated with the military, and therefore, there was a lot of anxiety around putting women in uniform during the two World Wars." It was seen to be important to preserve gender divisions and femininity amidst the social upheaval of war.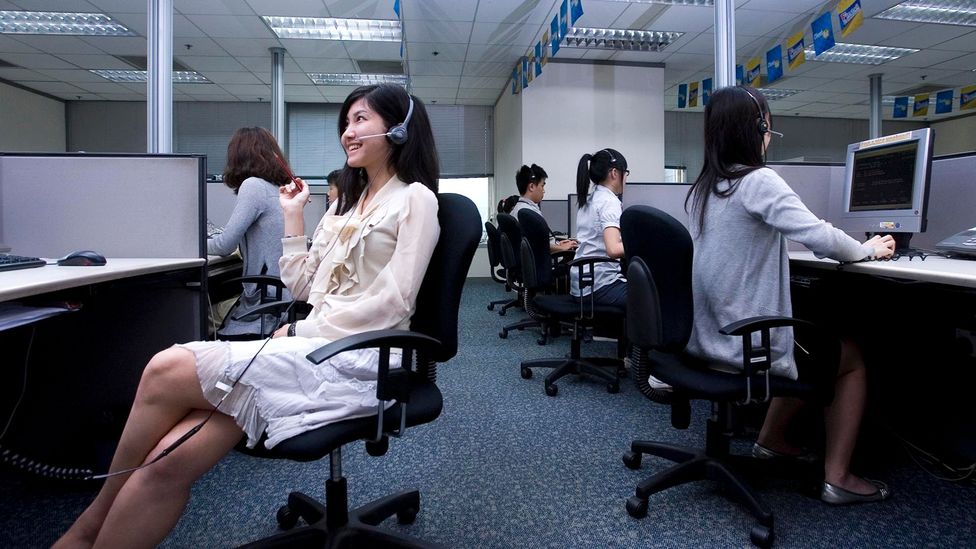 Some argue that women still face unfair judgment in the workforce because of their clothing, but others argue it allows greater freedom of expression (Credit: Getty Images)
Of course, not having an explicit uniform code doesn't negate the fact that there are unofficial rules that have governed what women feel they have to wear. During the 1960s, at a time when professional women started to want to get back into the workplace after raising children, women's organisations raised the issue of the time and money these women would need to spend on their appearance. The prospect of investing in a work wardrobe as well as regular beauty salon trips became a real consideration in calculating whether it was actually worth their while to get back into the workplace.
Fast forward to today, and while a commitment to manicures and blowdrys doesn't feature in the vast majority of women's ability to work, author and comedian Viv Groskop points out that the conscious effort of caring about what you look like highlights the contradictions and limits of feminism.
On the one hand, most women have the freedom to choose to wear whatever they want at work, Groskop says. "[However], these things don't quite add up because we clash with reality – and the reality is that people will judge you [for what you are wearing]."
Uma Creswell, businesswoman and vice president of City Women Network, is a veteran of the corporate world, having worked in the banking sector since the mid-90s. Working on a trading floor staffed with wall-to-wall men, she says you needed to dress a certain way to have credibility.
"It was very formal," she says. "A very command-and-control culture. Trousers were frowned upon… it was always suits for men and women, there were no dress-down days – it was just unheard of… I wouldn't have fitted in if I didn't conform and I wouldn't have been taken seriously."
With the introduction of flexible working and the dressed-down world of start-ups, the working world is a lot more casual now she says, but the banking sector is still pretty formal. "Women are still expected to dress in a certain way, and I think that says a lot about the fact that we have come some way, but there's still a certain standard in certain roles."
And first impressions, she says, still matter a great deal.
"I've hired hundreds of people in my city career and I have to admit there's been unconscious biases there. I have looked at people and – within the first three seconds thought, 'Have you actually thought about what you're wearing? Because you're trying to get a job'."
  I have looked at people and – within the first three seconds thought, 'Have you actually thought about what you're wearing? Because you're trying to get a job'
Brand and image consultant Isabel Spearman agrees that people make quick judgements based on what you are wearing but thinks women should take advantage of it. "I think if you learn to love clothes that you feel good in, you can use it as an armour," she says.
"Emulate someone in the workplace, someone who you admire, whose style you admire, whose job you want, and dress up," says Spearman. "You are projecting a personal brand, and you are projecting an image and you are showing that you really want that job."
If you learn to love clothes that you feel good in, you can use it as an armour
Magdalene Abraha, an editorial manager at a publishing company,
entered the working world straight after university at the age of 21 and admits she initially felt pressure to conform.
"It was understood how women should dress. Smart, flat shoes – sometimes heels, skirts, dresses, none of which I particularly enjoy."
After two weeks, she decided that the implicit dress code wasn't for her and began to dress for comfort – which to her, meant trainers and tracksuits.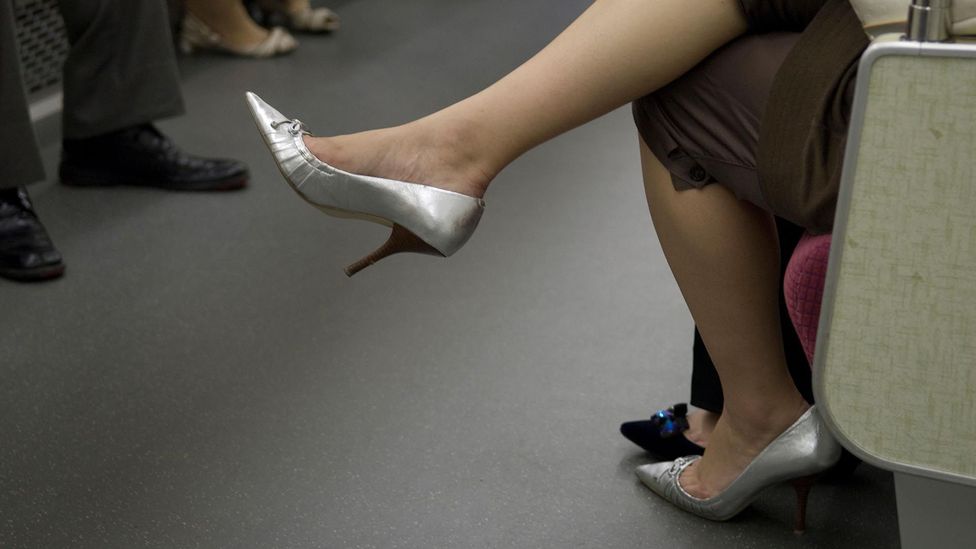 High heels, seen here on a Tokyo train, have long been a staple for Japanese women in the office, but a recent social media campaign is pushing back (Credit: Alamy Stock Photo)
Once she began to switch it up, the passive aggressive comments from her (male) colleagues started. "I remember once someone told me I looked like I was in pyjamas just before we began quite an important meeting, so that was quite disarming."
Now, at 25 years old, she has come to the conclusion that "if I'm uncomfortable in my clothes, my work suffers, so it just doesn't make much sense for me to not be. I don't know whether it's generational but I just don't think it's worth compromising."
Abraha says that she uses her unique style as a "power tool". "It makes me stand out more so I'll be more memorable if I do perform well."
If you don't work in an office, you might feel like you have a bit more flexibility to wear what you want. However, that's often easier said than done.
It makes me stand out more so I'll be more memorable if I do perform well
Writer and comedian Viv Groskop says she can wear what she wants at any time but she sometimes wishes someone would tell her what to wear, because "100% freedom is also somewhat of a prison."
In her book How to Own the Room: Women and the Art of Brilliant Speaking, Groskop examines the expression of power and persuasion through communication. But when it comes to the impression you make through what you wear, it becomes about non-verbal communication. Essentially, the sound is turned down. "There's a real clash between feminism and the expression of femininity," says Groskop.
Helen McCarthy says the world of academia takes a slightly different approach when it comes to fashion and its importance. "You get some cred for looking a bit scruffy because academics are supposed to be leading the life of mind," she says. "If you spend too much time grooming or look a bit slick that can actually look a bit suspicious."
"There is a term I've heard in academia called the 'glamourdemic' – a glamorous academic," she says. "There is this tension around whether it's impressive and empowering and makes you stand out, or whether it does question your credibility."
Not everyone sees what they wear to work as being so nuanced and symbolic, says McCarthy. "I think we have to remember that a great number of women are working in jobs where it's not a site for personal expression or to assert their personality," she says. "Actually, they're working often part-time, low-paid menial jobs often involving a lot of physical labour and what they're wearing is the least of their problems."
However, there's no doubt that, as frivolous as it can be perceived to be, the politics of fashion and freedom have raged in many feminist battles.
"You could argue that the time that we spend thinking about our appearance and spending our money on buying clothes is time and money that could be spent fighting the patriarchy," points out McCarthy. "But on the other hand, if we're fighting the patriarchy, dress can be our battle armour."
--
To comment on this story or anything else you have seen on BBC Capital, please head over to our Facebook page or message us on Twitter.
If you liked this story, sign up for the weekly bbc.com features newsletter called "If You Only Read 6 Things This Week". A handpicked selection of stories from BBC Future, Culture, Capital and Travel, delivered to your inbox every Friday.