Gourmet, speciality coffees have swept the world in the past several years. But what makes this particular coffee strain so valuable - valuable enough to fetch $75 a cup?
W
When bidding begins in a few weeks for Panama's award-winning coffees, all eyes will be on how high prices will go.
That's because last year's auction set a record: $803 (£640) per pound (454g) for the top-rated beans: a strain called Elida Geisha, harvested from a family plantation nestled inside a volcanic forest reserve in the west of the Central American nation. Only 100lbs (45kg) of the coffee were sold at the auction, to a collective of Chinese, Japanese and Taiwanese buyers – and one US one, Los Angeles-based Klatch Coffee.
Klatch secured 10lbs of the lot, turning it into its recent eye-catching promotion for "the world's most expensive coffee" at $75 a cup.
"When we think of the finest wines or brandy, there are so many similar pleasurable beverages and we don't flinch," says Darrin Daniel, executive director of the Alliance of Coffee Excellence, a not-for-profit based in Portland, in the US state of Oregon, that supports small farms producing speciality coffee around the globe. High-quality coffee deserves that treatment too, he says.
After all, a lot went into producing that particular cup of joe.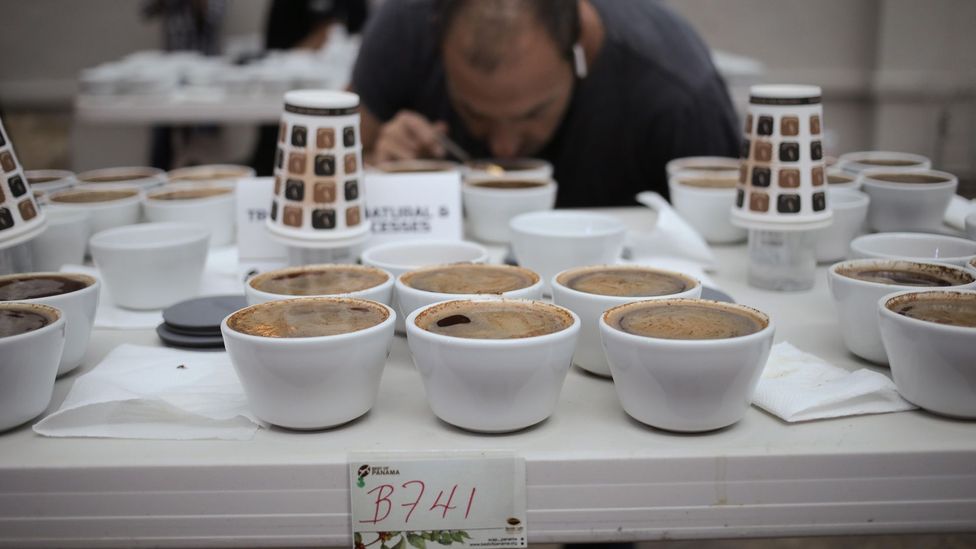 A juror examines coffee entrants at "The Best of Panama" competition (Credit: Alamy Stock Photo)
The price of commodity coffee is currently at a low of less than $1 per pound, pushed down by oversupply. Large-scale farms in countries like Brazil – which supplies 29% of the European Union's imported coffee – make it challenging and unsustainable for small family farms to compete.
It was during a similarly difficult slump in the late 1990s that competitions and auctions for speciality coffee began to take off. The purpose, says Daniel, was to recognise small farmers and create a platform for them to connect to coffee buyers in the US, Europe, Australia and Asia.
Today there are dozens upon dozens of coffee competitions and auctions. The Cup of Excellence, organised by the Alliance of Coffee Excellence, is nicknamed the "Olympics of Coffee" and draws farmers from 11 countries. The Best of Panama, the competition that crowned the Elida Geisha, also draws an international audience. The top scoring coffees from the competitions sell at much more than $1 per pound – not necessarily $803, but sometimes at $100 to $300 per pound.
When we think of the finest wines or brandy, there are so many similar pleasurable beverages and we don't flinch - Darrin Daniel
"That's rewarding for the farmers and rewarding for the consumers," says Ric Reinhardt, executive director emeritus of the Specialty Coffee Association of America (SCAA). "Farmers make a better living and consumers enjoy a better product."    
The Elida Geisha comes from a small farm in Boquete, Panama that has been run by four generations of the Lamastus family. Elida was the name of the matriarch who managed the farm and raised the family on her own after losing her husband at a young age.
Coffee beans are collected at the Lamastus Family Estate farm in Panama (Credit: Alamy Stock Photo)
Though the family have grown coffee for more than 100 years, the Elida Geisha is fairly new. For a long time, the family farm struggled and lost money, said Wilford Lamastus Jr, a fourth generation coffee producer for the Lamastus Family Estates. Besides coffee, the farm also grew onions, berries and melons to make ends meet. "Any person with the right mind would say: 'We are losing money. We have to quit,'" Lamastus recalls.
But the family decided to double down on coffee. His father helped establish the Specialty Coffee Association of Panama, joining other coffee farmers in the region and organising the Best of Panama competition. In 2004, the group reached a turning point: another family farm, Hacienda La Esmeralda, had come across a rare coffee variety called the Geisha. A stand-out at the competition that year, it fetched $21 per pound, then a record. Soon, other farmers including the Lamastus family sought to grow the variety too.
It was the best cup I had ever enjoyed in my life - Michael Perry
Also known as Gesha, the coffee strain originated in the 1930s from the Gesha region in Ethiopia (and has no connection whatsoever to a geisha in Japan). The seeds eventually made their way to a research centre in Costa Rica around the 1960s and then to Panama. The farmers found that the variety was hardy and could survive certain diseases, but produced little coffee, and that coffee was not tasty.
For years, it was overlooked. Then the Peterson family from Hacienda La Esmeralda discovered the variety by chance during a survey of their farm. Planting it at higher altitudes, they found it produced a unique, pronounced flavour.
Coffee bean samples are displayed at the international "The Best of Panama" competition (Credit: Alamy Stock Photo)
"You might spend your whole life occasionally encountering one or two [floral and/or fruit] notes together in a really great coffee," Reinhard says. But with the Geisha variety "you encounter a whole symphony of these notes".
The Lamastus family purchased and planted the first seeds in 2006. It took eight years – much longer than most coffee varieties – before they could harvest it. And the trees were hard to grow. Lamastus estimates that 20% died during the transfer from the nursery, while others perished from being too exposed to the elements at such high elevations.
But Lamastus says they are also blessed with prime planting ground, with rich volcanic soil, a unique microclimate from high altitudes, and a central location between the Caribbean and the Pacific Ocean. Picking and processing the beans requires significant attention to detail so that the coffee's flavours can be enhanced. About 20% of the farm's 65 hectares is now dedicated to the Geisha variety, something they are working to increase.   
In 2018, the Lamastus family's Elida Geisha won in its category. This year, the family won twice, for both the Elida Geisha Natural and the Elida Geisha Washed. The online auction for the coffees – 100lbs of each – will be in mid-July.
Michael Perry, Klatch's roastmaster and buyer, was one of the judges at last year's Best of Panama competition, part of an international jury who blind-tasted the coffees and scored them on a scale of 100. Perry awarded the Elida Geisha Natural a score of 97.
"It was the best cup I had ever enjoyed in my life," says Perry, though he did leave a little room in case something even better came along in the future.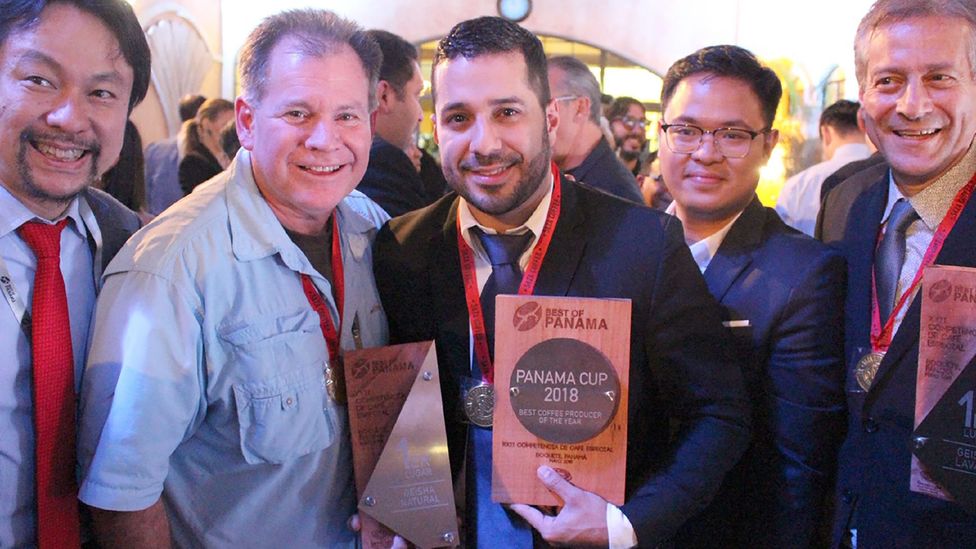 The Elida Geisha coffee bean set a record at an auction last year: $803 (£640) per pound (454g) (Credit: Klatch Coffee)
Perry later teamed up with a collective of buyers such as Black Gold of Taiwan to bid on the coffees. Because of the time difference, the online auction ran late into the night, but he went to sleep knowing that they had successfully purchased the award-winning lot.
With the cost of shipping and preparing the coffee, Perry estimates that the final cost was closer to $1,000 per pound, with each pound producing about 80 or so cups of coffee. Klatch turned it into an experience: in private events, customers not only pay to sip a cup of the rare and elusive coffee, but they also learn about its origins.
"Even the people who are paying for the coffee don't know exactly why they're paying so much for it," says Heather Perry, vice-president at Klatch and SCAA president. "So it helps to add context."
Daniel Walsh is one of the Klatch customers who paid to taste a cup of the prize-winning brew. A beverage industry worker and self-described coffee snob, Walsh packs his own grinder, pour over and coffee beans when he travels so that he can prepare his cup each morning.
"Clearly you're not going to pay $75 a cup every day," Walsh says. "But you buy fine bottles of wine or whiskies, and you pay tons of money for watches or shoes you only wear once. I love coffee and I wanted to be able to say, 'I tasted it'."
Walsh did taste it, drinking his black and savouring the coffee's unusual combination of fruit and floral flavors. It confirmed his purchasing decision. "You just don't get that in everyday coffee," he says.