Half of Kazakhstan is under 29, which means young people are the future more than ever. But can they make their voices heard in a country where old-world values still rule?
K
Kazakh entrepreneur Zaure Rozmat still remembers the first time she hired a baby boomer. It was also her last. "In her eyes, everyone [in our office] was basically still kids," Rozmat says. "When you hire an older person, they treat you as a young person: like you don't know anything."
Rozmat, 28, is hardly the only person to feel discounted in Kazakhstan due to her age – it's a common feeling among Kazakh youth. Despite owning a successful media company in Almaty, Rozmat often feels that some people – whether employees, clients or potential investors – refuse to take her seriously because she is a millennial.
This adversity is one of the reasons why she launched her business in 2016. The Steppe is a magazine about – and run by – Kazakhstan's young, creative class: educated urbanites rebuilding a country no longer forced to fit into its old post-Soviet mould. In a media landscape dominated almost entirely by traditional broadsheets and sensationalist tabloids, The Steppe was the first mainstream outlet to provide a place for Kazakhstan's youth to make their voices heard.
There's this tension and distance between generations. They'll look at younger people and think, 'What can they teach us?'– Zaure Rozmat
"At the beginning, we were the only media outlet covering young businesses and young people's issues," says Rozmat. "Some people were keen to question what we as young people could really achieve. Now, people are copying those ideas."
With its glossy, aspirational feel and how-to guides, The Steppe is a platform that guides millennials on ways to carve out their own paths and celebrates those who have already made their mark. Rozmat wants these positive, youth-driven stories to start breaking down Kazakhstan's traditional deference to older generations – something she believes is holding back young entrepreneurs.
"In our culture, we do respect our elders," she says. "But [that means that] most of the time, they'll consider no opinion except [their own].  There's this tension and distance between generations. They'll look at younger people and think, 'What can they teach us?' [But] our stories have attracted attention from older people. It's got their respect."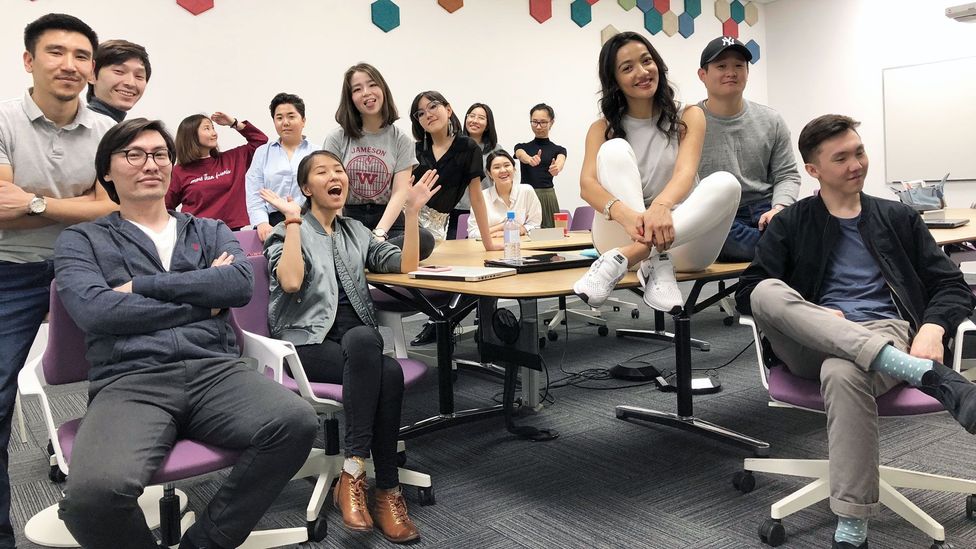 The staff at The Steppe, a millennial publication in Kazakhstan, are among the young Kazakhs breaking down traditional deference to older generations (Credit: Zaure Rozmat)
'If they don't get to choose, they lose out'
As in many former Soviet countries, Kazakhstan's generations have grown up in very different environments. While baby boomers were born and raised under the socialist system, generation X came of age in the turbulent, post-Soviet collapse of the 1990s. Millennials and gen Z, meanwhile, have only known Kazakhstan as an independent state that has seen rapid financial growth powered by ample oil reserves.
Now, with 51% of Kazakhstan's population aged under 29, millennials are a significant bloc, many railing against some of the ingrained cultural values that have endured despite fast-paced transformation. Yet when Kazakhstan elected a new parliament back in 2016, just seven members were under 40. More than one fifth, meanwhile, were older than 60, pushing the average age of Kazakh MPs up to 55.
The focus on family values means that older voices generally ring loudest. Kazakhstan's young people often feel compelled to follow their family's plans for them, even if the last time their parents tackled the education or job market, it was in a country that simply no longer exists.
With 51% of Kazakhstan's population aged under 29, many millennials are railing against some of the ingrained cultural values that have endured
"I have one friend whose father chose everything for her, even her major," says Rozmat. "After graduating, she followed his directions and went into the hotel industry. Honestly, I think it stops people from being as successful as they should be. Choosing something like university should be a way for people to do some critical thinking for themselves and their future. If they don't get to choose, they lose out on that exercise."
Ruslan Abrayev was one of the millennials who landed the kind of career his parents had always dreamed of for him: leading different projects and departments at some of the Kazakhstan's top universities.
"My parents saw stability as important," says Abrayev. Now in their 70s, both his mother and father spent most of their working lives amid the rigid, pre-determined structures of Soviet Kazakhstan, only to see the economy collapse into disarray when they should have been nearing retirement. For them and many others, opening a business of their own was never even an option. "When it comes to entrepreneurship, they have no experience of it," says Abrayev.
But the 32-year-old saw greater opportunities elsewhere. He left his job after 10 years to form Educloud, a start-up he describes as "Uber for education and career development". Ambitious young people can use the app to search and sign-up for different online and offline courses, then use a Tinder-style swipe system to get in touch with new employers.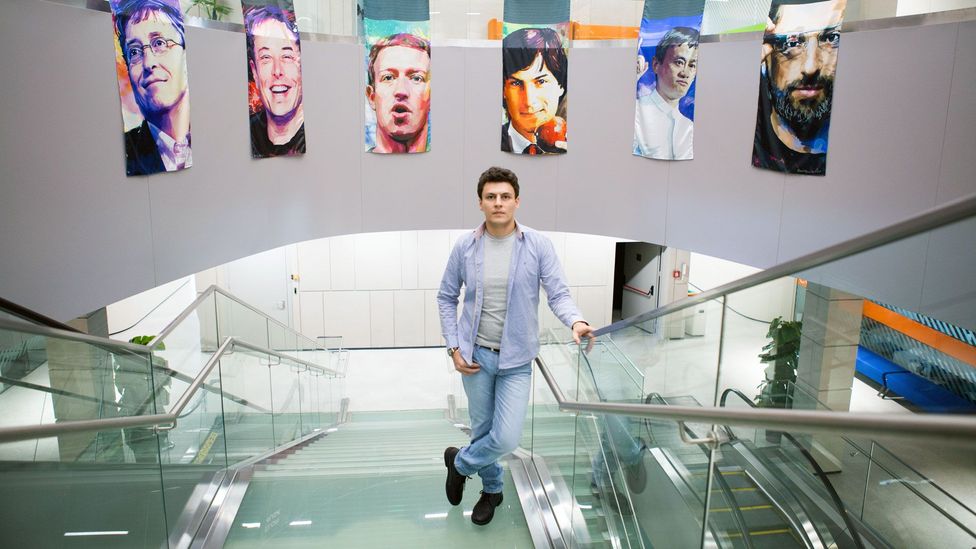 Ruslan Abrayev, 32, runs EDUCLOUD, an education startup in Kazakhstan. He abandoned a career his parents wanted for him after 10 years (Credit: Ruslan Abrayev)
Quick and efficient, the app is designed to appeal to a generation who value their own time, says Abrayev. It also tackles real problems by bypassing the tedious, Soviet-style bureaucracy which still plagues Kazakhstan's traditional schools. "[While working at the university], I saw students waste so much time trying to do basic tasks like getting their official transcripts," he says. "With this app, there's no paperwork you need to get together. Everything is finally online and in one place."
In general, Abrayev sees millennial entrepreneurship in Kazakhstan as "a must if we want to diversify Kazakhstan's economy, which depends so much on the export of natural resources" – especially companies that open up opportunities to advance other millennials. In 2018, three in 10 of Kazakhstan's young people were already working for themselves, while the number of small and medium businesses continue to grow fast, rising by an average of 12% every year between 2002 and 2013.
Many of these young businesses support and promote each other in the shadow of Kazakhstan's slow-moving, state-controlled corporations.
"People around us like to create things. We want to be independent," says Nasima Rozikova, who runs her company, Salem Sosed, in Almaty with sister Nafisa Rozikova. "Everyone we're working with, even the waste disposal guy, is a young person running his own company. He's passionate about what he does. And when you're passionate, you get a response."
Some people still aren't ready for that change – but we try to explain that as a citizen, as a person, they deserve something better. They deserve the best – Nasima Rozikova
Trading traditional Kazakh rigidity for a riskier, passion-driven future has paid off for the Rozikova sisters. They've successfully built a chain of convenience stores-cum-cafes, where health-conscious young Kazakhs choose from a pre-curated selection of fresh groceries. Instead of lining their shelves with an array of different brands – an enduring sign of wealth and wellbeing for the Kazakhs who saw the Soviet-era's empty storefronts – they select only the very best labels to offer customers. They also try hard to work with and promote other Kazakh brands, a move that's broken new ground in a country that has long been heavily dependent on imports.
This shift to a more forward-thinking mindset isn't just important to keep Kazakhstan's economy in tune with modern trends, say the sisters. It also helps create a more positive Kazakhstan where young people aren't afraid to demand more.
"Five years ago, people wouldn't have chosen to buy more expensive milk just because we know the cow it came from," says Nasima. "Some people still aren't ready for that change – but we try to explain that as a citizen, as a person, they deserve something better. They deserve the best."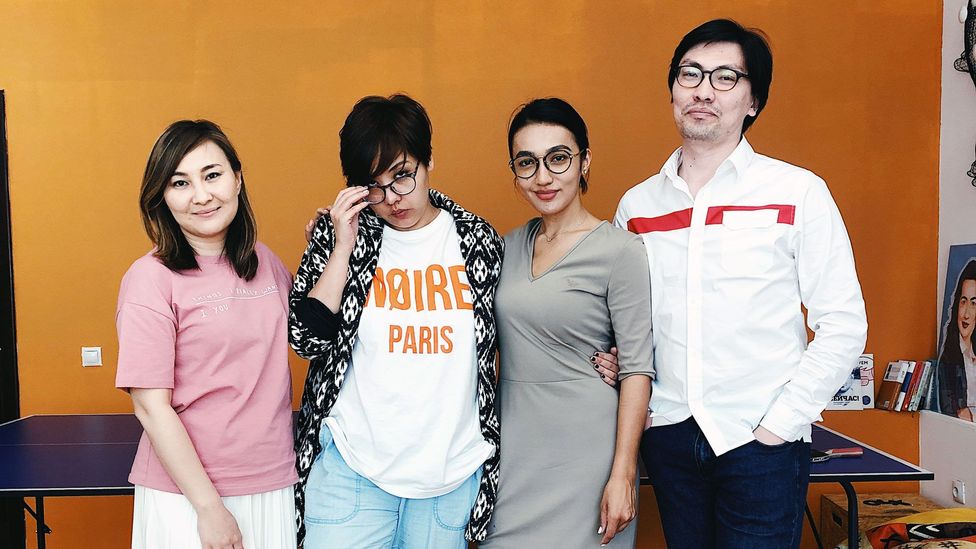 51% of Kazakhstan's population is under the age of 29. Many are breaking out of cultural expectations and creating new enterprises to change the country (Credit: Zaure Rozmat)
The guiding hand of elders
Although Kazakh millennials feel detached from the values of their elders, some members of the older generation say that young workers shouldn't be so fast to write off a guiding hand.
Aigoul Kenjebayeva, managing partner for global law firm Dentons, was one of the first lawyers in Kazakhstan to specialise in commercial law. Although millennials may feel that they are the trailblazers of modern Kazakhstan, some have paved paths before them, including 63-year-old Kenjebayeva, who helped build the country from the ground up, guiding the new, independent government as it began to shape fresh legislation.
 "When I started out, I worked 16 hours a day," says Kenjebayeva. "I just thought that was the way it should be. The government needed our help to negotiate contracts, and there weren't so many trained lawyers to do it." To cope, she hired two young graduates fresh from law school. Under her guidance, both grew and progressed: one is now her partner at the firm.
Kenjebayeva warns that it's wrong for young Kazakhs to shrug off everything from the country's socialist era as no longer relevant.
"There were a lot of bad things in the USSR," she says, "but there were good things too. We had youth organisations where we were trained to socialise and organise. I learned how to make plans, how to hold a meeting, how to vote, how to take minutes. [Now] when our clients ask for help to organise things such as a shareholder meetings, young lawyers just don't know where to start."
Some people will say that young people are useless, but most believe that the youth is our future – Zaure Rozmat
Much of the intergenerational anxiety in Kazakhstan comes not just from tensions over how to forge the future, but a tale as old as time: ultimately, elders are worried about how younger generations will navigate a changed world. Specifically, old Soviet ideals have been stripped away for good, leaving older people anxious and confused that their children have been left to a shallow, more materialistic world instead, says Rozmat.
But she isn't concerned about the future.
"[Older generations] look at us and they say we're lost," she says. "They used to believe in the Communist Party, in great ideas – but we've lost those things. Some people will say that young people are useless, but most believe that the youth is our future."