Japan's traditional mode of recruitment is on the way out. It could mean equal parts anxiety and freedom for a generation of job hunters.
E
Every year beginning in early April, thousands of soon-to-be-graduates in Japan make their way around town dressed in black business attire, carrying a briefcase containing only their CVs, hoping to land jobs at the country's most reputable companies.
This ritual is part of a year-long hiring process in their penultimate year of university: the season of 'shūshoku katsudō' (job-hunting activity). It's known as 'shūkatsu' for short, when third-year students drop classes in order to attend career seminars organised by universities. In their last year, they submit job applications and endure a structured selection process to secure a position (called 'naitei') by the time they finish their degree.
Shūkatsu is the traditional, predominant recruiting practice across Japan. It is vital not just for employers and university placement numbers, but also for the students whose social status can be elevated by the outcome of their job hunt.
This system was created in 1953 by Keidanren – Japan's leading business lobby, comprising more than 1,300 major Japanese corporations and 100 group industries. Due to labour shortages during Japan's post-war period of rapid economic growth, the hunt for college graduates heated up. The shūkatsu system offered lifetime employment to new graduates who, in turn, provided security and status for major Japanese firms.
Some Japanese millennials suggest that prioritising passion over following societal rules will lead to a more fulfilling career
But beginning next year, these rules will no longer apply. Last October, the Keidanren announced it would abolish the traditional job-hunting schedule as well as existing guidelines on how firms recruit new graduates. After six decades, the current cohort of third- and fourth-year students will be the last to experience the gruelling pressures that come with shūkatsu.
As Japan's low birth-rate has resulted in a population decline over the last decade, companies have been competing for a shrinking pool of prospective employees. Non-Keidanren members, not bound by the guidelines, have been snapping up promising students before member companies have even started recruiting.
And with foreign firms offering higher salaries and faster career progression than their Japanese counterparts, global competition for workers has forced companies to re-think. Although Keidanren's new guidelines are yet to be finalised, some Japanese millennials who have already gone against the grain suggest that prioritising passion over following societal rules can lead to a more fulfilling career.
Traditionally, Japanese university students attend presentations from company recruiters during the job-seeking season of 'shūshoku katsudō', or shūkatsu (Credit: Alamy)
'I certainly did not expect it so soon'
"I thought that there might be a change in 20 years, [but] I certainly did not expect it so soon," says 34-year-old entrepreneur Akiko Naka. In 2011, before the recruiting changes, Naka founded job-seeking platform Wantedly after working at Goldman Sachs for four years – a job she got through shūkatsu.
Rather than listing job descriptions and salaries like typical shūkatsu advertisements, Wantedly instead focuses on matching candidates and companies through shared values and interests. By advertising jobs from smaller non-Keidanren companies – many of which are based outside big cities – Wantedly has connected companies with individuals who are open to forging a path outside the confines of tradition and security of the larger corporations.
"When you're a student, it's difficult to see the wider picture. We've all fallen into the trap of following the big crowd and have missed out on discovering what else is out there," Naka adds. "With the shūkatsu system, there has been a disconnect between the degree you're studying for and finding a role relevant to it… Rather than applying to a company for its brand status, there is a need for other great companies who are lesser known to have that same opportunity."
Social media firm Gaiax is one company that has taken advantage of its position outside the Keidanren rules, adopting a flexible hiring window since 2013. Although the choice to buck traditional recruiting has kept them in the minority, their hiring process includes individuals who might take less conventional job-seeking paths.
We've all fallen into the trap of following the big crowd and have missed out on discovering what else is out there – Akiko Naka
Instead of using the traditional 'new graduate hire' label, they advertise for 'potential hires' to telegraph their desire for young people at any stage of their life. "We hire on the basis of their potential," explains recruitment manager Takumi Nagare. It doesn't matter whether you've finished education at middle school, high school or university, he says.
With 60 to 70% of their young hires quitting after a few years to start their own companies, Gaiax say they attract those who have strayed away from the idea of lifelong employment that comes with shūkatsu culture.
"We don't think that it's a negative that people want to move between jobs or start up their own businesses," says Nagare. Technology needs flexible skills so recruiting non-traditionally has suited both the company and young workers looking for a less rigid path to employment. "But if [other] candidates have goals which match the long-term vision of the company, they can work here until 60 or 70 years old."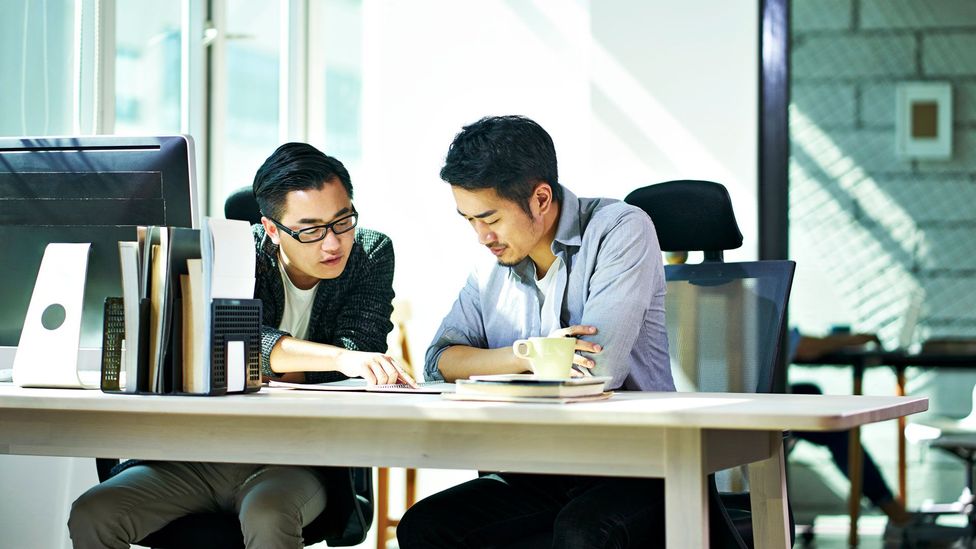 Some firms have positioned themselves outside the traditional process, attracting less-traditional job seekers who may leave to start their own companies (Credit: Alamy)

'Change has to start somewhere'

For many current students who assumed they would find jobs through shūkatsu, the announcement that it is being abolished has created confusion.

"The lack of a prescribed schedule broadens the choice of how students choose their careers, which in turn creates anxiety," says Yuji Kadono, a representative of non-profit organisation En-courage. The group sets up meetings for students undergoing shūkatsu with those who've been through it. Until now, she says, students could go with tradition – but with the new system, graduates will have to take more initiative.

"But amidst the vague sense of anxiety is a glimmer of positivity that in embracing the changes, there might be more opportunities in the future," says Kadono. For example, a flexible system would help students doing time-intensive degrees like science or physical education, she says.

Wantedly's Naka likens this period of change to the way attitudes towards getting married have transitioned over time.

"When parents set you up with a partner, you think about how you can adapt to the other person to make the marriage work. But with people choosing to marry who they want, this has given them more freedom – but also a wider pool, making it more of a struggle to find the right match," she says. "But that's also why new types of businesses, methods and ideas are arriving to help make that process easier."

Experimentation may be hard, but 30-year-old Yuriko Yamaguchi welcomes the change. She thinks that it "provides an opportunity for students to be more mature about the next steps they're going to take".

Yamaguchi has a unique perspective on shūkatsu as one of the few students in her year who ignored the tradition in favour of forging her own path. "It was a very hard decision to represent my graduating class without a job offer or a place at grad school," she says. "The societal pressure was really harsh and scary, creating anxieties for my family."

But despite bucking the traditional recruitment schedule, she is gainfully employed as a design researcher for global creative consultancy IDEO's Tokyo branch.

"Change has to start somewhere, and it's possible there will be a generation of young people who will be super anxious," she says. "[But] having lived through a time where there was no support for this way of thinking outside the usual route of doing things, I can say it's possible."

;