Phone booths for private work are popping up all over the globe. Are these a great idea, or are we trying to find the silver lining to a bigger problem in cramped pods?
I
If you've worked in an open-plan office in the past couple of years, you've probably seen them: free-standing one-person pods, often with a stool and a ledge-cum-desk. Most have glass doors but are soundproof, so workers can see outside but speak with privacy.
They are glorified phone booths – but indoors, and sans phone. And, in just the past few years, they have exploded – in Mumbai co-working spaces, Japanese train stations and private offices all over North America and the UK.
Back in 2015 only one office 'phone booth' company, Finland's Framery, exhibited at the annual commercial design exposition NeoCon, according to Byron Morton, vice-president of leasing at NeoCon. This year, about a dozen companies with similar phone booth concepts showcased there, many of which have started only in the last few years.
Last year Framery – whose 'Framery O' promises "an echo-free and comfortable working environment" – produced almost 10,000 phone booths; this year, they expect to produce 15,000. And Canada's Onetwosix, founded as a general design company, has transitioned to focus primarily on designing and manufacturing their Loop phone booths.
"It's a huge portion of our business now," says Onetwosix co-founder Nick Kazakoff. The company still does design consulting work, but the reason they've been able to grow so rapidly, he says, is Loop. He estimates the booths now make up 60 to 70% of Onetwosix's product sales.
"We have seen on average a 500% increase in the number of daily inquiries received from people looking to buy our Loop Phone Booths when compared to this time last year," he says – many of which have converted into sales.
The pods themselves are certainly tight, sometimes stuffy or lit abrasively and not exactly made to replace a cubicle for a full day of private work. But for some workers, phone booths are the only respite they have from crowded, loud and exposed open offices.
The rise of the 'micro-cubicle'
Video by Shannon Sun and Jenn Hoang, edited by Anna Pazos.
Making an office space feel like 'home'
Despite the recent boom in demand for private spaces to work, open-plan offices – and their many problems – have been around for half a century.
In the early 20th century European offices started adopting what they called "the American plan", says Nikil Saval, author of Cubed: A Secret History of the Workplace. Think about images of typing or accounting pools, he says, with a main concentration of desks at right angles to each other.
Then, in 1958 post-war Germany, brothers Wolfgang and Eberhard Schnelle founded a space-planning consulting group and introduced the Bürolandschaft, "a more ideological open plan, in the sense that it had a theory behind it that was connected to new ideas of how people move in an office and how information flows throughout an office", says Saval.
Europe adopted the Bürolandschaft selectively, but it was the United States which took up the concept with fervour. By 2014, 70% of the office space in the US was reportedly open plan. A small survey of US workers showed that only 28% of workers preferred open plans – but stories of workers taking conference calls under their desks perhaps says even more.
A 2018 study showed that unbounded workspaces decreased face-to-face interaction by about 70%, and increased electronic communication by 20 to 50%
So if open-plans aren't anything new, then why has the office phone booth market exploded so quickly?
For one thing, only recently has academic research confirmed just how far from ideal open workspaces are. Last year, Philosophical Transactions of the Royal Society published a study that showed open, unbounded workspaces decreased face-to-face interaction by about 70%, with a corresponding 20 to 50% increase in electronic communication.
"They certainly are cost-effective, but they dampen interaction, and therefore collaboration, face-to-face," says Ethan S Bernstein, an associate professor of business administration at Harvard Business School, and one of the study's authors. "I do think that to some extent the empirical confirmation of something people had thought was true has led more and more people to try and take a step back from believing in, and selling, the open office as the solution."
But we're not going back to closed offices; instead, workplaces are moving toward more flexible spaces. "But somebody needs to deliver on what that means," says Bernstein.
It's why these start-ups have sprung up to fill in the gap, offering companies the chance to order a pod online, put it on the company credit card and assemble it themselves. Bernstein, who is now working on a case study of US-based Room, now one of the fastest-growing phone booth companies after beginning in 2018, says that these work pods are "a low-cost way of getting a little bit of what you've lost of the individual office".
This hack-it-together sensibility fits the ethos of millennial workers, the group who are largely both manufacturing phone booths and buying them for their companies.
According to Bernstein, "It is consistent with people's perceptions of millennials that whereas maybe a non-millennial would be very hesitant to actually change the office space around them, millennials – who are also, by the way, used to working in lots of different kinds of spaces: coworking spaces, at-home spaces – I think they're more likely to try and take an office space and make it their home."
At a few thousand dollars in most cases, and with installations that take days rather than weeks or months, office phone booths make sense for a generation accustomed to both flexibility and impermanence.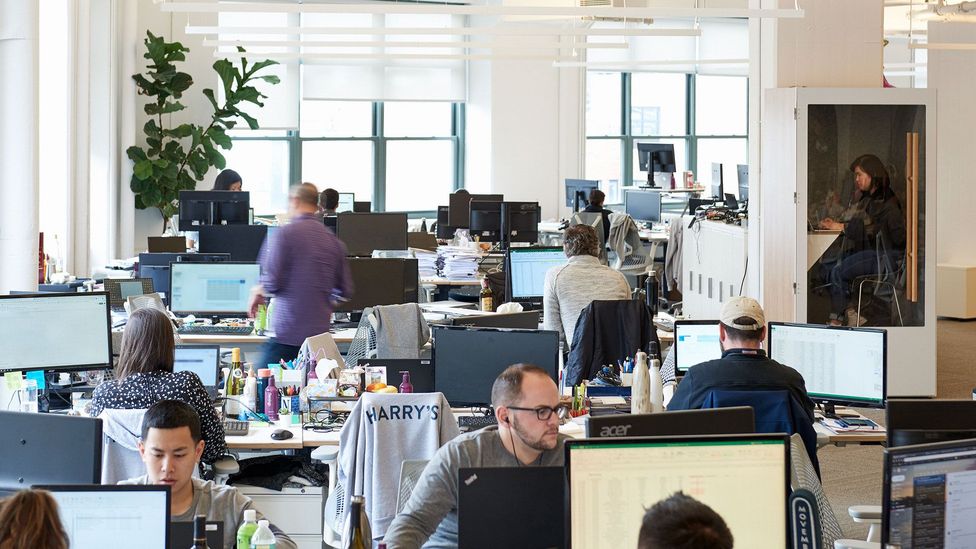 Popular US shaving company Harry's has bought several custom phone booths to accommodate the needs of its growing team in New York City (Credit: Room)
'Oh, what's this thing?'
Harry's, the popular shaving company, moved into its current offices in New York City in January 2018. The new space – which incorporates a mix of conference rooms of various sizes as well as a larger, multipurpose area – includes 10 custom two-person booths.
But Rich Chen, director of operations at Harry's Labs, who is 31, says the New York office has grown so quickly over the past year and a half – from around 200 employees in 2018 to 300 employees in 2019 – that the conference rooms have become hard to book, plus employees found they needed areas that were fully soundproof.
So in February, Harry's bought two phone booths.
"It's hard to do construction in an office where people are already working," says Chen. The booths, though, were installed in a single weekend. "Folks showed up to the office and were like, 'Oh, what's this thing?'"
The response since then has been "quite positive". "I sit around the finance and legal team pods. I see folks from those teams using the Room booths every day," he says. Harry's facilities manager is even considering ordering one or two more.
Folks showed up to the office and were like, 'Oh, what's this thing?' – Rich Chen
Similarly, Danny Moldovan, 34, vice-president of operations & legal affairs at Change.org, says the three phone booths in the company's New York offices have markedly improved office culture.
"The team was relieved to have more options for private calls, which made the rest of the office less distracting and more productive. It also made it more social, because office banter didn't have to compete with work calls," he says. "The other benefit was to make our offices feel a bit less hierarchical."
He says the phone booths "are used all the time". "At the beginning there were always people waiting for one to become available. So we bought as many as we could fit in the office." Moldovan expects to purchase phone booths for Change.org's office in Victoria, Canada, too.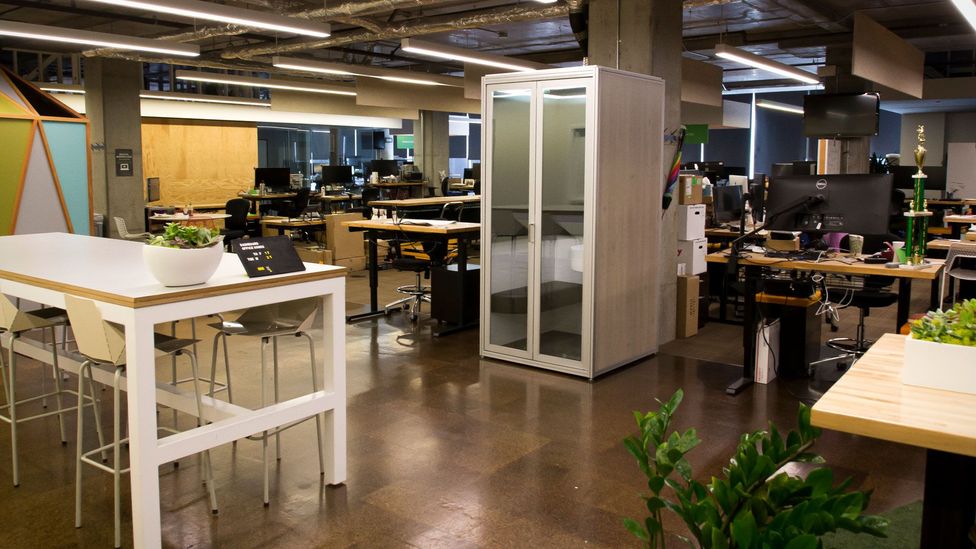 Millennials are set to inherit the problems of open offices that generations before them built – and one of their solutions is adding phone booths (Credit: Cubicall)
I think we're alone now
Technology makes working from a slim phone booth – something that would have been challenging if not impossible in the pre-laptop, pre-video-chat, pre-smartphone era – feasible.
"Most millennials, and for that matter most of us, carry all our devices with us," Bernstein says. "If what you yearn for is a quiet, small, podular space, you can actually make use of it because you don't need to have a wired phone."
Braze, a customer engagement platform, has had phone booths in their New York City offices since 2016. In their old offices, they had around 15 booths; they moved to a new office in June and have ordered 17 booths (in addition to their six two-person conference rooms) for 236 New York-based employees.
In the old office, "I would use them a few times a week, both for calls and to sit and work," says Ryan Scott Campbell, 27, a software engineer at Braze. He even conducted hourlong remote coding interviews in the pods. They provided a necessary respite, he says. "We had an open floorplan office, so it was nice to get some peace and quiet when I needed it."
Beyond offering solitude to do things such as take calls or privately write performance reviews, Harry's Chen believes the phone booth designs seem to symbolically reflect the informal, even non-committal, ethos of start-ups and the millennials who populate them. He took the call for this piece in one of his office's booths.
Go for a walk
As millennials climb to a projected 50% of the global workforce, they're set to inherit the problems of open offices that generations before them built. In other words, there's the admittedly darker explanation for the rise in these tiny pods: millennials aren't so much demanding workspaces accommodate their needs, but rather carving out a small concession of humanity amid poor working conditions.
"Millennials don't have much choice in the matter, and nor do most people have choices in what their offices look like," Cubed author Saval says. "Generations don't really have desires, they just have constraints … And probably millennials are given the rawest deal of any generation in some time."
How many of these do we really need, and what do we do with the space that's not these? – Ethan S Bernstein
If these cramped phone booths are, in fact, a way of taking back just a little bit of privacy and autonomy, "at what point are there enough?" wonders Bernstein. He offers, as a thought experiment, an image of everyone in an office working in their own private phone booth. "The question for me is, now that we've got this as an accepted part of the portfolio in a way that it didn't seem to be before, how many of these do we really need, and what do we do with the space that's not these?"

If companies get more and more phone booths to ameliorate their open-plan problems, aren't we just "back to where we were before [with cubicles], but with higher density?" asks Bernstein. (And maybe a little less humanely?) "Maybe what we're doing is finding a more dense way to achieve what we used to have."

Paola Antonelli, a senior curator in the Department of Architecture and Design at MoMA – and not a millennial – offers an alternative to phone booths altogether. Upon looking at one phone booth company's designs, Antonelli, who organised the 2001 exhibition Workspheres on workplace design solutions, had one visceral reaction: "No, this is a little too extreme for me!"

I asked if she could come up with a more elegant design solution.

"Yes. Going for a walk."

;