The Nordic nation has embraced agile hours for decades. It's a style of work well suited to the country's deep-rooted culture of trust, equality and pragmatism.
M
Miika Härkönen was fed up with the long, dark winters in the Finnish capital Helsinki, so he asked his manager if he could work remotely from Spain for six months.
Since his wife had just had a baby and was on parental leave, the idea was to "work from home" from a rental apartment in Malaga, doing his regular job as a senior team manager for an IT company while also maximising time with his family.
His boss was open to the idea after Härkönen wrote down a list of his main tasks – which included managing 20 employees – and his solutions for completing them from his makeshift office.
"It worked brilliantly actually, even a bit better than I thought," beams Härkönen, who's now back in the Helsinki office and sits at a stereotypically Scandinavian white desk, with a sheepskin draped over his chair.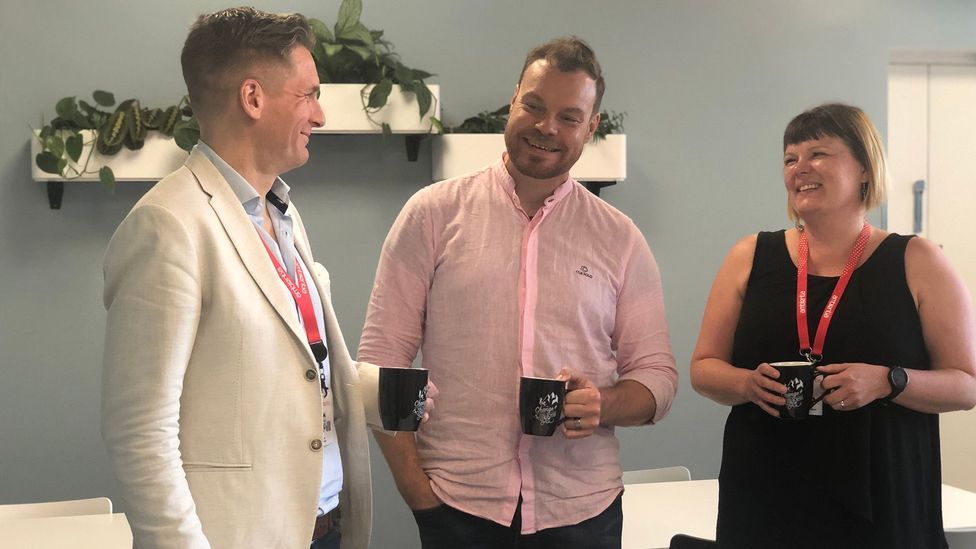 Despite being 2,000 miles and one timezone away from Helsinki, Miika Härkönen (centre) says working from the Spanish town of Malaga made him more productive (Credit: Maddy Savage)
He says he kept in touch with his colleagues while he was away through online messaging tool Slack, video conferences and occasional trips back to Finland. Meanwhile he worked a flexible schedule, ensuring he could dial into important meetings in Helsinki, which is an hour ahead of Malaga, while also making the most of the Spanish weather, something he believes helped boost his productivity.
"We were hiking and trekking and swimming," he explains. "Taking some distance and seeing things from a different perspective... I think it's a good bonus for anyone who needs it or wants to have it."
While Härkönen was the first employee at the company to be offered such an extreme approach to remote and flexible working, he says he wasn't surprised that his line manager agreed. The IT firm he works for, Ambientia, which has around 200 staff, began opening smaller regional offices more than 15 years ago as a response to staff calls to cut commuting times to Helsinki. It actively encourages staff to do some of their tasks remotely, as part of efforts to promote efficiency and creativity.
Not everyone wants to live in the hustle and bustle of a big city. It's wasteful not to utilise the talent that you might have five hours away – Jenni Fredriksson-Bass
More recently, according to the firm's HR manager Jenni Fredriksson-Bass, offering agile working patterns has become increasingly important in the race for talent. A small forest-packed country with a sparsely dispersed population of just 5.5 million, Finland is nevertheless a major European tech hub which, while most famous for Nokia's rocky history, is a magnet for successful IT firms, gaming start-ups and digital financial services.
"But not everyone wants to live in the hustle and bustle of a big city where tech headquarters traditionally are located," says Fredriksson-Bass. "It's wasteful not to utilise the talent that you might have five hours away…They can maybe live by a lake or near the forest and it's affordable and they can still do their job."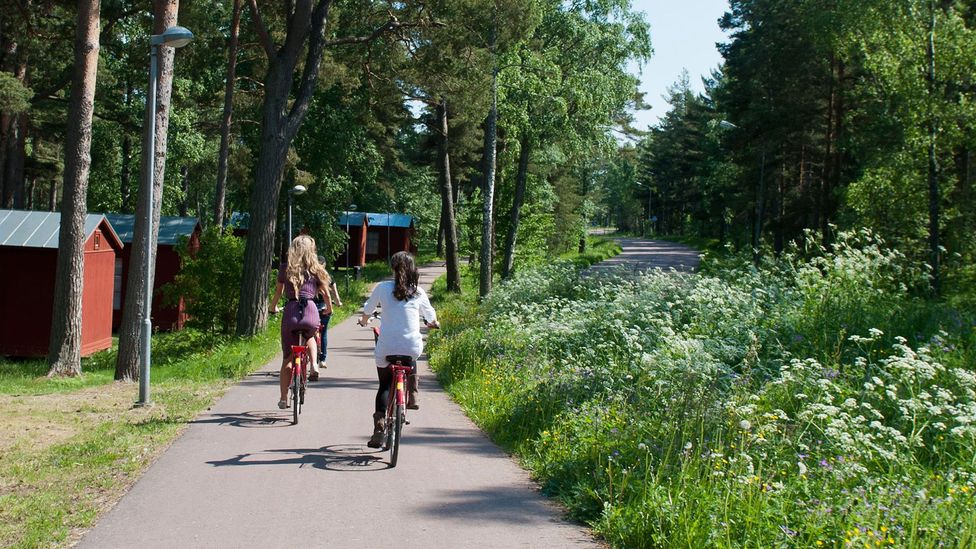 New laws will let Finns start and finish early, "bank" time off and make time for exercise (Credit: Alamy)
The right to adjust hours
Few companies in Finland go quite as far as Ambientia when it comes to accommodating employees. But flexible working – still seen as a perk rather than a right in some countries – has been embedded in Finland's working culture for more than two decades.
This is largely thanks to the Working Hours Act, passed in 1996, which gives most staff the right to adjust the typical daily hours of their workplace by starting or finishing up to three hours earlier or later.
Flexible working has been embedded in Finland's working culture for more than two decades
By 2011, Finland was offering the most flexible working schedules on the planet, according to a study for global accounting firm Grant Thornton, with 92% of companies allowing workers to adapt their hours, compared to 76% in the UK and the US, 50% in Russia and just 18% in Japan.
Since then, discussions about the benefits of flexible working have intensified around the world, with a boom in large global companies embracing the concept ­– from Virgin and PwC to Dixons Carphone – alongside nationwide legislation designed to promote more agile working in countries including Australia and the UK.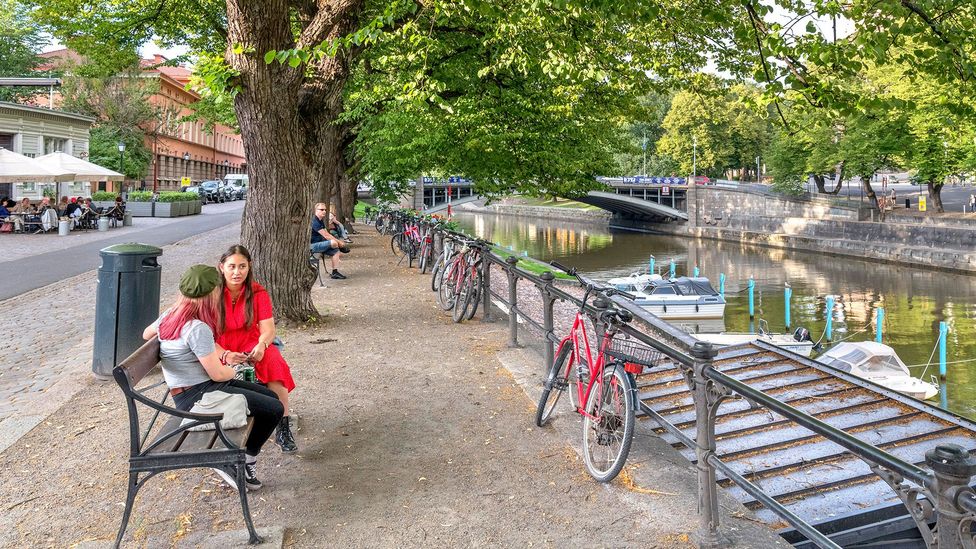 Finland's egalitarian culture, flat structures and welfare model have built an environment where flexible work thrives (Credit: Alamy)
But Finland looks set to remain way ahead of the curve thanks to a new Working Hours Act. Due to come into force in 2020, it will give the majority of full-time employees the right to decide when and where they work for at least half of their working hours.
A new Working Hours Act will give the majority of full-time employees the right to decide when and where they work for at least half of their working hours
"It is about adapting to the modern world," says Tarja Kröger, a senior civil servant and advisor at Finland's Ministry of Employment and the Economy, who helped to draft the law.
She explains that under the new legislation, workers will still be expected to put in an average of 40 hours a week, but this could include a multitude of different arrangements from regularly choosing fixed days to be based "at your summer cottage or your favourite coffee shop", to starting and finishing early in order to manage childcare or be able to exercise outdoors while it's still light. Some younger workers, she argues, are likely to ask to work longer hours for a fixed period to "bank" time off for long-haul travel. Employees and their managers will be asked to discuss their expectations in advance and draw up a contract for any new arrangements.
The obvious argument for the change in the law, explains Kröger, is that the wide availability of wifi and cloud-based technologies "make it possible that you can work [remotely] in the same way as in the office" in many professions, meaning employees can take more control of their schedules.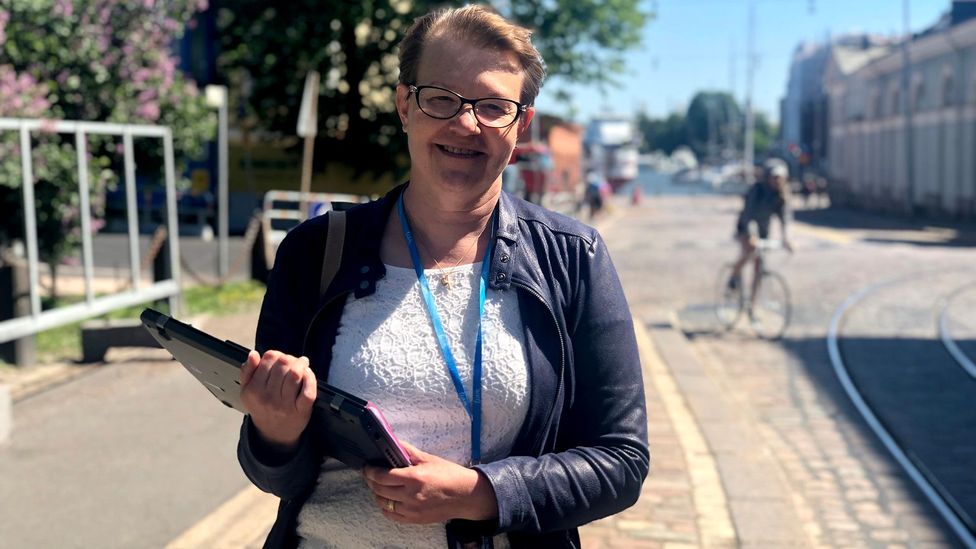 People are more productive when their working schedule accommodates the different demands of home, says Tarja Kröger (Credit: Maddy Savage)
She says there are also major benefits to flexible working for employers too, which often see increased efficiency and output from staff. "People are more productive when the working time arrangements are such that they can cope with life at work and home, and reconcile the different demands," she argues.
It's a claim backed up by research in a range of job markets around the world. A recent report into the UK's tech industry by HSBC found that 89% of respondents cited flexible working as a motivation to up their productivity.
Stanford University economics professor Nicholas Bloom found similar results in a study of more than 16,000 staff at a Chinese call centre, with those allowed to work flexibly from home boosting their productivity by 13% and taking less sick leave. Meanwhile research for US employee engagement firm TINYpulse in 2016 found that remote workers also felt happier and more valued than those in traditional office jobs.
Finland's culture of trust
Many Finns agree that a key reason flexible working is already so successful is a deep-rooted culture of trust. A recent Eurobarometer study found that Finns' trust in fellow citizens is higher than anywhere else in Europe.
According to Eero Vaara, a professor of organisation and management who heads up the Future of Work research group at Aalto University School of Business, 10km west of Helsinki, this can partly be explained by a welfare model based on equality and financial security, alongside a culture of consensus-based decision making which promotes confidence in institutions.
 "It has its roots in history, it's something people are used to – not something that's just emerged in the last decade or so alongside these changes in our working patterns," he argues.
In the workplace, he says, this trust translates to an expectation that staff choosing to work remotely or at different times of the day won't end up slacking.
In the Nordics we have relatively flat organisations, low hierarchies and pragmatism, and these are also ingredients that have made it possible to introduce new elements like flexible working – Eero Vaara
"People have enjoyed a lot of security...if you do things well, most likely you will be treated well, and there are processes and procedures to deal with any problems," he says.
"In Finland and elsewhere in the Nordics we have relatively flat organisations, low hierarchies and pragmatism, and these are also ingredients that have made it possible to introduce new elements like flexible working."
Work-life balance
Another reason so many companies are already willing to support flexible working is that Finns have long had a focus on work-life balance. Just 4% of employees regularly work 50 hours a week or more, well below the average across the western world, according to OECD figures.
Vaara suggests this approach is linked to a wide range of factors, from a strong union culture that protects short working hours to the tradition of making time to embrace lakes and forests. EU figures suggest Finns do the most exercise of all Europeans and are more likely to work out outdoors than other nationalities, despite the often harsh climate.
"Things are starting to shift a bit – I know plenty of people working more than they should be – but striving for balance is still at the core of Finnish working culture," argues Vaara.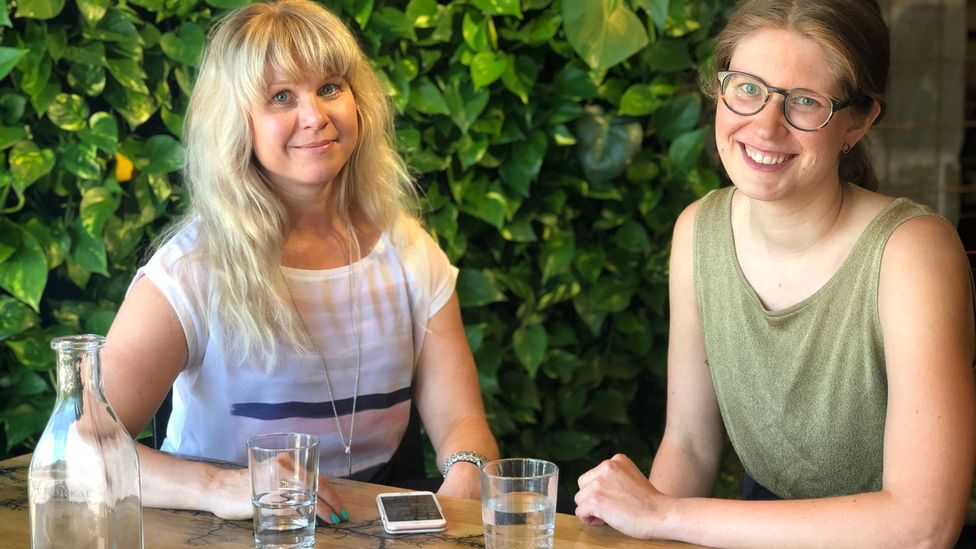 Pauliina Alanen (right) has tried both Silicon Valley and Finnish working styles – the Finns actually take their lunch breaks, she says (Credit: Maddy Savage)
Back in downtown Helsinki, this approach is evident at the city's biggest start-up campus, Maria 01, a dusty pink abandoned hospital that has been transformed into a home to more than 160 small companies and scale-ups.
Strutting around in shorts on an unusually warm summer's day, the hub's CEO Voitto Kangas insists that while some member firms inevitably ask teams to put in extra hours before pitches or product launches, employees are always encouraged to enjoy their leisure time and take holidays.
Nothing happens here in July in your work life. Everybody's in their summer cottage! – Pauliina Alanen
"Most of us strongly believe that time spent in work is not where all the effort and outcome comes from," he argues. "You should have time for keeping your health in check, your mental health in check...So we do strive for that balance."
"Finns are pretty strict about 40 hours per week and we do have a lunch hour. It's not like in the US where most people might just grab a sandwich on their way to the next meeting," agrees Pauliina Alanen, a communications manager for an artificial intelligence company based at Maria 01, who previously worked in Silicon Valley. "And most people are off in July," she adds. "Nothing happens here in July in [your] work life. Everybody's in their summer cottage!"
Collaboration and communication
Scandinavia's famous focus on collaboration and consensus-based decision making also plays a role in developing flexible working in Finland. Employers' organisations, worker's unions and politicians all helped to draft the new legislation, which was passed in parliament in March 2019 and is due for a final seal of approval by October.
As a result, there has been little major resistance to the idea, although some union representatives have expressed concerns about the shift towards remote working blurring the boundaries between work and private lives.
"There are risks. The employer can give too much work to the employee, who is afraid to say that there is no time to do it. The employee has very much to take care of herself or himself," argues Anu-Tuija Lehto, a lawyer for the Central Organisation of Finnish Trade Unions, SAK.
She believes that even if workers and employers have written agreements, more fluid working hours may still make some staff feel like they need to "check e-mails and answer phones and be always available", which could result in unpaid overtime.
Indeed, research into various flexible working arrangements around the world has suggested a tendency for people working irregular hours to put in more additional hours than those who work standard fixed hours.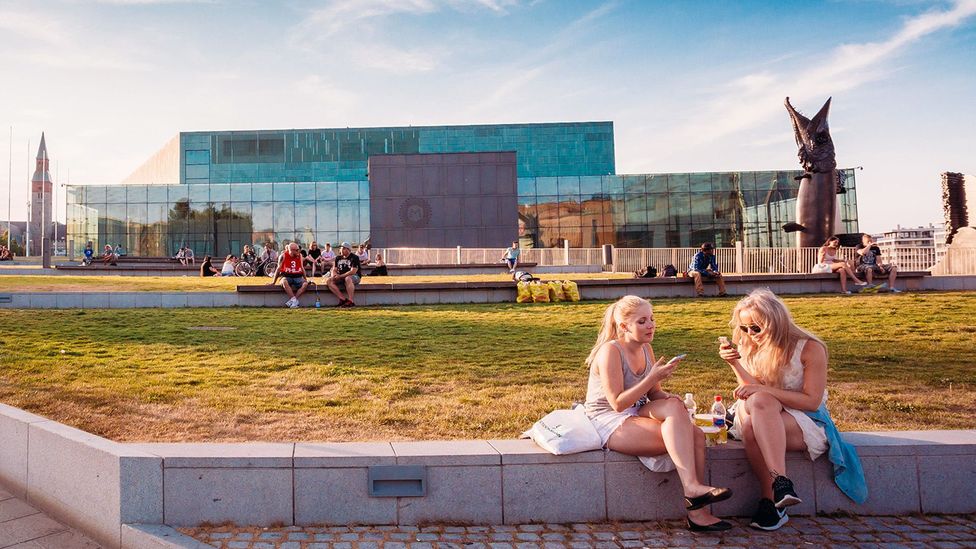 If you can work from anywhere, the boundaries between professional and personal life begin to blur (Credit: Alamy)
Eero Vaara argues that "communication will be key" for Finnish companies adapting to the new legislation, which will put fresh demands on managers to ensure that staff are completing their required tasks and feel connected to the business.
"People might not be aware of things happening with their colleagues, projects or initiatives, or they may just have a sense of not being informed or part of it," he says.
According to Vaara, this could, "in the worst cases", end up eroding the strong trust levels that have enabled flexible working to thrive in Finland in the first place.
Lonely coffee breaks?
Another key concern is the impact of losing the social context provided by office spaces, from communal coffee areas to the chance to share resources and equipment.
"Personally I prefer working from the office because I like the team around," argues Tiia Paananen, a sales manager out grabbing lunch with three colleagues at a cafe next to Maria 01.
She says she's worried that workspaces might become "a bit lonely" if too many people make use of the new flexible working law.
"Then again there are these coworking spaces popping up all over the city and it [flexible working] might give more to the cafeteria and restaurant industry perhaps. It's just a different way of working, I suppose."
Yet this boom in coworking spaces in Finland in recent years could provide future challenges for politicians and business leaders, according to Vaara.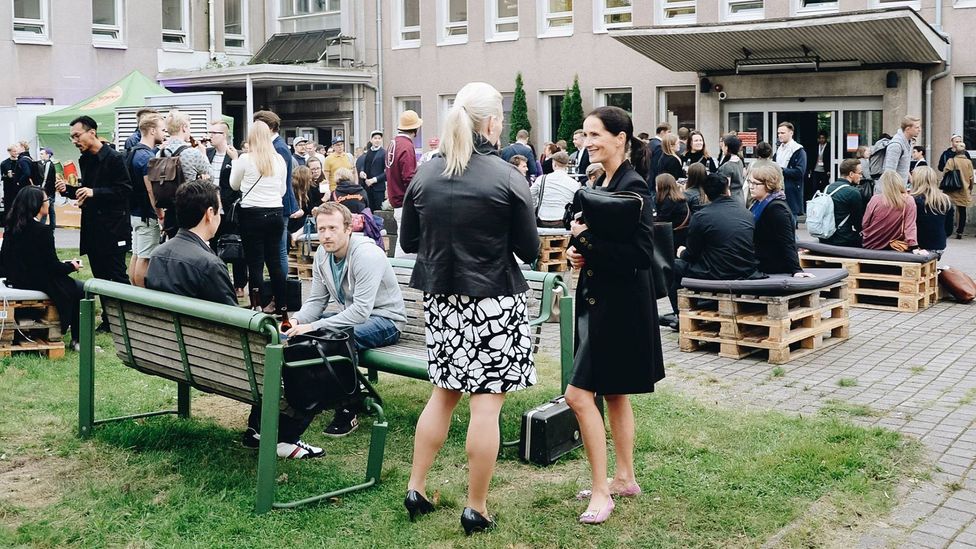 More than 160 start-ups are based at Maria 01, a former hospital (Credit: Maria 01)
He says that the increasing popularity of these spaces highlights the fact that Finland is, like many countries, starting to shifting away from a culture of permanent jobs towards more of a gig economy characterised by freelancing, shorter contracts and entrepreneurship.
While in some ways the gig economy is characterised by flexible hours which are, in theory, set by self-employed workers themselves, he says it "complicates the traditional picture where you work for an employer in one specific location".
"More and more people will not be having the kinds of jobs that the current laws and contract with the employers' associations and the labour unions are based on," he says.
This, he argues, means that growing numbers of people won't be protected by the upcoming legislation and may actually find themselves working less flexibly than permanent employees, in order to please their clients.
I think the thing about Finland and the Nordics generally is that it's not just big-name companies offering flexible working, you just have good positive examples all over the place ¬– Eero Vaara
"We may be seeing an emergence of new groups of employees who are less protected or less aware of their rights," he says. "Equally, managers in companies may not be fully knowledgeable about what is okay and what is not."
Despite these challenges, Vaara believes Finland is set to remain an icon of flexible working that the rest of the world can learn from.
"In the best of cases these arrangements really work because you still have security in place for employees, but at the same time you can create working conditions which are to the benefit of the company or organisation and fit in with the situations of individuals," he argues.
"I think the thing about Finland and the Nordics generally is that it's not just big-name companies offering flexible working, you just have good positive examples all over the place. It can make things better for everyone."