Working in the country with the world's longest office hours, a growing number of South Koreans are keen on decorating their desks with zeal to bring a little colour to their days.
A
At her job as a banker, 35-year-old Lee Ju-hee treasures her small, fairytale-like desk. It's covered in pink products including a mini humidifier, a mini fan, a small air purifier and a tumbler steriliser. Pink is her favourite colour; she even has a pink keyboard.
"I have been working here for about six years and I've been decorating my desk since I joined this company. On average I spend 30,000 to 40,000 won ($25 to $33) per month, but it could be up to 150,000 won ($125) if I see any new products. It's not big money, and I feel so good just looking at those lovely items in the office," says Lee.
Her pastel display is far from what you'd expect to find in the office of a banker. But Lee's desk is among a growing number of highly personalised workspaces in professional settings, often called 'deskteriors'. It is a movement to make office spaces feel like home in a country with the longest working hours of any developed nation.
Deskterior is a movement to make office spaces feel like home in a country with the longest working hours of any developed nation
Although the South Korean government cut maximum working hours from 68 hours to 52 hours per week in 2018, with the expectation of boosting productivity and encouraging work-life balance, many young South Koreans still often find themselves at their desks.
"I spend a lot of my time in the office apart from when I'm sleeping," says Lee. "You often think of an office as a dreary or stark place. However, my pink-plastered desk gives me a fresh motivation because it's a pleasant working environment. I feel comfortable and relaxed with these pink products."
The 'rainbowlicious' desks of South Korea
Video by Kwon Moon.
Desk + interior = 'deskterior'
'Deskterior', a portmanteau of 'desk' and 'interior', is the act of decorating one's office desk with favoured, adorable items. The term is becoming increasingly popular on South Korean social media, especially among young employees.
In a 2017 poll of 788 workers conducted by the job search engine Job Korea, 44% of women and 29.7% of men said they thought of themselves as a so-called 'deskterior person'. The trend is especially popular with millennials: 44.6% of people in their 20s and 36.5% of people in their 30s identified with the trend, compared to only 26.9% of respondents in their 40s.
Rha Hye-young, a 30-year-old sales manager in Seoul, decorates her desk with action figures from Hollywood movies. "Whenever I get new action figures, I bring them to my office instead of displaying at home because I spend much of my time at work."
She says deskterior is not just about having a pretty workspace. It also helps her to work more efficiently.
"It feels like I have my own room at work. My job involves searching for new products and introducing them to customers, so I need to be creative. A multi-coloured desk decorated to my taste inspires me to think creatively."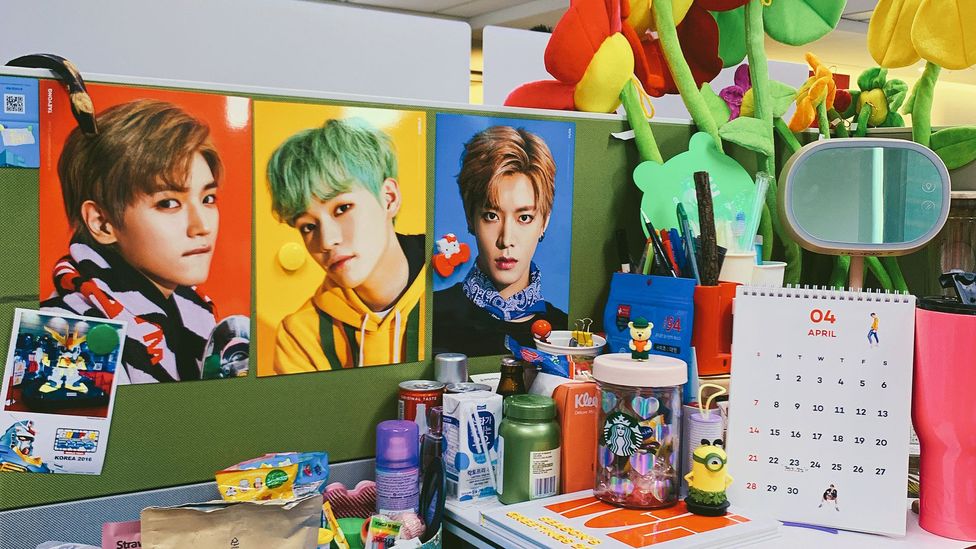 Sales manager Hyeyoung Rha, 30, has a Hollywood theme to her deskterior, particularly adding new action figures when she buys them (Credit: Hyeyoung Rha)
Expression of individuality
As interest in deskteriors has grown, a new market for quirky office supplies has emerged: there are wireless keyboards, laptop stands, colourful desk mats, sitting cushions, mood lights, action figures, wrist guards, small plants and air fresheners. You can even find mini water purifiers and small vacuum cleaners for desks. Many of them have cute characters to appeal to young South Koreans.
I think deskterior is about showing who you are in an everyday ordinary workplace – Juhee Lee
In the Job Korea survey, 68.8% of office workers said they were interested in decorating their work desk. It shows: more than 5,000 South Korean Instagram posts sport the tag #deskterior to show off photos of unique spaces. Adverts for related speciality office products also appear in search, targeting the deskterior demographic.
All pink works for Lee, but others will go for other motifs depending on their preferences and likes. "I think deskterior is about showing who you are in an everyday ordinary workplace," says Lee.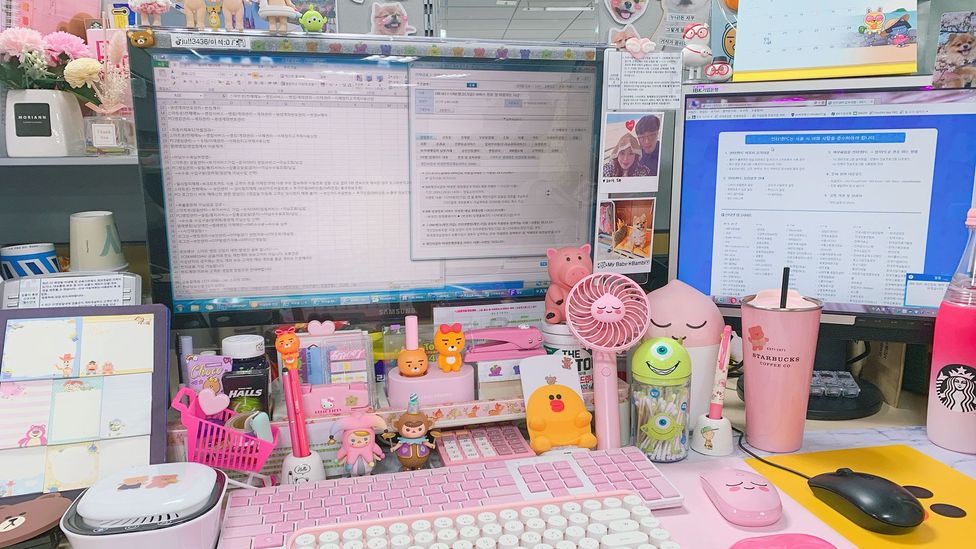 On average, banker Juhee Lee, 35, spends 30,000 to 40,000 won ($25 to $33) per month, but may spend up to 150,000 won ($125) (Credit: Juhee Lee)
Finding 'small happiness'
In South Korea hard work is a virtue. South Koreans work on average 2,024 hours per year – 278 hours longer than the OECD average of 1,746 hours.
Lee Hyang-eun, a professor of design engineering at Sungshin Women's University in Seoul, says that the deskterior phenomenon is more than just a way to reduce stress and make the office more comfortable; rather, it's emblematic of a shift in how people approach work, especially young people.
"Korea is now undergoing a significant change in terms of work environment. As work-life balance becomes a big social issue, more people prioritise personal happiness as much as their performance at work," she says. "I think 'deskterior' comes from a tendency to seek a relaxing personal space amid hectic daily routine."
And deskteriors have made it clear that the younger generation are more willing to try and modify their workspaces as South Koreans roll with this change.
Still, not every generation quite understands the trend. In Lee Ju-hee's office, her male bosses in their 50s think her deskterior is "just too much" for a conservative financial field. But the rest of her young colleagues love Lee's choices – and that's good, since her pink deskterior isn't going away any time soon.