As the number of US couples without children increases, a growing number of them are favouring – and pampering – pets as they would kids.
I
In Ypsilanti, in the US state of Michigan, Lisa Rochow sits beside her partner, Cameron Wheeler, as their Siberian Husky puppy crawls over their laps. Even though Aery, who keeps trying to wander off the couch, is a new addition to the family, both Rochow and Wheeler look relaxed for first-time 'parents'.
Aery is their baby: they won't be having children. Rochow, 24, a graduate student in social work; Wheeler, 26, a high-school history teacher preparing for graduate school; and Aery, the nine-week-old puppy, make up a complete family unit.
"I feel like I would be giving up a lot of my life to be a parent," says Rochow. "That would cost money, that would cost time, that would cost things that you want to do." Wheeler adds that he'd constantly worry about a child – "more so than most parents".
But "being child-free, a puppy has always been on the radar," says Rochow, who knew she didn't want kids as early as high school. When she met Wheeler on Tinder at a music festival, he felt the same way about being child-free.
Video by Anna Pazos.
"I think somewhere in my college career, probably in graduate school, I just kind of started getting more engaged in the political atmosphere, and I learned a lot about climate change issues," he says. "I kind of took the perspective that I don't think it's responsible for me to bring a child into this world."
The couple are part of an increasingly vocal group of people who have decided to remain staunchly child-free. They feel that the money they're saving by not having children can instead go toward pursuing their respective careers and embracing their hobbies – and it will make Aery's life better, too.
The child-free choice
Throughout the past several decades, the number of married couples in the United States and UK without children has increased. In 1970, 40% of married couples had kids, while just 20% did in 2012, according to the US Census Bureau. Though this statistic doesn't account for unmarried couples with children, it still demonstrates a change in the traditional family unit.
And research by the United States Bureau of Labor Statistics showed that married couples who didn't have children living at home spent more money on their pets than any other type of family unit between 2007 and 2011 (these numbers may include couples whose kids have grown up and moved out).
"One way that child-free families express their nurturing side is through their connection with pets," says Dr Amy Blackstone, a sociology professor at the University of Maine and the author of Childfree by Choice: The Movement Redefining Family and Creating a New Age of Independence.
I kind of took the perspective that I don't think it's responsible for me to bring a child into this world – Lisa Rochow
Blackstone has been researching "the child-free choice" since 2008. "I got into it out of a personal quest more than a professional one," she says. Around the time she submitted her paperwork for a permanent role at the university, three close friends confided in her that they were pregnant. She decided it was an opportune time to focus her research on parenthood. "I realised, as my friends revealed to me that they were feeling the pull toward motherhood, that I didn't share those feelings," she says.
At first, Blackstone thought there might be something wrong with her. She was happily married to her high school sweetheart, Lance. They'd previously discussed having children – only to brush it off because they were "too young". When their mid-thirties arrived, it would just happen, they figured. They'd want children.
But it didn't. "Neither of us was feeling interested at that point," she says.
Blackstone and her husband had owned a cat but, as it turns out, both were allergic to it. In her exploration of child-free living, however, Blackstone encountered many couples and individuals who considered their pets to be something like human children.
"One of the most striking examples was a [child-free] man that I interviewed who had just recently quit his job because he learned from his vet that his dog was dying, and he wanted to be with the dog for the remaining weeks of his life," she says. He got to care for his dog "as you imagine somebody might for a child, or an ailing parent".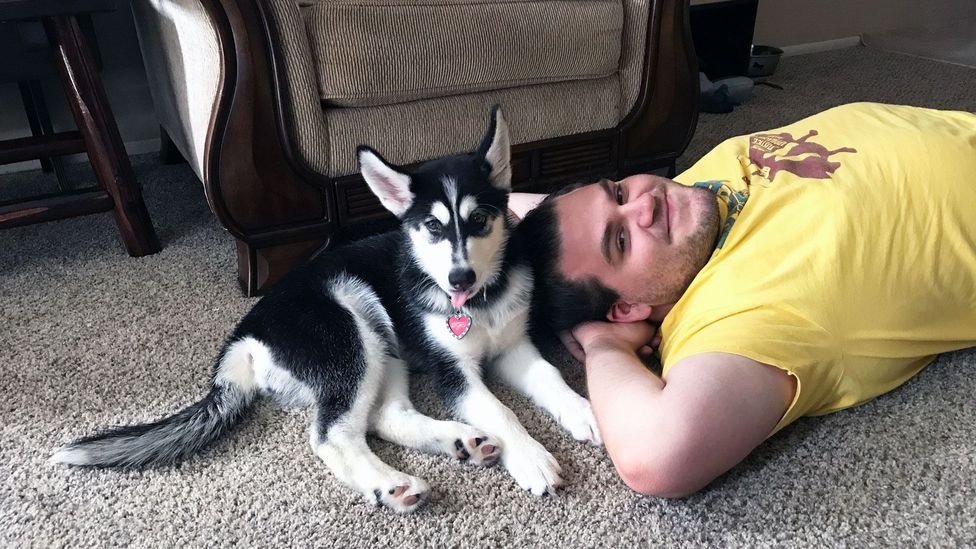 Cameron Wheeler and Lisa Rochow of Michigan are changing the definition of family: they say their dog Aery fills the role of kids (Credit: Lisa Rochow and Cameron Wheeler)
There was also a child-free couple who divorced and had to determine custody for their cats. "They both considered their cats their kids," says Blackstone. Ultimately, one of the former partners got to keep the cats at home, while the other agreed to regular visitation rights.
Similarly, Ben Lenovitz, a pet portrait artist based in New York City, marvels at the way a child-free couple in their forties spoke about their dogs, whose portraits they'd commissioned. They'd rescued one of the dogs, who'd been found after Hurricane Sandy hit the city in 2012. "It's their baby, the way [this man] talked about his dog," says Lenovitz, whose pet portraits can run upward of $160.
Fur babies?
Search for the term 'fur baby', and you'll find several definitions of a pet for child-free couples.
But the idea of pets replacing kids is a contentious topic in the child-free community. In the r/childfree subreddit, which has 594,000 members who discuss their choices to live child-free, some bristle at the idea of assuming a child-to-pet equivalency. Others readily confess to having "cats instead of children".
I realised, as my friends revealed to me that they were feeling the pull toward motherhood, that I didn't share those feelings – Amy Blackstone
"We see our cat as part of our family, for sure," says Maxine Trump, the married, child-free filmmaker behind To Kid or Not to Kid, a film that debunks the stereotypes associated with people who choose not to have children. "But I definitely don't say, 'Oh, my baby.'"
Trump, 49, is British and bounces back and forth between New York and the UK. She lives with her husband, Josh Granger, 45, and their cat, Oscar Wilde ("I hate saying his last name," she says). Their travel-heavy lifestyle was part of the reason why Trump didn't want children, and why a cat suits them just fine.
"I had some upset with friends," she says of her choice to "come out" as child-free, but making the film "was like therapy". When she started the endeavour, about seven years ago, there wasn't a lot of information available for the child-free-by-choice.
It's not uncommon for child-free couples to commission professional portraits of their pets, like this photo of Ziva, a rescue boxer (Credit: Geoff Tischman Pets)
Now, she says, there's much more. "It's exciting because it really feels like, could we be turning the corner where people aren't seen as strange or an outcast … for making this decision?"
For Rochow and Wheeler, and other young, child-free couples both in the US and abroad, the decision to not have children makes as much sense as adopting a pet.
"We had a little bit of a scare with Aery last week," says Rochow, who reacted as any new parent would when their baby shows signs of a potential illness, and quickly took Aery to the vet. "She ended up going to the emergency room for dogs. It ended up being less than $1,000, and I just imagine an ER visit in an ambulance – or even just an ER visit for a baby – would not be anywhere less than $1,000. There's no way." (In many US cases, she is correct about the cost.)
But in addition to conserving money, Rochow says their decision is saving them the "emotional toll" of having children, too.
"I'm a social worker," she says. "I know what it's like for humans out there. And being able to give a child all of what it needs – I really feel like I can't do that."