Traditionally, 'Schrebergärten' were considered the domain of the old and narrow-minded. But green-thumbed youth are reversing this stigma as they create huge demand for city allotments.
I
It's a warm summer evening in Wedding. As the sun sets over orderly rows of wooden summer houses, barbeque smells waft down the neat paths that divide each green plot of land.  
Soaking in the evening, two gardeners relax on their lawn with a cold beer. The fruits of their labour sizzle on the grill: freshly picked aubergines, beans, courgette flowers and tomatoes – all grown in a so-called "garden colony" in this northern neighbourhood of Berlin.

But one thing is different. These two gardeners aren't the retirees traditionally associated with allotments - they are professionals in their early 30s. And they are part of a new wave of young Germans seeking out such spaces to grow their own produce as attitudes to consumption change.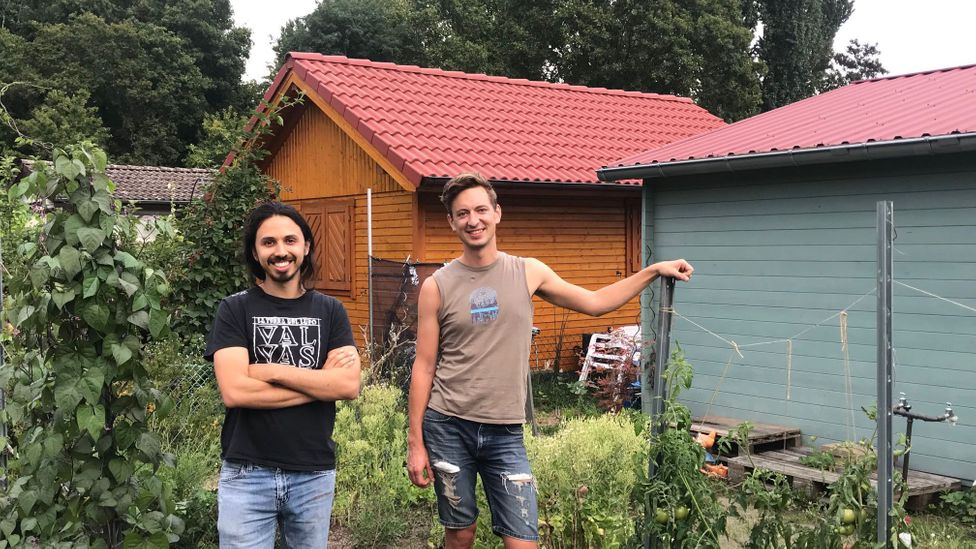 Analysis from The German Institute for Construction, City and Space research around 95% of Germany's one million gardens are now occupied (Credit: Kate Brady)
From stigma to waiting lists
The scale of German allotments is a far cry from the modest vegetable patches of their UK and US counterparts.
Commonly referred to as "Kleingärten", meaning "small gardens", or "Schrebergärten", after Leipzig doctor and teacher Daniel Schreber, who promoted the gardens' benefits for urban youth in the 1800s, these plots of land are characterised by meticulously groomed lawns, colourful summer houses and even, sometimes, ostentatious water features.
Often located in less desirable city spaces, close to train stations or airports, these carefully nurtured gardens have become an institution in German culture.
During the two world wars, the gardens were an invaluable food supply. But as the German economy recovered in subsequent decades, the allotments, particularly in former West Germany, became less of a necessity and more of a luxury for older city dwellers.

With their extensive rules and regulations, in the years that followed, hobby gardeners were often mocked for being "square" or "bourgeois"; prejudice towards allotment users even spawned the term "Schreber garden mentality" to refer to narrow-minded, rule-abiding members of society.
But today demand among young people for a green oasis is growing and, according to a study by the German Institute for Construction, City and Space research, it's growing fast. Around 95% of Germany's one million gardens are now occupied.

The average age of garden association members is now 56 – a fall of about five years since 2011. Just a decade ago, a third of members were aged between 65 and 75.

"This is largely due to growing demand from young households – predominantly from families with children," says Brigitte Adam, who led the institute's study, entitled "Allotments in a state of flux".
A greater appreciation of the outdoors that has emerged particularly among millennials and Generation Z, meanwhile, has helped the stigma to fade.
"The growing interest also reflects an increasing need to be more involved in nature conservation and environmental protection, and to make green and open spaces – especially in urban centres – a place of rest and relaxation," Adam wrote in the report.

Allotment life is also becoming more international. The National Association for German Garden Friends (BDG) now has hobby gardeners hailing from 80 different countries on their books.
Nowadays we've got used to going to the store and seeing mangoes in the dead of winter. Where are we getting mangoes from in Germany when it's below freezing outside – Paul Muscat
Valuing sustainability
Among them are the two young gardeners enjoying their barbeque, Tilman Vogler, 30, a photographer from western Germany and Paul Muscat, 32, a programmer from Adelaide, Australia. Since 2015, they have been working with four other friends to create their own oasis.
Their small patch of land now offers up plentiful harvests of fruit and vegetables, a turquoise summer house and the prerequisite for any budding gardener in Germany – a trusty gnome.
"After work, I can come here for a couple of hours. I take my shoes off and I'm immediately in a different state of mind," Vogler says. 
But it's not just about leisure; both men place a high value on the fruit and vegetables that they produce.
"It's a luxury really, that we don't have to depend on what we grow," says Vogler. "The supermarket's still down the road. But it definitely makes you more aware of where your food comes from and you know it's organic."
"The amount of work that goes into taking care of the garden also makes you appreciate what you're eating - and makes you realise what's in season," says Muscat. "Nowadays we've got used to going to the store and seeing mangoes in the dead of winter. Where are we getting mangoes from in Germany when it's below freezing outside?"
The increase in interest about where and how produce is grown is now reflected in the supermarket. The 2015 Nielsen Global Survey on Corporate Social Responsibility found that consumers polled across 60 countries were willing to pay extra for one thing: sustainability.
This was found to be particularly true for millennials; while 66% of global consumers were willing to pay more for sustainable goods, that figure rose to 73% among millennials.

In Germany, home to Europe's biggest market for organic produce, a 2019 study by Forsa also found that 28% of 18-29-year-olds would be willing to spend up to 50% more on ecological produce.
Chairman of the German Federation of Consumer Organisations Klaus Müller attributes the increase to the growing awareness of climate change, as well the influence of movements such as "Friday's future", which was started by the Swedish climate activist Greta Thunberg.
"But it's not just about organic products anymore. It's also about how much packaging is used. People are asking: 'Is the produce farmed sustainably? What impact does this have on my carbon footprint? How many air miles is this product clocking up?'"
But the only air miles in sight at Vogler and Muscat's allotment barbeque are overhead – from the odd plane coming into land at nearby Tegel airport.
Friends of Muscat and Vogler have also benefited from their laborious new hobby.

"They've been really positive about it," says Vogler. "My housemates give me their food waste for the compost heap and in return, they often end up with a bag of fresh vegetables – we have so much. Everyone's a winner."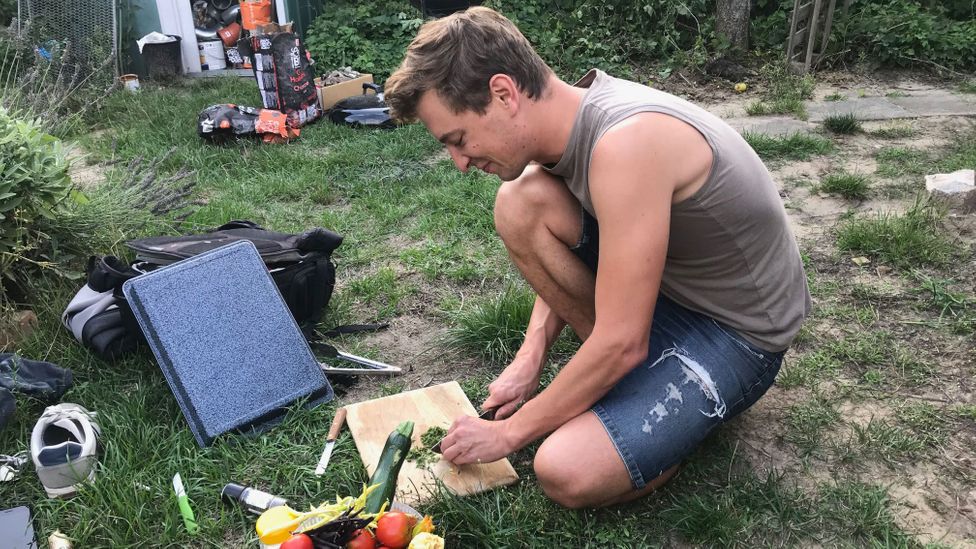 A 2019 study by Forsa found 28% of Germany's 18-29-year-olds would be willing to spend up to 50% more on ecological produce (Credit: Kate Brady)

New kinds of friends

Working on the garden has also provided the means for Vogler and Muscat to reap the rewards of mental well-being that horticulture can provide, as well as a space to switch off from the hustle and bustle of Berlin life.

"Except for the parks, there's no immediate escape from the urban environment. This offers a reprieve from that," says Muscat.

But developing the allotment hasn't always been stress-free. Like any good German establishment, the allotments come with a hefty set of rules, set out in the "Bundeskleingartengesetz" – the "federal small garden statute". Depending on the region, the rules can micro-manage right down to the distance between the summer house and the fence.

"Apparently someone complained that the roof of our summer house is in a different direction to everyone else's. And we've learned now that we can't barbeque before 1630," says Muscat.

But on the whole, the younger generation has been warmly welcomed by the predominantly older gardeners.

"Being here has opened up a window into society that we wouldn't usually have contact with. Most of our neighbours here are pensioners – but they were happy to pass on advice to us. Now we're swapping beans for tomatoes," Vogler says.

And, he explains, the group only secured the allotment due to some – often underestimated – human interaction.

"Our generation has become so used to just going online and expecting to find what it is they're looking for. But we're only here because we talked to locals at the bistro in the middle of the gardens," says Vogler. 

There, they heard about an allotment which had recently burned down. Taking on the damaged plot allowed them to jump Berlin's three-to-five-year-long waiting list of some 12,000 would-be gardeners.

"The effort that goes into growing your own produce isn't for the faint-hearted," Muscat says. "There have been times that we came close to giving up. But if it wasn't fun, we wouldn't be here."

;