As urban centres face housing shortages and skyrocketing prices, parasitic structures could open the door to a whole new way of living in cities.
T
Two years ago, graphic designer Marc Richard came across a post on an architecture blog devoted to something called the SHED Project. SHED was a diminutive pre-fabricated home designed by English architecture firm Studio Bark, plopped inside a disused factory in London's Battersea district. A freelancer, Richard was not particularly tied to one area or another for work, and although he didn't want to leave London, the cost of living in the city was becoming a burden. At the same time, he says, he was "craving something different".
On a whim, Richard shot an email to someone at the studio expressing interest in the project. Not long after, he found himself moving into a 11.15-sq m box on wheels, located inside a larger structure, that could fit a double bed, a desk and a chair. Richard says it "sort of feels like a grand bedroom".
The SHED Project is an example of so-called 'parasitic architecture', in which new structures are added onto, between or even inside pre-existing ones
The SHED Project is an example of so-called 'parasitic architecture', in which new structures are added onto, between or even inside pre-existing ones. At a time when many cities are facing affordable housing shortages, parasitic constructions have gained increasing attention as an innovative approach to building homes that are novel yet affordable.
This year, Ecuadorian architecture firm El Sindicato constructed a 12-sq m, glass-and-steel-clad house hosted on another building's rooftop in the San Juan neighbourhood of Quito. There have also been many ambitious conceptual parasitic projects reimaging major structures as functional homes: a version of Toronto's CN Tower covered with wooden housing pods and a sea of colourful housing blanketing the inner walls of Paris' Arche de la Défense.
Richards's 11.15-sq m box on wheels was built as a parasitic home within an existing warehouse space. It fits a double bed, a desk and a chair (Credit: Studio Bark)
Richard says that living in such an unconventional space has made him radically rethink what cities could look like, especially beyond traditional brick-and-mortar buildings.
For example, picture a convention centre or exhibition hall: the space can house many different booths that can be changed easily, depending on the event. Housing could be similarly adaptable, whether residents want to change their structures often or simply live in more unconventional dwellings.
"Things could be on wheels like the shed, or you could have flexible spaces, adaptable spaces, perhaps buildings which are modular and you could shrink them down when you need to," he says. To Richard, a city that embraces the possibilities of parasitic architecture is one that could free architects and inhabitants alike to play with their idea of home.
Teresa Bardzińska-Bonenberg, an architectural historian at Poland's University of Arts in Poznań, has studied parasitic architecture. She says that the growing number of heritage-listed buildings in city centres that can't be altered, combined with skyrocketing rent prices and diminishing real estate inventory, has forced architects to become imaginative with new projects in urban areas.
At the same time, she points to an increasing desire for homes that occupants can easily and cheaply revamp and remix. "This is what the idea of 'parasiting' the city is about," she says. "People have now much more inspiration, materials, tools and courage to express themselves."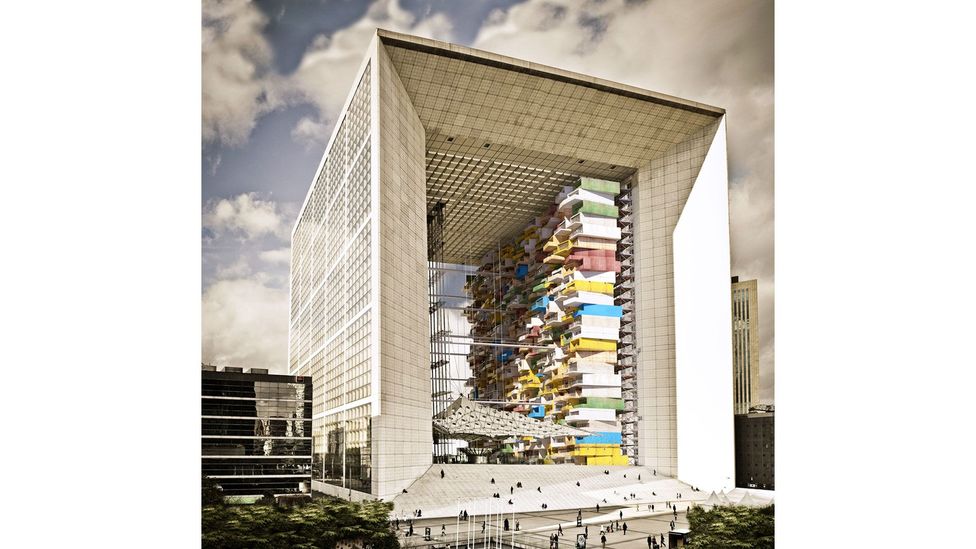 A parasitic project of modular units was imagined in Paris's La Grande Arche de La Défense (Credit: Studio Malka Architecture)
A highly visible parasite
Though reusing or expanding upon an older building is hardly a new phenomenon, parasitic add-ons distinguish themselves by contrasting deliberately from their 'hosts' in a mix of colour, material and style. The visibility of the addition isn't a problem – it's the point.
These highly visible parasitic structures also serve as a powerful means of making social issues more visible.
Artist Michael Rakowitz started his socially conscious parasitic housing programme paraSITE after returning from a residency in Jordan. Rakowitz, then a graduate student at the Massachusetts Institute of Technology, saw a homeless person sleeping on a heat grate outside a building in Cambridge, Massachusetts. He was reminded of the wind-blown tents of nomadic Bedouins.
"Here was this other instance of wind, only it wasn't the wind that was moving through the desert – it was the wind that was a by-product of a building's service system," he says. "And it was another form of nomadism… urban nomads who are nomads by consequence and are economic and social refugees."
Parasitic add-ons distinguish themselves by contrasting deliberately from their 'hosts'. The visibility of the addition isn't a problem – it's the point
paraSITE is now an ongoing project in which Rakowitz fashions custom-made double-membrane plastic shelters. He has been building structures since the 1990s in cities such as Boston, New York City, Chicago, Montreal, Ljubljana, and Berlin. When attached to heat vents on the side of buildings, the structures inflate, providing their owners with a warm and dry place to sleep. They also shield residents from the dirty air they would have to breathe if they slept on the heat grates directly. As Rakowitz puts it, "You have one building breathing life into the lungs of another one."
But Rakowitz is emphatic that paraSITE should not be seen as an easy fix for homelessness. After all, he argues, cities wouldn't willingly manufacture these structures since they draw attention to the issue of homelessness rather than masking it. But the high-visibility nature of parasitic architecture is actually an integral part of his project: rendering the crisis of homelessness visible, thereby potentially opening conversations with city officials and, on a larger scale, provoking structural change.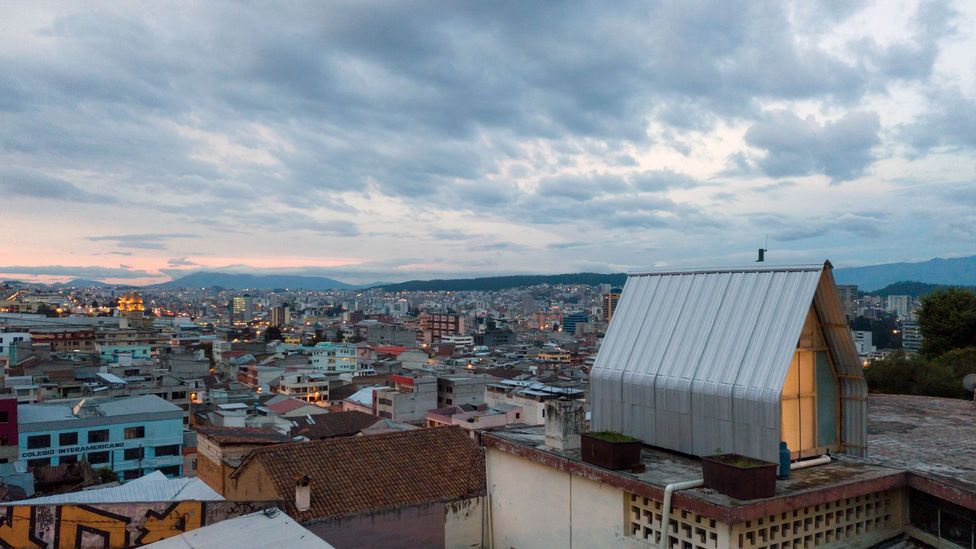 El Sindicato Arquitectura constructed a 12-sq m parasitic house on another building's rooftop in Quito's San Juan neighbourhood (Credit: Andrés Villota)
Priced low but precarious
Often modular, easy-to-build and petite, many examples of parasitic architecture are poised to address the needs of low-income populations and even young creatives trying to get by.
At £300 ($373) a month, rent for Richard's SHED is a fraction of what most Londoners pay for a room in a shared flat: data from the Greater London Authority show that the average monthly rent for a room in many parts of central London is £650 or more.
With the same kind of desire to customise that Bardzińska-Bonenberg describes, Richard built himself a kitchen adjoining the box, added some plants. "When I first moved in," he recalls, "I thought, 'This is joy.'"
But because Richard's house is located in a building under a guardianship scheme (in which people maintain a physical presence in abandoned buildings in return for reduced rent from the guardian company), he lives with the possibility of short-notice eviction. The guardian company had originally planned to introduce a whole colony of sheds, but that plan has since fallen by the wayside. (Studio Bark sells a kit to build a SHED Project shed as a parasite in other structures, but Richard has the only autonomous parasite shed in this experiment.) Instead, the guardian company is focussing on buildings where a room-like set-up already exists.
Richard's house is essentially a wooden box on wheels located inside a much larger space, which Richard says "sort of feels like a grand bedroom"
"It's much, much easier for them to do what other guardianships do, which is take on buildings that already have an obvious structure to them," says Richard.
After two years in the shed, Richard says he's ready to move into a more conventional dwelling. A big factor influencing his decision is social: the odd nature of the set-up means that friends who visit often seem weirded out by the eerie openness of the massive factory space. When people aren't used to unconventional living spaces, they find navigating them unnatural.
Even as he weighs his next move, however, it's clear that life in the shed has had an effect on him: Richard says he has imagined suspending something in the rafters, divvying up the space with screens, purchasing a plot of land and putting up a collection of interconnected prefabs.
"It's like the equivalent of building a fire," he says of the set-up – how it asks of people to do their part, pitch in, bring something. Living there, he says, "was very beautiful in its own way."