Could 'flight shame' lead to green holiday travel? Meet the companies prompting employees to choose trains over planes.
N
Neisha Glen is a planner. Six months in advance, she's already worked out the details of a skiing trip in 2020 in the French Alps. The journey from her London home will involve three trains and a funicular (which is similar to a cable car). One mode of transport it won't include, for environmental reasons? Flights.
"It's not as easy as just jumping on a website and booking a flight and then turning up at the airport," she admits. While the logistics are a bit trickier, the costs work out to be almost the same, factoring in added fees the airline would levy on ski gear.
Each company promises to offer at least two days per year of paid time off for employees who use buses, trains, boats or carpools to go on holiday, rather than flights or solo car journeys
Glen, 26, has an incentive for this kind of planning. She's the HR and office manager for Wholegrain Digital, which develops websites for ethically-minded organisations. Wholegrain was one of the first companies to sign up to Climate Perks, an initiative encouraging employees to choose low-carbon transport options for their holidays. Each company promises to offer at least two days per year of paid time off for employees who use buses, trains, boats or carpools to go on holiday, rather than flights or solo car journeys.
Climate Perks officially launches in November. But it's not the first, and it won't be the last, scheme to encourage holidaymakers to ditch flying.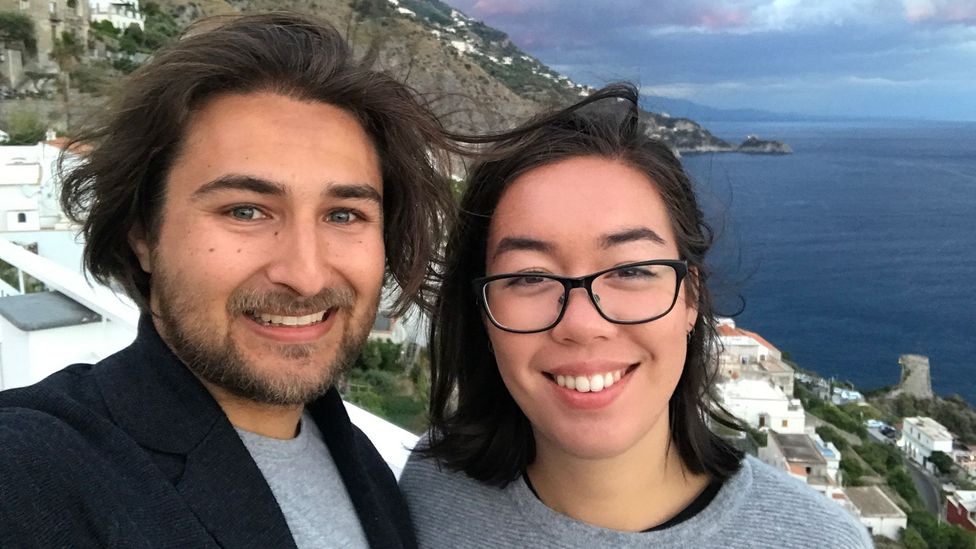 Neisha Glen (pictured with husband Josh Stopper) is allowed to take extra time off for slow travel, a perk that she thinks attracts like-minded employees (Credit: Josh Stopper)
The push for slower travel
It's clear that flying's dependence on fossil fuels takes a toll on the environment. A round-trip transatlantic flight emits as much CO2 as an average Indian does in an entire year. (And carbon offsets, while well-meaning, are criticised for being ineffective and poorly regulated.) Even as air passenger numbers continue to grow, so too does the debate around the ethics of air travel.
Between teenage activist Greta Thunberg, who famously crossed the Atlantic Ocean via yacht, and the phenomenon of flygskam, or "flight shame", Sweden has most recently been at the forefront of efforts to make the world rethink its flying habits.
But efforts in some workplaces predate the emergence of flygskam. UK ethical insurance company Naturesave has always had a policy of using public transport for business purposes. And in 2009 it started tackling employees' holiday travel.
A growing global movement – led by climate activists such as Greta Thunberg – is leading more people to rethink plane travel (Credit: Getty Images)
Matthew Van Den Elst, Naturesave's legal director, says this was sparked by a conversation between a staff member planning a European holiday and a director who happened to be a fan of train travel. The employee mentioned the extra time and cost of travelling by train, "despite both agreeing it would be preferable environmentally and a more pleasant journey". So the company decided to encourage this by allowing additional annual leave for environmentally-friendly travel. A quarter of staff members have since taken them up on it.
"We've been telling our clients about the policy face to face [or] over the phone for a decade and it's always well received," says Van Den Elst. This ends up benefitting the business, as employees appreciate the perk and prospective clients can see that Naturesave is living its principles.
This kind of benefit looks likely to expand, especially with the launch of Climate Perks, which is the brainchild of UK-based climate change charity 10:10. Emma Kemp, a campaign manager for 10:10, argues that the current travel system is distorted. "Flight prices are artificially cheap" because, in a historical quirk, international plane fuel isn't taxed. In general, airlines aren't required to pay for the full extent of environmental damage caused. Yet as Kemp notes, "there's no techno-fix to flying"; electric planes aren't technologically viable, while turning to biofuels would also bring environmental problems.
A lot of people live with low-lying guilt every time they fly – Emma Kemp
"A lot of people live with low-lying guilt every time they fly," Kemp says. Climate Perks is premised on the idea that workplaces can nudge employees in a direction they already want to go.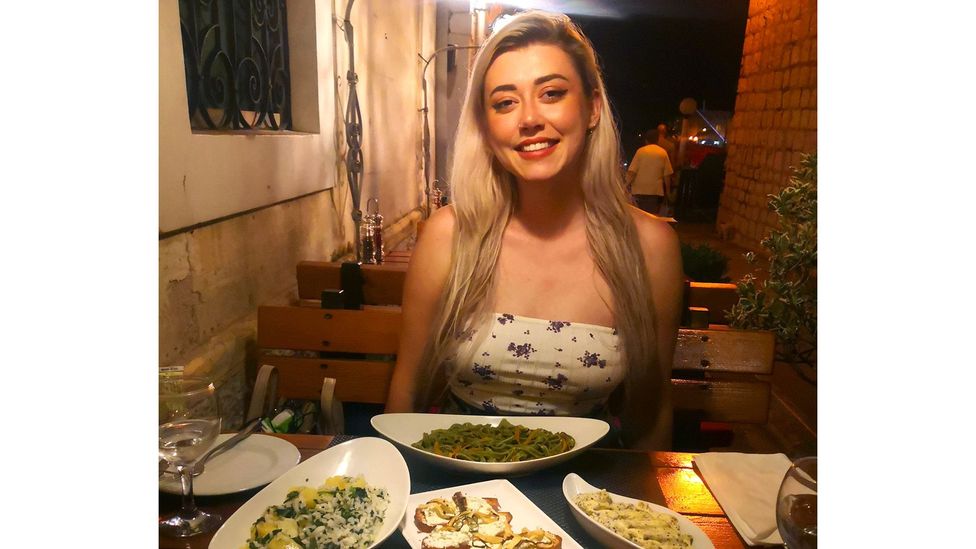 Travellers like Emma Kemp are increasingly turning to trains and slow travel, a trend that embraces a trip's journey, not just its destinations (Credit: Emma Kemp)
Kemp, whose earnings amount to more than the London living wage and less than its median salary, is walking the talk already. She's willing to scrimp a bit more the month before a holiday, for instance for a train trip to Croatia. Not only has this turned her into "a bit of a train geek", it also taps into a worldwide movement for slower travel. This involves seeing the journey itself as a key part of the experience, where the traveller is forced to be aware of the distance and transitions between locations.
According to Kemp, 10:10 decided to focus on leisure rather than business travel because of the growth of leisure travel (which currently makes up the majority of international travel). Sixteen employers have signed up to Climate Perks so far, including a credit union and an architecture firm, and organisations in Germany, Sweden and the Netherlands. In exchange for pledging to allot at least two low-carbon travel days per employee per year, the companies are given a benefits policy document they're free to adjust, as well as accreditation and a brand boost.
Could this trend spread?
Glen, the HR and office manager looking forward to skiing in France next year, acknowledges that this might not appeal to a company narrowly focused on the bottom line. "If people aren't working, then that's billable time that we wouldn't be getting. I think the reason that we can go with this is because our main focus is a sustainability aspect." From a business perspective, she believes it helps her company attract like-minded employees.
Family trips could be awkward if only one member has the luxury of employer-sanctioned slow travel
She's also fortunate that her husband works for the same company. Family trips could be awkward if only one member has the luxury of employer-sanctioned slow travel – not to mention the hardship of travelling slowly with small children or people with mobility issues.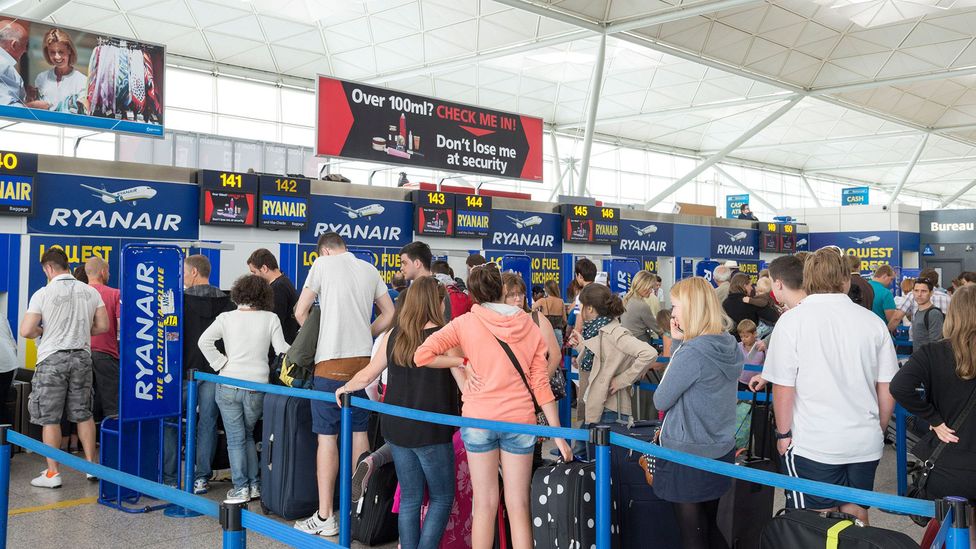 With thousands of daily flights, the aviation industry contributes heavily pollution, prompting wider interest in alternative means of travel (Credit: Alamy)
And, of course, Glen lives in England. Tagskryt, or "train bragging", may be well and good for Europeans, but what of those in larger and more spread-out countries with less-developed public transport systems?
Glen, who hails from Melbourne, thinks this kind of policy might work even in Australia, which has limited long-distance rail options. To be at all feasible, it would involve ride-sharing or taking buses, and depend on how many days of slow travel a company could afford to offer.
But Alexa Delbosc, who researches the transport industry at Australia's Monash University, believes this would be "completely impractical in the Australian context – the distances are just too great, even domestically". While Delbosc's work suggests that within cities, young people are increasingly enthusiastic about shared transport, long-distance travel is another matter. "I can't see this appealing to any but the most extreme environmental advocates, regardless of what generation they belong to," she concludes.
Because a small proportion of people do the bulk of the flying, two days per year of slow travel may be a drop in the bucket
Admittedly, the scope of this kind of scheme is limited. Collectively, employees of no-fly pioneer Naturesave have had only 24 no-fly holiday days since 2009. And because a small proportion of people do the bulk of the flying (70% of the flights by UK residents are taken by 15% of the country's population, according to Climate Perks), two days per year of slow travel may be a drop in the bucket for these frequent, often higher-earning, travellers.
But Climate Perks taps into the growing concern among young people, and not just wealthy eco-warriors, about the environmental toll of air travel. Although only 35% of UK residents in their 70s and older believe that air travel harms the environment, the proportion among those aged 16–34 is twice as high. Projects like Climate Perks may be a useful acknowledgement that business as usual may not work for businesses in the future.
It may also be a nudge to think more creatively about work and travel. Another proposal from advocates of more sustainable and thoughtful travel is to fly less, but to stay longer.
So perhaps once a movement like Climate Perks goes mainstream, the next step would be for employers to become comfortable with staff taking longer, slower, more reflective holidays. For an overworked employee who doesn't feel particularly refreshed after a rushed three-day weekend spent shuttling around airports, there's scope to dream.