In the age of climate crisis, childbearing has become a fraught question for couples around the globe.
B
Brandalyn Bickner grew up convinced she would become the mother of 13 children. Raised in a Catholic family in Wauconda, a suburb of Chicago in the US state of Illinois, Bickner nurtured this vision through Catholic middle and high school; even after university she still figured she'd have a large family, though her ambitions had grown more modest – perhaps just four or five kids.
Then, at 23, she joined the Peace Corps in Malawi, and began seeing reasons to revise her plan.
"In Malawi for four years, I got to see quite a bit of the impacts of climate change on a country that is largely subsistence farmers," says Bickner. She saw up close how changing weather patterns increasingly dictated whether or not her neighbours and friends would be able to eat – and she found herself feeling guilty over America's carbon-intensive way of life. "I wanted to support policies that will help, but also wanted to see what I could do on a personal level."
Bickner, now 28, quickly recognised that having a child in America – let alone four, five or 13 – would be the single most carbon-intensive choice she could make. In the developed world the carbon footprint of a child is roughly 58.6 metric tonnes annually, whereas that of a Malawian child has consistently been estimated between 0.07 and 0.1 metric tonnes annually.
While working in Malawi, and struggling with these personal questions, Bickner was also building a relationship with fellow Peace Corps member Chase Morgan. They started dating a year into their service, and now live together in Washington, DC. Bickner works as a public affairs specialist at a federal agency and Morgan works for an international development agency for energy infrastructure.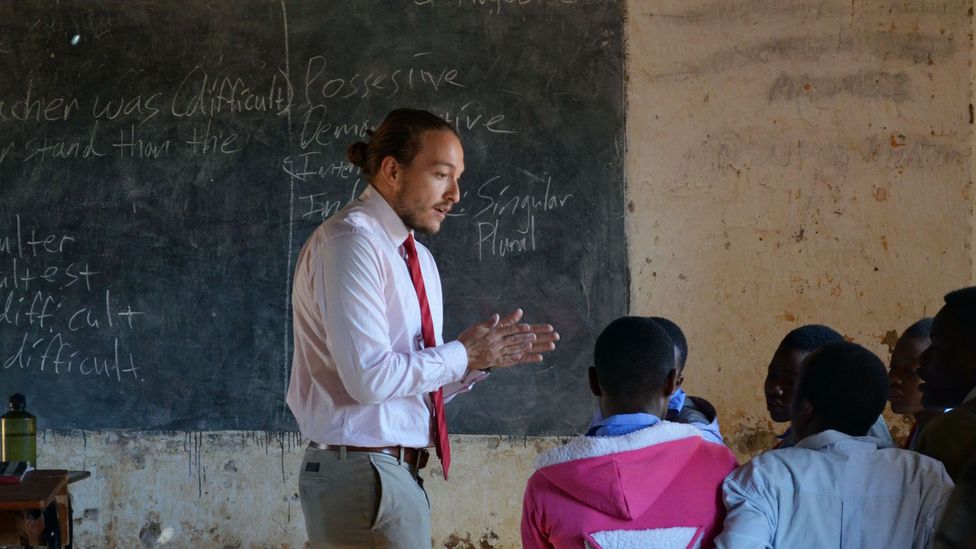 After time in the Peace Corps in Kasungu, Malawi, Chase Morgan, 30, is passing on having biological children due to carbon-impact and climate concerns (Credit: Brandalyn Bickner)
Both sets of their parents have been warned not to expect grandchildren. "We've come to this decision on a personal basis," says Morgan, 30, who shares Bickner's views on birth. "I wanted to mitigate my own carbon footprint and my own impact as much as I could."
"It makes me happy knowing that maybe I can do something to help people like my friends and my neighbours in Malawi," Bickner adds.
She and Morgan are part of an emerging generational movement linking climate change to its impact on personal reproductive choices. As people factor climate concerns into future plans, the decision to have a family is becoming increasingly fraught for some: with the way things are going on Earth, how many children is it responsible to have? Should you even have kids at all?
A deep-seated anxiety
As birth rates fall in the US, socioeconomic factors are still the dominant drivers of that decline. Yet there's mounting evidence that climate is becoming a consideration for some couples when they think about having a family.
A 2019 poll by Business Insider reported that almost 38% of Americans aged 18 to 29 believe that couples should consider climate change when deciding to have children. A poll the previous year in the New York Times showed that a third of American men and women aged 20 to 45 cited climate change as a factor in their decision to have fewer children.
A third of American men and women aged 20 to 45 cited climate change as a factor in their decision to have fewer children
Matthew Schneider-Mayerson, assistant professor of Environmental Studies at Yale-NUS College in Singapore, recently conducted a detailed survey of 901 adults around the world, aged 27 to 60, who said they were "connecting climate change to their reproductive choices"; these included people who were "parents, planning to have children, undecided, or committed to being childfree".
"Many young, climate-concerned people are experiencing real anguish about this decision," Schneider-Mayerson says of his findings. "While concerns about the carbon footprint of procreation tend to be abstract, anxiety about children being able to lead a good life in a climate-changed future is extremely emotional and deep."
Without immediate response to climate change, he says, the number of people who are concerned about their children's future – and will factor climate concerns into their reproductive choices – will grow.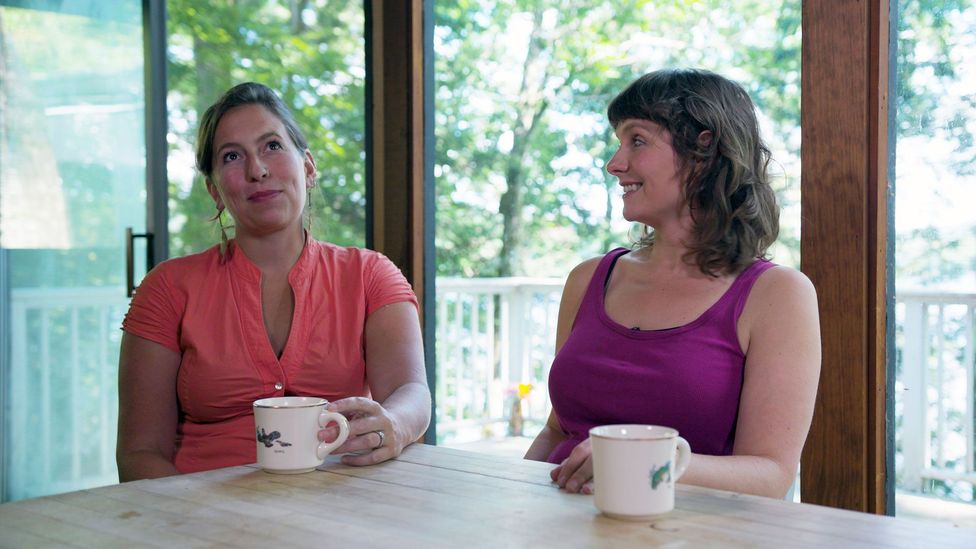 Meghan Kallman, left, and Josephine Ferorelli, right, are the co-founders of Conceivable Future, a place where climate conscious parents-to-be can connect (Credit: Maya Lilly)
Policy, not population
But is the number of births the right thing to focus on? There is persuasive research that suggesting that even quite-draconian top-down population control would do little to slow the growth of the Earth's population, or to mitigate climate change.
Betsy Hartmann, professor emerita of development studies at Hampshire College in Massachusetts, and author of The America Syndrome: Apocalypse, War, and Our Call to Greatness, agrees.
"Birth rates are already declining around the globe, with average family size around 2.5 children. In the few places where birth rates remain relatively high, such as in countries in sub-Saharan Africa, per capita carbon emissions are among the lowest in the world. … Instead of focusing on women's reproduction, the urgent challenge of climate change requires tackling the real culprits such as fossil fuel companies and the powerful political and military interests who support them."
Similarly, a 2017 study published in the Proceedings of the National Academy of Sciences modelled various anti-natalist policies and their outcomes, including a global one-child policy, and found that "even a rapid transition to a worldwide one-child policy leads to a population similar to today's by 2100". The authors conclude that policies and technology that limit resource consumption would make a far greater, more immediate impact.
The future is so incredibly uncertain… that it's really terrifying to contemplate the prospect of kids you have or kids you might have – Meghan Kallman
This is precisely why many of the organisations that have sprung up to address the link between procreation and climate are focused on enacting policy changes to lower global emissions, and not on population control.
Two such organisations, Conceivable Future and BirthStrike, argue that concerns around climate are constraining reproductive choices of climate-conscious young people. These groups encourage people all over the world to share their stories of reproductive uncertainty, and seek to mobilise a generation of would-be parents to push for climate action by advocating for the right to make reproductive choices in a world less beset by environmental disaster.
"The challenges facing people that we've heard run the spectrum from, 'What harm will my child do to the world?', to, 'What sort of harm will a hotter and more violent, less stable world do to my child?'," says Meghan Kallman, co-founder of Conceivable Future. "The future is so incredibly uncertain… that it's really terrifying to contemplate the prospect of kids you have or kids you might have."
Launched at the end of 2014, Conceivable Future hosts a website where people around the world can offer testimonials about their concerns over climate and parenting. The organisation also hosts house parties around the world for interested people — parents and non-parents alike — to discuss their concerns. Co-founder Josephine Ferorelli refers to these parties as "an open-source tool that people can use to have this conversation in their own communities", and estimates that Conceivable Future has hosted or facilitated around 50 such meet-ups over the past few years.
The point isn't to be prescriptive, but to facilitate dialogue. "The end goal isn't more kids or fewer kids or anything like that," Kallman says, "the end goal is a healthier world where we can all make decisions that are healthy for us."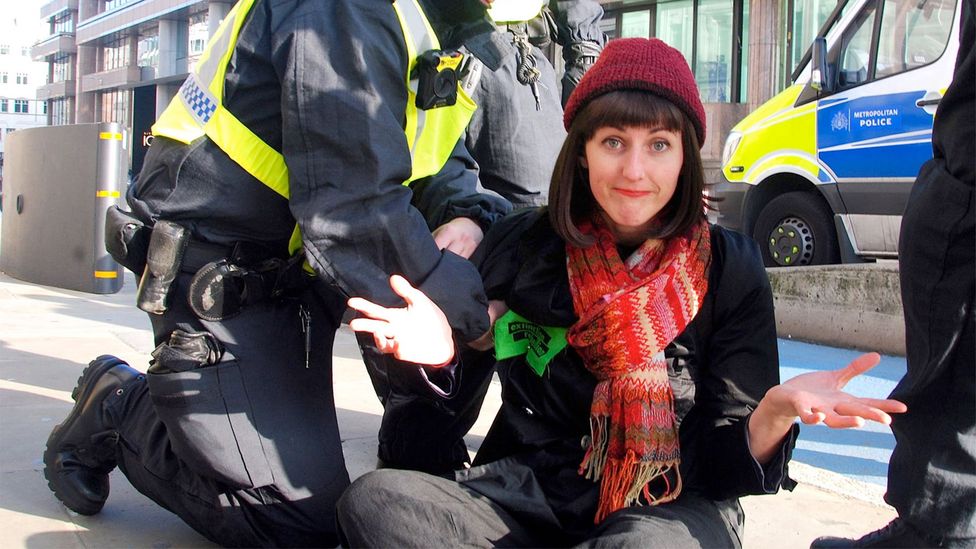 Blythe Pepino founded BirthStrike, an organisation in which most members have declared intent to be child-free until the future of the planet is improved (Credit: Kay Michael)
UK-based BirthStrike shares the goal of shifting the focus from population to carbon divestment and related policy action. Blythe Pepino, an activist and musician who founded BirthStrike at the end of 2018, says the group aims to push governments and corporations to drastically lower emissions while offering better humanitarian support to would-be mothers by "raising our voices about our decision and using that unusual decision to create that pressure".
BirthStrike's goal is staunchly not population-focused, but rather to mobilise people around climate by focusing on the deeply personal choice of procreation. Most members of the organisation have declared their intent to be child-free until the future of the planet is more promising.
What happens next?
In all of the haze of the future, it's clear that for many couples there's no easy answer about whether or not to have children. Conceivable Future's Ferorelli agrees: "We are trying to help people come together and start talking with other people because it's only by coming together that anything resembling a solution begins to arise," she says.
Even many of the people engaged in these conversations – with global groups or on their own – are stopping short of taking an absolute position on having kids.
BirthStrike founder Pepino, now 33, says that in her 20s she'd been thinking about going childless, but adds that things are different now.
I feel content with our decision to forgo bringing more humans into the world – Brandalyn Bickner
"I did a full swing on that when I met my partner," Pepino says. The couple is now likely to have children, she says, but may adopt since Pepino wouldn't have a biological child until the world sees "true decarbonisation, which would have to go hand in hand with de-growth [and] the reduction of consumption and extraction and destruction of natural habitats".
Still she says of the decision to have kids, "I would lie if I said that it wasn't up and down for me".

Bickner and Morgan are in a similar position. "We're both open to fostering and possibly adoption in the future under the right circumstances," says Bickner, "but I feel content with our decision to forgo bringing more humans into the world."