Cities around the world are adopting a long-standing feature of Chinese public parks to boost exercise among pensioners
I
In 2014 Jay Maddock, a professor of public health at Texas A&M University in the US, was on a research trip to China when one aspect of local culture caught his attention. "I took a walk to a park near my hotel in the city of Nanchang and noticed hundreds of elderly people exercising together," he says.
Intrigued, Maddock decided to gather data about elderly park use across eight parks in Nanchang. "We found that more than 50% of users are older adults," he says. "In the US no study has ever found more than 15%."
It's a picture replicated across China: rather than solo runners or cyclists, the most common demographic in parks are large groups of pensioners. Early every morning crowds of elderly people flock to public parks for their daily exercise routine, including dancing, Qiqong or even light gymnastics. Many take advantage of exercise equipment like ellipticals and pulldown machines aimed at light cardio workouts and gentle strength training. These colourful exercise machines can resemble children's playgrounds, but are targeted at seniors.
As governments around the world seek to keep ageing populations healthy for longer than ever before, 'senior playgrounds' are being introduced outside China. Cities including London, Berlin and Toronto all have dedicated senior playgrounds. Yet building these facilities is just one aspect of creating a culture in which pensioners feel confident exercising.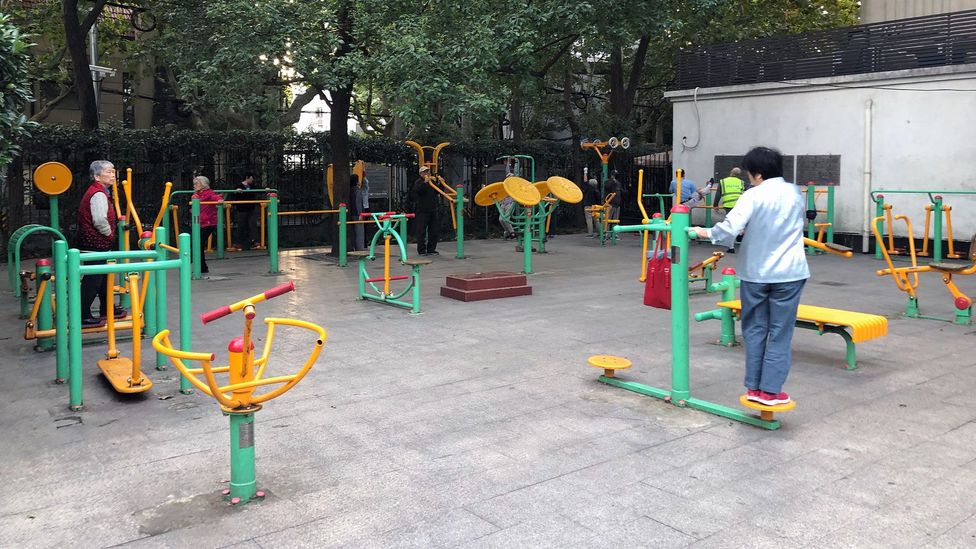 Many parks in China are equipped with colorful exercise machines for the elderly, the largest base of park users in the country (Credit: Lexie Comstock)
No basketball hoops here
The morning exercise habit of elderly Chinese people has its roots in longstanding cultural tradition, says Elisabeth Hsu, a professor of anthropology at Oxford University. Guidelines about waking up early are found in the Huangdi Neijing (The Yellow Emperor's Inner Canon), a book containing medical knowledge from the 3rd Century BC onwards that is considered the pillar of traditional Chinese medicine. The collective aspect of exercise probably goes back to group exercise promoted by the government in the 1950s when today's elders were growing up, she adds.
Yet Professor Anastasia Loukaitou-Sideris, a professor of urban planning at University of California Los Angeles who has studied park use among the elderly across different countries, says that although culture does play a role, it is park location, design and amenities that most influence use among senior citizens. "Often older adults feel not welcome in parks that are primarily designed for younger populations," she says. "In other words, parks are not psychologically accessible to them."
Loukaitou-Sideris' findings echo the observations gathered by Maddock in his study of parks in Nanchang. "The parks we studied are not designed for younger users," he says. "We did not see any basketball [hoops] or baseball fields but rather walking trails and machines tailored for adults."
Often older adults feel not welcome in parks that are primarily designed for younger populations – Anastasia Loukaitou-Sideris
Indeed, some of the longest-established senior playgrounds outside China owe their success to age-specific design features. When Harry Cane, a retired pharmacist from Delta, a city that is part of Vancouver, Canada, returned home from a trip to China he was so impressed by seniors' parks that he pitched the idea to the city council. "Cane chose exercise equipment based on what he observed in China," says Dan Copeland, a city counsellor for Delta, adding that the most popular machines are the ones that deal with common old age issues like balance and dexterity. Since its opening in 2007, Delta's Lion Wellness Park has increased exercise rates among local elderly residents, Copeland explains, and has been replicated in 18 other locations around British Columbia.
Accessibility is also key. Nestled among oak trees, London's Hyde Park Seniors' Playground was established in 2009 to provide six exercise machines for elderly people. Its location was picked based on proximity to roads and public transport, both about 15 minutes' walk away. A feasibility study also recommended using easy-to-read signage to clearly label and provide instructions for machines dedicated to older adults. Much like in Delta, machines in Hyde Park were selected for the physiological needs of older adults such as stretching and strength increase.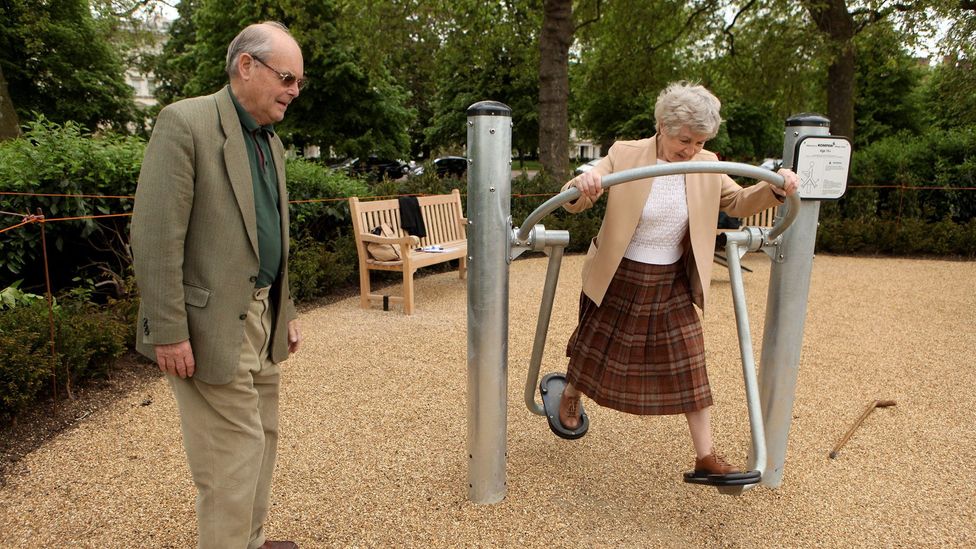 London's Hyde Park Senior Playground is among the many playgrounds for the elderly springing up around the world (Credit: Getty Images)
One of the largest senior playground initiatives has been developed by the Spanish province of Málaga, where there are currently 400 such facilities. But according to Rafael Merino-Marbán, a professor of physical education at the University of Málaga, many are currently underused. "The government has not studied the right location or the right kind of machine to maximise effectiveness," he says, adding that a more detailed study about users' needs is currently underway as part of a European Union project aimed at boosting exercise among the elderly.
Apart from location, Merino-Marbán cites proximity to children's playgrounds, damaged equipment and fear of being judged as barriers that can deter elderly people from exercising in public playgrounds. "When it comes to fear of being judged, design can help," Maddock notes. "In China exercise areas are often located in small groves that are separated from the rest of the park, minimising the number of spectators."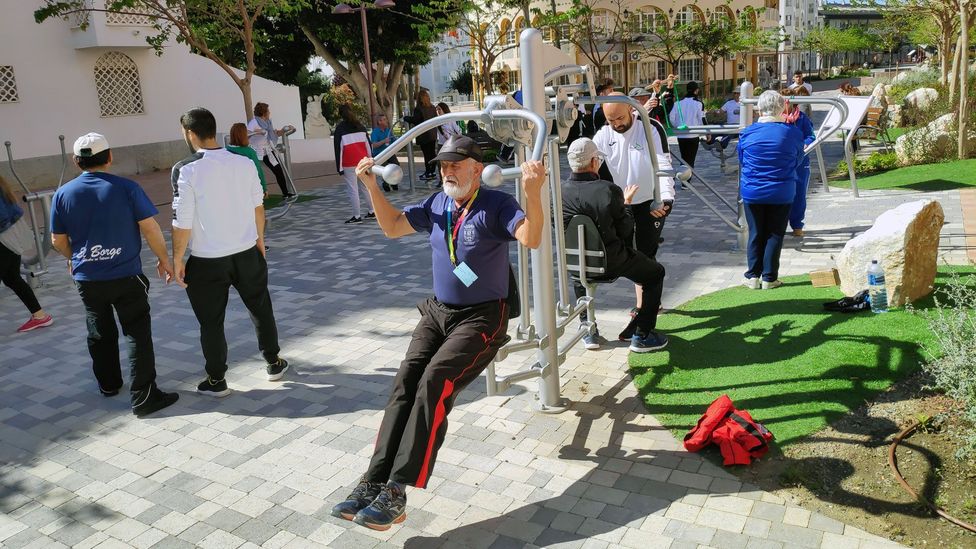 Since 2007 more than 400 senior parks have been established in the province of Malaga, southern Spain (Credit: Servicio de Deportes de Diputación de Málaga)
Despite challenges, Merino-Marbán estimates that an average of 50,000 people use Málaga's senior playgrounds every week. Going forward, he hopes that the government will install more, and better designed, playgrounds in other cities. "If older people exercise more, they are healthier," he says, "And that means less costs for public healthcare."
If older people exercise more, they are healthier. And that means less costs for public healthcare – Rafael Merino-Marbán
Reduced healthcare cost is what Maddock cites as one of the key reasons to make senior playgrounds a staple feature of urban design. "More and more studies show that elderly people need exercise, social connection and nature," he says. "Senior parks are a really low-cost investment that hit each of these three aspects."
And, paradoxically, China may need to build more senior playgrounds too as the effects of modern lifestyles, sedentary jobs and motorised transport bite. "Rates of obesity and diabetes are increasing," Maddock notes. "And urban population growth will drive the need for more exercise spaces."