Harmonica is the Egyptian dating app that fits local sensibilities – and even helps you bring a relative in on your matchmaking.
T
The single women in Sameh Saleh's life had a problem. They were meeting potential husbands through family connections but often they would have to decide whether to marry them after a one-hour meeting. A cousin, Saleh says, went through 10 years of this without finding anyone to settle down with.
Saleh, 32, wanted to find a better matchmaking method. So he and three other entrepreneurs came up with Harmonica, a dating app he says meets the specific needs of Arab users — and gives people more than an hour to decide their future.
We are done with the swiping culture – Sameh Saleh
Since its launch in 2017, during the founders' stint at the Cairo start-up incubator Flat6Labs, it has become one of Egypt's most popular dating apps, with hundreds of thousands of Google app store downloads.
Saleh credits Harmonica's localisation for its success; it has been built to accommodate its market, rather than simply copying a North American dating app. "We are done with the swiping culture," he says.
Bring along your auntie
Online dating is an emerging business in Egypt, where arranged marriages are common and meeting a potential life partner without family input is discouraged in mainstream culture. Informal dating often happens discreetly.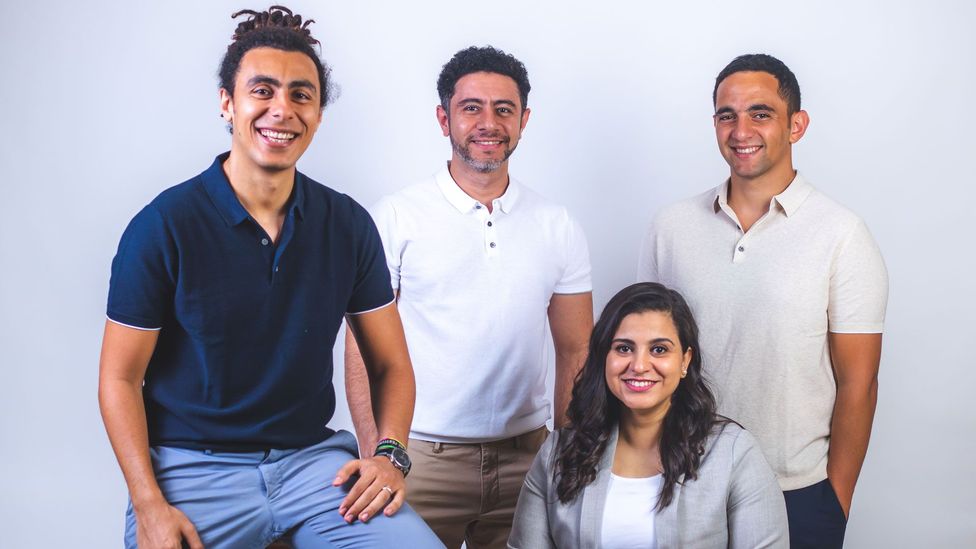 The founders of Harmonica have created one of Egypt's most popular dating apps (Credit: Harmonica)
So far dating apps haven't achieved anywhere near the saturation seen in North America, yet Egypt's huge potential market – including more than 20 million people aged 18 to 29 – makes it an appealing new frontier for the industry.
The only US dating app to have made a dent is Tinder; it tends to sit somewhere in the 20 to 50 ranking in the 'lifestyle app' category according to web analytics company SimilarWeb, behind numerous prayer time, ringtone and wallpaper apps. Direct comparison to Harmonica is difficult, because Harmonica is registered in as a dating app, but SimilarWeb reports it has spent more than a month at the top of its category.
Harmonica's founders say they aim to support the dominant culture, not subvert it. "We are not against arranged marriage," Saleh says. Instead, by creating an app that mimics some elements of traditional matchmaking, he and his team have come up with "another solution that fits our generation".
The app, which caters only to heterosexual couples, targets more conservative users without explicit religious branding: users can identify themselves as Muslim or Christian, Egypt's two largest faiths, or leave their religion undisclosed. Its matching algorithm is based on a user survey with dozens of questions about values, lifestyle and ideal partners.
An optional function enables users to send transcripts of their chats to a third party – the digital equivalent of bringing a relative to your coffee date
An optional "guardian" function enables users to send transcripts of their chats to a third party, with the other user's consent – the digital equivalent of bringing a relative to your coffee date. Unlike Tinder, the app only allows users to chat with one person at a time, and evaluates connected Facebook accounts to ensure matches are legitimate (its new parent company, on the other hand, is in the middle of a lawsuit by a US regulator alleging it knowingly promoted fake user profiles to boost paid subscriptions).
Harmonica also allows users to post a blurred profile photo that is only fully revealed to users of their choice, a feature geared toward more conservative women. For users who need advice, there's a team of psychologists on hand. "We get questions from 'He's ready to propose, should I make him meet my family?' to 'What is love?'," Saleh says.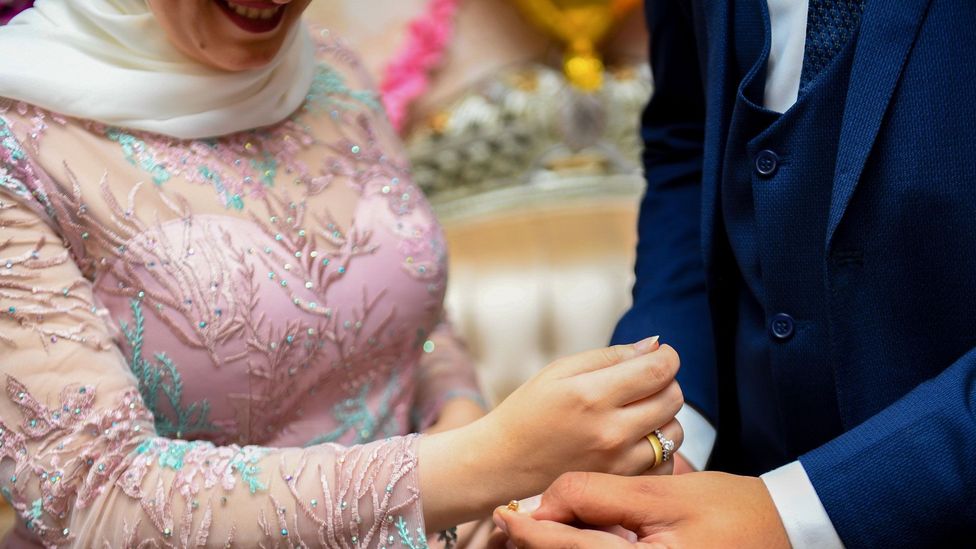 Harmonica is a marriage-oriented app, which its founders say mimics some of the traditional elements of matchmaking – but with a modern twist (Credit: Alamy)
Parent-friendly online dating?
Heba Arafa, 23, a graduate student in public administration at Benha University in Egypt uses Harmonica as part of her research on local start-ups. She believes it appeals to a younger, internet-literate generation who are "more eager to try different, new ways to find their partners".
Many people, especially women, are afraid to admit they're dating informally for fear of social judgement, so more general social apps like Facebook also become a kind of incognito dating service. But because Harmonica is marriage-oriented, Arafa says, it provides a channel through which women can involve their parents and be more open about their activities. Its features also make her feel safer. "We can't take a screenshot so I feel safe that no one would use my picture in a bad way," Arafa says. 
But obtaining more widespread acceptance may be a slow process. Ahmed Magdy, a 33-year-old banker, dipped a toe in Harmonica's online dating pool, but after a year he hadn't met anyone suitable and he also worried his family would disapprove. "It's not easy to tell them I'm going to marry someone I met through the internet," he says. Magdy is now engaged to an old classmate he's known for years.
Mohamed Hassan Allam, a 26-year-old graphic designer, started online dating three years ago. Though he's spoken to a number of women on the app, Allam says he's only met three in person because some people find the idea of meeting a stranger for a date uncomfortable. But he believes online dating is a good way "to try love behind the screens", even though he hasn't yet told his parents about it, either.
The Western apps weren't fitting our culture … so I felt there should be something we do to help ourselves – Sameh Saleh
And for some, Harmonica has been a success. Safaa Abu Saoud, 33, was a single woman living with her family when she met Wafiq Ahmed, a 34-year-old HR professional whose work hours made it difficult to meet prospective partners. After chatting online for a few weeks, they met in person and got married months later, welcoming their first child in July.
It was a happy outcome for Abu Saoud, who found the traditional matchmaking route "so awkward". Once she arrived home to find strangers in the living room with her parents. "Which one will marry me?" she remembers asking her sister jokingly.
Hamonica founder Saleh says he could see the stress that traditional matchmaking can cause, but "the Western apps weren't fitting our culture … so I felt there should be something we do to help ourselves".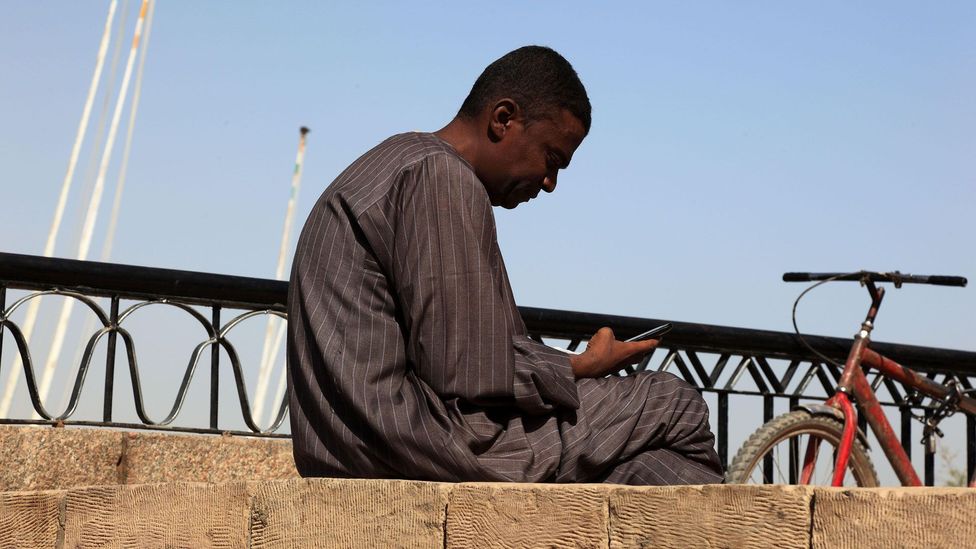 Harmonica, now owned by Match Group, is part of an expansion into other markets beyond the US – especially to capture Muslim users (Credit: Alamy)

Gateway to new markets

Harmonica's rise has not gone unnoticed. In fact it's been so successful that US giant Match Group Inc (parent company of Tinder, PlentyOfFish and Match.com) recently bought it as part of an overseas expansion effort, as US singles suffer from apparent dating app fatigue.

Picking up local apps in countries like Egypt allows Match to continue expanding into new markets, while avoiding the branding issues of a US-oriented app like Tinder, said eMarketer forecasting analyst Nazmul Islam. "It makes sense for Match because they don't have experience in Muslim markets," Islam says.

Match has described Harmonica as a "platform to accelerate global expansion in the Muslim demographic". CEO Mandy Ginsberg noted last year that the company aims to bring in 25% of its revenue from Asia within the next five years. And Saleh – who still runs Harmonica's day-to-day operations – says there are plans to expand into new countries in the near future.

Whether Harmonica and its giant parent company will thrive in the long-term depends on their ability to woo more Egyptian singles – and also their families.

At first, Abu Saoud says, her friends couldn't believe she was marrying someone from an app. But encouraged by her success, one of her friends has since met her husband on Harmonica too. Saleh's cousin, meanwhile, is still looking, but "she's much more content on the app," he says. "Hopefully something happy happens soon."

;