Rural depopulation has hit the Spanish region of Galicia hard. Now some of its thousands of abandoned villages are being marketed for sale.
R
Rosy Costoya is a vet, an entrepreneur and, she says, a little bit meiga. In the Spanish region of Galicia, meiga refers to a witch or wise woman, particularly a rural dweller with a detailed knowledge of local herbs and potions.  "I come from a small village and I'm very attached to my land," she says.
Costoya loves the wild coastline and rural greenery of Galicia, on Spain's northwest coast. But it's a region that has faced decades of depopulation in the countryside. "My father was a rancher and as a child I used to walk with him through tiny villages that were being abandoned," she says.
Galicia has 3,562 abandoned villages, and that number rises by one every week
Today, the low birthrate and Spain's ageing society – as well as poor infrastructure – have hit Galicia hard. It has 3,562 abandoned villages and that number rises by one every week, according to Spain's national statistics body INE. So Costoya, 50, and her husband, UK-born Mark Adkinson, have established a business that aims to help tackle the problem: they sell entire villages to buyers in a bid to bring residents back to Galicia's shuttered hamlets.
Video below by Esther Costa.
Spain's tiny abandoned villages for sale
'Selling part of history'
Costoya spent the first part of her career working with farmers and their cattle. Then in 2005 she and Mark set up their own company to buy and sell rural properties. She remembers early road trips with their two daughters to find charming houses to market, before technologies like Google Earth became mainstream.
Now the internet is their key tool for selling houses and villages, and they are sufficiently well known that they don't need to search out opportunities – sellers come to them. Customers come mostly from the UK but also from the US and other parts of Spain. (Interest was boosted last year when Hollywood actor Gwyneth Paltrow listed an abandoned village near Lugo, a city in Galicia, in her Goop Christmas gift catalogue.)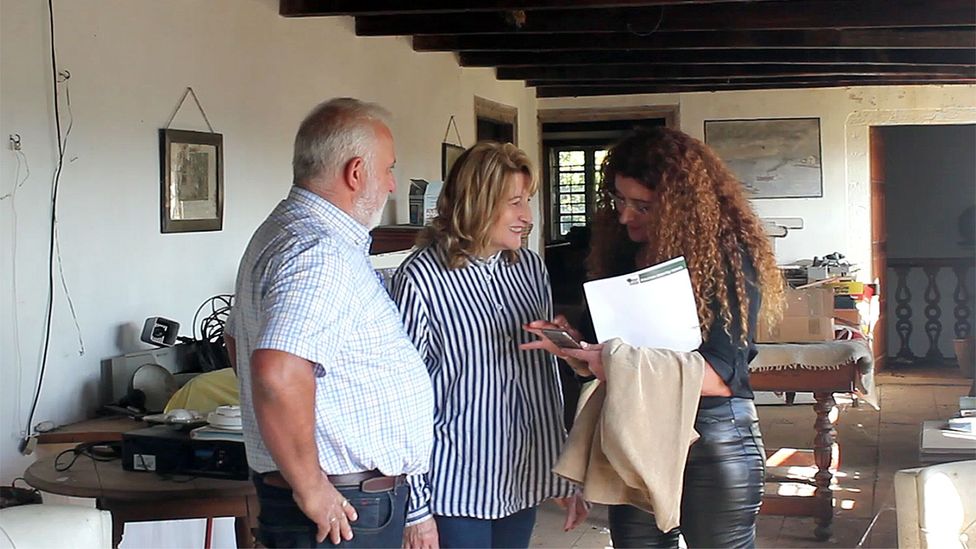 Rosy Costoya (right) has interest from buyers as far away as the US – but is choosy about who she sells to (Credit: Esther Costa)
Yet building their business has taken a great deal of hard work. The most difficult part of selling whole villages, Rosy says, is gathering all the legal documents.  "It's also very important for me to select the right new owner. I'm selling a part of my land, a part of Galician history," she says. She sold recently a property to a customer from London who she selected from 200 candidates.
I'm selling a part of my land, a part of Galician history – Rosy Costoya
"The villages we have for sale have different prices depending on their features," Costoya explains. "We have some under €50,000 ($55,300, £42,800) and others up to €2m. It depends on its settlements, where its properties are, whether it's in ruins."
Costoya, who still also works as a vet, recently sold one village with three houses, huge grounds and a beach close to the seaside town of Viveiro for €300,000. New owner Serena Evans, her husband and two daughters, are happy with their purchase. "We own and have a little piece of Galicia. For us, [we want] to be there, to spend time and to enjoy it," the Briton says.
Rural depopulation is an issue that sparks debate in Spain, with local initiatives to try and lure people back to the country (Credit: Esther Costa)
'Beautiful moment'
Other villages are still waiting for new owners. "We used to [have] 30 or 40 neighbours," says Benita Felgueira of O Penso, a village that is currently up for sale. "It makes me sad to see the village like this."
The rural depopulation issue continues to spark debate, with local movements like 'La España Vacía', or 'Empty Spain', trying to attract politicians' attention. Galicia's regional president Alberto Nunez Feijoo has introduced incentives to encourage Galicians working overseas to return.
But Rosy Costoya has a sense of optimism when it comes to Galicia's lonely villages. "Nowadays, due to the internet, you can live remotely and remain connected. It's a beautiful moment to repopulate all these abandoned villages, to repopulate Spain."