Can your sex life be more sustainable? These German entrepreneurs think so – and have grown a vegan condom brand into a multimillion-euro business to prove it.
I
In 2015, Philip Siefer and Waldemar Zeiler were in the middle of crowdfunding their new business venture. "We kept hearing the same question from people who were donating money," says Siefer. "Are the condoms vegan? We didn't even realise ourselves that condoms usually contain an animal protein to make the latex softer."
The Berlin-based entrepreneurs were looking to capture a slice of the $8bn global condom market by appealing to eco-conscious customers. To their surprise, this group of consumers is remarkably large – and four years in, their brand of sustainable, vegan hygiene products is raking in a yearly revenue of around €5 million.
Their company, Einhorn, means unicorn in German. Imagery aside, the entrepreneurs say it's actually a play on the term used to describe $1bn start-up giants like Airbnb and Deliveroo. While Siefer and Zeiler aren't in the three-comma club yet, building sustainability into the core of their business has been successful, and not just because it's popular with consumers. Rather, building sustainable values into their brand has opened doors within the business community that otherwise would have been more difficult to access.
Contains no animal products
Condoms are Germany's second-favourite form of contraception, after the pill, but it was while shopping with his girlfriend that Siefer was struck by how outdated the branding seemed. He felt that today's consumers might embrace a new eco-friendly alternative and, after originally dismissing the idea, Zeiler jumped on board, deeming the product ideal for ecommerce. The pair wanted to create a business that was fair and sustainable, not only for the planet but also for its workers.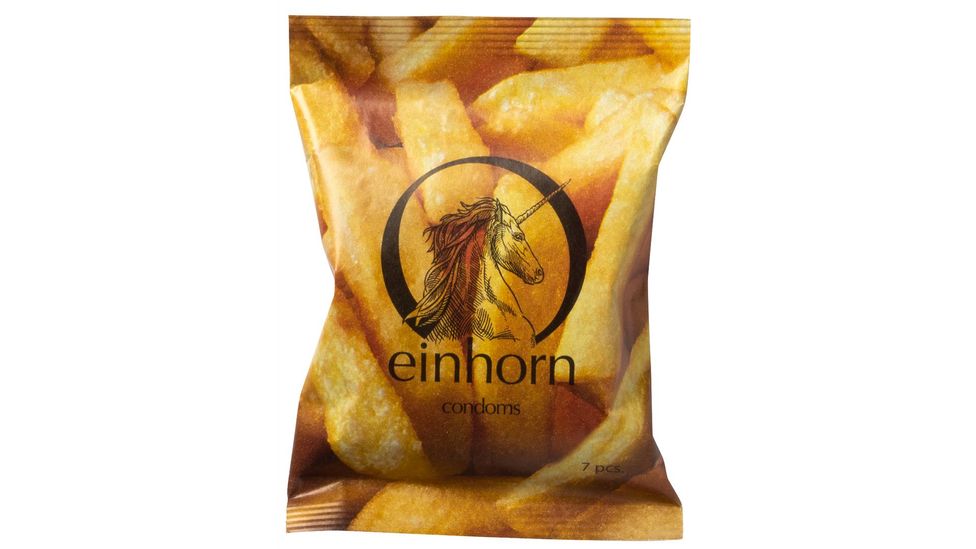 Einhorn replaced casein – a protein found in mammal's milk that is used to soften the latex in condoms – with a natural plant-based lubricant (Credit: www.einhorn.my)
After a decade in the start-up scene, they were searching for a way out of the capitalist dream. "If you'd have asked me as a child what I wanted to be when I grew up, I'd have said 'a millionaire'," says Siefer. "But after 10 years as an entrepreneur, I was seeing colleagues and friends around me making their million, but still not being happy."
To get started, they launched a crowd-funding campaign which raised €100,000 ($111,000, £84,400) and it was at that point veganism became part of Einhorn's product planning.
"We wanted to create a product that was easy to sell and ship online, and something where we wouldn't have to deal with returns, as that's one of the biggest costs for online sales," says Siefer. "So condoms were the perfect product. We hadn't even considered whether they would be vegan or not."
While the days when condoms were made from lamb intestines might be largely over, most options on today's shelves still contain the animal protein casein. The key ingredient of condoms, of course, is latex – a natural milky sap which is extracted from rubber trees, mainly cultivated in tropical regions of Asia. Casein protein, widely found in mammals' milk, is used to soften the latex.
While the days when condoms were made from lamb intestines might be largely over, most options on today's shelves still contain the animal protein casein
But Einhorn leaves out the casein protein – opting instead for a natural plant-based lubricant. It also takes care to obtain its latex in as environmentally friendly a way as possible.
Einhorn was by no means the first to create a sustainable or vegan condom. North American brand Glyde took that title back in 2013. Since then an increasing number of sustainable alternatives have hit the shelves hoping to make a dent in the global condom market, which will be worth $15bn by 2026.
While the market is still relatively new, Einhorn has found that most of their consumers are between 20 and 40 years old, with 60% of purchases made by women.
"Far too many people still feel embarrassed about buying products like condoms and end up hiding them under the rest of their shopping. So we wanted to reach out to conscious consumers with a sustainable product, while also getting rid of this taboo with our fun designs," Siefer says.
'Fairstainable'
Rapid expansion of large-scale natural rubber monoculture plantations over the past 30 years has led to deforestation, which has impacted the natural habitats of wildlife. To combat this, Einhorn has moved away from traditional plantations and instead works closely with a group of smallholders in Thailand.
These farmers avoid pesticides where possible, opting instead to remove weeds with a tool. The aim is to one day farm completely chemical-free. Trials on the land to determine which local plant species will promote biodiversity are also underway.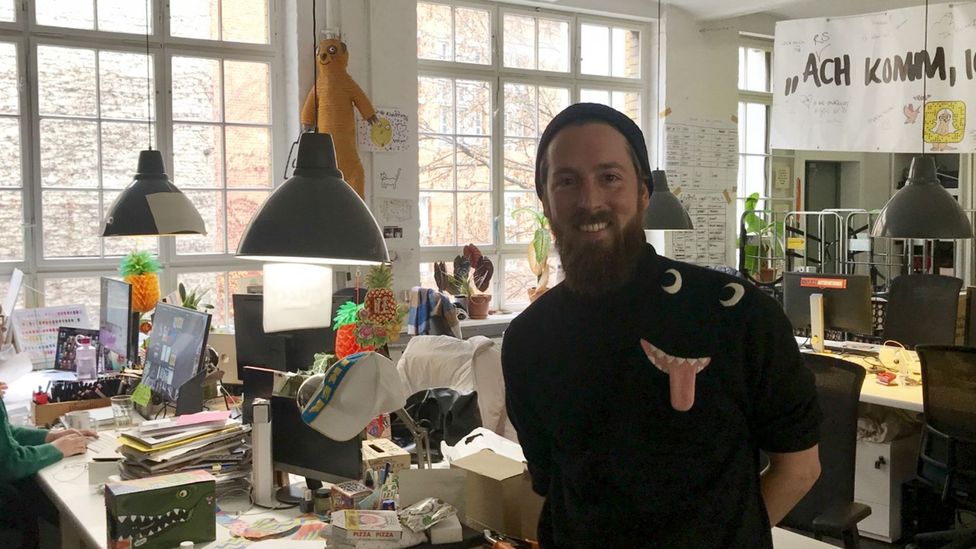 Researchers say that, while a step in the right direction, the impact of niche products like vegan condoms on the environment is limited (Credit: Kate Brady)
Studies have revealed serious issues linked to working conditions at some rubber plantations, so a member of Einhorn's "fairstainability" team aims to be on site to help oversee production for at least three months of the year. Farmers are paid 15% above the minimum wage and projects to better inform workers about their rights are currently being organised.
Sustainable packaging remains a work in progress. While the company's original packaging has been replaced with 100% recyclable paper, the next step is to create more sustainable individual wrappers without aluminium.
Pledging for the planet
Einhorn hopes to see its sustainable concept applied to other businesses. One way could be through their 'Entrepreneur's Pledge', which they signed when they founded the business.
Inspired by The Giving Pledge, launched by Bill Gates and Warren Buffett in 2010, the pledge mandates that Einhorn invests 50% of its profits into sustainable projects. In 2018, for example, it invested 10% of its profits in CO2 offsets, which fund projects that reduce greenhouse gas emissions, such as restoring forests. Other beneficiaries include the bioRe Foundation which promotes sustainable organic cotton farming.
About 100 other entrepreneurs have since signed the pledge, and it has certainly boosted Einhorn's business. Its big break came when it sealed a deal with German toiletries and household products giant DM.
"When we told DM what our buying and retail prices were, they weren't convinced," Siefer says. While Einhorn condoms retail at around €6 for a pack of seven condoms, industry giants are selling packs of eight for around €5. "But then we explained that we were going to reinvest 50% of the profits," he recalls. "'So every cent you take from us now,' we said, 'you're going to take it away from a good cause.'"
DM took the plunge and offered Einhorn a platform in the mainstream German retail market. Sebastian Bayer, managing director for DM's marketing and procurement division, says customers are increasingly concerned about sustainability, "so we want to offer sustainable product alternatives".
These smaller niche products are good but we really need to focus on areas like mobility and energy in the home which have the biggest impact on CO2 emissions – Anna Sundermann
Green products are certainly a growth area; according to the German Environment Agency, German consumers spent some €60bn on "green products" in 2016, and the trend is expected to continue. 
Yet Anna Sundermann, an environmental research fellow at Leuphana University Lüneburg, says that while products such as Einhorn condoms should be welcomed to the sustainable market, their potential long-term effect on the environment is limited.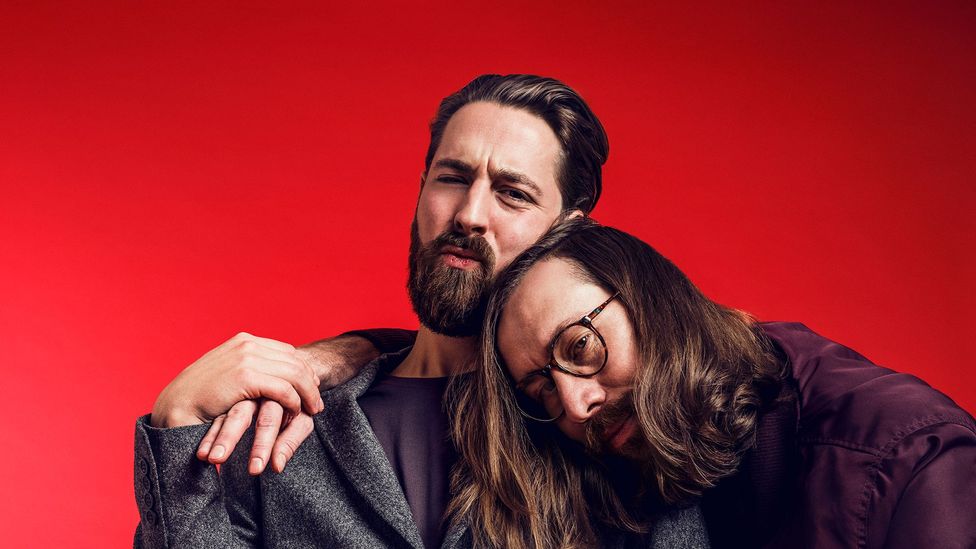 Einhorn founders Philip Siefer and Waldemar Zeiler have used their 'Entreprenuer's Pledge' to invest 50% of profits back into sustainable projects (Credit: Robert Wunsch)
"These smaller niche products are good but we really need to focus on areas like mobility and energy in the home which have the biggest impact on CO2 emissions," says Sunderman. That said, she believes that the more sustainable alternatives there are to conventional products, the better. "Networks of companies like Einhorn can make a difference in addressing systemic problems like global sustainable supply chain," she adds.
New products, new initiatives
Today, Einhorn's sustainable concept is making headway: last year the company sold more than 4.5m individual condoms. It also launched its own range of period products made from 100% organic cotton in early 2019. "We still have to pinch ourselves to realise that it's still going strong," says Siefer.
With a huge event planned at Berlin's Olympiastadion in summer 2020, the company's next venture is to bring its fair and sustainable concept to German politics. At a day-long event involving some 60,000 people, Einhorn plans to submit multiple e-petitions to the German parliament focusing on climate change policy and gender equality.
In the meantime, however, Siefer and Zeiler intend to give their shares in Einhorn away. At the end of this year, they will donate the shares to the company itself – meaning that it can never be sold, preserving its founding sustainable values: economically, environmentally and socially.