Employees in the country whose brutal office culture has led to several deaths are beginning to rethink the tradition.
H
Hideyuki can count on one hand the number of days he's taken off work over the past year.
"One day in April for my daughter's elementary school enrolment ceremony; and two half days in November, for a school parents' day and a recital," he says. "This is more than I normally take off."
The 33-year-old engineer, who works for a technology company in Tokyo, had only two days of holiday last year. It's not because he couldn't take more: he is in fact entitled to 20 days annual leave.
Instead, like many Japanese workers, taking time off work beyond the absolute minimum is simply not an option. "It's difficult because the atmosphere in the workplace wouldn't allow it," says Hideyuki, who has two children, aged six and four, and is reluctant to give his full name due to potential repercussions at work.
"I don't want my manager to be saying anything bad about me because I took the day off. It is easier to just work rather than them saying bad things about me or being told off."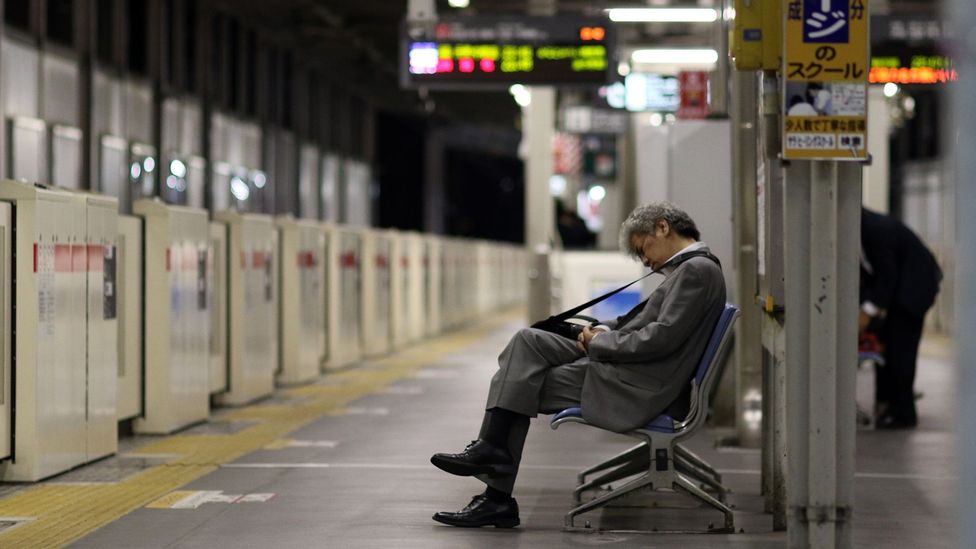 'Karoshi', or death from overwork, is an ongoing issue within Japan's extreme work culture (Credit: Getty Images)
Japan is facing something of an epidemic in unused annual holiday leave among its famously conscientious workforce – with workers taking only 52.4% of the paid leave to which they were entitled in 2018, according to the most recent government figures.
The main reason is guilt – a reflection of the pressures and expectations that weigh heavily on a workaholic society. The average worker still has dozens of untaken vacation days every year. Why has change been so slow?
'I cannot be the only person taking time off work'
It's perhaps unsurprising that the words "Japan" and "holiday" rarely feature in the same sentence. The nation has long been famed for an intense work culture defined by arduously long hours – it's normal for workers to take the last train home every night.
Japan is also the birthplace of karoshi – "death from overwork" – a word invented in the 1970s to describe deaths caused by work-related stresses and pressures. Unfortunately, it's still a regular fixture in Japan's lexicon today.
None of the others are taking days off – I cannot be the only person taking time off work. – Hideyuki
"While Western society is individualistic and non-hierarchical, Japanese society is collectivist and hierarchical," explains Hiroshi Ono, professor of human resources management at Hitotsubashi University, who specialises in Japan's work culture. "Thus, many people refrain from taking holiday because their bosses do not take holiday, or they are afraid that it will disrupt the group harmony."
For tech worker Hideyuki – like many Japanese workers – not taking holiday leave is a normalised part of working life. "It's natural not taking holiday leave," he says. "I've never thought about the impact to my family, health or wellbeing.
"There are about 30 employees in our company. One colleague is already taking a long leave due to mental illness and we are short-staffed. So if one person takes a day off, it will be burden to other staff. The managers don't take any holidays and they usually work late. None of the others are taking days off – I cannot be the only person taking time off work."
His wife Sayaka adds: "He never takes any days off, even if he is sick."
His outlook is echoed by Tsuyoshi, 38, a front desk chief in a restaurant business in Gunma prefecture, who "has not checked" his leave entitlement, despite working there for over four years.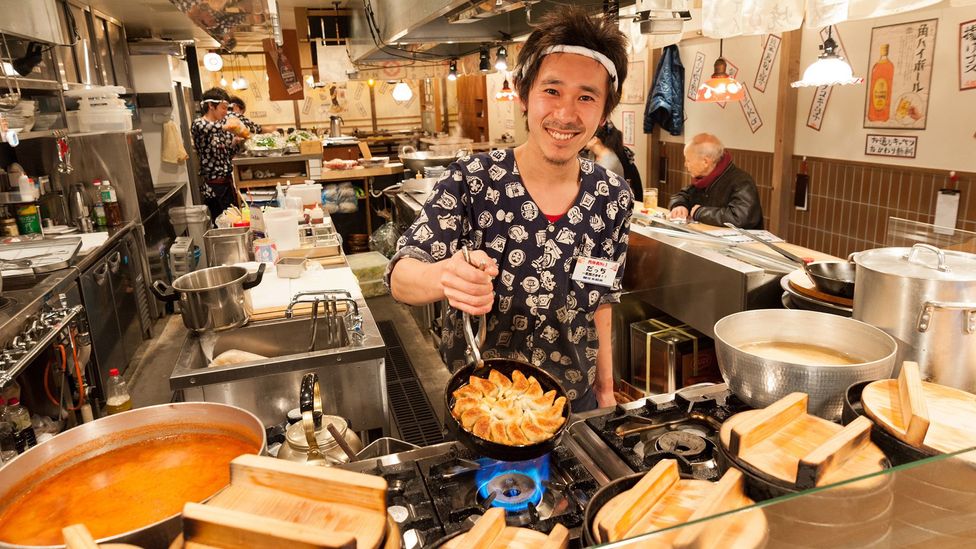 Younger generations increasingly are pushing back against their nation's dangerous workplace customs (Credit: Getty Images)
"I take zero to two days off per year," says Tsuyoshi, who also asked not to reveal his full name, reflecting how difficult it is for many Japanese workers to speak openly about workplace issues. "The most recent was August – I was sick in bed and had to take a day off." (In general, there is no sick leave in Japan.)
When asked about colleagues' reactions to taking time off, he adds: "They would react negatively. They will not say anything directly to that person but they will speak ill of that person behind their back. I have never seen any colleague taking all of their paid holidays. There is a culture where you would be evaluated higher if you are not taking days off and working harder. People think taking days off is a bad thing."
Government intervention
The issue of Japan's working culture is high on the agenda of Prime Minister Shinzo Abe, as reflected in the government's new Work Style Reform Bill, which was passed by Japan's national legislature in 2018 and went into effect the following April.
The bill is a cornerstone of his attempts to modernise Japan's way of working – known as hataraki-kata kaikaku in Japanese – with amendments to eight key labour laws. Initiatives range from caps on excessive working hours to increased flexibility, as well as a requirement for employees to designate at least five days off work for staff with at least 10 days of unused leave.
Japan's managers were rated the least likely to approve worker leave in a study surveying 19 countries
Highlighting the government's goal of boosting rates of taken annual leave to 70% in 2020, Susumu Oda, director of the Work and Life Harmonisation Division at the Ministry of Health, Labour and Welfare, explains: "It has been recognised that gaining time off work is important to refresh employees both mentally and physically."
He adds: "This system has only been in place since April, and as it's less than a year, it is still not clear what effect it's had. But to create a work environment that makes it easier to obtain annual paid vacation, posters and leaflets have been prepared, and we have also carried out appeals to companies and employees to encourage time off from work."
'A clear gap between generations'
The reality of trying to change Japan's work habits, however, is challenging – particularly when they are so deeply engrained in society, as reflected in a Vacation Deprivation study on annual leave in workforces around the world from Expedia, the travel booking company.
Japan scored lowest among 19 countries and regions in its 2018 study, with workers taking on average only half their annual leave – 10 days out of 20. As many as 58% of Japanese workers cited "feeling guilty" as the main reason for not taking their entitled holiday leave in the 2018 Expedia report, with only 43% stating that their employer was supportive of them taking leave – the lowest globally.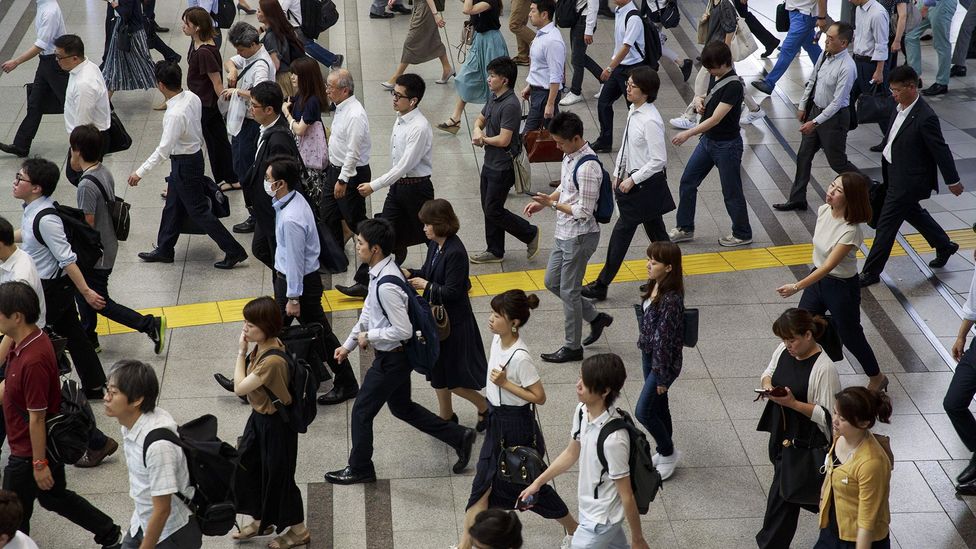 The fewer days taken off by Japanese employees in traditional companies, the better standing they have with their managers and coworkers (Credit: Getty Images)
"There is a clear gap between generations," says Akina Murai, head of PR for Expedia in Japan. She says "62% [of Japanese] aged 18 to 34 are feeling vacation deprived, compared to only 40% of over-50s. This generation gap shows that even the younger employees want and see the need to take more vacation, but are challenged by their superiors who do not think or operate in the same manner."
Among those pushing for this to change is Yoshie Komuro, the founder of Work Life Balance Co Ltd, a Tokyo-based consultancy firm devoted to helping companies improve their work-life balance.
Since launching in 2006, the firm has consulted with companies and organisations across the country, like the prime minister's Cabinet Office and the Japan Post courier company, on how to modernise their workforces. The firm released a video of top management staff talking about what they've missed with their families due to work.
Exploring the reasons behind Japan's low rate of annual leave, Komuro explans: "When we dig in deeper, it is not necessarily that they are understaffed, but the fact is that they cannot help each other, as they are not used to doing so and are not trained to do so."
"We have worked with over 1,000 organisations [in Japan] and once employees get used to communicating with each other positively, sharing information within the team, helping each other, and confirming that taking days off would not impact their evaluation negatively, they start taking more holiday leave."
Japan is starting to change. However, this change is not easy. – Yoshie Komuro
As an example, she describes how she helped one major Japanese corporation create a more open environment where workers felt comfortable discussing how they wanted to change their work style – something which is still taboo in many traditional companies. The end result? Overtime hours were cut by 15% – and the rates of taken paid holiday rose to 61%.
While Komuro describes the Work Style Reform Bill as a "huge step in the history of Japanese labour law", the low rate of taken holiday leave is clearly just one element among many that need addressing in order to modernise the nation's work culture. To bring about real change, she highlights the importance of tackling a raft of deep-rooted issues in society – from boosting the nation's dwindling birthrate and supporting paternity leave to creating a workforce that is more accommodating to women and the elderly.
"Japan is starting to change. However, this change is not easy."
'Memorial services' for unused leave
Grassroots efforts to bring about change in workplace styles also appear to be underway – such as the recent "memorial service" in Osaka to "mourn" untaken holiday leave which was recently led by a Buddhist priest, paying tribute to the lost dreams of Japan's holiday-starved workforce.
More than 300 lanterns were lit, each with workers' messages describing their feelings about not having taken their full holiday quote over the years – some incredulous, some heartbreaking, all regretful.
"My child's birthday party was delayed by seven months," read one message, while others said: "I could not say goodbye to my grandparents after they died" and "I reached retirement age without using 90% of leave every year".
Shiboru Yamane, creative director at Ningen Inc, the Osaka-based advertising production company behind the event, explains: "We wanted people to visualise what they could be doing with their paid leave through these lanterns. In many cases, a harsh work environment leads to mental health issues and even death. It's a very big problem in Japan."
Glimpses of the challenges facing Japan's deeply conservative workforce are still plentiful. In September, Shinjiro Koizumi, Japan's environment minister, faced widespread opposition and even calls to resign over his plans to take paternity leave after his wife gives birth.
Hope, however, can be found in the form of younger workers, who are increasingly rejecting the overworked path of older generations of salarymen, according to Ono, the professor at Hitotsubashi University.
"Social surveys indicate that younger workers are significantly less likely to support long workdays than older workers," he says. "Indeed, the long working hour culture is a byproduct of the Showa period [1926 to 1989], which was when it was romanticised – a time when men were completely dedicated to company life, with a stay-at-home housewife who took care of the family and all his needs.
"Those days are long gone. Suffice it to say that work-style reform, if and when it is fully implemented, is a way to say goodbye to the Showa-style of working."